In this article... we follow one of our Tech Support gurus during an installation and talk to him about things to keep in mind when you install a car stereo. These tips can cut down on errors and save you some time.
recently wrote an article for the Crutchfield catalog that covered the installation of a car stereo and backup camera. What made this installation different was that it was performed by one of our longtime Tech Support Advisors, Cris.
Using what he's learned over his 20+ years at Crutchfield, Cris offered lots of excellent tips for pros and amateurs alike. In this article, I'll share some of those tips, and add a few more of my own.
1. Plan, plan, plan!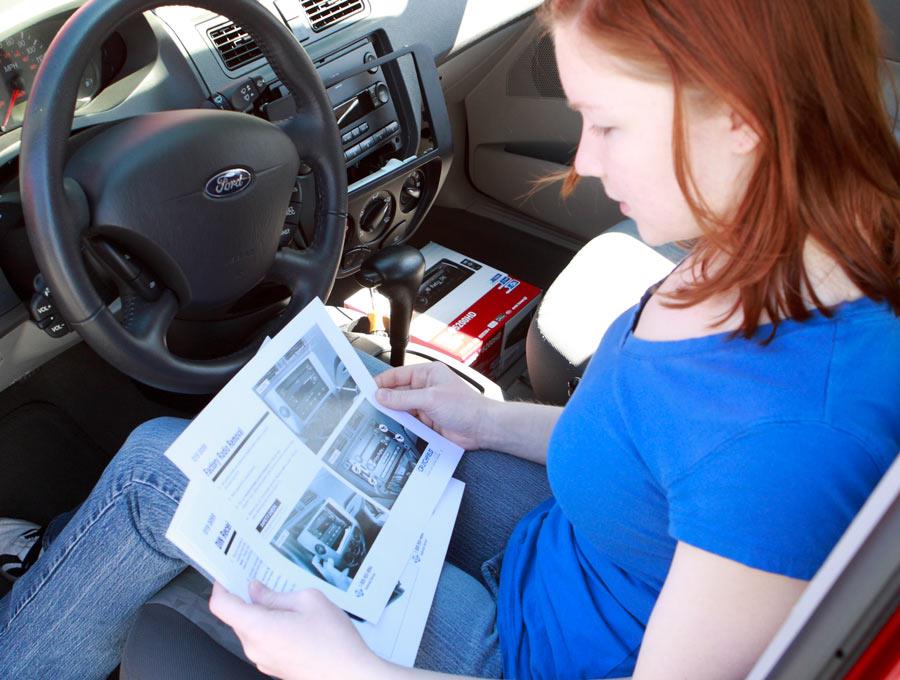 When installing new stereo gear, you're going to disable your vehicle for a bit. It's important to know approximately how long it will be out of commission. Even with the help of Crutchfield's exclusive MasterSheet instructions for your vehicle, some expected delays can happen. These instructions don't cover everything, such as running the wires for a Bluetooth® microphone, a rear-panel USB cable, or a video cable for a backup camera. It's a good rule of thumb to plan for the installation to take twice as long as you think it will.
2. Let your vehicle help you
Sometimes it can be tough to figure out which options your vehicle originally included. Or previous owners could've replaced gear that did away with various features. But it's often good to know these things to determine which aftermarket products and adapters are compatible with your vehicle.
Cris taught us that he could find the original setup in his 2011 Chevy Traverse by using the Regular Production Option (RPO) sticker that's usually located in or around the glove compartment. Once he retrieved the codes, he looked them up online and knew exactly what he was working with.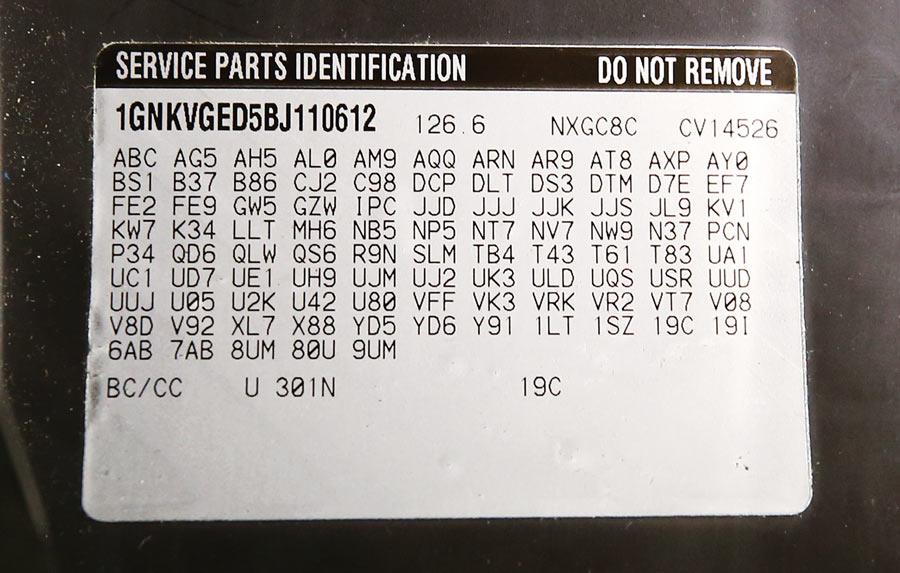 3. Look for helpful openings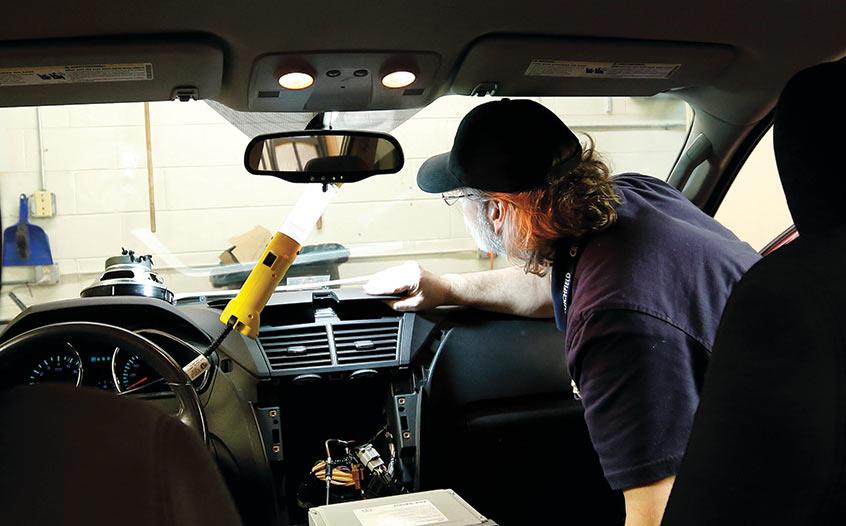 Before Cris started mounting anything, he did quite a bit of scouting. He knew he'd have to run the cables for his receiver's Bluetooth micophone and a USB connection.
Once he removed the factory radio, he placed a worklight over and under the dash to see creases where light showed. He also removed the panel over the center dash speaker. There he found lots of little openings that he could work with in terms of fishing wires through to their destinations. A Pro.Fit Wire Worm comes in super handy for running wires and protecting panels.
4. Protect your new gear
You don't want to damage the gear you just bought, right? When you're installing a car stereo, you can't always be totally gentle when you grab it.
Many times, the manufacturer includes a thin, plastic film over the display. This was the case with Cris's JVC KW-V840BT touchscreen receiver. He left the film on until he completed the wiring, and loosely mounted the stereo in the dash for a sound check. The film protected the screen from smudges and scratches.
If you're working with a receiver with a detachable faceplate, you can remove it from the chassis while you work the stereo into your dash.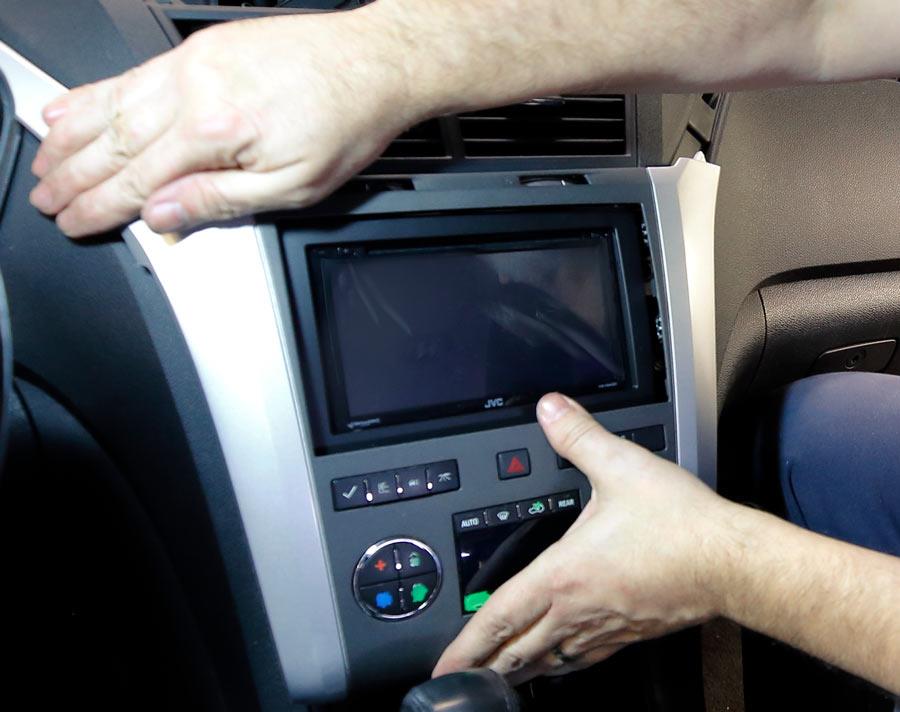 5. Hang on to the little parts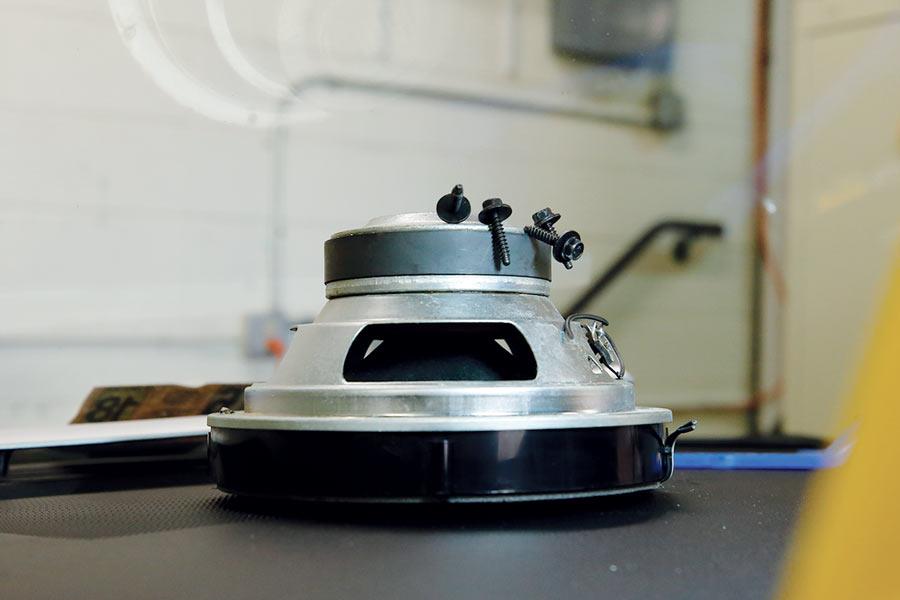 When you remove your older gear to make room for the new, you'll often pop out fasteners and remove screws. Keep in mind that you'll probably need to reuse these for the new gear. You'll want to hang onto them, but you also want them out of the way while you work.
Cris found a spare speaker in our garage, and as he removed the screws, he simply stuck each one to the speaker's magnet to keep them from getting lost. If you don't have a magnet nearby, you can use a container with a lid to secure the little bits you'll use again. A vehicle's cupholder can be a good spot, too.
6. Find the route for your cables
Since the video signal from the Boyo backup camera had to get to the receiver location, Cris had to decide on a path for the cable. Once he knew how he'd get the cables from the license plate location into the Traverse, he made the call to run the video cable under the door threshold trim panels on the right side.
He ran the cable along with existing factory wiring there, making sure that there wouldn't be any airbag or relay connections to contend with. He wanted to stay away from power wires as much as possible, which could affect the quality of the video signal going to the display.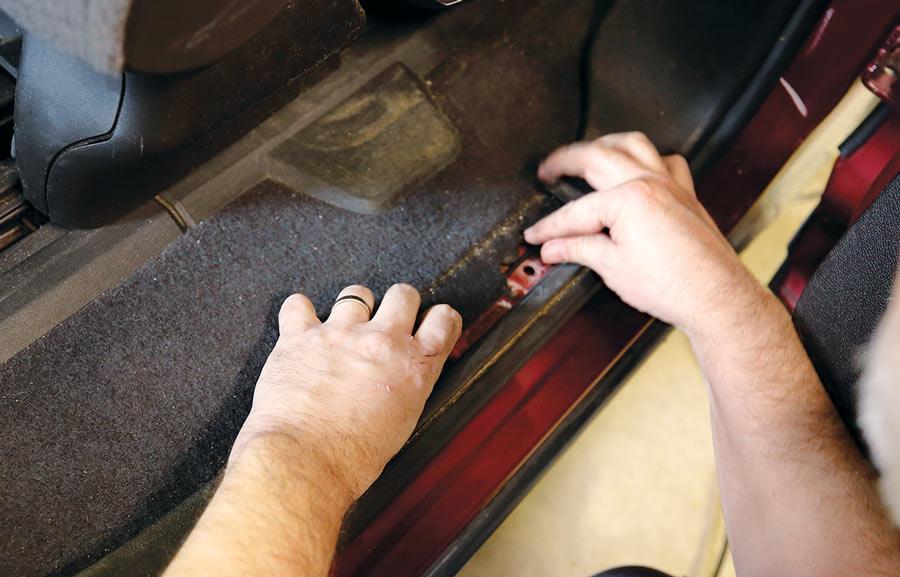 7. Keep the wires tidy for looks and for safety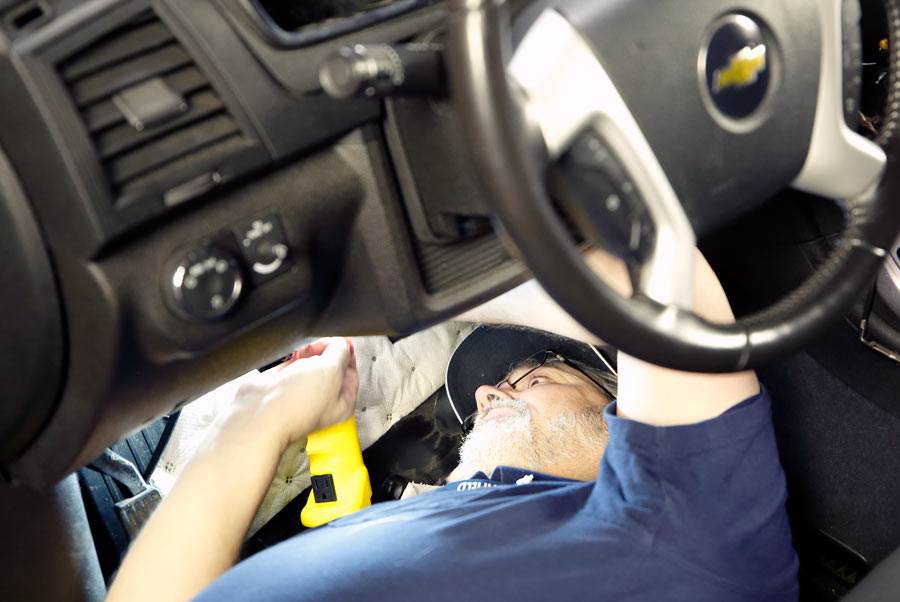 Sure, you're in a rush to get your sound going. However, keeping the various wires you'll run neat and out of the way will mean a lot in the end. As Cris ran a few wires under the driver's side dash, he noted that taking the time to use cable ties to keep wires organized is crucial. It's not just for looks. In his case, it keeps the wires safely away from his pedals so they won't get in the way while he's on the road.
More tips from the author
Working with a veteran like Cris was great. And over the years, I've worked on over 30 installations myself. Here are a few tips from my experiences.
When shopping for a new car stereo using Crutchfield's OutfitMyCar application, don't dismiss higher-priced installation gear options without checking out all the information. Many times, these packages offer better integration with your car's factory systems, which can retain more factory features and shorten your installation time.
To avoid marring interior panels when prying them off, use masking or painter's tape near the edges. This helps keep the panel edges protected as you work. It easily comes off without any residue when you're done.
When you work with tough-to-remove panels, use two tools. You can use one for leverage for the second tool. This can sometimes give you a better angle to get under a panel, while also protecting the finish of your other panels.
Worth the time
Whether it's deciding where to run a wire, reusing factory parts for your installation, or simply looking around your dash for an opening to use, it's smart to take some extra time to think about your car stereo installation, even when it appears to be easy. And when it comes to questions about what to do at any step in the process, you can benefit from the wisdom of our Tech Support Advisors, like Cris, for the life of your Crutchfield purchase.
If you have any questions about what will fit your car or want to find out what to expect when installing new stereo gear in it, give us a call and check out our How To Install A Car Stereo article.