Carl decided it was time to ditch the factory gear in his Audi and invest in a something to take his listening experience from mediocre to awesome. Pioneer's Stage 4 sound system provided everything he was looking for, and much more.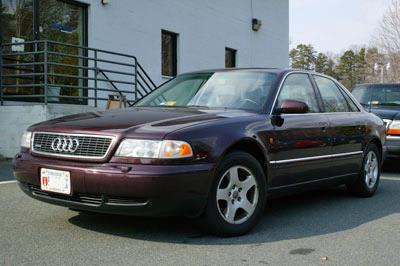 Items installed:
Here's what he had to say about it:
Why did you decide to upgrade?
My Audi's factory system wasn't doing it for me — not enough bass, not enough volume, and marginal sound quality. And one driver in the back door was going bad too.
Why did you choose this receiver?
Pioneer offered me the opportunity to experience some of their best gear. With the Pioneer Stage 4 system, now I have the ultimate amount of audio control. The ability to set my own crossover points, adjust the relative levels of all the subs, speakers, and tweeters, and tune the 31-band equalizer means I get exactly the sound I want.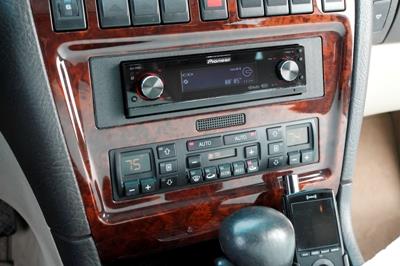 The Pioneer DEX-P99RS preamp receiver looks right at home.
Sounds like a complex system. Was it hard to tune?
Tuning was easy. The DEX-P99RS has automated set up capability. I'm still going to do some fine tuning. I've heard so many incredible show cars from manufacturers and sound-off competitors that I want to make sure this system stands up to those. I listen mostly to alternative rock, but I'll have several preset EQ curves that I can use for different types of music.
Since I have two 4-channel amps, I'm using 6 of those 8 channels to power the six individual tweeter, mid, and 5-1/4" woofer drivers. Then I use the big mono sub amp to run the two 4-ohm woofers wired in parallel. For my system, I kind of went through these steps:
Designed and wired so the 99RS would have full controls over the sound.
Set the amp gains first trying to maximize the amps without allowing clipping.
Used the auto EQ function which fixed the imaging, made the system sound pretty good, and balanced the subs well, but in a way that the bass was too weak for me.
Used an RTA (Real-time Analyzer) to fine-tune the sound. I adjusted crossover points, relative driver levels, and the 1/3rd octave EQ to create a soft "waterfall" output curve on the analzyer.
When I first used the auto EQ, it crossed over my fronts and subs too high, at around 100 hz. We moved that crossover point on the front down to about 65-70, and raised the sub to about 120. It helped blend the subs into the front midbass, and disguised the location of the subs.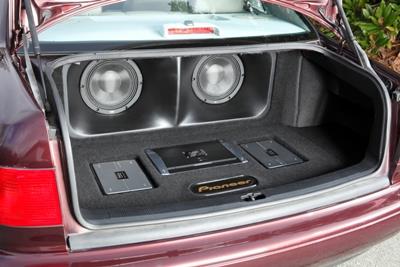 A professionally installed system, like here in Carl's Audi, can result in a spectacular visual display.
Did the installation accomplish what you wanted?
Yes, I still have room for golf clubs, which was a design requirement from the start. I had to add some Dynamat to quiet the rattle of the license plate frame. I don't like hearing that buzzing sound from other vehicles on the road, so I know they don't want to hear it from mine.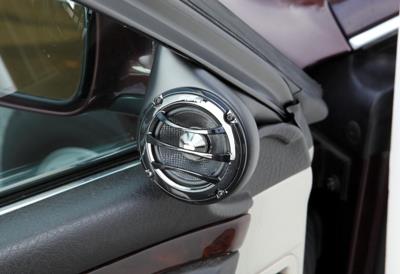 The 2-5/8" midrange speakers.
What's it like having the three components on the doors?
The sound staging is incredible. You'd never know that there are woofers low in the door, except that when I turn it up, the air flutters my pant legs.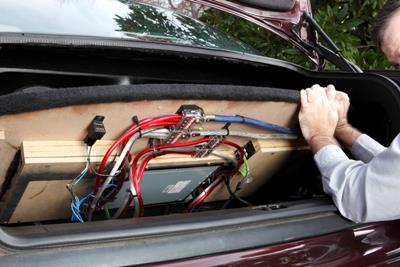 The wiring and hardware is hidden under the custom-built amp rack.
Any other comments you want to share?
One person commented that one of the true benefits of having this kind of system is that you can listen at high volume and it still sounds really good. Listener fatigue due to harshness is not an issue. About the only reason I do turn it down is when I get a call and answer it using the built-in Bluetooth, or when I pull into my neighborhood. Not all of my neighbors like Linkin Park!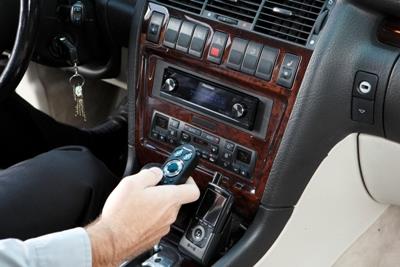 The XMp3 nestles conveniently in the console.
And you still have your satellite radio in the car, right?
Oh yes. I'm still a huge fan of satellite radio. I've been a subscriber since it started. Local radio doesn't play enough of the music I like, and satellite radio is commercial-free. And with the XMp3, all I have to do to record hours of content is touch a button.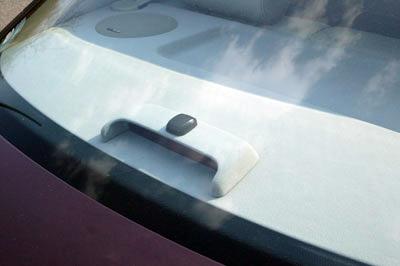 Carl found a handy spot to place his antenna.
Why did you choose the XMp3?
I'm a big ACC fan, and I travel a lot. I hate to miss any games. I love how satellite radio makes it easy to keep up with my teams when I'm on the road. The XMp3 gives me great flexibility. I can listen while I'm out walking, or at home or in my car. Plus, I really like its DVR-like qualities, so I can have lots of entertainment already loaded each morning.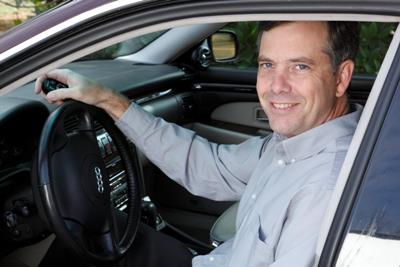 ---
Vehicles in the Custom Car Showroom are submitted by customers and fans, and edited by Crutchfield writing staff. You can find more of these articles on the Showroom main page.