Items installed:
Pioneer AVH-P5000DVD 7" Touch screen single-DIN DVD receiver
CD-i200 iPod adapter with aa 80-gig video iPod
Two pairs of Pioneer TS-D6802R 6x8 speakers mounted in front and rear
Two Alpine SWR-1242D subwoofers dual 4-ohm voice coils running in parallel for each sub running a 2-ohm load
Two Alpine MRP-M500 mono amplifiers for each sub running at 2-ohm
Custom made amp rack mounted with both Alpine amps and capacitor in the middle and wrapped with tan leather
One 3.5 farad Boss 3.5S capacitor
Two Rockford Fosgate RFK1 amp wiring kits
Two Monster Cable MPC-P400 CPS2-2 PowerSplit Distribution Block with PowerQuip; one for Power and one for my Ground
Ported box from Crutchfield Bass Bunker houses the woofers
Installation Description
The custom amplifier rack is what took up so much time due to it being my first custom build. The wiring got a little tricky with 3 power cables, one for each amp and one for the cap, and then matching the ground. Then I had to wire the subs up right in order to use the mrp-500 2ohm capabilities. Each voice coil had to be hooked up properly. Other than the wiring, the dvd in-dash was the next nightmare. I had to tap into my steering column's wiring in order for the deck to see the park brake was set before using the video option when playing dvds.
Q&A Section
Why did you decide to upgrade your A/V system?
Music is my life, I work hard and like to listen hard.
What's the first thing you show people about your installation?
The subs and my custom amp rack.
Why did you choose these products?
Alpine delivers the best boom for the buck and Pioneer has always been my favorite with the hpf and Lpf.
What was the most difficult part of the installation?
The wiring and making sure there are no loose wires.
What plans, if any, do you have for future upgrades?
My next plan is to install four 9" lcd screens in the headrest front and rear.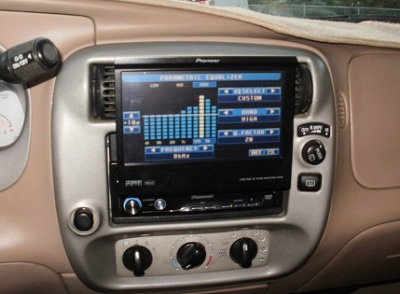 Pioneer AVH-P5000DVD
Custom amp rack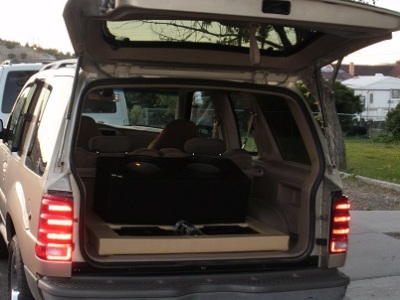 Hatch open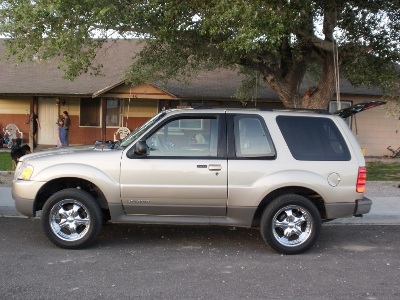 2001 Explorer Sport on 18s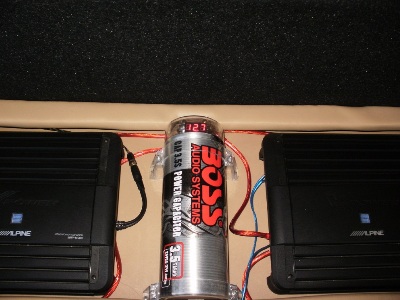 3.5 Farad Boss capacitor
Vehicles in the Customer Car Showroom are submitted by customers and fans, and edited by Crutchfield writing staff. You can find more of these articles on the Showroom main page.