Items installed:
Blaupunkt Malibu cassette receiver with CD changer controls
Pioneer TS-1620II 3-way 6-3/4" speakers
Bazooka EL8A-HP powered 8" tube
Eddie Hall needed only a few minutes of driving time in his recently-purchased 1997 Nissan extended cab pickup to determine that the factory radio had to go — not enough clean volume and too much distorted bass. He wasn't looking for a competition system, just a couple of simple improvements that would give him a big, full sound without a lot of work.
"Project Nissan" began when Eddie picked out the Blaupunkt Malibu cassette receiver for its excellent power section (25 watts RMS/40 peak x 4), auxiliary inputs, and first-rate tuner. The Malibu's menu of options (Direct Software Control) allows him to fine tune his sound (particularly the bass) without having to deal with a confusing array of buttons and knobs. He opted to install Pioneer's TS-1620II 3-way 6-3/4" speakers in the rear factory locations because they sound great and their slim profile allowed him to drop them in without any modifications.
Eddie wanted big bass without losing too much space. The Bazooka EL8A-HP seemed to fit the bill — an 8" woofer and amplifier (100 watts max) in an ultra-compact tube enclosure. He ran the Bazooka's power cable from the battery through the firewall, and then routed the power cable, RCA cables, and the turn-on lead to the rear of the cab. He attached the tube's mountings to the rear wall of the cab with four sheet metal screws, cinched up the straps, put in the fuse, and attached all the wiring. One hour after starting the tube installation, he cranked up the stereo and adjusted the output levels of the Malibu receiver and the Bazooka. Boom, instant bass!
Installing a great-sounding car stereo system doesn't have to be an expensive, time-consuming operation with the sole purpose of producing sound levels that can be heard a block away. Eddie Hall wanted a reasonable volume level with plenty of bass, and was able to improve the sound in his Nissan truck with a minimum of equipment, cost, and hassle. We count "Project Nissan" as a big success.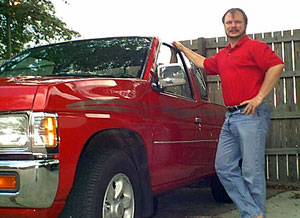 Eddie Hall with a fine-lookin' 1997 Nissan pickup.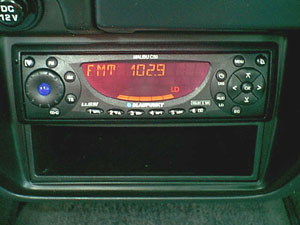 Appearances can be deceiving. The Blaupunkt Malibu's menu system accesses an impressive list of features (including six-level loudness control) through its simple, user-friendly button array.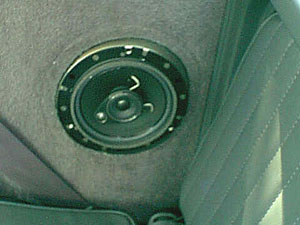 Pioneer's TS-1620II 6-3/4" speaker will go where no aftermarket speaker has gone before, thanks to its slim profile.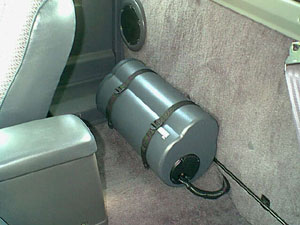 The 8" powered EL Series Bazooka pounds out impressive bass from its extremely compact tube enclosure.