Ian Palo's 1996 Honda Accord
Items installed:
When Ian Palo sold his 1991 Honda Civic and bought a 1996 Honda Accord LX, the Accord still had its factory tape deck and speakers. So Ian started planning to improve the sound system: "I knew right away I needed to do some upgrading," he explains, "so I turned to Crutchfield."
Ian's first move was to install the Pioneer DEH-P4400 CD receiver. In addition to playing CD-Rs, CD-RWs, and standard audio CDs, the DEH-P4400 packs a wealth of sound-shaping features into its chassis. Easy EQ offers 5 preset EQ curves and a 3-band parametric equalizer, while the Sound Focus EQ feature lets Ian choose independent front and rear tone settings to improve the front stereo imaging. CD changer compatibility and built-in XM Satellite Radio controls provide plenty of opportunity for system expansion, and the flip-down face plate detaches for extra security.
The Pioneer receiver doesn't skimp on the power either — the internal MOSFET50 amplifier cranks out 22 watts RMS into 4 channels. Ian sums up the DEH-P4400 well: "It is a great choice for anyone who wants a powerful receiver for not that much."
Ian took advantage of the DEH-P4400's changer-controlling capability by hooking up the 6-disc CDX-FM673 Pioneer CD changer. The Accord's previous owner had run the changer signal through the FM modulator into the factory tape deck. But Ian chose to connect the changer directly to his new receiver for better sound quality and increased convenience. Now he's got seven discs at his command.
Infinity Reference 652i 6-1/2" speakers went into the factory openings in the front doors. Infinity's patented Plus One woofer cone is 30% larger than standard 6-1/2" speakers, so Ian gets a welcome boost in bass response up front. He can angle the Unipivot tweeters up towards his ears for clear highs.
Ian still wanted to add some punch and crispness to the forward stereo imaging, so he installed a pair of Kicker R13 Resolution tweeters in the door next to the door handle. "I thought that this location would angle the tweeters better for maximum stereo imaging. These tweeters are crisp and clean and give the whole stereo system a big kick," he explains.
A pair of Infinity Reference 6952i 6"x9" speakers give off plenty of powerful bass and vibrant highs from the rear deck, adding impact and depth to the overall sound.
A MOMO stick shift and shift boot add a personal touch to the interior, while APC clear bumper lenses give the front of the Accord a sleek look. Ian capped off his system upgrade with a DEI keyless entry system. The entry system's bright blinking red light also helps to deter thieves.
As you can see, Ian has nicely equipped the Accord with a first-rate sound system, a clean installation, and some tasteful cosmetic accents. His installation is a great example of how, with a little money and effort, anyone can turn an average car into something that reflects their individual personality and tastes. You don't need to use a bunch of blinking lights or garish colors that scream for attention to make your ride something special.
Once again, Ian states it best: "As you can see, I love music and I love life. You have to take time and enjoy the ride. Make every minute count. I really enjoy my Honda and the changes I have made. Sometimes when I am feeling down I can hop in my car and take a long trip to the coast. There is nothing like listening to your favorite band at high volumes as you watch the gray cloudy surf roll up on the beach. It's pretty great."
Well spoken, Ian. Thanks for sharing your installation story with us, and good luck with your future roadtest upgrades.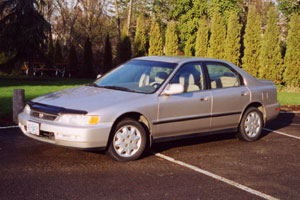 APC clear bumper lenses add definition to the Accord's front end.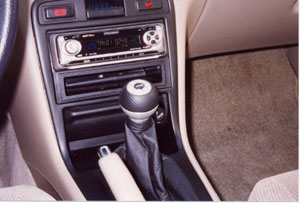 Pioneer's DEH-P4400 receiver "sits pretty" in the dash. A MOMO shifter and shift boot blend nicely with the dash.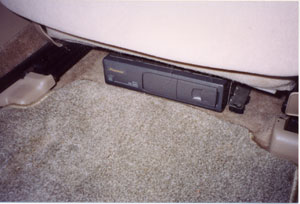 The Pioneer 6-disc changer is concealed under the driver's seat.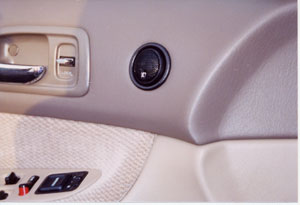 Ian flush-mounted the Kicker tweeters high in the door panels, aiming them in towards the driver's ears for prime stereo imaging — a clean, professional looking installation.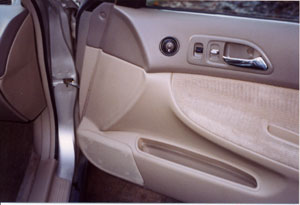 Infinity Reference 6-1/2" speakers and Kicker R13 Resolution tweeters in the front doors create detailed, spacious sound up front.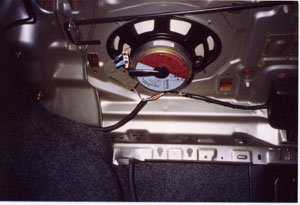 The Infinity Reference 6952i 6"x9" speakers dropped right into the rear deck, making a huge impact with their impressive bass and midrange response.