Chris Philhower's 2001 Ford Escape
Items installed:
Blaupunkt Austin in-dash CD receiver with CD changer controls
Blaupunkt CDC-A08 10 disc changer
2 pairs Kenwood KFCT204 tweeters — front and rear doors
2 pairs Blaupunkt PCxi573 3-way 5"x7" speakers — front and rear doors
Blaupunkt PCxi693 3-way 6"x9"
Q-Logic 6"x9" speaker boxes
2 Blaupunkt OverDrive ODw1500 15" dual voice coil subwoofers
Rockford Fosgate Punch 600.4 4-channel amplifier (75 watts RMS x 4)
Rockford Fosgate Punch 800.2 2-channel amplifier (200 watts RMS x 2) with remote Punch Bass knob
2-farad cap on Punch 800.2
1-farad cap on Punch 600.4
Scosche EFX RCA cables
StreetWires power and ground cables
Rockford Fosgate fused distribution block
Streetwires fuse and holder
Chris Philhower wanted to install a kickin' sound system in his 2001 Ford Escape that would keep up with the bodacious yellow finish and sporty good looks of his new 4x4. Now, nearly 1,300 watts louder, his Ford Escape is sitting pretty with a mobile audio system that can practically shake the paint off the chassis when it's cranked!
Chris chose Blaupunkt's Austin in-dash CD receiver to anchor his system. Features like built-in CD changer controls and 3-volt front, rear, and subwoofer preamp outputs open up the options for system expansion. With that in mind, Chris has nestled Blaupunkt's CDC-A08 10-disc CD changer in the center console, out of sight of potential thieves, but at arm's length if Chris feels the need to mix up the discs on rotation.
Chris installed the 3-way Blaupunkt Pcxi573 5"x7" speakers in the front and rear doors, while PCxi693 3-way 6"x9"s (in Q-Logic boxes) sit atop the subwoofer enclosure for more rear fill. Kenwood's KFC-T204 soft dome tweeters provide sweet high-frequency dispersion from angled mounts in the front and the rear doors; the tweets are parallel-wired off the Blaupunkt 5"x7"s. A custom-made sealed box in the back of the Escape contains two down-firing Blaupunkt Overdrive ODw1500 15" subwoofers; these dual voice coil subs feature spun-aluminum cones, 3" voice coils, and excellent power handling.
The Rockford Fosgate Punch 600.4 four-channel amp sends 75 watts RMS to each of the front doors, and kicks out 150 watts per channel to the rear 5"x7"s and 6"x9"s (which are wired in parallel). Rockford Fosgate's two-channel Punch 800.2 amplifier keeps the Overdrives supplied with a conservatively-rated 400 watts apiece (at 2 ohms) for some massive low-end impact.
The 4-gauge StreetWires power and ground cables run to the Rockford Fosgate distribution block, with 8-gauge cables to each Punch amplifier. Scosche EFX RCA cables carry super-clean signal from the Austin to the amps. Heavy-duty capacitors (2-farad on the Punch 800.2, 1-farad on the 600.4) maintain an even flow of power to the amps through periods of peak demand. Nice ride, Chris — thanks for the tour!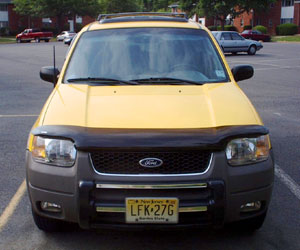 Hello, Yellow! Chris Philhower's 2001 Ford Escape.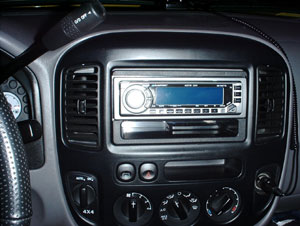 The Blaupunkt Austin CD receiver features a fold-down face, rotary control knob, and three sets of preamp outputs — and it's lookin' fine in the Ford dash!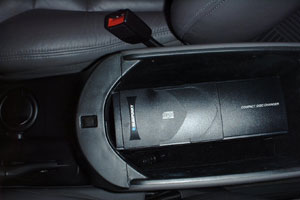 The center console houses Blaupunkt's CDC-A08 CD changer for easy access to 10 discs of entertainment.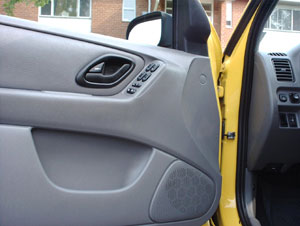 Blaupunkt's PCxi573 3-way 5"x7" speaker delivers big, full-range sound from the lower door panel, while the Kenwood KFC-T204 tweeter adds high-frequency detail from the door's sail panel.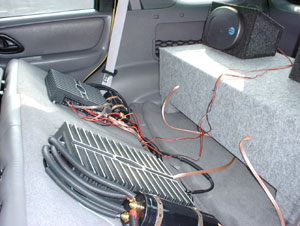 With the seats pulled forward, you can see the two Rockford Fosgate amps (mounted on the seat back), the two Q-Logic boxes housing the Blaupunkt PCxi693 6"x9"s, and the custom-made, down-firing subwoofer enclosure.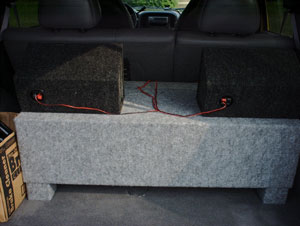 Here's another look at the sealed enclosure housing the two Blaupunkt Overdrive ODw1500 15" DVC subs. The down-firing design adds efficiency without the "boominess" of a ported or bandpass box.