Jonathan Ramsey's 1991 Mercury Tracer
Items installed:
Rockford Fosgate RFX9400 CD/MP3 receiver
Rockford Fosgate RFX8810 8-disc CD changer
Rockford Fosgate FNQ1414 fanatic Q 4" component speakers — kick panels
Rockford Fosgate FNQ1406 fanatic Q 6-3/4" midbass speakers — front doors
Rockford Fosgate FNX1514 fanatic X 5-1/4" component speakers — rear deck
Two Kicker S12L7 Solo-Baric 12" dual voice coil subwoofers
Rockford Fosgate Power 550X amplifier (65 watts RMS x 4)
Rockford Fosgate Power bd1500.1 Class bd mono subwoofer amplifier (750 watts RMS x 1)
Rockford Fosgate amp link
Rockford Fosgate 1-farad capacitor
Lightning Audio Storm 500 Series 4-channel RCA patch cables
Lightning Audio 400 Series RCA patch cables
StreetGlow undercar neon kit (Blue)
StreetGlow license plate neon
Eurolite windshield washer LEDs
Rockford Fosgate 1/0- and 4-gauge power and ground cable
VooDoo 3-way fuseholder
Two Reactor 3-foot neon tubes (trunk)
Dynamat sound control material
Talk about a labor of love! Jonathan Ramsay and his brother transformed a modest 1991 Mercury Tracer into an mobile audio showcase, complete with hand-made kick panel pods, customized door panels, and an ocean of blue neon accents. Built for sound quality, this rockin' system incorporates state-of-the-art equipment with some imaginative custom design.
Jonathan selected Rockford Fosgate's RFX9400 CD/MP3 receiver as the centerpiece of the system. Its ultra-clean preamp section and low-impedance, 5-volt preamp outputs guarantee distortion-free performance from the system's outboard amplifiers. Plus, it just flat out looks cool. A set of RCA jacks mounted on the console are connected to the receiver's auxiliary inputs so that a video game or portable music player can be hooked up in a hurry. The RFX8810 CD changer stores 8 discs under the passenger seat so Jonathan can leave the jewel cases at home.
Jonathan and his brother built carpeted fiberglass kick-panel pods to house Rockford Fosgate's FNQ1414 fanatic Q component system's 4" glass fiber woofers and 3/4" aluminum dome tweeters. They also built fiberglass door panels to hold the fanatic Q FNQ1406 6-1/2" midbass speakers, complete with window compartments to show off the elaborate fanatic Q passive crossovers.
The Rockford Fosgate Power 550X amplifier (65 watts RMS x 4) powers the front speakers: the 4" components (with the high-pass crossover set at 150 Hz) and the 6-3/4" midbass speakers (with low-pass set at 250 Hz). The FNX1514 fanatic X 5-1/4" component speakers are custom-installed on the rear deck for fill, powered by the Rockford Fosgate receiver's internal amp (25 watts RMS/40 peak).
The trunk installation is a work of art. Jonathan constructed a sealed enclosure for the two Kicker Solo-Baric L7 12" subs. The low frequencies are powered by 1500 watts (at 2 ohms) from Rockford Fosgate's Power bd1500.1 amplifier with its low-pass filter set at 60 Hz. A dash-mounted wired remote lets Jonathan adjust bass boost from the driver's seat. The amps are linked together and covered by a carpeted floor and window. Two 3-foot blue neon tubes fire up to highlight the carpeted "RF" logo cut from 1/4" plywood. Awesome.
Jonathan ran 1/0-gauge power cable from the battery to a Stinger 2-way fuse holder in the engine compartment, with 1/0-gauge and 4-gauge cables routed to another fuse holder and the amplifiers in the trunk. Lightning Audio Storm Series RCA patch cables carry the audio signal from the receiver to the amps. A Rockford Fosgate 1-farad cap keeps the juice flowing evenly to the Class bd amp.
Neon is everywhere on this ride. A StreetGlow blue under car kit handles the ground effects, with blue StreetGlow license plate kit and blue Reactor 3-foot tubes in the rear, and Eurolite's blue windshield washer LEDs up front. To protect against rattling, buzzing, and other bad vibrations, the brothers layered Dynamat in the trunk, around the spare tire wheel well, behind the front speakers, and on the rear deck. The tunes stay locked inside and the street noise gets locked out.
Let's all take a minute and tip our hats to Jonathan Ramsay — a lot of hard work and American ingenuity went into this totally jammin' system. Thanks for letting us take a look.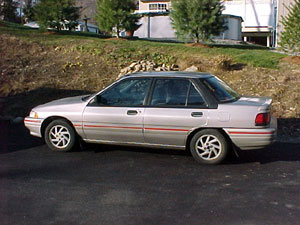 Jonathan Ramsay's 1991 Mercury Tracer.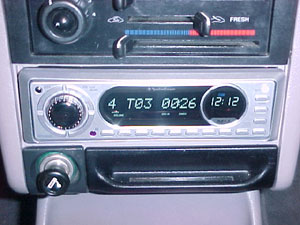 Highly regarded for its super-clean preamp section, Rockford Fosgate's RFX9400 CD/MP3 receiver lends a distinctive look to the dash.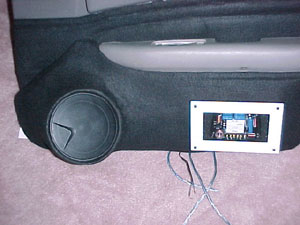 The custom-made fiberglass panel on the door houses the 6-3/4" midbass speakers and the fanatic Q passive crossovers.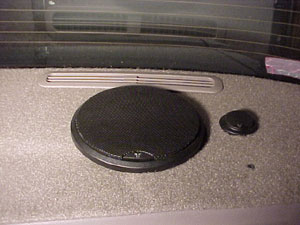 Rear seat passengers groove to the sound of Rockford Fosgate's fanatic X 5-1/4" component speakers on the rear deck.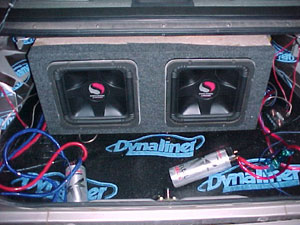 The hand-made enclosure houses two Kicker Solo-Baric 12" subs. To prepare for the intense bass, Jonathan covered the entire trunk with Dynamat.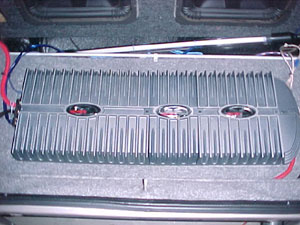 The two Rockford Fosgate amps are linked together on the floor of the Tracer's trunk, in the final stages of the trunk installation.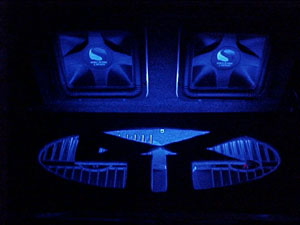 Blue neon highlights the amps, subs, and hand-made Rockford Fosgate logo for a stunning effect.