Items installed:
Kenwood eXcelon KDC-X811 in-dash CD receiver
Polk EX2560 6-1/2" component system — front doors
Polk EX502a 5-1/4" 2-way speakers — rear doors
Two Infinity Beta DVC (dual voice coil) 10" subwoofers
Two Q-Logic Type 1 10" sealed enclosures
Rockford Fosgate Punch 400a4 amplifier (50 watts RMS x 4)
Rockford Fosgate Punch 500a2 amplifier (125 watts RMS x 2, 500 watts RMS in mono operation)
StreetWires Ultraflow 4-gauge power and ground cable, power and ground distribution blocks
StreetWires Zero Noise 3.0 series RCA patch cables
Lightning Audio 1-farad Lightning Cap
Esoteric 16-gauge (speakers) and 12-gauge (subs) speaker wire
Craig Van Huss wanted to do something special for his 1999 Jeep Grand Cherokee Laredo. His goal was to design and install a stereo system with high sound quality and strong, clean bass while maintaining factory appearance whenever possible. As a Product Advisor at Crutchfield's Norton (Virginia) call center, it's his job to check out all the equipment that he sells — so it's especially interesting to take a look at the selections he made.
Craig decided on the Kenwood eXcelon KDC-X811 CD receiver as the heart of his system. He liked the security of the MASK revolving faceplate, the dead-quiet performance of the CD section (an impressive 105 dB signal-to-noise ratio), and the convenience of three sets of 4-volt preamp outputs with built-in crossover capability. The Kenwood's plus/minus power supply isolates the audio ground from the car chassis, eliminating ground loops and producing ultra-clean preamp output signal.
Craig chose the Polk EX2560 component system to provide the front soundstage, installing the 6-1/2" woofers in the front door factory locations and the 3/4" silk/polymer tweeters in the factory dash openings. Polk's EX502a 5-1/4" 2-way speakers pump out strong mids and highs from the back doors. The Rockford Fosgate Punch 400a4 amplifier powers the front and rear speakers with 4 channels of 50 watts RMS.
A pair of Infinity Beta DVC 10" subwoofers housed in two Q-Logic sealed enclosures generates some awesome bass, thanks to a righteous 500 watts from the Rockford Fosgate Punch 500a2 amp (bridged to mono mode). Power travels via StreetWires 4-gauge power and ground cables, while a 1-farad Lightning Cap ensures that the amps see a steady supply of juice. The System E's crossover (built into the KDC-X811) sends everything above 150 Hz to the front doors, above 80 Hz to the rear doors, and below 80 Hz to the subs. Craig employed StreetWires Zero Noise 3.0 Series patch cables for their superior noise-rejection qualities.
Craig and his brother installed the entire system in two days and, as you can tell from the photos, they did a beautiful job. Exquisite work, Craig — that is one jamaquacious Jeep!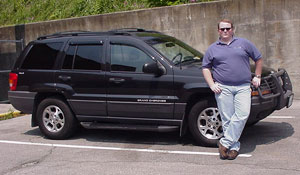 Craig Van Huss and his 1999 Jeep Grand Cherokee Laredo.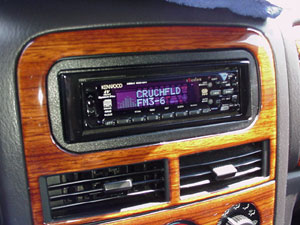 The Kenwood eXcelon KDC-X811 CD receiver supplies ultra-pure 4-volt output signal to an impressive system — and it looks pretty sharp, too!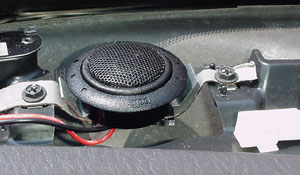 Polk's 3/4" silk/polymer EX Series tweeter is legendary for its smooth, well-defined highs — a great choice for the front soundstage.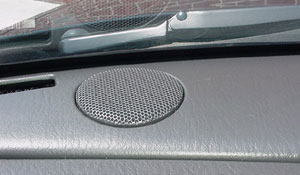 Craig went for a factory look — you'd never know a high-performance tweeter was hiding here.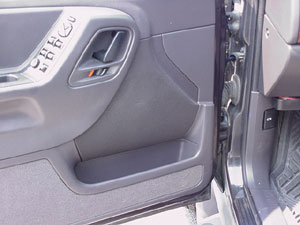 The 6-1/2" woofer from Polk's EX2560 component system takes charge of the midrange from behind the front door panel.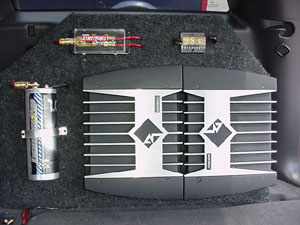 The Rockford Fosgate Punch 400a4 and Punch 500a2 make a potent pair in the amp rack, along with the Lightning Cap and SteetWires distribution blocks.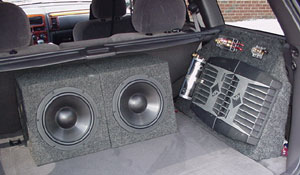 A pair of Infinity Beta DVC 10" subs kick out tight-as-a-drum bass from their Q-Logic sealed enclosures. (The woofer boxes can be removed easily for extra cargo space.)