Items installed:
Panasonic MXE CQ-DFX701U CD receiver
Audiobahn ABC600Q 6-1/2" component speakers — doors
Sony XS-V1632 6-1/2" 3-way speakers — rear cab corners
Audiobahn A4601Q 4-channel amplifier (75 watts RMS x 4)
Audiobahn High Current 2150HCQ amplifier (150 watts RMS x 2)
2 Kicker Solo-Baric S10L74 10" dual 4-ohm voice coil subwoofers
Hi-Tech Car Audio custom subwoofer enclosures
Audiobahn 1-farad Capacitor
Audiobahn 4-gauge Wiring Kit
Rockford Fosgate Connecting Punch 4-gauge Wiring Kit
PAC BB-150A2 150 Hz Bass Blockers
StreetGlow neon accent lights
Dynamat Xtreme speaker kit
Cody Warren planned to outfit his 1994 Dodge Ram 1500 truck with a SPL competition audio system, yet he also wanted high-quality sound for everyday driving. He achieved both of his goals with an interesting combination of components in a very cool-looking installation.
Panasonic's CQ-DFX701U CD receiver looks great in the dash with its distinctive Day & Night faceplate and 3-D Dot Matrix Display. Three sets of low-impedance 5-volt preamp outputs supply ultra-clean signal to the system's outboard amps, and Super High Definition Bass (S-HDB) allows Cody to control bass quality by switching between "Boom," "Tight," and "Flat" settings.
In order to create a righteous soundstage, Cody installed Audiobahn's ABC600Q component speakers in the front doors. He had to fashion metal adapter plates (covered with resonance-killing Dynamat Xtreme) to allow the 6-1/2" aluminum woofers to fit into the 6"x9" openings in the Dodge's doors.
The Audiobahn 1" silk dome tweeters are mounted high on the door panels to maximize high-frequency definition. From its location under the passenger seat, Audiobahn's A4601Q amplifier cranks out 210 watts RMS by 2 channels to the front door component speakers.
For rear fill, Cody replaced the factory speakers in the cab corners with Sony's 3-way XS-V1632 6-1/2" speakers. The Sonys are powered by the Panasonic receiver's internal amp, and PAC Bass Blockers remove frequencies below 150 Hz for a cleaner sound at high volume levels.
Cody decided to entrust low-frequency reproduction to the professionals — Hi-Tech Car Audio in Plano, Texas. To maximize the bass from the limited space available behind the seats in the Ram truck, they recommended Kicker Solo-Baric L7 10" subs for their combination high sound pressure level with excellent sound quality.
Hi-Tech built twin ported enclosures (1.75 cubic feet each) to house the Solo-Barics, and installed Audiobahn's 2150HCQ amplifier (150 watts RMS x 2 at 4 ohms) between the two enclosures. The dual 4-ohm voice coil Solo-Barics are wired in parallel so the Audiobahn amp (bridged to mono, with its low-pass crossover set at 120 Hz) hits them with an awe-inspiring 1200 watts at 1 ohm!
Between the enclosures, an Audiobahn 1-farad capacitor keeps a steady stream of power flowing to the sub amp, while StreetGlow neon accents the Audiobahn amp's chrome exterior nicely. Audiobahn and Rockford Fosgate 4-gauge wiring kits were used to install the two amplifiers. The sub amp's remote level control is mounted on the dash, so Cody can adjust the bass for any situation, from SPL competitions to a drive to the 7/11. Smokin' truck, fine-looking installation! Thanks for the look, Cody, and good luck at the shows.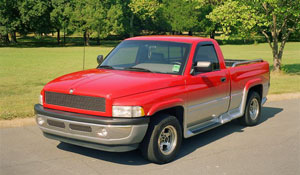 Cody Warren's 1994 Dodge Ram 1500 — check out the custom paint job, along with the aftermarket bumper and grille.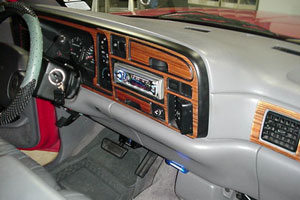 With its Day & Night faceplate, the Panasonic MXE CQ-DFX701U CD receiver adds an extra touch of style to the custom burled walnut dash.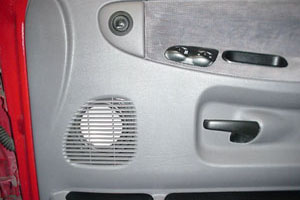 Audiobahn's ABC600Q component set (6-1/2" spun-aluminum woofers, 1" silk dome tweeters, and outboard 12 dB per octave crossovers) projects precise, powerful sound from the front doors.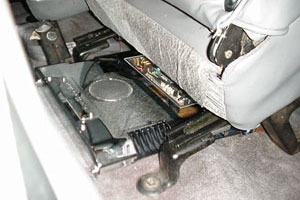 Audiobahn's A4601Q amplifier sends 210 watts per channel in bridged mode to the door components for an ultra-clean front soundstage.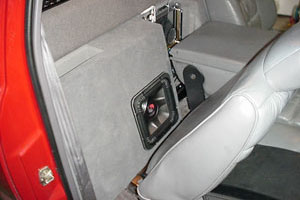 2 custom enclosures + 2 Kicker Solo-Baric L7 10" woofers + 1200 watts of Audiobahn power = Bass Blitzkrieg!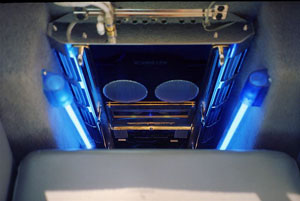 StreetGlow neon accent lights (mounted between the custom bass enclosures) reflect off the Audiobahn amp's chrome exterior for a superbad effect.