Best drones for 2023
How to choose the best flying camera
In this article: I'll hook up a few key recommendations, each based on a common camera drone application or level of experience.
You'll also find helpful drone shopping tips and a few quick reminders about drone safety.
While we're at it, keep an eye out for some cool alternatives thrown in for good measure.
rones come in a multitude of flavors. They can be just a cool toy or an efficient way to film action sequences on a movie production. Many fly, but some float or roll. There are camera drones that take underwater pictures or drive on six wheels like the Mars rover. With one pretty neat exception, we'll be focusing on flying camera drones in this article. If only because they're my favorite.
"Why?," you might ask. Well, if you're looking to capture a beautiful sunset, how much cooler is it to frame that picture with miles of surrounding countryside? Finding the right angle or vantage point on foot can be difficult. There's this whole thing called "rough terrain" you have to contend with.
Flying drones are effectively airborne cameras. In a matter of seconds, they can traverse the environment, free as a bird, and help you capture shots that are otherwise impossible to get from the confines of the earth below. "Gravity weighs down the soul," as the saying goes, so why not take the opportunity to liberate ourselves, if only for a moment?
With a drone camera's aerial perspective, the daily commute I took for granted became a sweeping landscape. It's way cooler than the view from my car, that's for sure.
What type of drone should you buy?
We divide most of the camera drones we carry into three basic categories: Micro, Mini, and Full-sized. Micro drones are the smallest type of drone, usually requiring very little assembly or setup, and are often the most affordable. We usually recommend these small drones for entry-level flyers.
Mini drones are a step up from micro drones. They're generally faster, have longer flight times, and tend to carry high-resolution cameras. Mini drones with a camera work out really well for a wide range of hobbyists.
Full-sized drones are biggest type of drone, flying the fastest and staying in the air the longest. They're also often jam-packed with sophisticated technology and the most advanced cameras. This makes full-sized drones a great choice for flyers looking for a premium experience.
Our top drones for 2023
Let's break down our picks for the best drone cameras this year. There's a drone for every type of pilot, from beginners taking off into the skies for the first time to experienced aerial photographers who've mastered the winds and are looking for that next great shot. These picks should help you get started and find the right drone for you.
You'll notice a lot of DJI drones on this list. We carry excellent drones from other manufacturers like Autel Robotics and Parrot that could've also easily made the list. We keep coming back to DJI because they have such wide, versatile range of camera drones. They do a little bit of everything and they do it all well, with at least a few models in our top-selling list of drones at any given time.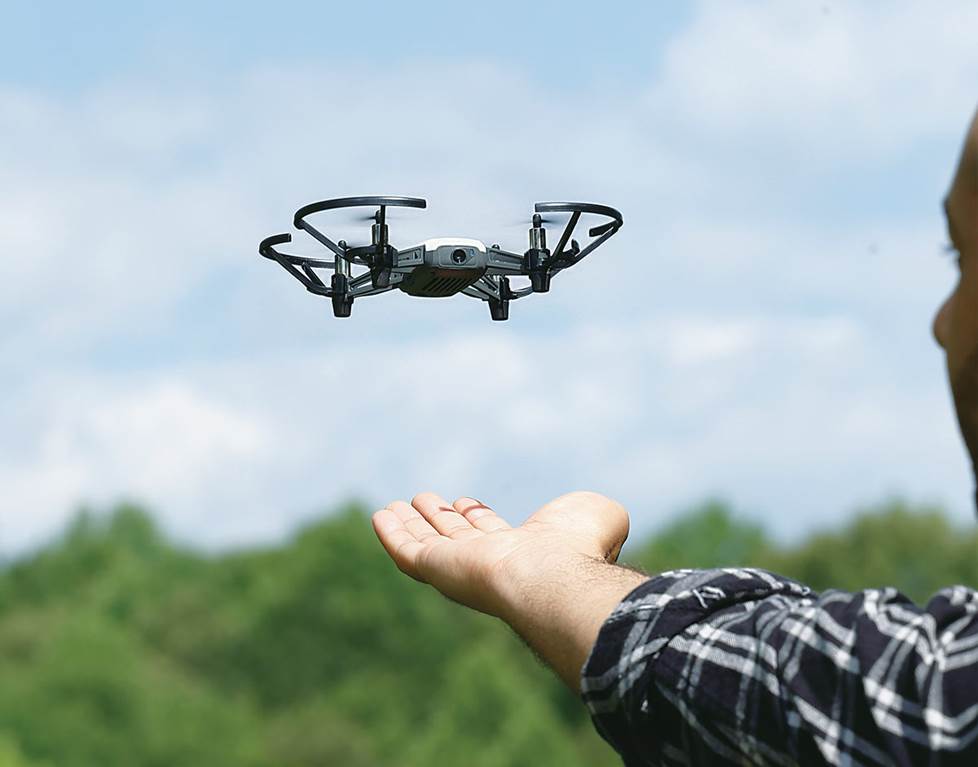 Best drone for beginners (kids too!) — DJI Tello
If zipping through the air with a drone sounds like a ton of fun, but you're still hanging out on the bench, let's get you in the game. The DJI Tello is great starting point for the hobby. It's affordable, easy to use, and jam-packed with cool features. It's also a great drone for kids.
Starting up a drone, tossing it, and then watching it catch itself and hover mid-air never gets old. It's also ridiculously easy to perform flips in eight different directions. With a few quick swipes on the touchscreen of your phone, you can watch the drone do aerial acrobatics.
The Tello makes it easy to get the next generation excited to fly. My five-year-old was super excited when she piloted the micro drone around our yard for several minutes. She made it through her first solo flight without a crash, which is a pretty solid flex for a kindergartner.
Details:
built-in camera takes 5-megapixel stills and shoots 720p video
electronic image stabilization keeps your video and stills looking sharp
13 minutes of flight time with included rechargeable battery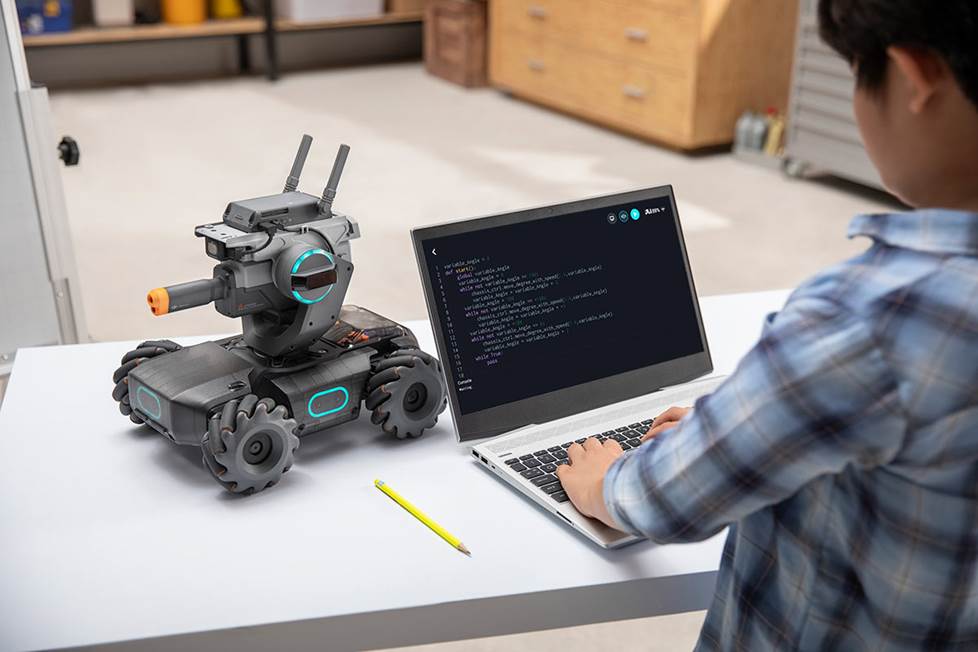 Best educational drone for kids — DJI RoboMaster S1
Education is more impactful and fun when it's hands-on. The DJI RoboMaster S1 is a programmable drone that encourages young learners to get into STEM by letting them build, program, and drive their very own robot.
After working together to assemble the drone, it's hard not to get excited watching it light up for the first time. It's even cooler to watch it act out a string of commands you've successfully programmed.
With omnidirectional smart wheels, the RoboMaster is just plain fun to drive around too, especially if you've loaded its rapid-fire turret up with gel beads.
The turret also has a fully automatic light blaster, and each time you fire the drone it belts out a cool "z-z-zap." Pressure and infrared-sensitive plates register hits from other RoboMasters, letting your students battle against each other in a hail of laser sound effects.
Details:
5-megapixel camera with a 1/4" CMOS sensor
modular design with 46 customizable components
customizable control via Scratch 3.0 and Python coding
RoboMaster app offers interactive educational resources and competition modes
35 minutes of driving with included rechargeable battery
top speed: 7.5 mph
Airborne educational alternative — DJI RoboMaster Tello Talent
If you're looking to take learning into the air, the DJI RoboMaster Tello Talent Educational Drone is a great budget-friendly alternative for educators and parents. It has all the cool features of the standard Tello and is compatible with Scratch and Python programming just like the RoboMaster S1.
The RoboMaster TT recognizes the unique patterns on several included mission pads, letting you design custom actions that are activated when the drone passes over the corresponding pad. This programmable drone also has an 8x8 dot-matrix screen that can be scripted to flash sequences of lights as it flies.
You can even link up several RoboMaster TTs and fly them in a literal drone swarm. It's pretty awesome watching a drone act out a string of movement and light commands you've successfully programmed. Artificial intelligence hasn't taken over the world yet, but that won't stop you from scoring points with our future overlords.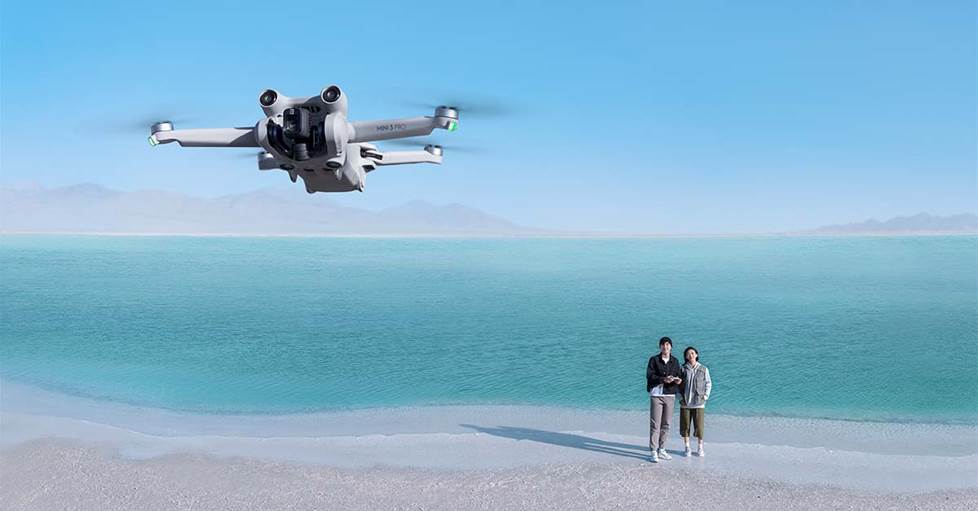 Best hobbyist drone — DJI Mini 3 Pro
The DJI Mini 3 Pro is great for folks that have just dipped their toes in the water and are looking for something that has a lot of bang for their buck. It's value-packed, offering powerful visuals and flight at an attractive price point. This mini drone can fly up to 35.7 miles per hour, is wind-resistant, and has a 48-megapixel camera capable of recording 4K video at 60 fps.
With several QuickShot and panoramic modes, the Mini 3 makes it simple to snag great footage. The wireless connection to the remote controller also uses OcuSync 3.0, which transmits a clear, strong signal up to 6.2 miles — letting you fly with confidence.
Because the Mini 3 weighs 8.78 oz., you can fly without taking the extra time to register the mini drone in most regions. This helps you get you in the air just a little faster, and makes travelling with your drone easier.
Details:
48-megapixel camera with 4K video
flies up to 35.7 mph
resists winds up to 29.3 mph
OcuSync 3.0 (O3) transmits clear video up to 7.4 miles
flight times up to 34 minutes
Budget-friendly alternative — DJI Mini SE
The DJI Mini SE is an ultralight and easy-to-use camera drone. As an update on the popular Mavic Mini drone, the Mini SE is effectively the little brother of the Mini 3 and Mini 2. It's even easier on your wallet, but still jam-packed with cool features.
The Mini SE's 12-megapixel camera captures video at up to 2.7K HD resolution. The drone also flies fast and strong, hitting up to 2.4 miles per hour and resisting 29 mile per hour winds. The Mini SE makes it easy to soar high and capture cool footage even if you're still learning the ropes.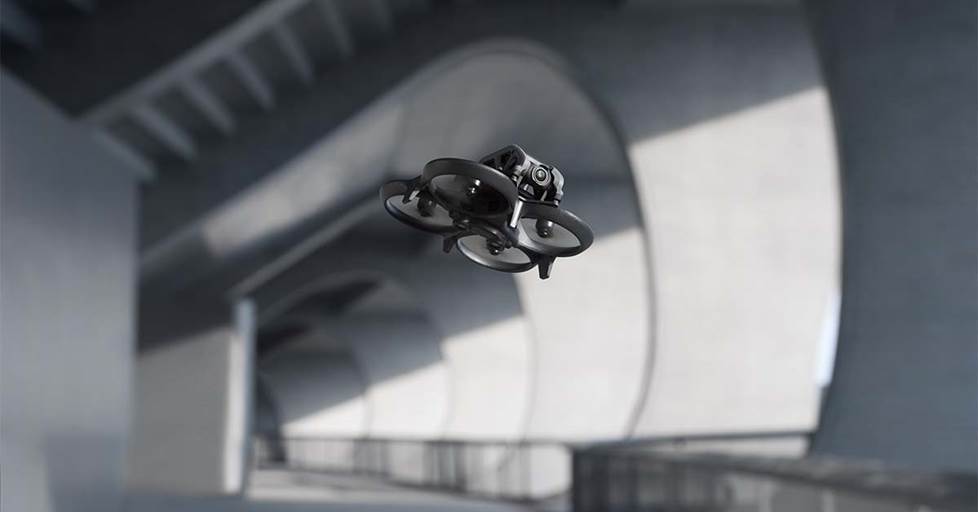 Best drone for enthusiasts — DJI Avata
The Avata is DJI's first "cinewhoop"-style drone, designed from the ground up for maximum agility and stability. This style of drone build comes from the racing scene, where competitors zoom around the tight corridors of indoor courses. The DJI Avata also offers an experience few other camera drones can get close to, letting you see the world from a visceral first-person perspective untethered by the weight of gravity.
There are a two core flavors of the Avata. The Pro View Combo, which comes with the DJI Goggles 2. And the Fly Smart Combo, which come with the FPV Goggles V2. Both packages let you see through the 'eyes' of the drone as it flies up to 60 miles per hour. In the words of Neo, "whoa."
The Avata has three core flight modes. Each is designed for a different level of experience, helping you work your way up to the drone's full potential. N Mode uses obtacle detection, automatically decelerating the drone to avoid collisions. M Mode takes the training wheels off entirely, giving you complete control and letting you fly at full throttle. S Mode bridges the gap between N and M, offering simplified manual controls with a focus on capturing cool first-person footage.
This drone is my all-around favorite pick. Who hasn't looked up at our big, blue sky and dreamed of flying? This is about as close as you can get.
Details:
48-megapixel camera with 1/1.7" CMOS sensor
records 4K video @ 60 fps
OcuSync 3.0+ (O3+) sends 1080p/120fps live video up to 6.2 miles away
flies up to 60 mph
resists winds up to 24 mph
DJI FPV Goggles V2 or DJI Goggles 2 for first-person flight
Budget-friendly intermediary — DJI Air 2S
The DJI Air 2S rocks out a powerful camera, fast flight, and a ton of smart features that help enthusiast explore their aerial creativity. It's 20-megapixel camera has a large 1" CMOS sensor for detailed images even in low-light conditions. It also captures 5.4K video at 30 fps and 4K video at 60 fps— hooking you up with especially smooth, crisp recordings.
With several shooting modes, the Air 2S has something for everyone. You can rock out slow motion, keep moving objects in focus with FocusTrack, or use the processing features of SmartPhoto to optimize your image quality in a variety of shooting conditions. It also includes obstacle avoidance to make it easier to fly safely, with infrared sensors that detect obstacles in front of, behind, above, and below the drone.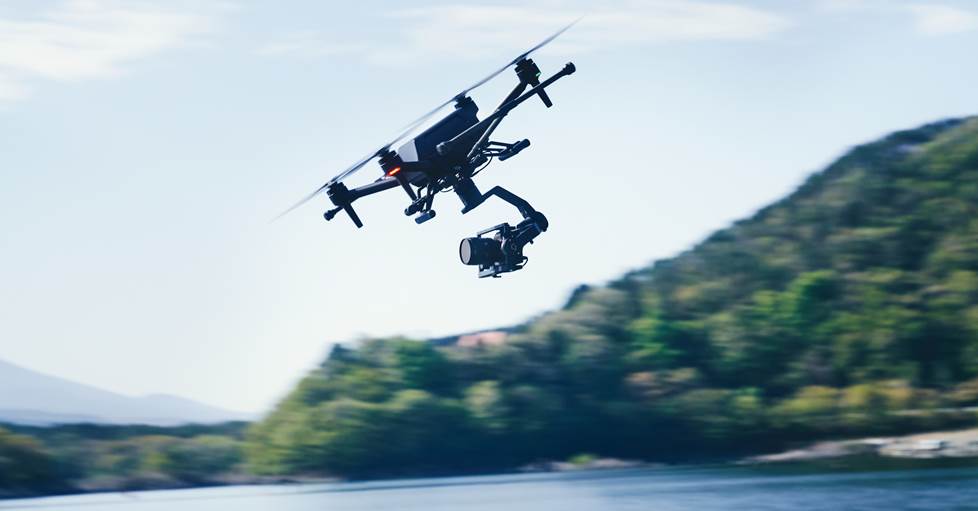 Best drone for photography — Sony Airpeak S1
The Sony Airpeak S1 is a agile, versatile drone that combines with the Gremsy Gimbal T3 to take one of Sony's popular Alpha full-frame mirrorless cameras airborne. It's also compatible with select E-mount lenses for a wide range of kit combinations. This lets you outfit cameras with some serious optics like the Sony Alpha 1, which offers 8K video quality and razor sharp 50.1-megapixel stills.
When flying manually or using automated flight modes, the Airpeak S1 can detect and avoid obstacles with automatic deceleartion and braking using a powerful array of sensors. You can take full control in the moment or plot out preset flight routes with detailed instructions down to camera settings and positioning — then review, adjust, and re-run them at will.
The video feed from the FPV camera can be transmitted to the drone operator while the gimbal-mounted feed is simultaneously sent to the camera operator with a second controller (sold separately). This lets them work as a team to capture shots that would be hard for a single person to achieve.
Details:
compatible with select Sony Alpha full-frame mirrorless cameras and select E-mount lenses
can carry a gimbal + camera system up to 5.5 lbs.
split up control of the drone and gimbal/camera with a partner
flies up to 55.9 mph
resists winds up to 44.7 mph
real-time 3D spatial awareness and obstacle detection
Budget-friendly alternative — DJI Mavic 3
The DJI Mavic 3 is the latest in DJI's popular Mavic series, updated with a sophisticated 5.1K Hasselblad camera, custom-built for aerial photography. This professional-grade camera has a powerful 4/3" sensor for greater resolution and clarity, reducing noise for excellent low-light performance. With a 10-bit D-Log color profile and Hasselblad's unique image processing system, the Mavic 3 produces rich, natural colors that pop without using presets.
To give you additional flexibility, the Mavic 3 has a twin-camera design with a secondary 12-megapixel telephoto camera with a 1/2" CMOS sensor. This second camera supports up to a 28X hybrid zoom, letting you scout terrain from afar and plan your next shot.
Capturing great footage is easy with the Mavic 3's wide range of intelligent shooting modes — from time-lapse videos and advanced tracking modes to MasterShots, which lets you pick a subject and keep it center-frame while the drone dances in the air to easily create cool-looking videos.
Drone shopping tips
The first thing I learned when I started flying was that camera drones do a lot of work, so they can only be airborne for so long. The easiest solution is to have extra batteries charged and lined up so you can swap them out and keep going. If you accidentally bump a drone into something, it's also nice to have a set of replacement propellers around, just in case.
Because most drones can interface with your smartphone, it's not uncommon for a drone to be compatible with a remote controller, but not come with one in the box. I prefer the tactile feedback of a controller, so this one's a must for me.
Before you buy a drone, hit up our "What's in the Box?" to double-check what accessories are included. From there, you can peruse the accessories tab of any drone on our website to see a full list of compatible extras.
Most of the drones we carry also have a bundle or combo version that comes pre-packaged with extra gear. Keep an eye out for these, they can save the time and effort of picking up extra batteries or parts later on.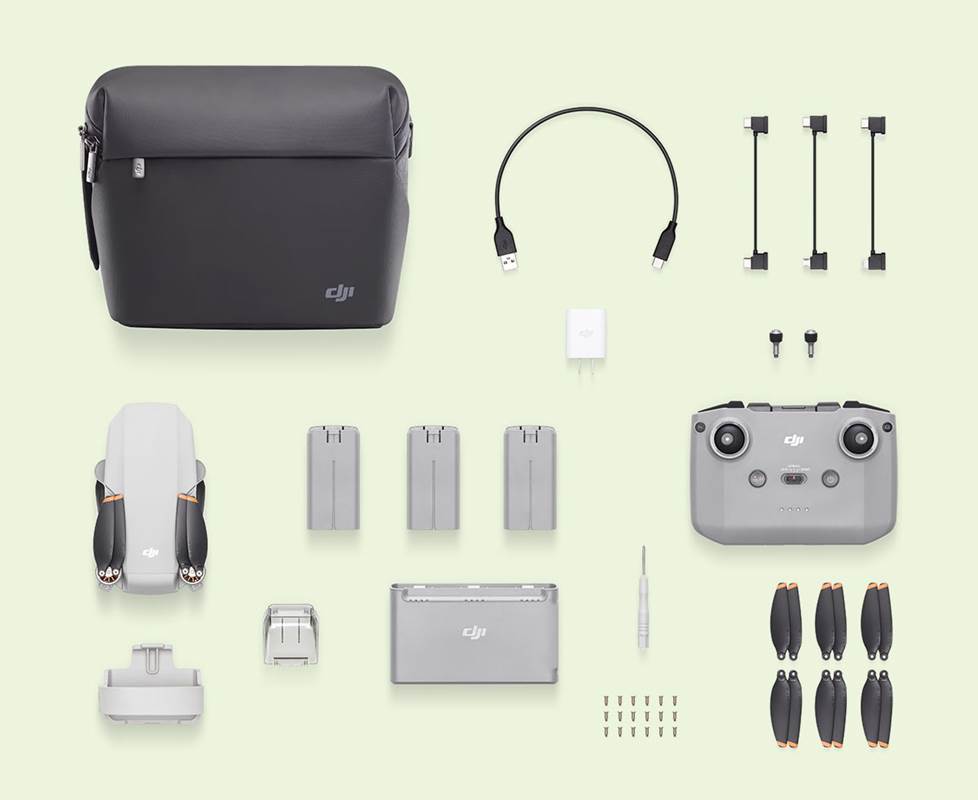 The Mini 2 Fly More Combo includes a nifty carrying case and everything you need to, well, fly more!
Head to our full list of drones and accessories to get a bird's-eye view of what we offer. The best part of drones is the flying, so my best advice is to put yourself in a good position to maximize your airtime.
Looking for commercial drones?
Commercial drones are generally full-sized and designed for a plethora of advanced enterprise applications, everything from surveying and mapping to fighting forest fires. These drones are meant to fulfill very specific needs.
If you're looking for more info on our commercial drone options, check out our helpful article on How to Choose a Drone for Business.
Drone safety, laws, and regulations
Drones are super cool, but they aren't toys. Learning to fly safely and responsibly is the most important thing you can do as a drone owner. The FAA (Federal Aviation Administration) offers safety tips and information about laws regulating drone use. Some key reminders:
You can't fly a drone camera near an airport or national park. It's best to not fly over large groups of people (like an outdoor concert) or over someone else's private property. The FAA website provides the most up-to-date and accurate information:
Laws can evolve rapidly and often vary based on your area. It's best to thoroughly familiarize yourself with the current regulations that impact you before you fly your drone. Safety comes before any other consideration — drones can easily injure innocent bystanders or damage property if they're not flown responsibly.
Now you know, and knowing is half the battle!
Get started today!
Our website has a solid selection of drones. If you need help finding exactly what you're looking for, don't hesitate to get in touch with one of our friendly Advisors.
Free lifetime tech support is included with your Crutchfield purchase.
Popular questions customers ask
Most of the drones we carry are consumer drones of various sizes designed for hobbyists interested in capturing pictures and videos from the air. Then there are commercial drones designed for enterprise applications like emergency response, aerial surveys and inspections, and education. Commercial drones often have advanced features like thermal vision, programmable software, or even special sensors like Lidar.
With a little practice, yes! Drones frequently feature assisted or automated flight modes to make flying easier. Look for drones with obstacle detection and avoidance. Many drones are controlled via a mobile app. These drones usually have a controller that connects to and docks your phone so you can use its screen. Smart controllers with built-in screens are often available, too.
Yes, most of the time. The FAA requires any drone over 5.5 lbs. to be registered. Depending on where you are, there may be other restrictions to consider as well. You'll want to research your local laws before you ever take off with a drone.
You can fly your drone in most places, but there are official "no-fly" zones like airports, government facilities, etc. You'll always want to research where you're flying in advance. The FAA also requires that you fly with your drone within line-of-sight. That means even if your drone can maintain a signal for miles, you need to be able to visually pinpoint your drone in the sky the whole time.
In short, it depends on the drone. Most drones feature rechargeable batteries, and we'll list the approximate flight time available per charge for each drone. If you're looking to stay in the air longer, you'll want to pick up extra batteries or even a battery charger. These will be listed with a drone's compatible accessories. We also carry special packages that bundle drones together with extra batteries and other accessories.
Last updated 11/4/2022