Entertainment furniture buying guide
TV stands, A/V racks, entertainment centers, and media fireplaces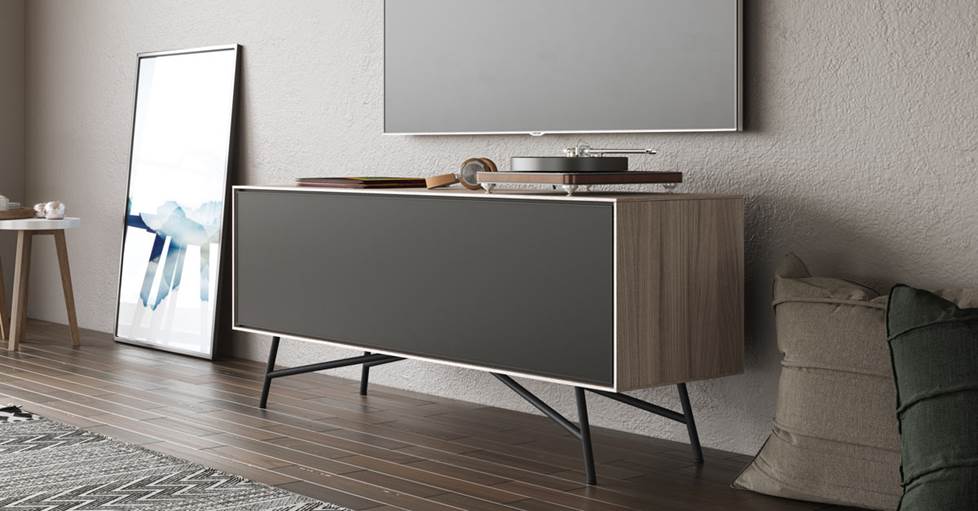 A wide variety of styles, colors, and configurations are available to match your lifestyle. Materials such as hardwood, thick tempered glass, and powder-coated metal make for sturdy, attractive furniture that can last for years.
Whether it's called an entertainment center, TV console, or A/V cabinet, specialized furniture designed to hold audio/video components can represent a sizable investment.
Before making any purchase, here are some important things to consider:
Will you be placing your TV on the furniture? If so, the piece should be able to accommodate the TV's width and support its weight.

How many and what type of components do you want to store? Center channel speakers and sound bars usually need wider compartments than a receiver or Blu-ray player. A high-end A/V receiver can require a deeper compartment than a mid-line receiver.

Where will the furniture be located in the room, and how much space will it have? If you like your TV in a corner, there are specially designed cabinets angled to fit snugly into that space.

What's the décor of your room? If your family room is mid-century modern, then a cabinet with Federalist molding and pediments might look out of place. Conversely, if your home has a classic look, a brushed steel frame stand might appear too modern.
A big TV needs a sturdy stand
TV cabinets can have open compartments, closed compartment (with either solid or glass-panel doors), media drawers, and more. There are small cabinets for a simple system with a small TV and Blu-ray player, and larger cabinets for multi-component home theater systems with large TVs.
Modular cabinets can be easily customized for your needs. The Salamander Designs Synergy System, for example, lets you add a turntable tray, extra shelves, a media drawer, change the style of feet, and more.
Hide your audio gear in a closet or utility room
Want to keep your audio gear out of sight? Utility-style audio racks feature open shelving or rack mounts. But most audio cabinets and racks are furniture designed to house your gear.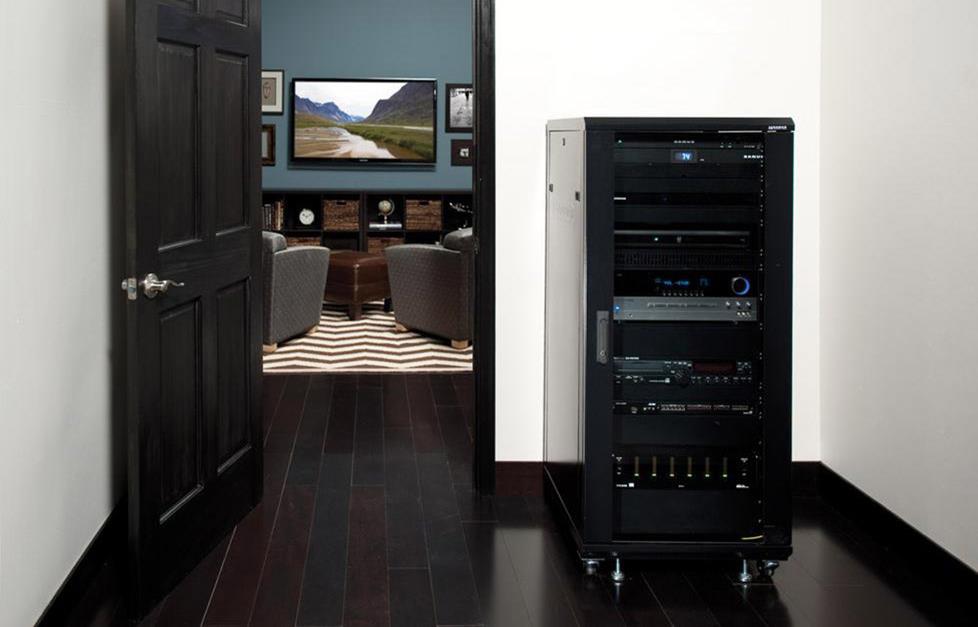 Audio component racks can make efficient use of storage space.
What to look for
An old corner cupboard may appear to make a good A/V cabinet, but without major modifications, it probably isn't. Here are some key features to look for in purpose-build entertainment furniture:
Passive ventilation – electronic components generate heat, and without ventilation that trapped heat can seriously affect your gear's performance. Look for openings in the bottom, in the shelving, and in the back of the cabinet to allow free-flowing air.

Wire channels – If you need to connect your receiver on the middle shelf to the Blu-ray player on the lower shelf, it's important to have access to your cables. Look for openings in the back of shelves, portals in back panels, and notches in the back of side supports.

Tempered glass door panels – For simple storage, solid door panel might be fine. But if you need to control your gear remotely, you should look for a door that allows IR signals to pass without interference. Such panel doors often feature smoked or tinted glass to discretely hide your components.

Removable back panels – Entertainment furniture features back panels that are easy to remove for quick access. These panels can also have passive ventilation slots, and openings for cables to be run between shelves.

Wheels -- Built-in wheels provide easy access to the rear of your cabinet. Of course, you'll need access to initially set up your gear, but that won't be the only time. You'll need access whenever you upgrade or replace a component in your system. Sometimes wires work loose, and you'll need to open up the cabinet back and check connections. Plus, wheels make it easy to move the furniture for cleaning.
Other options
If you don't want your TV sitting in your cabinet, but don't (or can't) mount it to the wall, manufacturers such as BDI make compatible floor-standing TV mounts that fit behind and attach to their cabinets.
If you plan to have your TV sit on top of your cabinet, you should add a safety strap to ensure it doesn't accidentally tip over.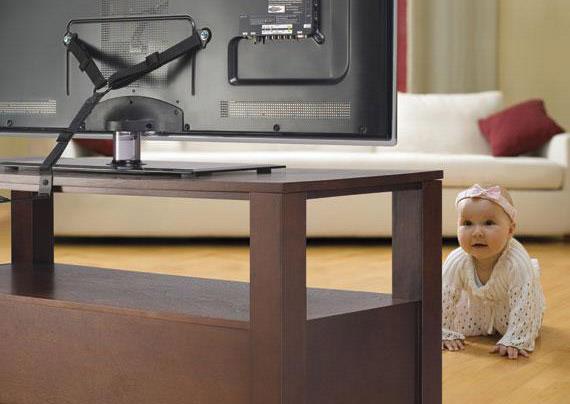 Even if you don't have young children, securing your TV with a safety strap is a good idea.
Wall-mounted shelf systems give you additional options. This is a great solution for a small A/V system, especially for a wall-mounted TV. It lets you store one or two components beneath your set on wall shelving, keeping floor space open.
Salamander Designs Synergy furniture comes with removable feet. This gives you the option of either using the cabinet as a floor-standing piece or removing the feet and wall-mounting it.
If you have a dedicated home theater room, you may also want theater-style seating.
We can help you choose
Need help with your selection? Our expert Advisors know entertainment furniture inside and out. Contact us today.
Free lifetime tech support is included with your Crutchfield purchase.