The Focal Bathys represent a whole new class of wireless noise-canceling headphones. In fact, I recently named them "best-sounding" in my list of the top noise-canceling 'phones. They're closer in looks and stature to Focal's storied line of wired audiophile headphones.
I found they also offer a similar top-shelf sonic experience — along with a lighter design that's packed with on-the-go features.
Pros
The best sound I've heard from a set of wireless noise-canceling headphones
Top-notch build, look, and feel
Weight distributes comfortably when worn
Cons
Noise cancellation is very good, but not among the best
No "passive" wired listening mode — headphones must be turned on
Focal uses the same fast-attack 40mm driver design they developed for their revered high-end headphones, like the Utopia, Clear Mg, or Celestee. And the sound they deliver hits the spot — expansive, full-bodied, and articulate with a tremendous sense of space.
Strong, high-quality wireless audio
Bluetooth 5.1 is on board — with hi-fi formats like aptX® Adaptive and aptX HD — so you can play music wirelessly from your phone. I was able to keep my phone on my office desk and walk clear across my basement without audio dropout. Plus, multi-point connection lets you pair two devices at the same time, so you can quickly sync to your phone or laptop.
Battery life and high-res wired listening options
When fully charged, you can listen to these headphones wirelessly for up to 30 hours with noise cancellation. And if you need a quick fuel-up, a 15-minute charge will give you up to five hours of wireless listening. Focal also included cables for optional wired listening, including a 3.5mm miniplug cable.
Just note there's no "passive" listening mode — the headphones need to be charged up even when you listen wired. (And since you're using the circuitry built into the headphones, there's no benefit to connecting to a separate headphone amp.) But you can plug the included USB-C cable into a compatible phone or computer and bypass that device's audio circuitry. The Bathys headphones have an internal DAC that's capable of playing high-resolution audio files.
Deluxe, premium look and feel
These headphones aren't quite as sizeable and robust as Focal's wired audiophile offerings — but they are larger than the average set of over-ears. Still, their weight is nicely distributed, and I could wear them through work shifts without fatigue. Their sturdy, well-padded earcups are held together by an aluminum frame and smooth-sliding magnesium headphone yokes that helps keep the fit secure, yet relaxed.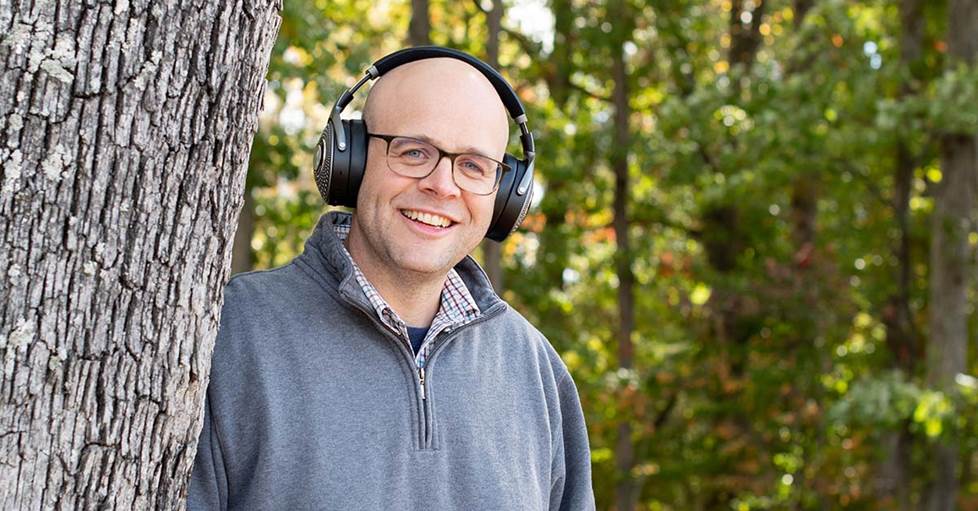 I could wear the Bathys for hours on end without fatigue — and take high-end Focal sound with me everywhere.
Real leather covers the outside of the headband while a soft, pleasant microfiber hugs the head. Visually, they look sharp — Focal started with their familiar design motif and added some extra flair and flourishes. Most noticeably, the backlit logo that shines on when paired to your phone. (I got a kick out of the fact that I could dim or turn off the LED light with the Focal & Naim app, a free download for Apple® and Android™.)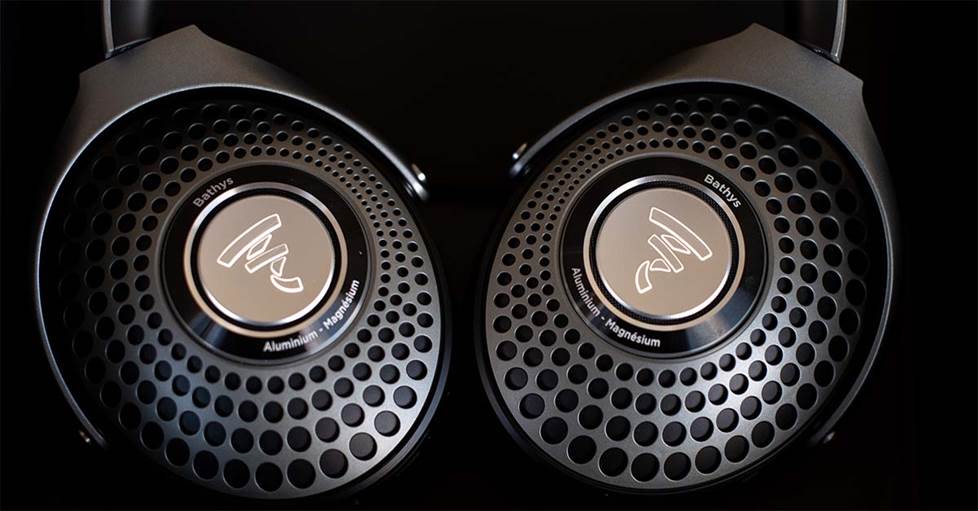 I chose to let the light-up logo shine! But you can use the mobile app to dim the LED or power it off.
Noise cancellation that preserves (and enhances) sound
Built-in active noise-canceling circuitry uses a series of mics to monitor external sounds and adjusts itself accordingly. This helps set a low noise floor for the drivers to do their thing. The Focal & Naim app lets you toggle between two levels of noise cancellation.
I tested the noise cancellation at Crutchfield HQ while we had some remodeling going on. They don't offer the absolute best noise cancellation available, but it is well above average.
I think they are well-equipped to cancel out travel noises, like the loud drone of a plane engine. With music playing through the Bathys, I couldn't hear the drilling and sawing from the floor directly below my desk — I was locked into the large Focal soundstage.
And when you need to be aware of your surroundings, push the button on the left earcup to activate "Transparency" mode. It uses the built-in mics to pick up external sounds and voices.
Well-engineered drivers for powerful, nuanced sound with deep bass
In each earcup, you'll find Focal's well-engineered drivers, complete with their acclaimed "M"-shaped diaphragm domes. This special design gives the Aluminum/Magnesium-based drivers a more fluid, effortless movement, which greatly reduces distortion and phase problems. It's why Focal headphones always sound so dynamic and yet controlled, across a wide frequency range.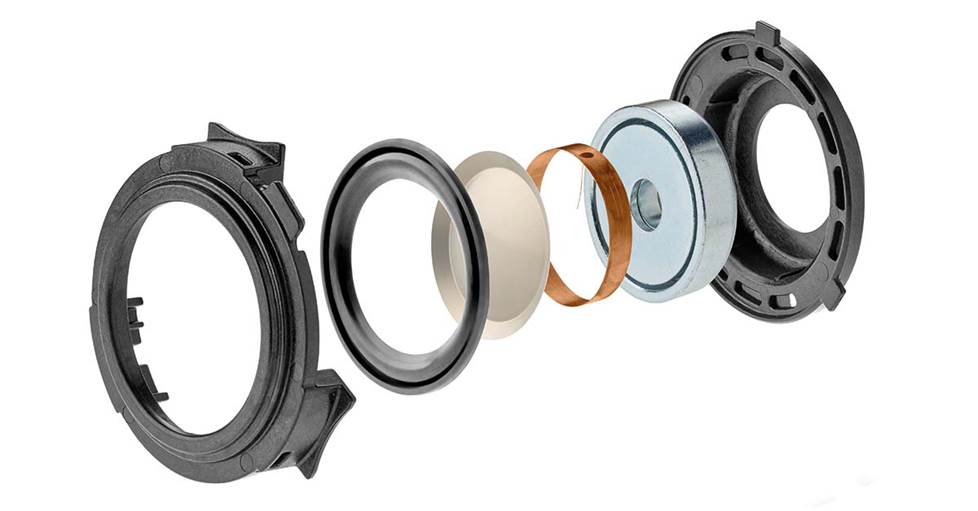 Focal's specially designed drivers include free-moving aluminum/magnesium diaphragm domes to deliver focused, articulate sound.
Here, Focal's tuned their drivers to perform better within the Bathys' closed housings. There are shrewdly placed vents surrounding the glowing Focal logo to release excess energy and avoid distortion. The oversized leather ear pads help further absorb resonances — keeping the powerful bass response tight and linear.
Listening impressions: spacious sound with striking precision
And what a thrill it is to experience. Focal often refers to their headphones as "extreme near-field speakers," and I've come to expect an intimate, focused sonic presentation. On the Bathys, the soundstage played out well in front of me and surrounded my head. It's a sound I'd more closely associate with listening to open-back headphones than closed-back.
Thanks to these headphones' precise imaging, music came across deeply layered with breathing room between instruments. This strength was underscored by a wonderful playlist of Italian "library" music that I discovered on Qobuz. These are '60s and '70s TV ad and film scores that were meant to be generic background music but feel like anything but — thanks to an eclectic mix of influences including funk, psychedelic, jazz, and more.
The composers often dabble in several genres within the same song, sometimes all at once. It can be a bit much for lesser headphones to handle, but the Bathys delivered it all with effortless grace. Piero Umiliani's "Caretera Panamericana" is especially complex. Bongos and steel drums sit in the center to establish a swift pace, while distorted synths and guitars stab in from the left. Off to the right, a harp, keyboard, and a flute take turns before all the instruments play at once.
On paper that all seems hectic, with so many sounds competing with one another. But they sound delightfully cohesive within the extra space offered by the Bathys headphones.
Powerful, nuanced, and controlled
All that extra space wouldn't mean much if it took away from the dynamics. Those happen to be a Focal strong suit, though, and loud-to-soft moments came through with realism and presence.
Tonally, the Bathys reminded me a lot of the Clear Mg, with nice balance and subtle bass extension. Even though there's some welcome low-end punch, it isn't loose or boomy — often an inherent problem with the closed-chamber design. Likewise, the highs are airier and more detailed than I normally hear from closed-back headphones.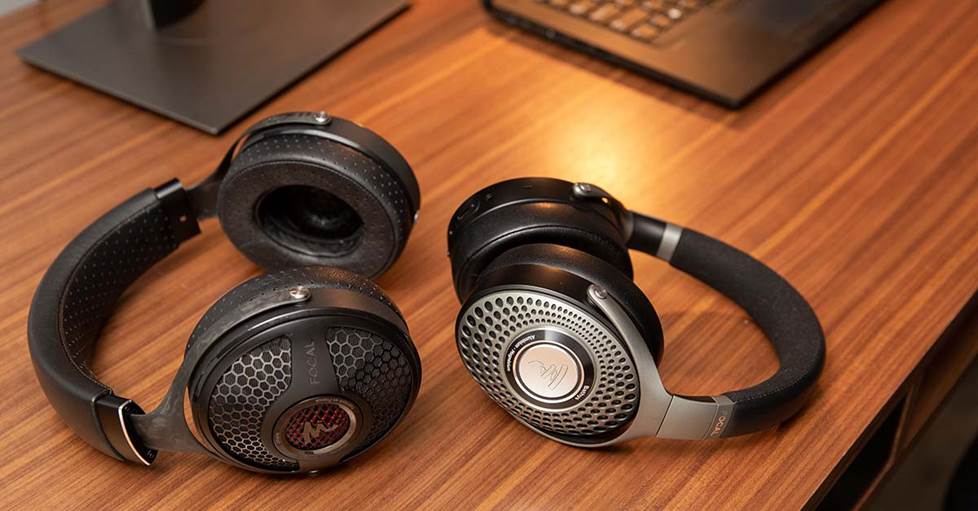 The Bathys headphones' design is inspired by Focal's wired audiophile line, which includes their legendary flagship, the Utopia (left).
Of course, a high-end, wired listening rig that includes the Clear Mg or the Utopia will deliver higher resolution. But it is amazing how close Focal has gotten with a set of portable wireless headphones.
Details
made of high-grade materials like leather, aluminum, and magnesium
Bluetooth® 5.1 for wireless music and phone calls
high-quality aptX, aptX Adaptive, and aptX HD audio streaming
two levels of noise cancellation and "Transparency" mode
40mm dynamic drivers with lightweight aluminum/magnesium diaphragms
designed, developed, and assembled in Saint-Etienne, France
specially designed "M-shaped" domes provide fast, uniform motion
drivers positioned in closed-back chamber to emulate the sound of near-field speakers
rechargeable battery provides up to 30 hours of wireless use
secure, snug fit with oversized, plush earpads and headband padding
Need more help? Contact us!
Have questions about how the Focal Bathys headphones compare to others? Contact us today.
Our expert Advisors know headphones inside and out. Your Advisor can send specific Crutchfield pages to your screen, saving you a lot of browsing time. You'll get a shopping cart loaded up with everything you need.
Free lifetime tech support is included with your Crutchfield purchase.