Capturing a high-quality audio recording of a musical performance, speech, or any other sort of event doesn't require a lot of expensive gear. A handheld digital recorder is all you need to record your band's rehearsal, your church choir's next Sunday-morning service, or an interview for a radio broadcast.
Handheld recorders are easy to use. Simply pointing one at your subject and pressing "record" is all it takes to capture high-quality audio. But there are other features that make these recorders powerful tools for musicians and videographers.
Basic recorder functions
Built-in microphones
Handheld digital recorders usually feature two built-in condenser microphones to capture stereo sound. Condenser mics are very sensitive, so they can capture clear detail without being too close to the source.
Some recorders have adjustable microphones, allowing you to move them closer together or farther apart.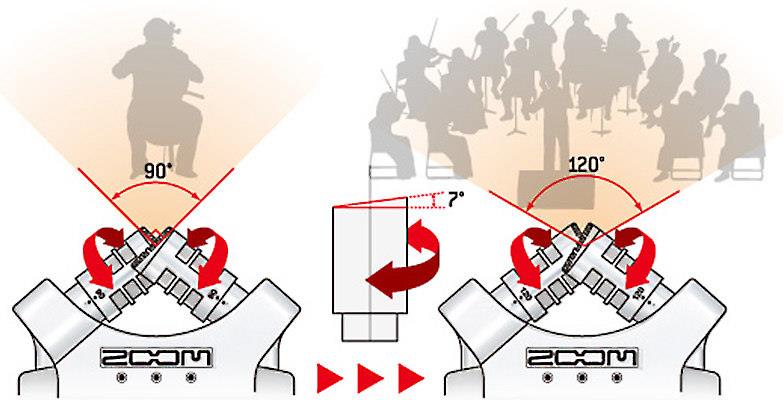 An AB mic configuration (above right) widens the mics' pickup angle. This allows you to capture more ambient and room sound to add depth and spaciousness to your recordings. It's also useful for recording larger ensembles.
An XY mic pattern (above left) narrows the pickup angle to capture a tighter, clearer stereo image. This is particularly useful in rooms with poor acoustics or for recording solo performers, so you can "focus in" on your subject.
How are recordings stored?
While some recorders offer built-in memory, most store recordings on removable SD or microSD memory cards. This allows you to carry additional cards, so you never have to worry about running out of memory. One gigabyte of memory offers about 1 hour 34 minutes of recording time at CD-quality resolution (16-bit, 44.1kHz).
How do you set recording levels?
Setting proper recording levels is key to capturing a great-sounding recording. All recorders offer manual level setting, either with buttons or rotary knobs.
Many recorders can automatically set recording levels for you. Once the microphone detects sound beyond a certain threshold, the recorder will adjust the input level to record a strong, clear signal. Changes in volume will prompt the recorder to adjust the input levels during recording.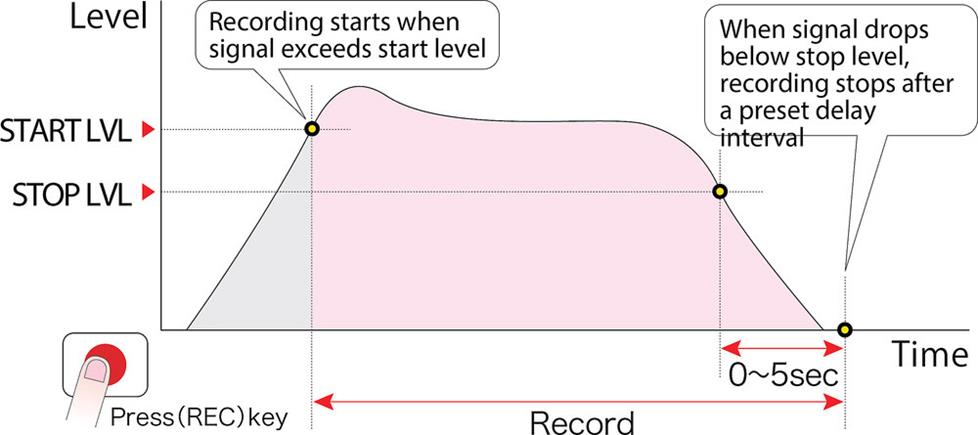 Some recorders can start and stop recording automatically when the microphone detects signals above a preset volume threshold.
Simple editing features for long recordings
When you're capturing an entire performance, it's useful to place index marks throughout the recording. Marks make it easy to find a particular song or passage later.
Once you add a mark, you can divide the recording into separate files. This is great for bands who want to mark and divide a live recording into individual songs.
Listening to your recording
Almost all handheld recorders offer both a built-in speaker and a headphone or line out for listening to your recording. They also offer a USB port for transferring files to your computer for playback and editing.
Music applications
If you're a budding musician or a solo performer, a recorder can help you work out new tunes, develop your chops, and experiment with multitrack recording.
Look for a recorder with overdubbing, so you can record one track, then overdub a second part alongside the original. This is great for guitar players who want to record separate lead and rhythm guitar parts, or performers who want to record vocal and instrumental parts separately.
Many recorders also allow you to add effects such as reverb and compression. This can help make your recordings sound more polished. Some recorders even let you add these effects for monitoring. This is useful for recording vocals, as most singers prefer at least a little reverb in their headphone monitor mix.
If you're a working musician with a band, a more sophisticated handheld recorder can prove indispensable. Record rehearsals, live performances, and new song ideas to share with bandmates. Watch the video below to see a recorder in action.
Inputs for external mics, instruments, and mixers
If you're a member of a working band, look for a recorder with additional inputs:
XLR inputs allow you to connect external microphones. These inputs usually offer a phantom power switch for use with condenser microphones.
TRS inputs let you connect line-level signals from keyboards, drum machines, or electric guitars and basses via an effects unit or direct box.
You can even connect a recorder with TRS inputs to a mixing board at a live show, giving you a high-quality recording of your house mix. It's a great way to evaluate performances and capture improvised jams that could form the basis of new songs.
Computer recording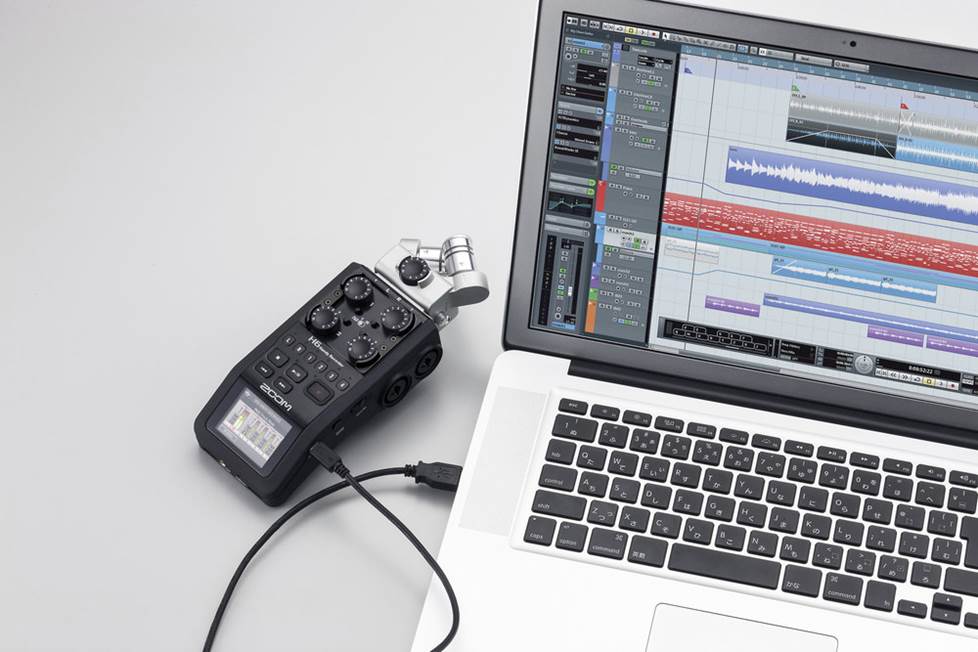 If you're working on new material with bandmates, some recorders can function as an interface for creating music on your computer. These recorders come bundled with digital audio workstation (DAW) software, allowing you to turn you recorder and computer into a multitrack studio. Lay down tracks to share with bandmates before rehearsal, or create a polished song to upload to music-sharing sites like SoundCloud.
Filmmaking and newsgathering applications
If you're a videographer or a news reporter for the radio or web, a handheld recorder is a valuable tool of the trade. It ensures that you capture broadcast-quality audio in the field.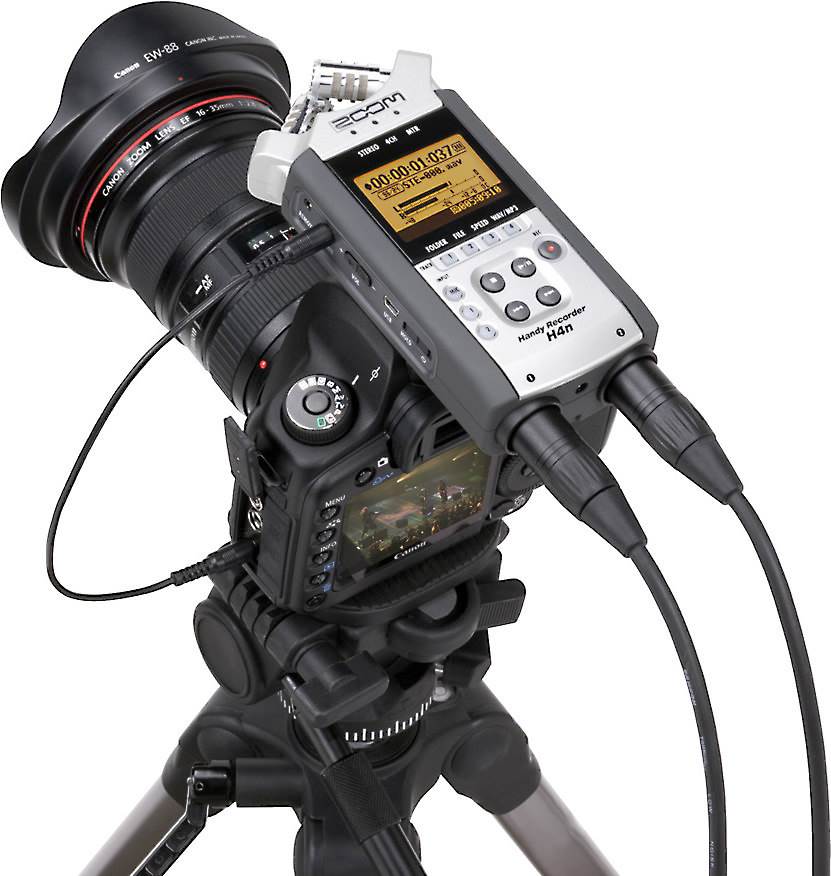 Many handheld recorders are designed to connect to a DSLR camera for recording high-quality audio to accompany video footage.
Time stamping allows easy syncing with video
When you're recording audio alongside video, you'll need to sync them up in post-production. Handheld recorders can usually record audio in Broadcast Wave Format (BWF) in addition to MP3. BWF files automatically time-stamp the audio, so you can precisely sync it with your video footage during the editing process.
Inputs for external microphones
News reporters should look for a recorder with a 3.5mm mic input with plug-in power. These are useful for connecting lapel mics for conducting interviews. If you prefer to use a handheld mic, you'll need a recorder with an XLR input.
Outputs for your camera and headphones
Some recorders have just a single output for headphones or a line out. If you want to monitor your recording with headphones and send the audio out to your camera, you'll need a recorder with separate line out and headphone jacks.
Limit background noise
Nothing can ruin a good audio recording like a windy day. Some recorders come with a windscreen or feature a low-cut filter effect. These can significantly reduce background noise from wind and other low-frequency sounds, so voices come through clearly on your recordings.
A match for your camera
If you're shooting video with a DSLR camera, it's helpful if you can attach your handheld recorder to your camera. Look for recorders with camera mount straps and threaded inserts for attaching to your camera or a tripod.