In this article: We'll look at the features that make up a good CD player, and then I'll recommend a few that stand out from the crowd, to help you get started shopping...
There's also some relevant information on CD recorders and multi-disc CD changers near the end of the article.
For a couple of decades, I bought music almost exclusively on compact discs. And I'm not about to throw those carefully curated favorites away just because I can stream the songs on my phone now. The discs offer superior sound quality, and a more immersive listening experience.
Many of us still want a high-quality CD player in our cabinet. And there are plenty being made. I'll explain some of the key parts of a good player, then make some recommendations for specific use cases, so you can make an informed choice when you start shopping.
Key CD player parts
A CD player is a relatively simple machine. Let's examine the key parts of a player so we know what to look for when comparing two models.
Digital-to-analog converter (DAC)
Your speakers can only play an analog signal, so somewhere along the line, the digital information on a compact disc must be converted. Most CD players have a good DAC built in, but audiophiles often prefer to take the pure digital output of the CD player and use a more sophisticated outboard DAC, which we'll talk about more in the next section.

A digital-to-analog converter (DAC) turns digital information into analog sound your speakers can play.
Transport
A CD transport loads and spins your CD, and uses a laser to read the information on the disc. Some CD players are transport-only — there's no DAC built in. An outboard DAC can read digital information with extreme accuracy, which results in a more spacious sound with better imaging.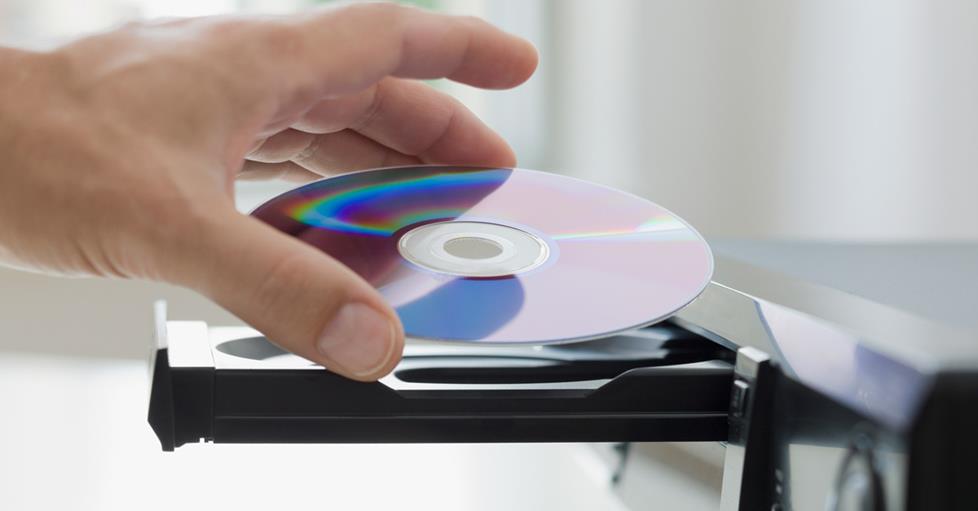 A CD player's transport is the tray you put the CD into and the mechanism that spins it and reads the information on the disc.
Connections
Some players will offer one set of RCA connections that passes the output of the built-in DAC, plus a digital coaxial or optical output if you want to use an external DAC. High-end players will also offer balanced XLR outputs for connecting to audiophile gear.

This CD player has plenty of digital outputs, plus balanced and unbalanced analog outputs.
Chassis
Vibration is the enemy of great sound, so pay attention to the way a player's chassis build quality is described. There are a number of ways to reinforce a player's casing, and CD player manufacturers love to talk about the engineering that goes into creating a solid foundation for your music.
Power supply
A solid power supply is important for any electronic component. Rugged toroidal transformers are valued in the electronics industry for providing high-current, low-noise power. But there are some excellent high-end variants like McIntosh's "linear power supply with special R-Core power transformer," too.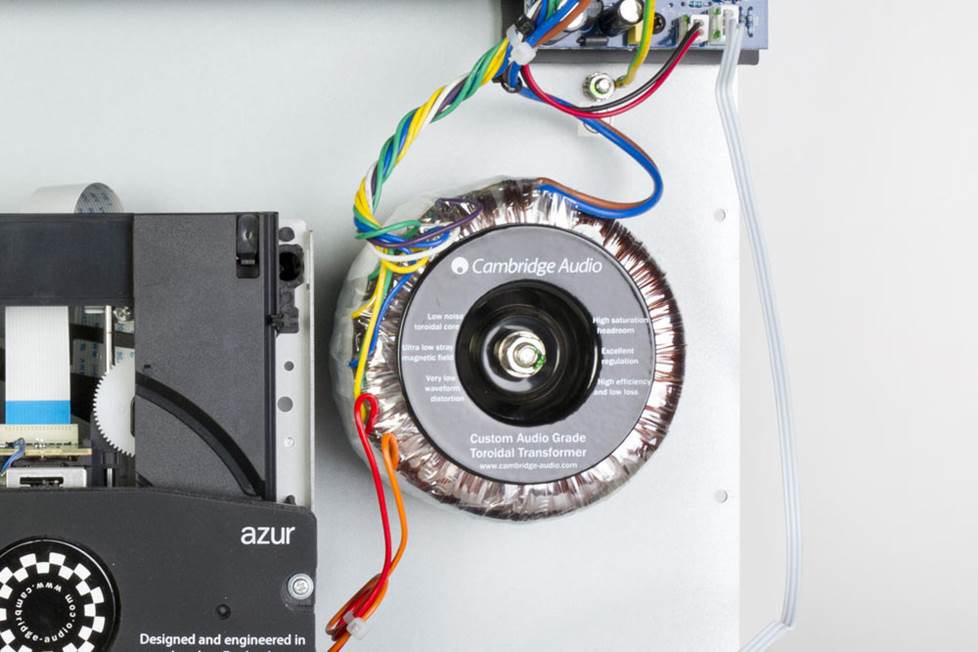 A look at the powerful, efficient toroidal transformer power supply inside a Cambridge Audio CD player.
Media types
Any player can handle mass-produced standard CDs. If you have home-recorded CDs filled with WAV, FLAC, or similar files, it's worth checking to make sure you're buying a player that's compatible. Same goes for SACDs (Super Audio CDs), which *can* be played on a regular CD player, but require an SACD-compatible player to bring out the additional channels of high-res information they're known for.
Our best CD player picks
If there were just one "best" CD player, that's all we'd sell. I think it's more useful and accurate to pick the best player for a specific use case or budget. There are plenty of great players out there, but I'll explain what criteria I used to make each of the following picks so you can see if they make sense for your situation.

Best budget CD player — Yamaha CD-S303
There are a number of strong contenders that cost under $400, but my pick is the Yamaha CD-S303. It's a top seller with our customers, and I trust Yamaha to make a high-quality product at any price point.
The CD-S303 can play your CDs, CD-Rs and CD-RWs. And it has a front-panel USB port that lets you play high-res music files stored on a thumb drive. The 2-year warranty gives me a little added peace of mind, too.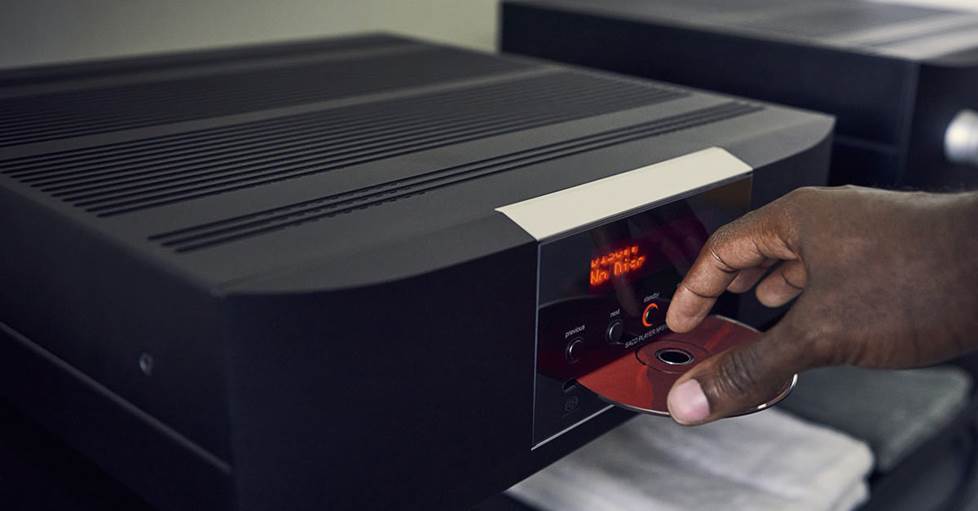 Best audiophile player — Mark Levinson No.5101
I'm limiting this category to players with SACD (Super Audio CD) capability. The SACD format offers more audio channels (e.g. surround sound), a higher bit rate, and longer playing time than conventional CDs. There are some truly excellent players in this category, but I chose the snazzy Mark Levinson No.5101.
The player is built around a premium Precision Link II DAC, and the unit features a beefy toroidal transformer that provides stable power with low noise. Mark Levinson's proprietary PurePath analog output stage offers a direct-coupled, fully balanced, dual-monaural signal path — entirely in class A — for exceptional purity and performance. The player has a solid, vibration-resistant chassis that quashes any additional noise.
An attractive aluminum handheld remote is included, but if you prefer to use your mobile device as a controller, the downloadable Mark Levinson 5Kontrol app does the job. The optional MusicLife app helps organize the digital files on your network for playback via a number of compatible components. And the whole thing is backed by an impressive 5-year warranty.
Budget-friendly alternative
The Arcam CDS50 is a very nice entry-level SACD player that fits nicely into a more budget-conscious sound system. It's built around a superb 32-bit/192kHz ESS Sabre DAC, and features built-in Wi-Fi for convenient music streaming.
What our customers say about the Mark Levinson No.5101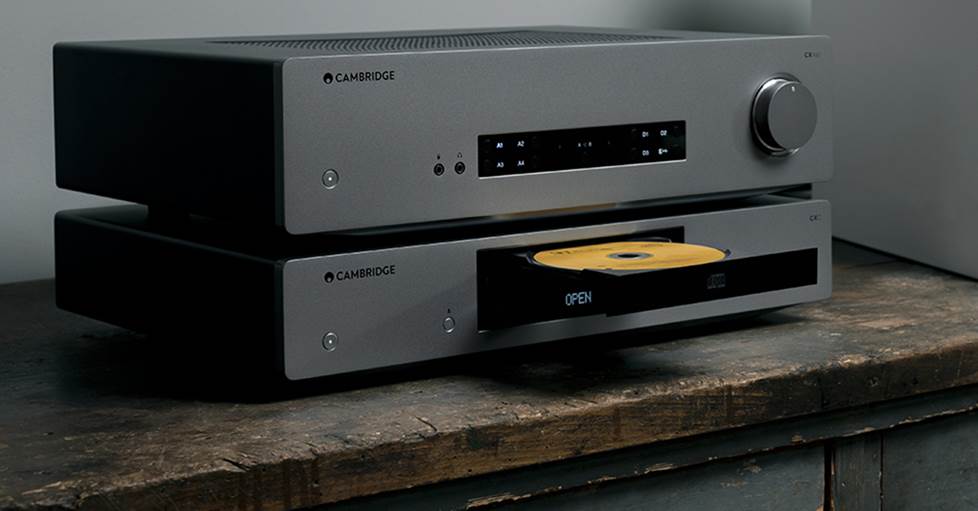 Best transport-only player — Cambridge Audio CXC v2
Most CD players have very good built-in DACs, but some listeners prefer the precise control they can achieve with an outboard component hi-fi DAC. In this case, a transport-only CD player's job is just to spin the disc accurately and silently.
The Cambridge Audio CXC v2 uses their proprietary S3 Custom CD Servo™ drive mechanism to provice maximum data retrieval with state-of-the-art error correction and minimal jitter — timing errors that can smear musical detail. And it can read CDs, CD-Rs and CD-RWs.
Best value for the money — Rotel CD14 MkII
For me, a value pick is not necessarily the cheapest option — that's the budget pick above — it's the one that best balances impressive performance with a reasonable price point. And for me, that's the Rotel CD14 MkII. Rotel won't compromise great sound quality by choosing cheap parts, but they also won't inflate the cost with unnecessary flourishes. That's an ideal value-conscious design philosophy.
There's a rugged, efficient power supply inside that delivers ripple-free voltage and current to the player's digital and analog circuits. And a high-performance, CD-specific premium Texas Instruments 32-bit/384kHz digital to analog converter lets your discs be heard as the artists and sound engineers intended. As a bonus, I really like the sleek and simple front panel.
Budget-friendly alternative
The NAD C 538 isn't super-flashy on the outside, but it's got it where it counts. Its high-performance Wolfson 32-bit/192kHz digital-to-analog converter helps make your music sound smooth and accurate, at a price that won't break the bank.
What our customers say about the Rotel CD14 MkII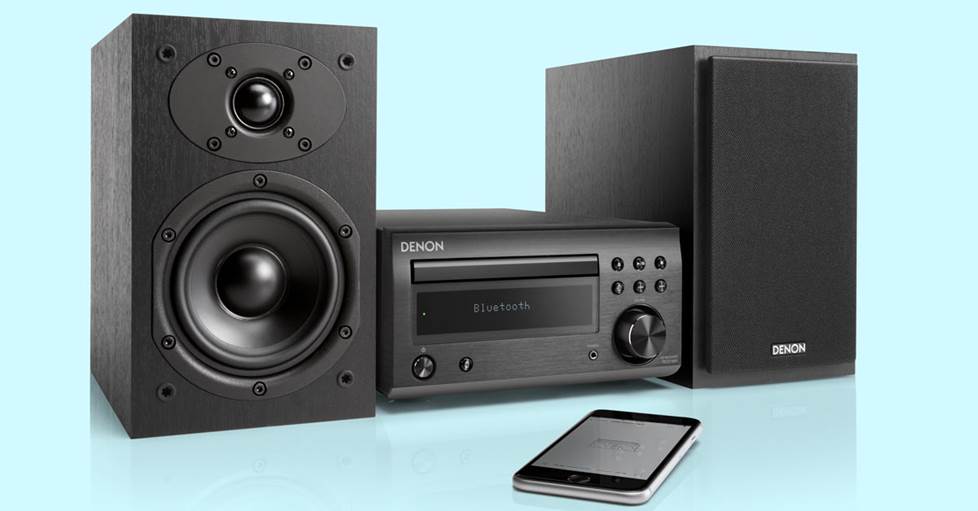 Best CD player shelf system — Denon D-M41
You may have limited space, or you may simply like the convenience of having your entire system ready to go straight out of the box. The Denon D-M41 can play CDs, CD-Rs, and CD-RWs, plus MP3 and WMA CDs. It has an AM/FM tuner, and Bluetooth built-in so you can stream from your favorite music service. It can even serve as your alarm clock.
A pair of nice Denon bookshelf speakers come with it, and there's a subwoofer output on the back if you want to add more bass. You can connect a compatible TV to the optical input on the back panel and improve movie and TV time, too. It's basically an all-in-one sound system for a bedroom, dorm room, or home gym.
"Budget-friendly" alternative
I'm hedging on the 'budget-friendly' language here, because while the Denon CEOL RCD-N10 does technically cost less than its cousin the D-M41, it doesn't come with speakers. But there's a good reason for that: it has an amp built in, so you can choose wired speakers, but it's HEOS-enabled, so you can use it with compatible wireless speakers, too.
What our customers say about the Denon D-M41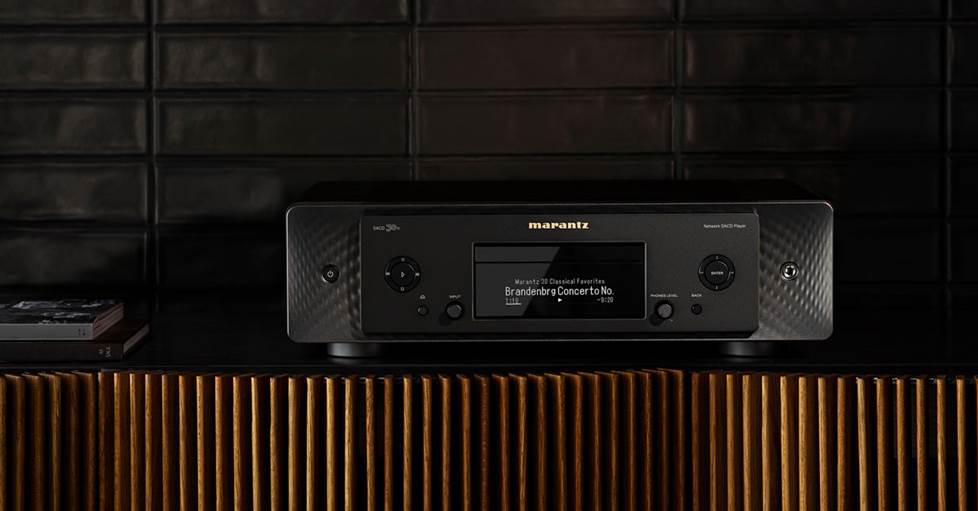 Best CD player/streamer — Marantz SACD 30n
I love the way the Marantz SACD 30n looks, and it's loaded with features. It features Marantz' proprietary transport mechanism and Hyper Dynamic Amplifier Modules that offer exquisite detail and dynamic range while reducing noise. Its premium DAC makes digital files sound their best, whether they're being played from a disc, or being streamed from a top-notch music streaming platform.
You can make a wired connection to your home network via the Ethernet port on the back, or use the built-in Wi-Fi and Bluetooth for general streaming. But there's more. Apple AirPlay 2 is built-in, and the player is Roon compatible. The player is also HEOS compatible, which allows it to stream from a host of popular cloud-based music services, and lets you build a whole-home wireless speaker system with compatible components.
Budget-friendly alternative
If you don't need the SACD compatibility of the 30n, the Primare CD15 Prisma has nearly identical streaming capabilities, and it will make your standard CDs sound great.
What our customers say about the Marantz SACD 30n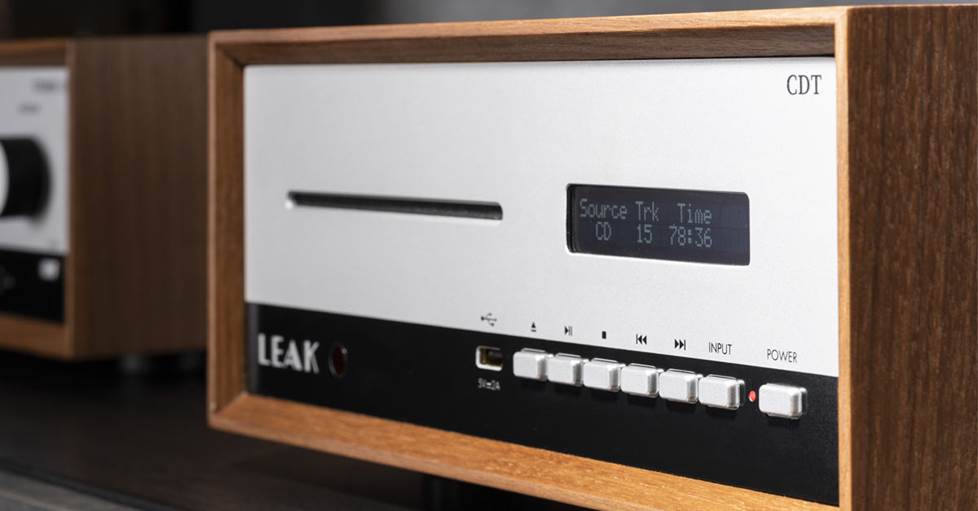 Best-looking CD player — LEAK CDT
Beauty is in the eye of the beholder, so I'll defend this choice on the merits as I see them, with full understanding and acceptance that your mileage may vary.
First of all, I love the CDT's beautiful silver face plate, ensconced in an elegant walnut outer chassis. LEAK audio was originally founded in 1934, and this design harkens back to the company's vintage roots. I appreciate that veneer of classic style over an extremely solid, well-made component. When I had a chance to use this piece, I also enjoyed the tactile feel and simplicity of function provided by the buttons on the front.
It comes in plain silver, too, but for my part, gimme that warm walnut accent every time.
One important caveat, however: the CDT is a transport-only player. It was designed to pair sonically and visually with the LEAK Stereo 130 integrated amplifier, but you can use it with any component with a built-in DAC.
Budget alternative
As much as I love wood accents, I'm also a sucker for a brushed aluminum faceplate, which the handsome Denon DCD-900NE delivers. It's also a heck of a player, with a high-performance 32-bit/192kHz digital-to-analog converter and Denon's Advanced AL32 Processing Plus digital upsampling and filtering technology on board.
What our customers say about the LEAK CDT
CD changers
CD changers — players that can hold multiple discs — were hard to come by for a while, but we have a couple of reliable fan favorites in stock these days. The best-selling Onkyo DX-C390 is a 6-disc carousel changer that also plays MP3s. Its cousin the Integra CDC-3.4 performs much the same at a similar price point, but offers a more robust 3-year warranty.
CD recorders
I'd be remiss if I didn't point out that musicians and hobbyists can still record their own CDs for demos and home listening. The CD-RW900SX from Tascam is designed for professional use, and versatile enough to handle multiple types of CD-Rs. And it's conveniently rack-mountable.
We can help you choose
Have questions about how to choose the right CD player? Our expert Advisors know home stereo gear inside and out. Contact us for quick answers to all your shopping questions. Don't forget: free lifetime tech support is included with your Crutchfield purchase.
Popular questions customers ask
Most CD players have a built-in DAC (digital-to-analog converter), but not all built-in DACs are the same quality. You can choose a CD player with a high-quality built-in DAC or upgrade to an external DAC. CD players without built-in DACs are called "transports." CD transports connect to an outboard DAC or any audio component with a built-in DAC.
Hi-fi sound. Compact Discs have 16-bit/44kHz digital resolution, which gives you better sound clarity than vinyl or MP3 files. CD players aren't susceptible to network dropouts like streaming audio. All they need is power and a good cable connection to your receiver or amplifier.
New CD sales have grown in the past few years, reversing a nearly two-decade downward trend. Used CDs are plentiful and affordable—for now. The "album" format can be a nice change from playlists and music service suggestions. CD packaging—and the art and information it contains—might help you make a better connection with the album and artist than you can with most streaming services.
The best CD players have substantial build, quiet circuits, and smoothly functioning moving parts to minimize noise from spinning and reading discs. High-end players also tend to have balanced XLR outputs. In players with built-in DACs, you'll generally find better DACS in better players. And if you like to listen with headphones, you should choose a CD player with a built-in headphone amp and output.
Some CD players can only play audio CDs, while others support SACDs (Super Audio CDs), CD-Rs, CD-RWs, and DVD-Rs (including MP3 and WMA files). Some CD players have wireless network streaming built in, giving you the best of both worlds. Some even have optical, coaxial, and USB digital inputs that let you connect network streamers, USB drives, and more.