In a nutshell: No one else in the consumer electronics industry does the kind of stuff we do. That's why no one else knows what we know. Here's a brief look at how Crutchfield's Vehicle Research Team makes your car stereo installation easier.
ere at Crutchfield, we've been selling car audio gear for over four decades now. For most of that time, we've been taking cars apart to find out what fits.
Way back when, we started by taking our own cars apart. We then started visiting junkyards in search of even more fit information. It was hot, dirty, and occasionally "snakey" work, but it was worth it.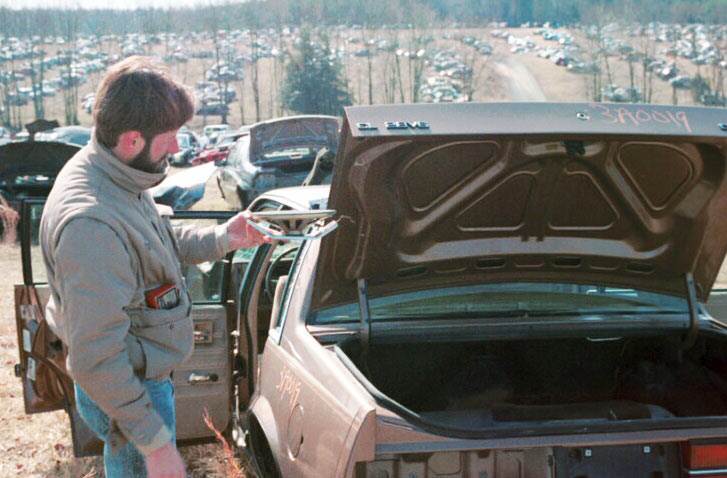 In the old days, our field research was often done in an actual field. (Crutchfield Research Photo)
In-depth research
We've come a long way since those days. Now, we have a dedicated research facility, access to a wide variety of current models, and a database of over 37,000 vehicles — and counting.
And that database isn't just a list of makes and models. It's an incredibly detailed collection of measurements, photos, footnotes, instructions, and the kind of knowledge that comes from doing the same work our customers are going to do later. No one else in the consumer electronics industry does the kind of stuff we do. That's why no one else knows what we know.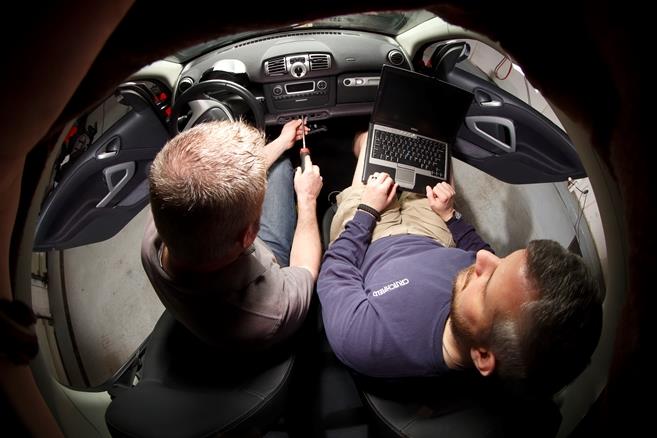 Step-by-step documentation
The process begins when the car rolls into our garage. There, veteran researchers Ben and Wayne get to work. Each step in the factory stereo removal process, from the dash to the doors to the rear of the vehicle, is documented with incredibly detailed notes and upwards of 400 photos.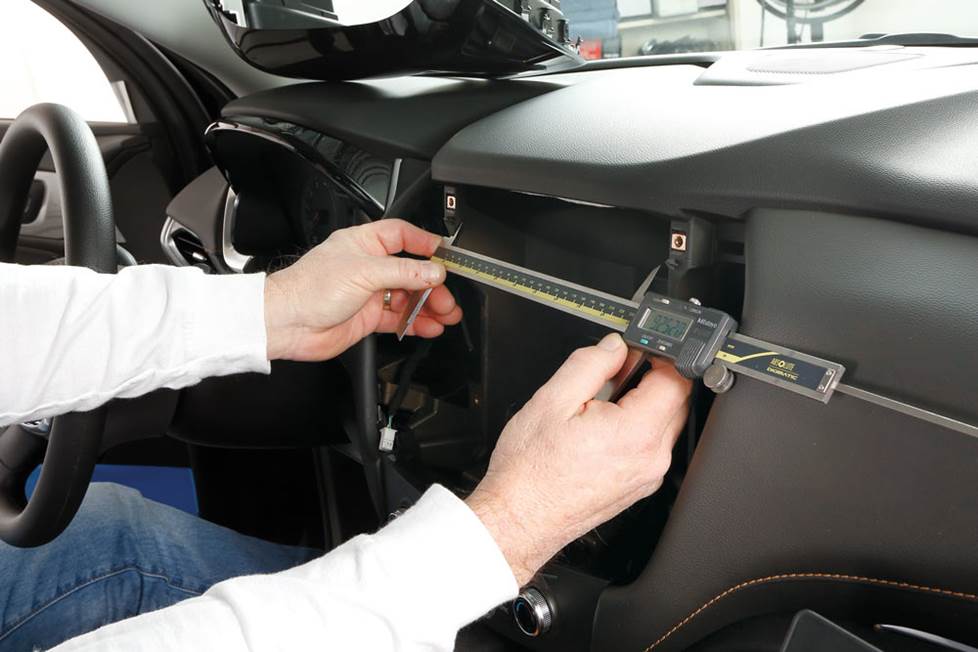 Most car audio sites check the size of the radio and that's about it. These guys check the size of the radio, then they check the shape of the dash, the depth of each vehicle's radio cavity, and any possible obstructions in the cavity that might come into play when you try to install a new receiver. They also test the dash kits and wiring harness adapters that are needed to install your new stereo gear.
When it comes to speakers, they measure the cavities, but they also check several additional measurements, including mounting depth, mounting height, magnet diameter, cutout size, and exactly how they mount in each vehicle. That's why our website will sometimes say, "Nope, sorry, not gonna work." when other sites say, "Yeah, sure, it'll fit!"
Around 150 cars go through the full research process each year, and numerous others roll into the shop when the guys need to take a quick look at a factory system they haven't seen before. For a garage that doesn't do oil changes, it's an incredibly busy place.
Is all of this a little over-the-top? Maybe, but as the old saying goes, "Nothing succeeds like excess." Part of the reason for Crutchfield's success over the years has been our dedication to doing an incredible amount of research on the gear we sell. And yes, it is a bit excessive, we suppose, but it's what we do.
Lots of data, lots of benefits
The raw numbers are entered into our massive vehicle database, along with detailed footnotes that explain any issues that could arise when you try to install certain gear in certain vehicles.
All this info comes into play when you speak to a Crutchfield Advisor or enter your vehicle information into our Outfit My Car page. Instead of wading through a bunch of stuff that doesn't work, you'll go straight to what fits your car. From there, it's just a matter of using Crutchfield's shopping tools to choose the installation gear you need to install the new stereo components in your car.
If you have installation questions, you can contact our Tech Support team. These electronics experts can frequently refer to our database and find a photo of the exact area you're working on. When you need help, we know what you're talking about, and we probably know what you're looking at.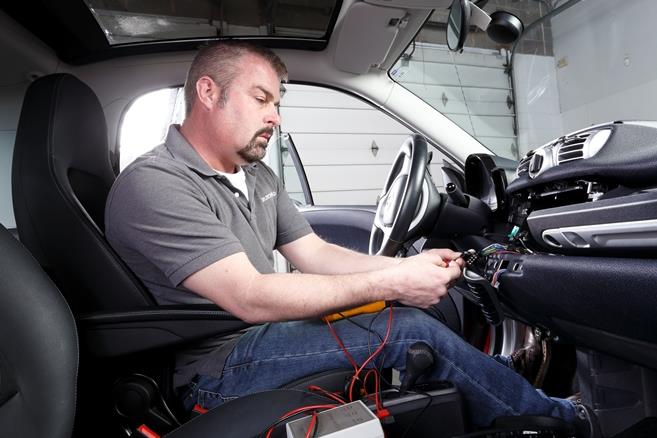 Here, Wayne checks out the vehicle's wiring (Crutchfield Research Photo)
Dedicated to the do-it-yourselfer
For most customers, the most tangible benefit of all this work can be seen in our custom vehicle disassembly guides. Created by Tom and Allen, car audio experts and Crutchfield veterans, each guide contains disassembly instructions, photos, wiring information, and even a tool list. They're sent via email with your order confirmation, so you can print out the sections you need, or pull up the info on your laptop or tablet in the garage.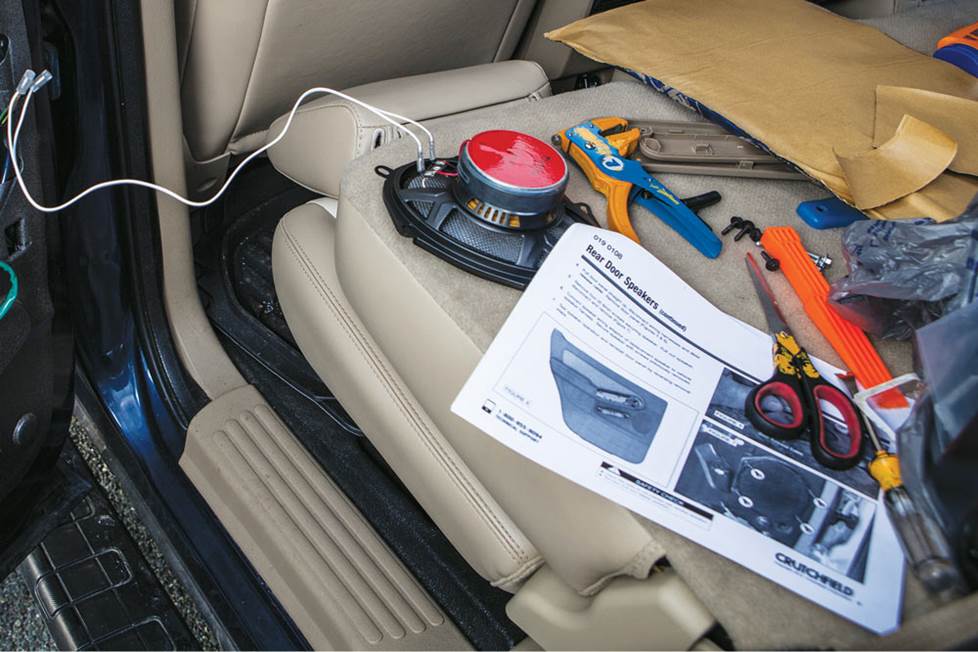 Though the info they contain is priceless, these documents are still included free with car stereo and speaker purchases from Crutchfield. Or you can order one separately for $9.99.
Even with step-by-step instructions in hand, a lot of people are intimidated by the idea of "doing it themselves." That's why we created the Crutchfield Research Garage. This ever-growing collection of web articles gives you an honest assessment of what's involved in replacing the stereo system in your car, truck, or SUV. If the job is easy, we'll tell you all about it. But if it's difficult or nearly impossible (rare, but it happens), we'll tell you that, too. We want you to do it yourself and do it right, but we also want you to know what needs to be done.
An inside look at our vehicle research
In this short video, the vehicle researchers themselves explain what goes into creating our in-depth database and Crutchfield-only instructions. Between the two of them, they represent fifty years of Crutchfield's hands-on expertise!
Find out what fits your car
Thinking about new car stereo for your car? Visit our Outfit My Car page and see what's available.