Installer's Toolbox #3 — Bojo Panel Tools
Professional-quality tools for your DIY projects
In a nutshell: "Do I really need panel tools for my car audio installation?" Yes, you probably do. Read on to learn why.
Just because you're a higher primate with the ability to use tools doesn't necessarily mean you're going to choose the right tool to use.
I learned this lesson the hard way one afternoon, when I ignored a decent selection of screwdrivers and attempted to pry a screw cover off of an old wooden chair using a vintage pocketknife with a non-locking blade. I'll spare you the details, but let's just say the whole thing went about as well as you'd think.
A few months later, I found myself settling in here at Crutchfield, where almost all newbies, regardless of job title, learn how to install car stereos as part of the standard training program. Thankfully, before I could grab a screwdriver and destroy a dashboard or put an eye out (or both), one of our installation experts handed me a Bojo Trim Panel Tool. Good move. Good tool, too.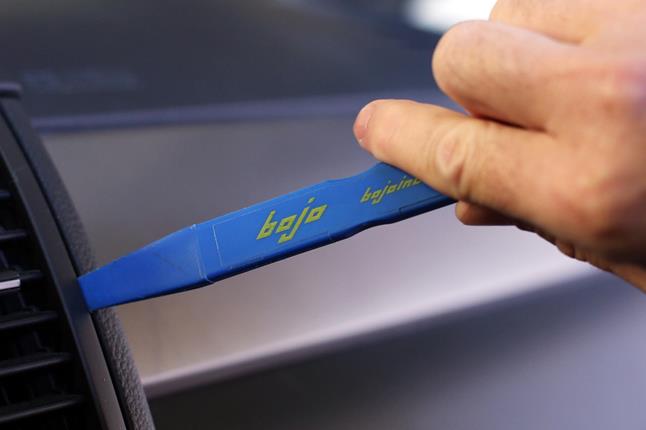 With Bojo tools, you can remove panels without damaging your car.
To an experienced installer, popping off a dash or door panel is about as stressful as opening a can of corned beef. To an experienced writer, it's more like performing the Heimlich maneuver on the Chihuahua that your girlfriend is watching while her boss is on vacation. Pressure? Yeah, kinda, some….
Thankfully, the Bojo tool was good enough at what it did to make me look like I knew what I was doing. Next thing you know, the same nimrod who couldn't fix a chair without injuring himself (and the chair, a little) was taking apart a Honda Civic like an old pro.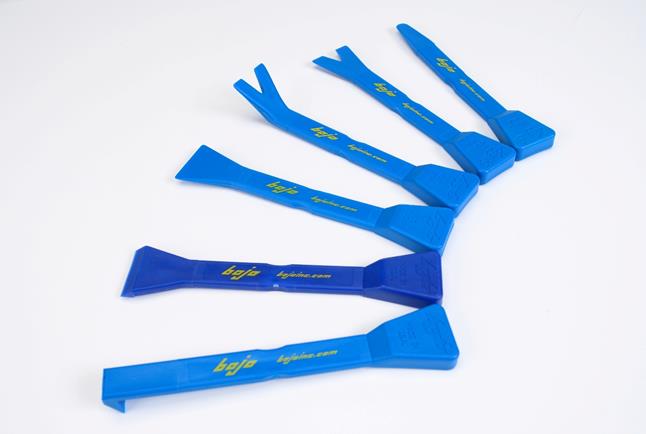 Bojo's 6-piece panel tool kit
That's probably because this set of tools was actually assembled by an old pro. Crutchfield stocks several different types of quality pry tools, but this set includes everything you need to remove doors, carpeting, panels, and trim.
The 6-piece Bojo Panel Tool kit includes:
wide sharp scraper
general thin-tip pry tool
thin and wide flat pry tool
90-degree sharp pry tool
forked and angled wide pry tool
forked flat pry tool
There's nothing complicated about these tools, which is one reason I like 'em. They're surprisingly easy to handle, which is great any time, but especially when you're sideways, upside-down and trying to pop a panel that's two inches from your cheekbone. Each tool has a specialized tip, so no matter what you're trying to pry off, there's a tool that'll do it. Best of all, the strong, lightweight core is surrounded by a nylon surface that protects the car from excessive enthusiasm or insufficient skill.
I can't say that I'm ready to take a side job installing car stereos, but I can say this: If Bojo Trim Panel Tools can get me through a month of installations without gouging a door or splitting a dashboard in half, they'll make you look like a DIY genius.
Check out previous product reviews in our "Installer's Toolbox" series:
Installer's Toolbox #1 — The S&G Wire Cutter/Stripper Tool