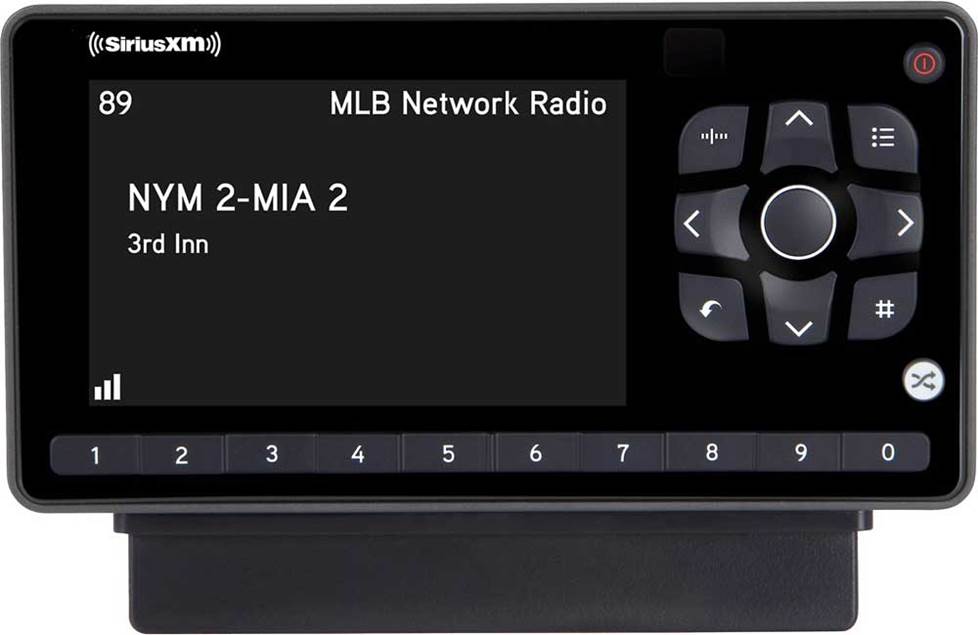 SiriusXM Onyx EZR
Compact, lightweight, and versatile, Dock & Play satellite radios are the most popular options on the market for getting SiriusXM programming. With the help of accessory kits, they plug into and play through your car or home stereo. The biggest advantage of Dock & Play: you only have to pay one subscription fee to listen in both locations.
The Basics
A Dock & Play radio is small enough to fit in the palm of your hand, so it's easy to carry it around. You can play it through your car stereo, then take it inside and play it through your home stereo. In either location, the radio sits in a cradle, sometimes called a docking station; it's at the cradle that all connections, including power and signal, are made. The radio receives the satellite signal from an external antenna that plugs into the cradle. You use the controls on the radio to change channels, set up the system, etc.
When you buy a Dock & Play satellite radio, you have to make sure you have at least one of the following:
a car kit to play the radio in the car (many Dock & Play radios these days come with car kits);
a home kit to use it indoors;
a boombox to use either in home or outdoors (not all Dock & Play radios are compatible with boomboxes);
When you buy a Dock & Play satellite radio, you'll most likely pick up a car kit and a home kit, to take full advantage of the radio's capabilities. Boomboxes, when available, are great if you'd like to bring satellite radio along when you're at the beach or pre-gaming at a tailgate party.