It's refreshing that Sennheiser can deliver their carefully tuned signature performance with the accessibly priced IE 200 in-ear headphones. And "refreshing" is an appropriate way to describe the balanced, linear sound delivered by these earbuds. Sennheiser applied what they learned from developing their top-of-the-line IE 900 and superb IE 600 in-ear monitors (IEMs) to create these sonically focused gems.
The housing and driver design are similar to those higher-end earbuds, so I found the IEM-style fit very familiar. Sennheiser uses different materials for these budget-priced earbuds, but they still feel lightweight and durable. They also offer a "dual tuning" that lets you choose the amount of bass or treble detail based on how you position them (more on that below).
Sennheiser's high-performance drivers
Sennheiser included their 7mm "extra wide band" dynamic drivers. These tiny full-range transducers cover a wide frequency range with clarity. And they create a nicely sized, just-outside-the-head soundstage that you don't often get from in-ear headphones.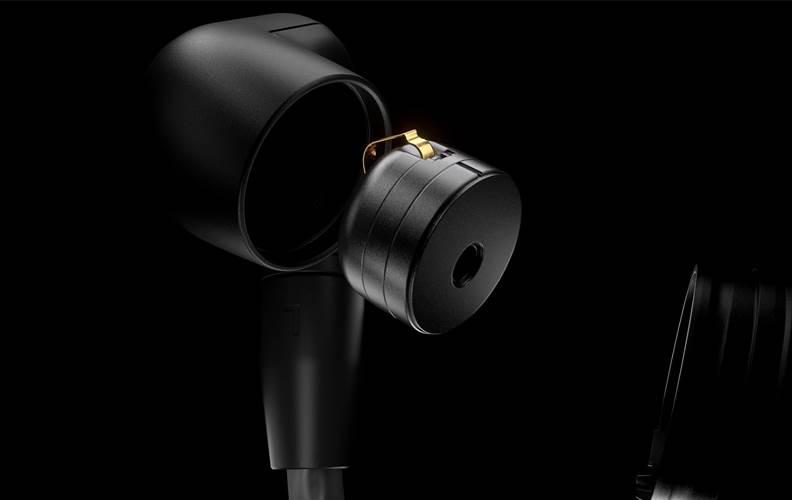 Sennheiser designed a dual-chamber absorber for each driver to lower distortion and improve dynamics.
There's a single driver inside each earbud, and that design can lead to better cohesiveness than more complicated systems that use multiple drivers and a crossover. But the tradeoff is often less detail or distinction between frequencies. That's simply not the case here — the IE 200s sound full, dynamic, and layered.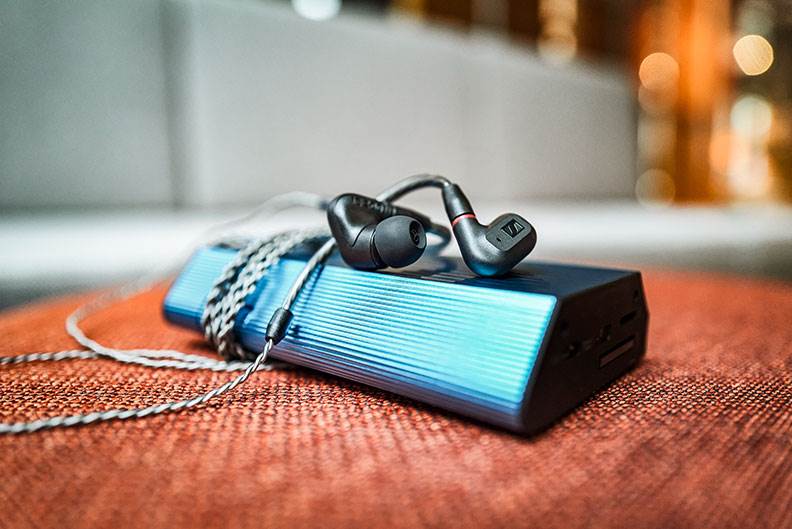 The IE 200 earbuds are efficient enough to work with a portable music player.
Efficient design gives you many ways to play
Sennheiser designed the IE 200s to work with a portable music player — and even a phone or laptop. The detachable braided cable feels and looks durable. It connects to your gear with a standard 3.5mm stereo miniplug but I would suggest using a separate headphone amp to hear them at their best.
Smooth, detailed highs make for pleasant listening
I've spoken to Sennheiser engineers in the past, and I know they are particularly concerned with avoiding high-end harshness — even frequencies above the range of human hearing. As they've explained to me, even those super-high frequencies can create gnarly resonances that creep into what we hear. So, for the IE 200s, they've added fleece damping materials inside each driver and a dual "chamber within a chamber" behind them to control airflow.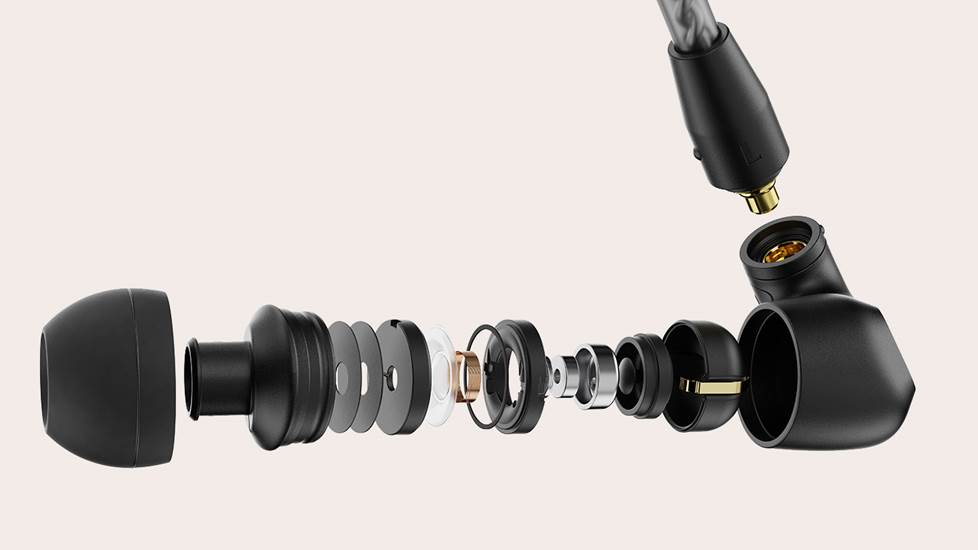 Sennheiser uses polymer transducers and an intricately designed series of filters and air chambers to curb unwanted resonances.
The result? Plenty of high-end detail, but the treble never sounds grating or uncomfortable over a long period of time. That's one of those balancing acts that can have an effect on both sound and comfort. It doesn't always get a lot of attention, but when it's done this well, it really pays off.
Secure and comfortable with a noise-isolating seal
The most important touchpoint between sound and comfort is how well your earbuds fit. Of course, a proper, secure in-ear seal just feels right. But it can also make or break audio performance, including bass extension and imaging.
Sennheiser includes six pairs of ear tips — three sizes of silicone tips, and three sizes of foam tips. For my ears, the largest foam tips squeezed right into place and didn't move. They expanded to create a noise-isolating seal that avoided in-ear pressure points — and aligned the drivers correctly with my ears.
My listening impressions
I primarily used the super-portable AudioQuest DragonFly Black v1.5 headphone amp/DAC combo — a nice match for these headphones. The compact DAC/amp was small enough to fit inside the soft pouch included with the IE 200. I could slip the whole thing in my jacket pocket or bag and have a carry-along listening rig, streaming high-res Qobuz from my phone or laptop.
Choosing your tuning
Sennheiser's "dual-tuning" design lets you choose between more bass or more high-end detail depending on how you position the ear tips. For airier treble, you can mount the ear tips in the first position — leaving a small portion of the acoustic tube exposed. Press the ear tips as far as they go for deeper bass impact.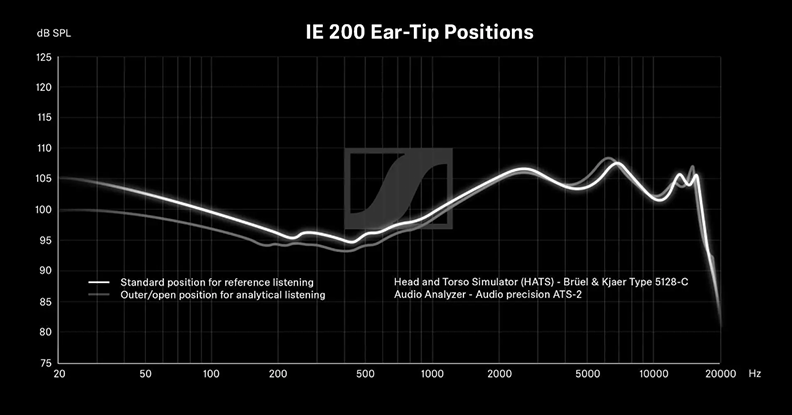 This graph from Sennheiser shows how the frequency response measurements change, based on the ear tip placement.
I strongly preferred the latter fitting, though I understand the appeal of both on paper. Perhaps you could adjust based on the genre or song you're listening to. But for me, the fully lodged position worked well with everything from hip-hop to classical.
Sound characteristics — bass, mids, and highs
To my ears, the extra bass was well worth any minimal detail lost up top. The bass added complementary thump without bloat, and I still enjoyed those smooth, satisfying Sennheiser highs. Overall, the sound remained balanced even with the stronger low-end punch.
The mids are not as pronounced as the highs and bass. But I wouldn't call them recessed either — it was kind of right in my wheelhouse. I found that vocals had a nice presence, percussion had bite, and the timbre altogether felt true and accurate.
Accuracy, sense of space, and detail help add emotional heft
Around the time I auditioned these headphones, we made the tough decision to put down our yorkie, Herbie. Our feisty little buddy was with us most of my young children's lives, so I put together a slideshow of photos. I set it to Warren Zevon's poignant, yet uplifting song, "Keep Me in Your Heart" and used the Sennheiser IE 200s to edit and sync the images with the audio.
It showed a few of the distinct advantages of having a set of highly accurate, well-balanced earbuds. They helped for the technical work of splicing images to match up with lyrics or even certain chord progressions — being able to hear key notes and hit the right mark. But when I was done and let the presentation wash over me, I appreciated hearing the full breadth of the track's sonic intricacies and emotional complexities.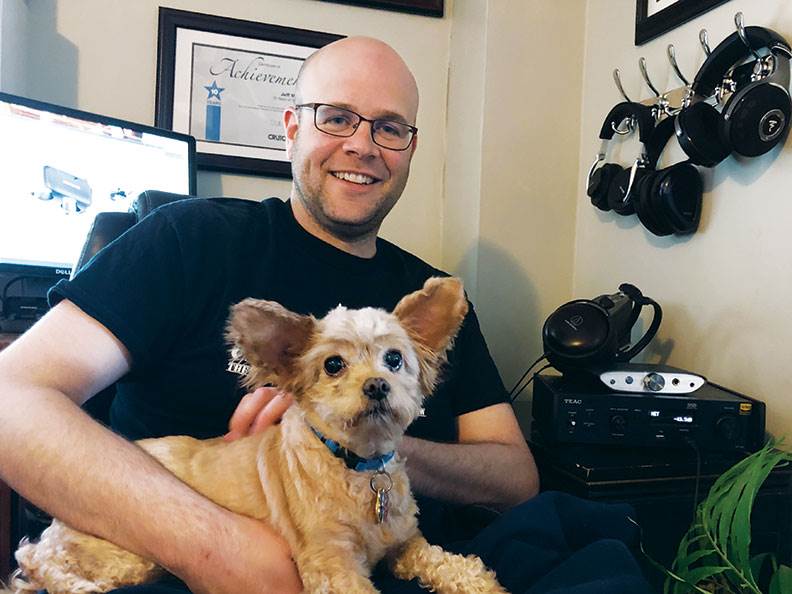 From a Crutchfield catalog shoot back in spring 2020 — our buddy Herbie was there for us through thick and thin. We love you, Herbs!
And talk about tugging on the heart strings — the reverb and decay trails of the opening acoustic guitar strum were so vivid and present through the IE 200s. With the tight seal of the foam ear tips, the kick drum thump felt like it eminated from my chest, and vocals sat dead center in front of me. All these distinct nuances came through with pinpoint imaging, space, and separation.
It really heightened the senses. I know a lot of this was the emotion of the day, but it cut deep. And every once in a while, lighter chords and transients managed to dagger through the melancholy mood of the track, much like a fond memory.
Yet another reminder that music — when delivered in all its detail — can be a potent mix of many messages and emotions at once.
Product highlights
high-performance wired in-ear headphones (inspired by professional in-ear monitors)
extra-wide-band 7mm dynamic driver in each earbud
tuned for detailed, cohesive sound across a wide frequency range
"dual-tuned" design lets you position the ear tips to adjust bass and treble
detachable braided 48" cable with 3.5mm stereo miniplug (gold-plated MMCX earpiece connectors)
we recommend a separate headphone amplifier or portable high-res music player for optimum sound quality
frequency response: 6-20,000Hz
sensitivity: 119 dB
impedance: 18 ohms
warranty: 2 years
Need more help? Contact us!
Have questions about how the Sennheiser IE 200 in-ear headphones compare to other earbuds? Contact us today.
Our expert Advisors know headphones inside and out. Your Advisor can send specific Crutchfield pages to your screen, saving you a lot of browsing time. You'll get a shopping cart loaded up with everything you need.
Free lifetime tech support is included with your Crutchfield purchase.