I live in a two-bedroom apartment, and I'd describe my living room as functional. Not an ideal listening space by any means. Regardless, I love listening to music — especially my record collection — so I usually go for a two-channel sound system with a stereo receiver as the centerpiece.
That said, I do use some entertainment platforms that work best when connected to HDMI ports. These digital connections have traditionally been used in multi-channel home theater receivers. Since I don't really have the space to create a surround-sound system, this type of receiver would be overkill for me.
Ideally, I need a hybrid. A stereo receiver with HDMI inputs.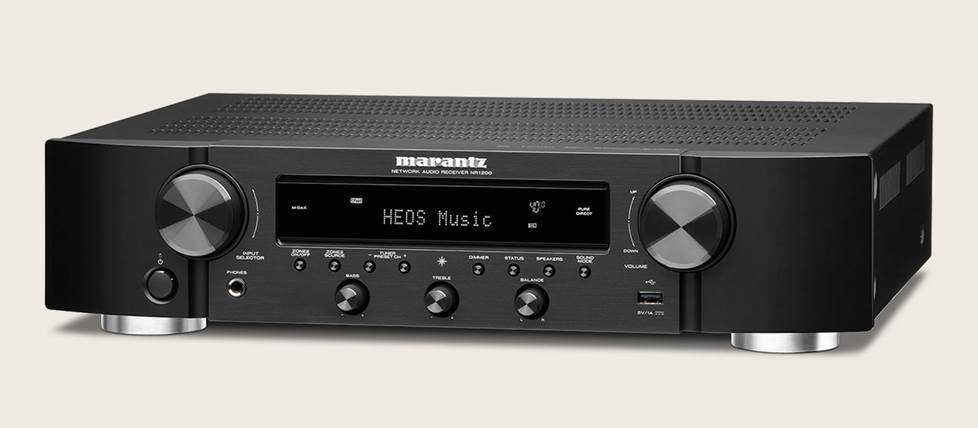 The Marantz NR1200 is a solid stereo receiver with versatile connections.
Enter the Marantz NR1200. It's a classic slimline stereo receiver, but it's loaded with features that make it a no-brainer for someone like me, who needs his two-channel system to do a little bit of everything. In addition to three analog stereo inputs and a dedicated phono input, it also has:
five HDMI 2.0 inputs and one ARC-compatible output
one optical digital input and one coaxial digital input
a front-panel USB port for audio playback from USB flash drives
built-in Wi-Fi, Bluetooth and Apple AirPlay 2 for music streaming
HEOS technology for streaming and creating a wireless multi-room audio system
I literally could not ask for anything more, so I decided to put it to the test in my own home.
My system before and after
My existing setup was pretty simple, perhaps a bit underwhelming. I use my Pro-Ject Debut Carbon turntable on a near-daily basis, whereas my teenaged son prefers the Sony PlayStation 4, which has served us for gaming, movie and TV streaming, and even as a DVD player on movie nights. An Xfinity cable box gives us access to live sporting events.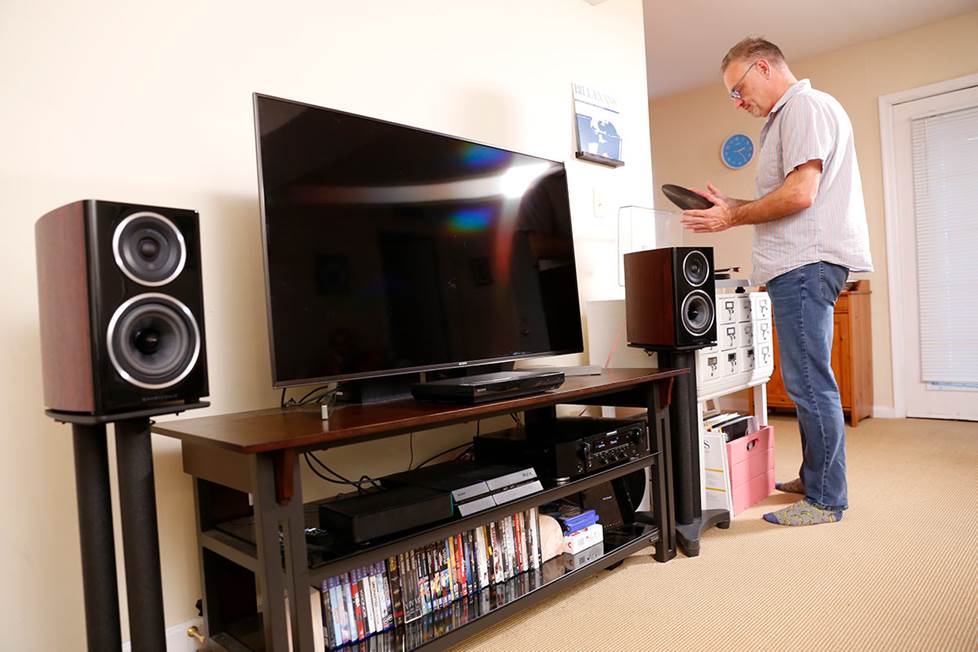 Vinyl is my first love, but I appreciate the versatility of the NR1200, which has multiple analog and digital inputs, including HDMI.
I had everything running through a convenient pair of Klipsch Reference powered speakers with a Kanto SUB8 for bass reinforcement. It was space-saving and efficient, but had a few drawbacks.
There are no HDMI inputs on the Klipsch speakers, so I had to route everything through the TV and use the single optical input on the speaker. That meant using a TV remote to switch between visual sources, a speaker remote to switch audio sources and make volume changes, and an awkward PS4 controller to do just about everything else.
In order to reduce my use of the gaming remote, and get more out of my 49" Sony TV, I added a Sony 4K blu-ray player to the mix.
I also needed passive speakers. I snagged a pair of elegant Wharfedale bookshelf speakers in a warm walnut finish, and mounted them on a pair of speaker stands to get them at ideal ear level, and maximize performance.
Improved performance and convenience
Once I had the NR1200 in-house, I started plugging in components. Like I said, I'm all about the analog music, so the turntable was connected first. Then I ran HDMI cables from the PS4, Sony Blu-ray player, and the cable box, and still had two HDMI ports free for future use.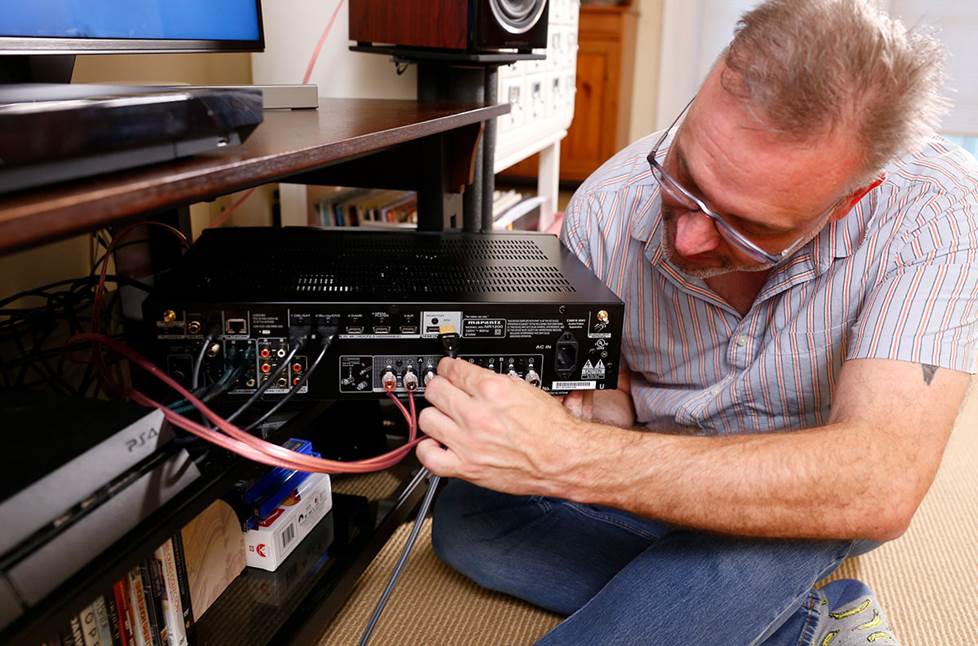 After hooking all of my current gear up, I still have plenty of inputs left open. Maybe it's time to invest in a nice CD player.
It's an underrated thing, but I love the type of binding posts Marantz uses. They're easy to grip and rotate and have a decently wide channel, which makes it easy to cinch in bare wire quickly and securely. I had the Wharfedales hooked up in no time, and the SUB8 stayed in the system for bass.
I expected the NR1200 to offer an upgrade in convenience and performance. With everything plugged into the back, I could use one remote to do all of my source switching and volume control. Its built-in 70-watt-per-channel amplifier drove the Wharfedale speakers quite well, which was an instant upgrade to sound quality. And using HDMI and a dedicated 4K Blu-ray player made a huge difference in visual appeal when streaming movies or watching discs.
Putting it to the test
I got everything hooked up on a rainy Saturday, so I knew what I wanted to listen to first. I pulled out my favorite box set of albums: Bill Evans: Complete Village Vanguard Recordings, 1961. It's a classic piano/bass/drums trio album, recorded live, so the balance and clarity of each instrument is crucial. The sound through the Wharfedale speakers was gorgeous, with a wide soundstage and immersive, accurate playback.
I expected a huge upgrade in my movie-watching experience, with the Sony player and larger speakers, and I got it. For my money, an action movie is always a good call, so I popped in a 4K Blu-ray of the 2016 spy thriller Jason Bourne. Action sequences are certainly loud, but there's a lot of sound design going on, so I enjoyed the crisp definition of engine sounds, crashes, sirens, and gunshots, rather than a morass of undifferentiated noise. When dialogue or soundtrack elements came into play, they were distinct and audible, too. And of course the picture was phenomenal.
I watched a little Saturday and Sunday football, too. My picture quality was somewhat limited by my standard-definition cable package, but the convenience in switching from the movie to the TV feed was definitely appreciated.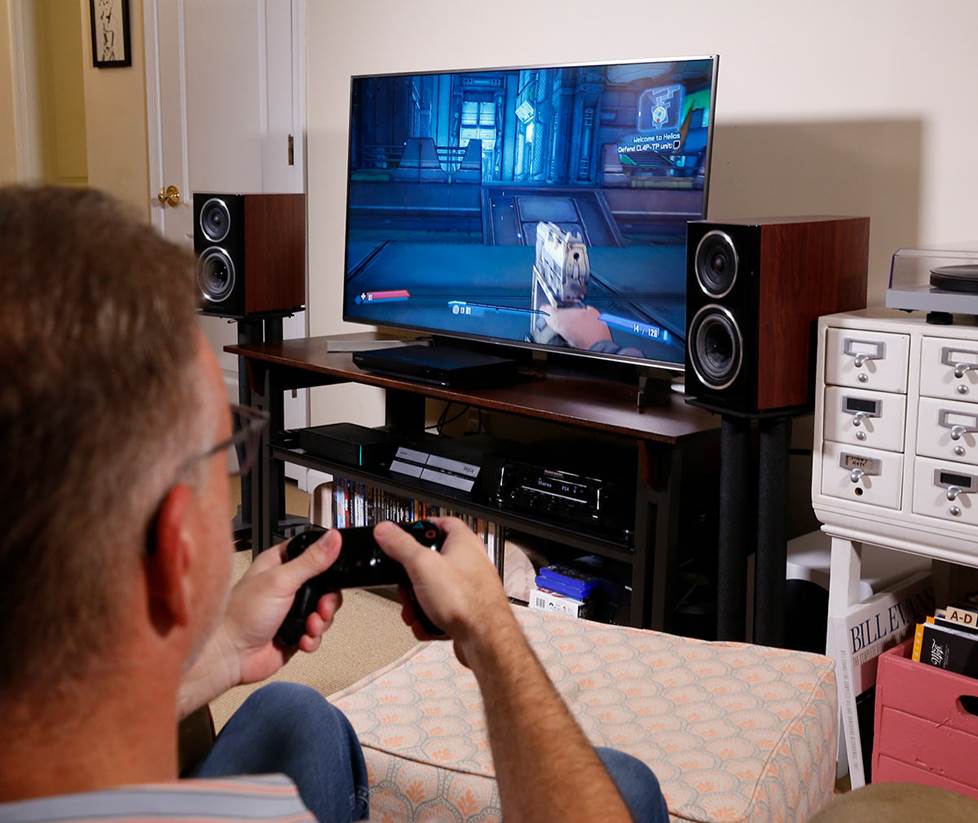 The PlayStation 4 already looked good on my Sony TV. Running the audio through the NR1200 was a... wait for it... game changer.
When my son joined me later in the week, he immediately tucked into some video games. He seemed genuinely surprised at the clarity of the dialogue and sound effects he had heard in more muted form before.
I did a little music streaming via Bluetooth, but I have to admit that, for me, it's all about the vinyl. Still, streaming is a nice feature to have, especially when guests come over.
The verdict
Simply put, the versatile Marantz NR1200 did everything I wanted it to do, and had room left over for expansion. The gains I made in performance and convenience made it a no-brainer of an upgrade.
I plan to buy a house in the future, and the Marantz would make that move a smooth one. In my daydream, I'd connect a pair of outdoor speakers to the second set of binding posts so I could use them in an A/B setup. And HEOS-compatible speakers could be placed throughout the house, so my music — or even audio from televised sports — could be heard in any room as I move around the house.
Power. Performance. Versatility. What else could I ask for?
Have questions?
Contact us today. Our friendly, knowledgeable Advisors can help you order a stereo receiver with HDMI connections and build an excellent system around it.