Updating the audio on a classic workboat
Music for the Mary Rebecca
The Mary Rebecca
For generations now, the watermen of the Chesapeake Bay have harvested oysters and crabs from the decks of traditional workboats. Known as "deadrises" because of the hull design, they're made for hard work. But as many boating enthusiasts know, a good deadrise can be a great pleasure boat. Brian is definitely one of those enthusiasts. His 42-foot deadrise, the Mary Rebecca, is an authentic, yet thoroughly modern, take on this classic design.
There are no "plans" for a deadrise, only goals. The Mary Rebecca was built in 2001, as part of a program at the Mariners Museum in Newport News, VA. Brian gave legendary builder Jimmy Drewery some basic dimensions and the master went to work, using the traditional "rack of eye" method (no blueprints) to craft the hull. Brian finished the boat himself over the next two years, adding the details needed to create a first-class cruiser.
The results are impressive. The large cabin is ideal for long trips, while the big, broad deck is a great place for family and friends to enjoy a sunset cruise. But if you're going to throw a party, floating or otherwise, you need a great stereo. We were happy to help Brian find the gear he needed to make this beautiful boat sound as good as she looks.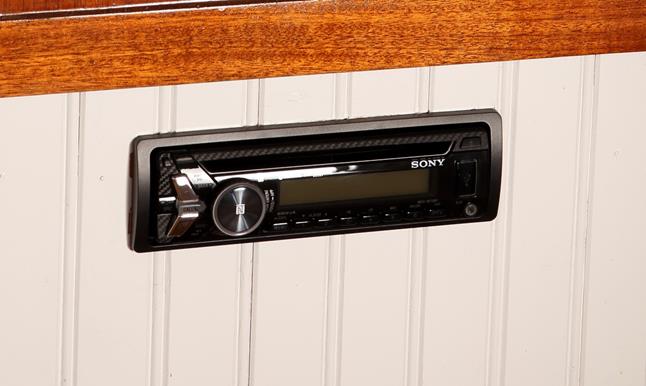 The Sony marine receiver fit neatly into the existing cavity
Going digital
The Sony receiver Brian installed a decade ago was working fine. But he and his wife, Tami, use their iPod® a lot these days, so they needed something a little more up-to-date.
The Sony marine receiver has dual USB ports, Pandora® control, and App Remote with voice control for select smartphones. NFC (Near Field Communication) technology means one-touch Bluetooth® pairing — a very handy feature to have on a boat. Conformal-coated circuit boards and a UV-resistant front panel help it stand up to the extremes of a marine environment.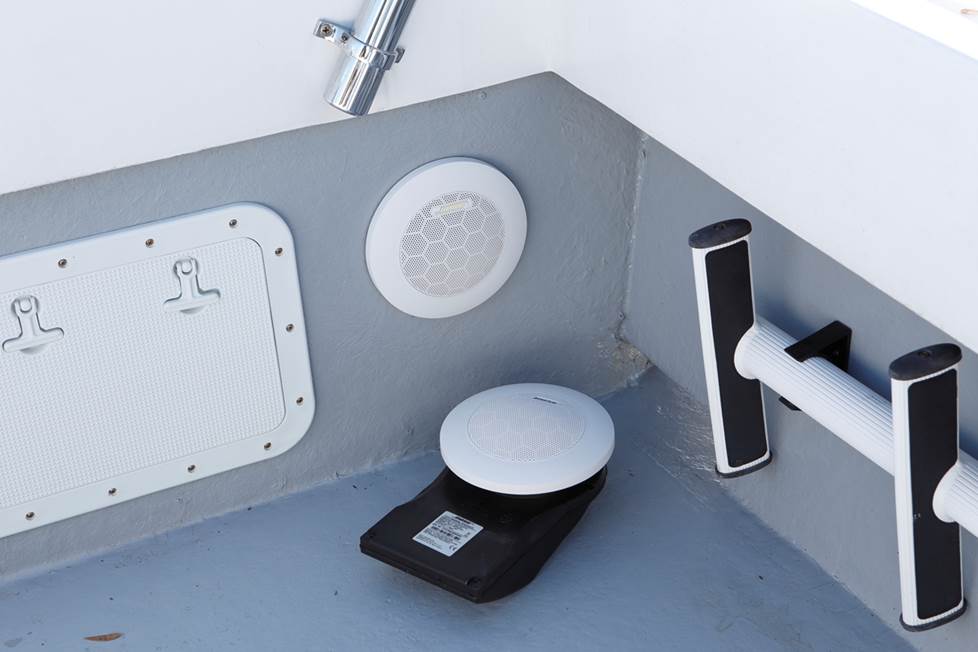 These Bose® 131 marine speakers sound even better with the new amp
Speakers? Check.
With four Bose® 131® speakers already installed, the Mary Rebecca was in good shape. These marine-rated speakers include ported enclosures designed for the unique challenges of a boat. The innovative helical voice coils in each single-cone driver produce remarkable sound and clarity — even with the 425-horsepower diesel burbling along. They're treated to withstand salt and spray, so these speakers will sound great for years to come.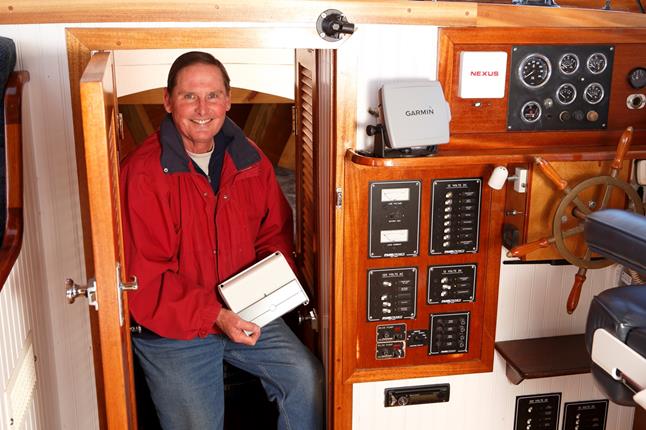 The amp will be mounted on the bulkhead, behind the instrument panel
Adding an amp
The powerful JL Audio M400/4 marine amplifier has all the power Brian needs to get the most out of the Bose® speakers. The compact size makes it a great fit on almost any boat. On the Mary Rebecca, it fits neatly behind the bulkhead and delivers plenty of punch. This marine-rated, Class-D amp is the perfect finishing touch for this audio system.
Marine-rated wiring
Wiring is an oft-overlooked, but very important part of any boat's entertainment system. Moisture and/or salt air will ruin ordinary speaker wire in a hurry, so make connections that last with corrosion-resistant, marine-rated wiring. We chose speaker wire, patch cables, and Y-adapter cables from JL Audio. These wires are made to be used on boats, so they'll provide years of reliable service.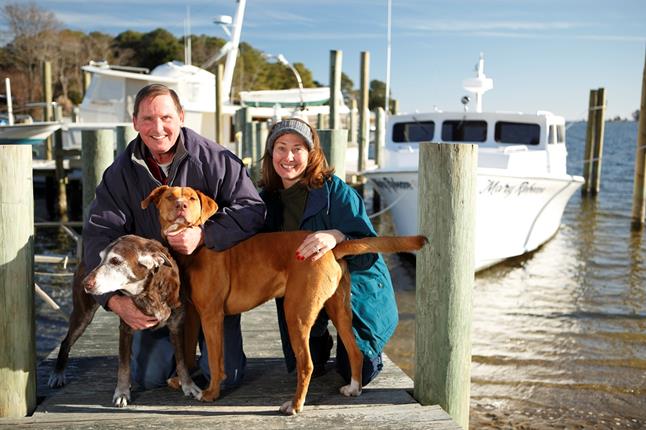 Brian, Tami, and crew can't wait to enjoy their new stereo system
Better sound for your boat
Almost every marine audio installation is different, but every boat needs reliable stereo gear that can handle the extremes of salt, spray, and sunshine. Whether you're outfitting a workboat, a motor yacht, a sailboat, a runabout, or a bass boat, Crutchfield has the right gear to make your boat sound great. Check out our entire line of marine audio equipment and start planning your next marine audio system.