You've probably heard Dolby Atmos in a movie theater. The sound comes at you from all sides and from above your head. "Immersive" is the word most often used to describe the experience.
Atmos made its way into home theater gear a few years ago. You can enjoy Atmos movie sound at home via Blu-ray discs or from streaming services like Netflix and Amazon Prime Video.
Wouldn't it be great if you could use your Atmos home theater system to enjoy immersive music experiences, too? Not just with the music that's on movie soundtracks. But with all sorts of popular music. The kind you usually listen to in stereo.
Well, now you can. And it's more accessible than ever, thanks to music streaming services like Apple Music, Amazon Music HD, and TIDAL. Apple in particular has gone all in on Dolby Atmos Music — perhaps you've seen their "spatial audio" TV ads.
I'll tell about my own experiences listening to Dolby Atmos Music. But first, let me give you a little background info.
Will immersive music finally catch on?
For decades, stereo has been the primary format for music consumption. There have been several attempts to market surround sound music. Formats like quadrophonic records, DVD-Audio, and multi-channel SACDs never caught on in a big way.
Why not?
First of all, you had to buy special discs, which were more expensive than standard records, CDs, DVDs, or Blu-ray discs. And you couldn't find a wide selection of popular music in those formats.
What about the sound of those older surround music formats? They may have sounded spectacular for their time. But recording engineers were constrained by the tools at their disposal. And home playback equipment was less advanced than today's gear is.
With Dolby Atmos Music, the experience is better. Artists can create soundscapes that are much more seamless and compelling. They can precisely place sound "objects" in your listening space and engage your imagination by moving the objects around.
Immersive music is now more affordable, too. And it's easier to get. That's because it's available via streaming. Dolby Atmos Music is offered with a base subscription to Apple Music or Amazon Music HD — there's no extra cost.
If you own an Atmos sound system, you can easily sample a wide range of surround music from popular artists. You don't have to buy a bunch of discs or find a place to store them.
How artists use the Atmos mixing tools to create immersive experiences
There are two primary schools of thought on how to record and mix music.
The first is to accurately capture a performance and give listeners an experience that's as close as possible to being in the audience.
Then there's the idea of using the recording studio as an instrument – a style pioneered by Beatles producer George Martin, Brian Wilson of the Beach Boys, and others. With this approach, artists create sonic experiences that are more abstract or surreal.
Dolby Atmos mixing tools can support both approaches.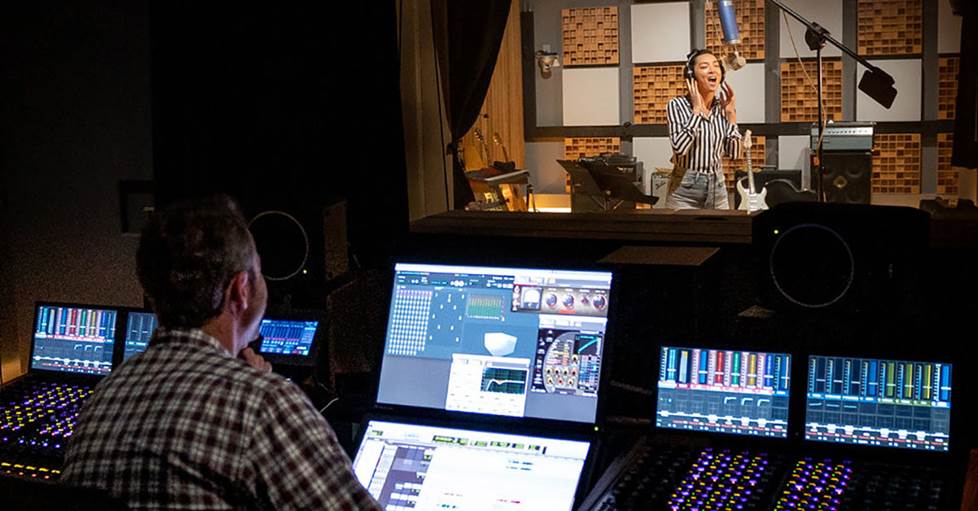 Major studios and smaller independent studios are gearing up to record and mix music in Dolby Atmos. They'll be reissuing classic albums in Atmos and releasing new projects that were conceived as immersive experiences.
An engineer aiming for a live music feel can use the new tools to add width, height, depth, and precision to the front soundstage while sending reverberant sounds to the rear and overhead speakers. That's what gives a listener the sense of being there in the venue.
Capitol recording engineer Steve Genewick is one of the pioneers in Dolby Atmos Music. In a Dolby Labs video I found on YouTube, he talked about why he loves mixing with Atmos.
"As mixers, we've always been jamming stuff into stereo and carving stuff out to make it fit," Genewick said. "And now we don't have to do that. The palette is so much bigger.
"If two things are clashing, I just move them apart, and it works. I don't have to EQ and compress stuff. I can really keep the integrity of the music. I can keep the dynamics. There's a whole new set of tools and a whole new space to convey the emotion of the song."
Artists who want to use an Atmos-equipped studio as an instrument will be equally empowered. Joel Zimmerman, aka Deadmau5 (pronounced "dead mouse"), is one of the first artists to work with Atmos mixes in this way.
What you need to stream Atmos Music
To enjoy Atmos at home, you need an AV receiver that decodes Atmos soundtracks. You also need a speaker system that includes ceiling speakers or Atmos-enabled speakers that bounce sound off the ceiling. If you want a simpler setup, you can use an Atmos-capable sound bar.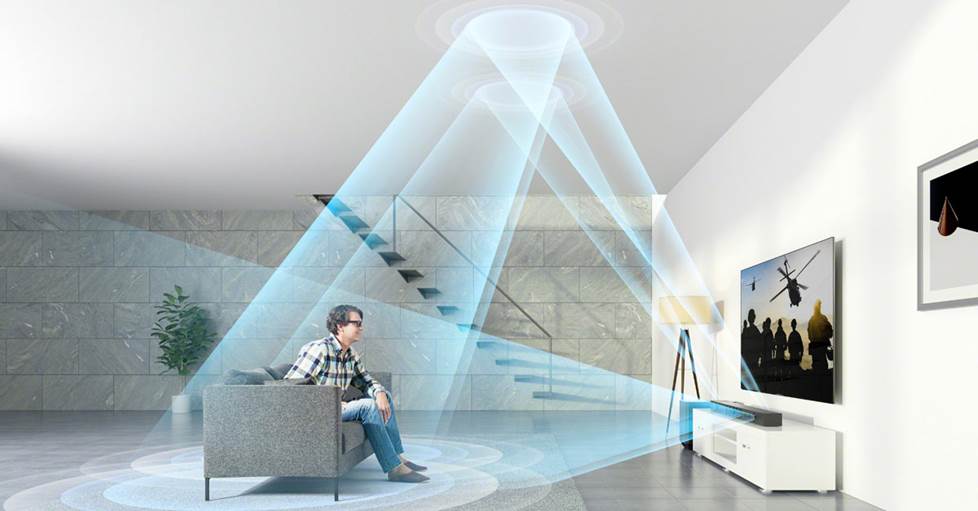 An Atmos-capable sound bar includes multiple speakers that bounce sounds off of your walls and ceilings. You can enjoy the Atmos experience without hooking up an AV receiver and placing separate speakers around your room.
To stream Atmos tracks, you'll need a subscription to Apple Music, Amazon Music HD, or TIDAL at the Hi-Fi tier. You'll also need a streaming device like Apple TV 4K or the Amazon Fire TV Stick 4K that supports Atmos and offers the app for your streaming service.
You won't need the streaming device if you have an Atmos-enabled Android TV (like the ones in Sony's XR A90J family) and an Atmos-capable receiver or sound bar with an eARC HDMI connection.
Atmos Music with AirPods and other headphones
In June 2021, Apple Music debuted high-res music streaming with Apple Lossless and also introduced Dolby Atmos Music on their platform. Both are available at no extra cost from their base subscription plan.
Apple has promoted Dolby Atmos Music together with their own "spatial audio" technology built into the Airpods Pro 2 earbuds. Together, the two audio features create an experience that mimics a full Atmos home theater setup. These AirPods use a built-in gyroscope to track the movement of your head and keep the soundfield fixed and centered.
But let's clear up a misconception: you can enjoy Atmos Music through any set of headphones. You'll still get a three-dimensional sound, it just won't stay in place as you move your head. Obviously there are many types of headphones with different sound characteristics, so results will vary.
Dolby Atmos tracks are found on the Apple Music app for the iPhone, iPad, Mac, and Apple TV — just make sure you're running the latest version of iOS or MacOs. If you're listening on AirPods or newer Beats headphones, Dolby Atmos plays automatically when there's a version available for the song. With other headphones, you simply go to the Apple Music audio settings and set Dolby Atmos to "always on."
While it's not entirely clear how many tracks on Apple Music are mixed for Atmos, Apple says it is in the thousands. And they are clearly identified by the Dolby Atmos logo in the Apple Music app.
Hands-on with Dolby Atmos Music
A few years ago, I installed a 5.1.4 Dolby Atmos home theater system in my basement. To test it out, I bought a Blu-ray movie with an Atmos soundtrack. And that's pretty much all the Atmos I experienced until I bought a new TV last July.
With the new eARC-equipped TV and a firmware upgrade for my Yamaha RX-A2060 receiver, I was able to stream Atmos movies and shows from Netflix and Amazon Prime Video. A few months later, I decided to try Dolby Atmos Music, a recent addition to the TIDAL music streaming service.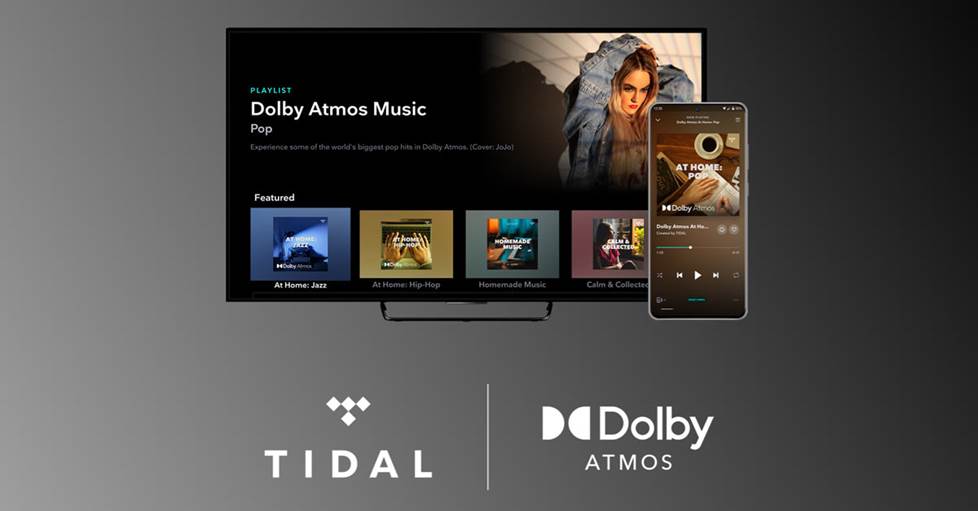 I plugged a Fire TV Stick 4K into a spare HDMI port on my receiver. It was easy to set up the Firestick and load up the TIDAL app. Then it was time to fire up my computer and subscribe to TIDAL.
You can't subscribe to TIDAL straight from the Fire TV Stick. And I don't think you'd want to rely solely on the Fire TV app, anyway. Finding music and flagging your favorites is much easier to do on a computer. Once you save tracks, albums, or playlists on your computer, you'll see them on your TV streaming device's TIDAL app.
How do you find Dolby Atmos Music on TIDAL?
I couldn't find much Atmos Music by browsing around on TIDAL. I had much better luck when I searched for "Dolby Atmos" and clicked on the "Playlists" button. That's how I found 37 different Atmos playlists. A couple of weeks later, I found more than 50 Atmos playlists.
The Atmos playlists are a mixed bag. Some will keep you entertained for hours. Others only have a few tracks. I found the Country playlist to be particularly thin and disappointing. But we're still in the early days of Atmos Music.
What Atmos Music sounds like
After I got all 37 Atmos playlists saved to my favorites, I took a few days to sample a wide range of Atmos Music. Then I settled on a few choice tracks to write about.
Let's start with the Doors' classic Riders On The Storm. You may recall the sounds of rain and thunder that are mixed into this song.
In the Atmos version, the rain comes from the overhead speakers, and the thunder comes from the rear speakers. The storm sounds quite real.
In the stereo version of this song, the sound effects compete with the music in the left and right channels. They don't have a way to spread out, so they can't really pull you into the mental movie — not even close to the way they do with the Atmos mix.
Cinematic sound effects make songs like Riders On The Storm great for demos. But a well-done Atmos Music mix gives you so much more to like.
The soundstage is huge
When you're listening to music with 10 speakers instead of just two, the soundstage can be simply breathtaking. I found this to be true with epic rock anthems like Rush's Tom Sawyer, though it was no less impressive with more intimate fare.
In Tom Sawyer, there are some synthesizer parts that swirl about in the overhead speakers. Nice, but I was floored by the mix of the instrumental section that begins at 1:35. There's a lot going on, but each instrument claims its own space. I heard details that previously had escaped my attention.
Beginning at 1:53, the guitar starts playing in sync with the synth part. Both instruments stand out loud and clear. The bass guitar solo really pops from my front left and right tower speakers. Meanwhile, the lead guitar comes mostly from the center speaker, but it's doubled up in the rear speakers. And that makes it sound huge.
The drums are mixed into the front L+R speakers, the overheads, and the rear speakers. As the instrumental section comes to a close, there are a series of drum rolls that pan from right to left. The pitch of each drum is easy to discern.
Overall, the Rush cut is simply thrilling. The individual parts are well placed. They engage you without drawing too much attention to themselves.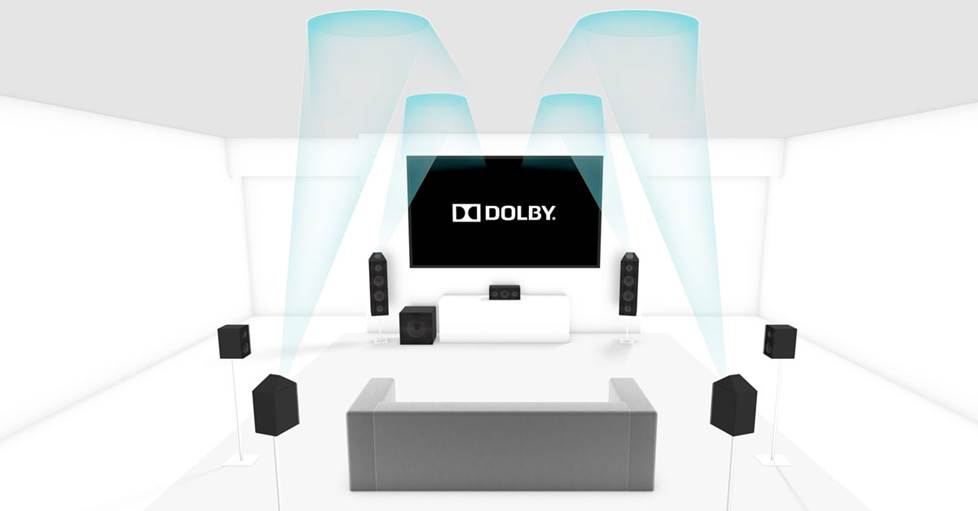 When you listen to Dolby Atmos Music with a home theater speaker system like this one, sit in the "sweet spot." That's where you'll hear the mix that the artist intended.
I should mention that listening to Dolby Atmos Music on your home theater system is like watching a movie in one key respect. To enjoy the mix as intended, you need to sit in or near the "sweet spot" (the seat in front of your TV). If you wander about the room, you'll hear bits and pieces that don't make sense in isolation. If you want background music for a party, you might be better served by a stereo mix.
Getting back to some examples, let's talk about a jazz cut that presents an extraordinarily deep soundstage.
In the song Hat And Beard from Eric Dolphy's Out To Lunch! album, the bass, drums, and vibes are mostly in the front speakers. The trumpet and bass clarinet parts issue from the front and overhead speakers, and they're often quite a bit louder than the rhythm section. It felt like the horn players were standing right beside my table at the jazz club, while the rhythm section remained on stage.
Dynamics!
The next example comes from the pop music bag. A lot of pop music is compressed within an inch of its life for the sake of those who listen on cheap earbuds or car speakers. Music that's treated this way serves a commercial purpose. But, lacking dynamics, it comes off as lifeless to a discriminating ear.
Color me surprised by the Atmos mix of Call Me Maybe by Carly Rae Jepsen. It starts out pretty quiet. So quiet, in fact, that I felt compelled to turn it up. Then the orchestral hits and kick drum beats in the chorus just hammered me — in a good way. Whoa!
Headscratchers
I'd be remiss if I didn't mention a couple of examples that left me scratching my head.
Cheryl Crow's All I Wanna Do features a guiro, a Latin percussion instrument that produces a distinctive ratcheting sound. For some reason, it's mixed hard into the overhead and rear speakers. And it's probably a tad louder than it needs to be. It sounds to me like the guiro player is suspended from the ceiling. Strange.
I was excited to see James Brown's Super Bad — Parts 1, 2 & 3 show up in one of the Atmos playlists. Too bad the lead vocals are in the rear.
What were they thinking?
I'm going to guess that the mixing engineer wants you to feel like you're on stage with James Brown, facing the audience. It didn't work for me, partly because my rear speakers are much smaller than my front speakers. I'd rather hear the lead vocals in my front L+R tower speakers.
A new mindset for artists and listeners
After decades of listening to our favorites in stereo, our brains may need some time to adapt to Atmos Music. That goes for artists and listeners alike.
I recently spoke with Tim Pryde, Director of Dolby Music. He told me that artists who are remixing old hits walk a fine line. They're keen to experiment. On the other hand, they understand that if they depart too dramatically from a familiar stereo mix, they might put some fans off.
"You run the risk of changing it so much, that it becomes a totally different song, a totally different experience," Pryde said.
Artists are particularly motivated to create new works in Atmos, Pryde said.
"When it's a new song, something nobody's ever heard," he said, "that's when artists get excited. They say, 'I can do anything I want.'"
To better understand the Atmos mixes, I spent a lot of time wandering around my home theater, placing an ear close to each speaker. Finally, I'd had enough of that. It was time to just relax and enjoy. It was a little easier to do that with songs I'd never heard before. I wasn't as tempted to nitpick the mix because I had no previous frame of reference.
One of my favorite discoveries from TIDAL's Atmos Music collection is the eponymous album recently released by Lianne La Havas. It's filled with great songs that are brilliantly performed, well recorded, and mixed to perfection. The a cappella choir part about three minutes into Weird Fishes sounds amazing. The performance is stunning, but so is the immersive Atmos sound.
Dolby Atmos Music on Blu-ray
TIDAL's Dolby Atmos Music streams use Dolby Digital Plus encoding. Atmos audio in Dolby Digital Plus is typically encoded at bitrates between 384 and 768 kilobits per second. CD-quality is 1,411 kbps. Spotify's "high quality" stream is 320 kbps.
Hi-fi purists may scoff at the use of a "lossy" codec for Atmos Music streaming. I don't. Atmos Music on TIDAL sounds terrific to my fairly well-educated ear.
For the purists, however, there is a bit of lossless Atmos Music available on Blu-ray. One good example is The Beatles' Abbey Road Anniversary Edition.
There's a lot more to the box set than the Blu-ray audio disc. But the Atmos mix alone makes it worth the price to me. It does indeed sound better than any of the Atmos Music I heard on TIDAL. I got nonstop goosebumps throughout my first spin.
The famous Abbey Road studio was one of the first major recording facilities to produce Atmos Music. George Martin's son Giles was at the helm for the Atmos remix of his father's masterpiece. Here's what he told NPR's Bob Boilen about his approach to mixing in Atmos.
"My intent with all of this is to try and get you in the room with the band, as much as I can, and that's what this does," he said.
What was going on in the room during the Abbey Road sessions?
"It was the band at the height of their powers," Martin said on NPR. "Their playing is brilliant on it. The arrangements are complex but beautiful. It's the perfect epitaph for The Beatles."
And what a treat it is to have a fresh way to enjoy Abbey Road, a record I've heard countless times over the past 50 years.
Let's talk about The End, the final studio track all four Beatles played on together.
Ringo's one and only drum solo as a Beatle gains new life in the Atmos mix. Most of the hits come from the front left and right speakers, but some shift to the center, overhead, and rear speakers. Phrases go back and forth in a call-and-response pattern.
Then the other three Beatles take turns in the guitar solo section. Paul's riffs come from the left front speaker, George is in the front right speaker, and John's picking comes from the center speaker. It sounds to me like they're having a blast as they trade hot licks. Were they trying to conjure their salad days as a young Liverpool bar band? If that was the idea, they nailed it. And it's perfectly depicted in this Atmos mix.
The coda brought tears to my eyes: The sweetness of the vocal ensemble, joined at the last by a swelling orchestra part, and then punctuated by massive reverb tails as the final chord fades away. What a fabulous and fitting end to such a brilliant run.
While playing the Abbey Road Blu-ray disc, you can switch from the Atmos mix to a stereo mix at the touch of a button. When I did that, I lost the sense of being there in the studio with the band.
And that brings me to a side effect of my Atmos Music experience. It pretty much ruined my appetite for stereo. But now I have a new reason and a great new way to obsess over music. I can't wait to hear more Dolby Atmos Music.
Will Atmos Music make it big?
Atmos Music started a few years ago with some informal grassroots experimentation. A few artists who had access to Atmos tools started sharing some mixes with colleagues. Soon enough, industry insiders realized they were onto something promising.
Now, Tim Pryde told me, Atmos Music is one of Dolby's top priorities. Dolby has announced Atmos Music partnerships with Universal Music Group and Warner Music Group. Iconic studios like Capitol's Studio C in Hollywood, Abbey Road Studios in London, and Berry Hill Studios in Nashville have been outfitted for Atmos Music production.
The early focus is on top-tier artists. But Dolby has also collaborated with Avid (maker of the popular Pro Tools audio recording software) on AvidPlay, a new platform that gives independent artists an easy way to create and distribute Atmos Music.
"Dolby has a very specific vision to make Atmos the standard in how people are making and producing music," Pryde said, "and eventually, how people are going to be hearing it."
On the consumer side, Amazon Music HD jumped in to compete with TIDAL as a player in the Atmos Music streaming business. And Dolby's consumer electronics partners — the companies that make Atmos-capable home audio gear — are excited about the opportunities Atmos Music opens up, Pryde said.
Will Dolby Atmos Music become the new standard? Time will tell. Meanwhile, if you own an Atmos-capable home theater system, why not give it a try? If you've been thinking about investing in an Atmos system, now you have another good reason to go for it.