In this article: I introduce Amazon Music HD and give my hands-on review of this new high-resolution music streaming service. I also break down which gear works best with Amazon Music HD, including:
Two years ago, Amazon debuted a high-resolution streaming tier of their music service called "Amazon Music HD." It offers upgraded sound over conventional streaming music services. Now in 2021, they've made Amazon Music HD available at no additional cost for all of their Amazon Music Unlimited subscribers.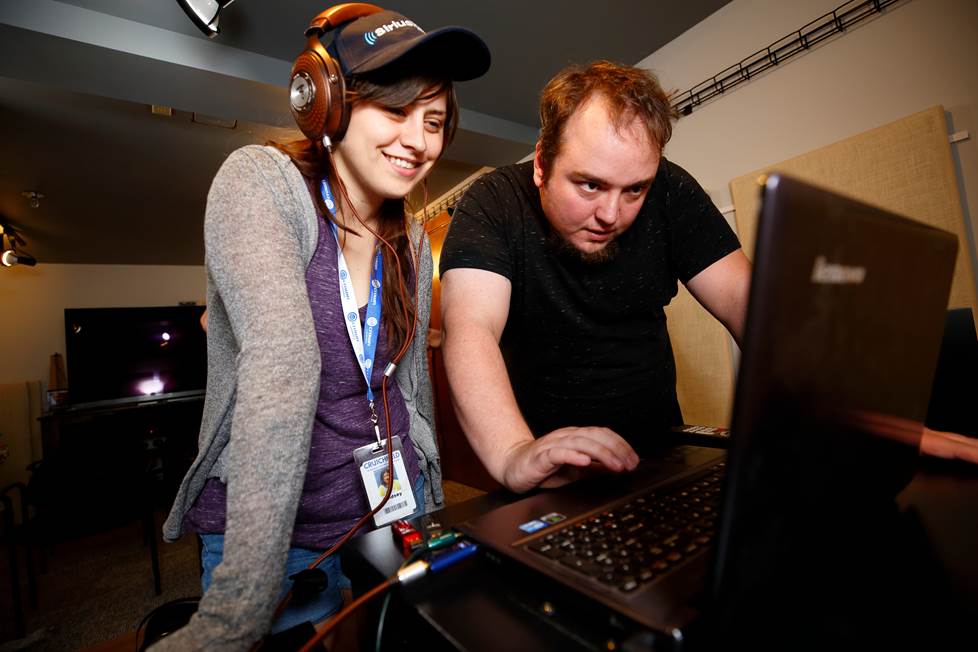 Crutchfield Advisors Luna and Bear test out the sonic advantages of high-res audio through the AudioQuest DragonFly Cobalt DAC/headphone amp and Focal Stellia headphones.
That's big news here at Crutchfield, where we take sound quality seriously. But to take advantage of this higher-quality audio, you need the right gear. This article will show you which products work best with Amazon Music HD, and how to use them. I'll also give you my early impressions of the service — and its sound.
What is Amazon Music HD?
Amazon Music HD offers lossless streaming of CD-quality and high-resolution music, and is part of the Amazon Music Unlimited service. (Not to be confused with "Prime Music," Amazon's limited-catalog music service that's included with an Amazon Prime membership.)
Amazon claims they have over 70 million tracks in CD quality — what they call "High Definition" or "HD." There are millions more that Amazon calls "Ultra High Definition" or "UHD"— more traditionally known as "high-res." They also offer tracks in immersive, three-dimensional formats like Sony 360 Reality Audio and Dolby Atmos Music.
Originally, this was an upgraded "tier" of Amazon Music Unlimited, that would cost $5 more per month. But after the announcement that Apple Music will offer lossless streaming in June 2021, Amazon dropped their extra fee for Amazon Music HD.
So now it is $7.99 a month for Prime members and $9.99 a month for non-prime members. That's on par with Spotify and Apple Music, and there is also a family plan and yearly plan discounts. They are currently offering a 30-day free trial.
What is lossless streaming?
Streaming services typically compress music files for fast, efficient delivery to your smartphone or tablet. That essentially "chops off" part of the music. While that may sound OK when listening to your phone or laptop's built-in speakers, you lose key details and dynamics. All those special little subtleties can really stand out through a nice pair of headphones and other hi-fi gear.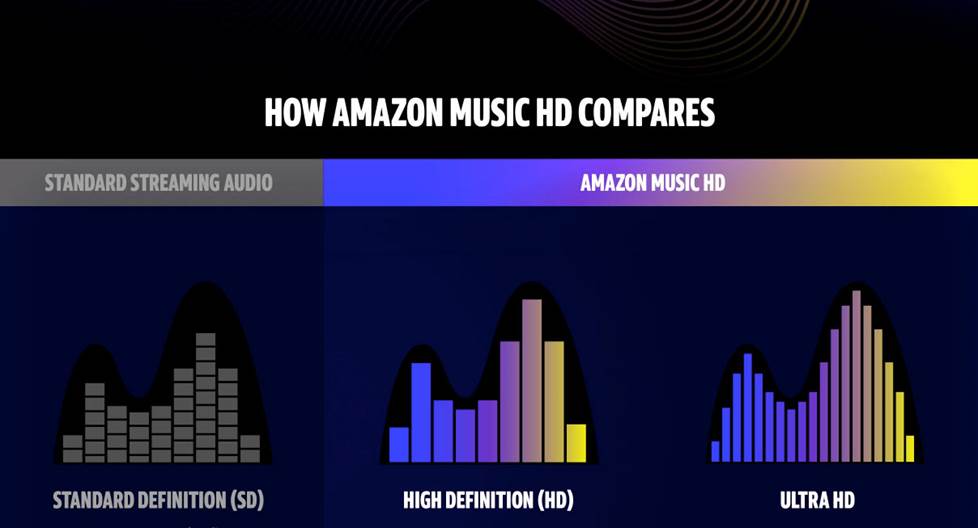 This illustration from Amazon compares their HD and Ultra HD digital audio signals to a standard-definition (SD) signal. All digital audio streams lose some of the original analog waveform, but HD streams lose a lot less.
Amazon is the first of the "big three" streaming services to offer lossless streaming. Spotify and Apple Music only stream lossy files at 320 Kilobytes per second (the same as Amazon's SD service). Amazon Music HD streams FLAC files at up to 3,730 Kbps. That delivers far more data, meaning you can hear more of those important musical nuances.
Amazon's price is lower than comparable lossless streaming tiers from niche music services Qobuz and Tidal. It will be interesting to see how those companies react.
What is the audio quality of HD and Ultra HD?
Here is a breakdown of the bitrates and sample rates for the three tiers of Amazon Music HD:
SD — Bitrate: 320 Kbps
HD — Bitrate: average of 850 Kbps; Sample rate: 16-bit/44kHz
Ultra HD — Bitrate: average of 3,730 kbps; Sample rate: up to 24-bit/192kHz
Charles Anderson (head of our personal audio group) breaks it down like this: "With quality gear, stepping up in audio resolution can give you that extra 5 percent that really makes your music sound more lifelike."
You'll need a fast and strong internet connection
I would only recommend streaming in HD or Ultra HD when you're connected by Wi-Fi or Ethernet. That's because lossless streaming can take up a lot of cell-phone data, pretty fast. So if you're out and about and listening on your phone's 3G, 4G, or LTE service, you'll probably want to stream in SD. You can make adjustments within the settings menu of the Amazon Music app.
Amazon Music HD also lets you download songs to your phone to play when you're away from an internet connection. That's handy when you're on a road or plane trip, or when you don't want to use your data plan.
But even when you're at home, lossless streaming can tax your wireless network — especially if your family is simultaneously using your internet connection for other purposes, such as watching TV, checking email, etc.
Amazon recommends an internet connection of 1.5 to 2 Mbps for HD streaming and 5 to 10 Mbps for Ultra HD streaming. Check out our wireless router buying guide for tips on beefing up your home network.
How to get the most out of Amazon Music HD with headphones
I'm the headphone writer here at Crutchfield, so I naturally wore them to test this new music service. And while I'm biased, I think listening to Amazon Music HD through a good set of headphones gives you tremendous bang for the buck.
But you won't realize the full sonic benefit by connecting headphones directly to your phone or laptop. Most phones won't be able to decode Ultra HD or even HD tracks on their own. The audio circuitry inside phones and laptops can often be ho-hum.
I found that the sound quality of Amazon Music HD suited the stellar Denon AH-D9200 closed-back bamboo headphones.
An outboard DAC (digital-to-analog converter) will bypass that circuitry and help squeeze out more musical detail. I listened from my work laptop using the AudioQuest DragonFly Cobalt to drive the audiophile Denon AH-9200 headphones.
I'll give some specifics later, but overall I thought most tracks sounded excellent. A song can only be as good as it was recorded and mixed, of course. But compared to Spotify, I heard tighter bass, more high-end detail, and better vocal clarity.
With the right set of wireless headphones, you might also hear a difference. Bluetooth has gotten much better in just the last few years. Devices and Bluetooth headphones with either aptX HD or Sony's LDAC wireless codecs can stream up to CD quality (Amazon's HD mode).
Better sound from your Sonos speakers
Sonos is the most popular multi-room music system. They make speakers, sound bars, and amps/streamers that you can put in different rooms of the house. But most don't listen to music at Sonos' full CD-quality or even high-res potential.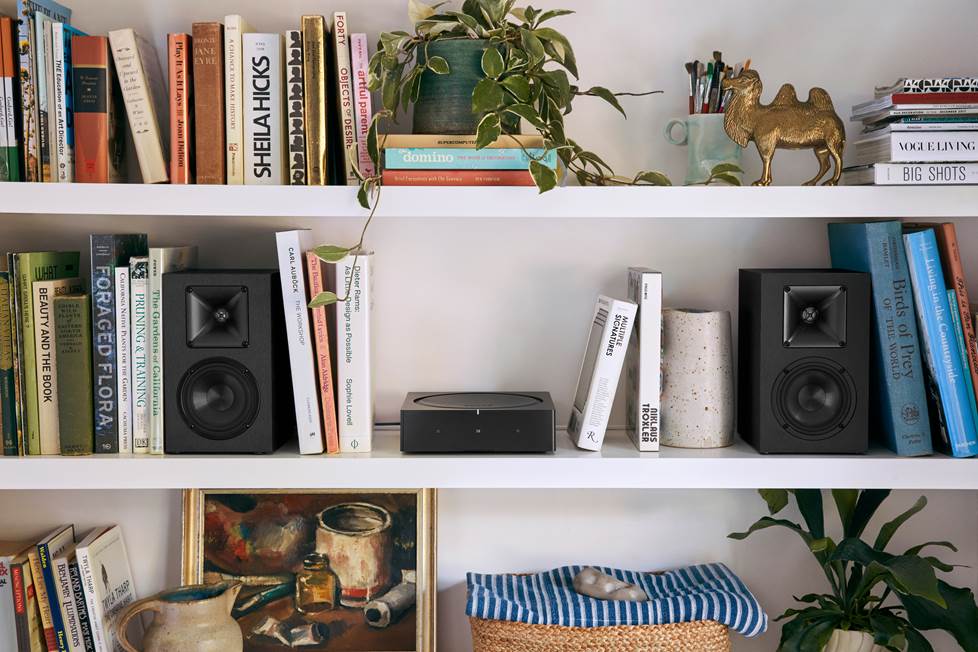 Connect a nice pair of speakers to your Sonos Amp, and stream in CD quality with Amazon Music HD.
The majority of people stream compressed music on Sonos — or "SD" format, to borrow Amazon's lingo. This would be the video equivalent of owning a nice 4KTV, but only watching the fuzzy standard-def channels.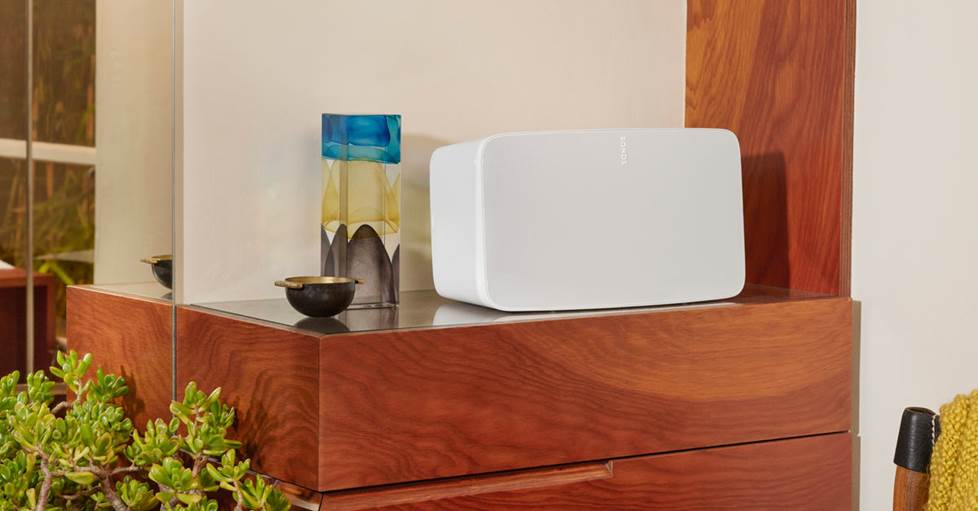 Amazon Music HD's CD-quality streaming means even better sound from Sonos' best standalone speaker, the Sonos Five.
If you have Sonos components, or plan on getting some soon, Amazon's HD tracks will let you hear them at their best. Simply update your Sonos app and firmware to the latest version, and you'll be ready to play Amazon Music HD.
All Sonos gear will stream Amazon in HD, or CD-quality. And newer Sonos "S2" compatible speakers and hardware, Amazon can stream in Ultra HD up to 24-bit/48kHz.
Go full high-res with HEOS, Bluesound, and DTS Play-Fi
Here are the multi-room audio systems that can either play Ultra HD tracks, or will have the capability soon.
Denon HEOS – supports both HD and Ultra HD tiers.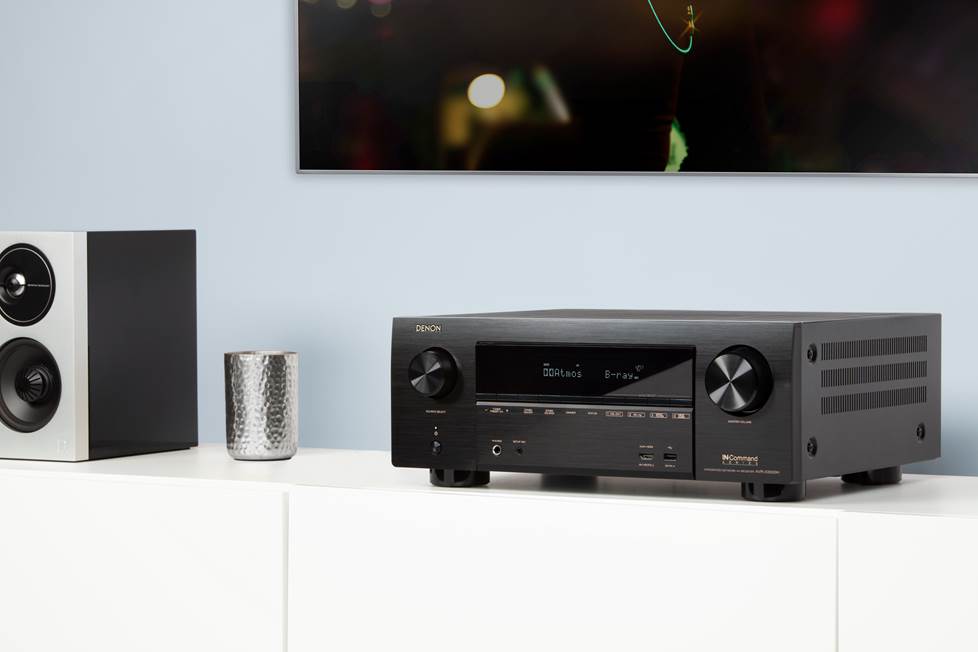 The Denon AVR-X3500H 7.2 home theater receiver has HEOS built-in.
I think this is especially cool because HEOS is baked into certain Denon home theater receivers and amplifiers. These are some of the best and most popular receivers we offer. So this is an easy, convenient way to get top-notch performance from bookshelf and tower speakers.
There are also standalone HEOS wireless speakers, amps, and sound bars available.
Bluesound – supports both HD and Ultra HD.
If ever there was a system that could take advantage of higher-quality music streaming, it would be Bluesound. Their collection of premium speakers and audio components were all informed or inspired by legendary speaker designer Paul Barton. The speakers come in all shapes and sizes, so they fit in every room.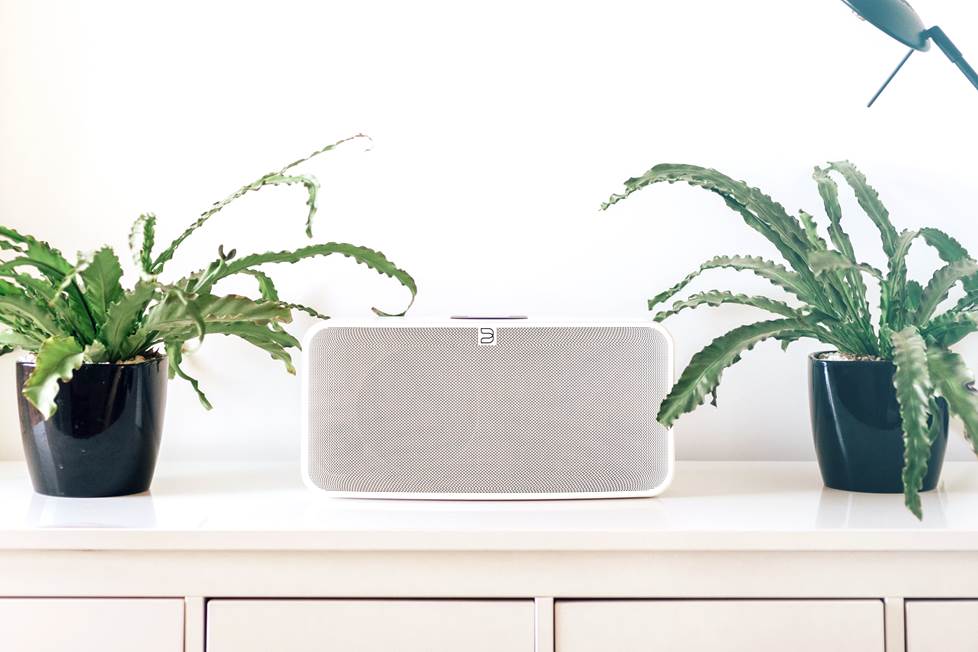 The premium Bluesound Pulse 2i wireless speaker offers powerful sound and can play Amazon's Utlra HD tracks.
Amazon's HD and UHD tracks are available through the Play-Fi app.
This opens up a lot of products from many different companies. Klipsch, Onkyo, McIntosh, Anthem, and SVS all have products that you can control via Play-Fi. And you can mix and match different brands.
Some of these systems only allow a single high-res (or Ultra HD) stream at a time. If you try to send an Ultra HD track to more than one room, it may down-sample to HD (CD quality).
I mentioned earlier that streaming in higher quality requires a robust home network. But multi-room systems can be even more taxing. So it's even more important to ensure your home network and router are up to the task.
Our article "5 tips to solve Netflix streaming problems" includes some advice that can help here, too.
My impressions of Amazon Music HD
Spotify vs. Amazon Music HD: the app and interface
I'm a long-time Spotify user, and have tested Qobuz, Tidal, and Apple Music in the past. But I always seem to come back to Spotify. Some of that has to do with the price, but it's mostly because the phone and desktop app are both just so easy to navigate.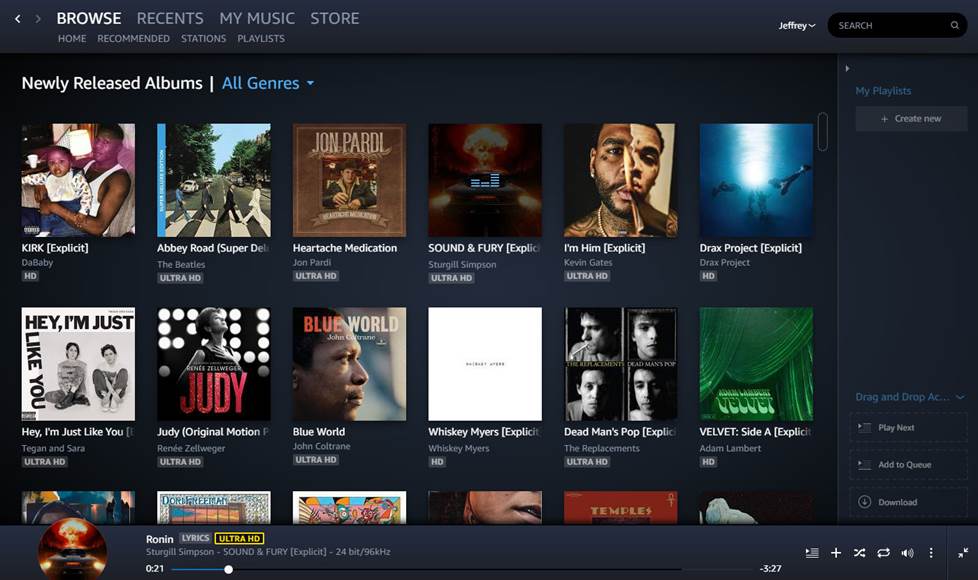 Amazon has a clean, easy-to-use layout and most new releases are available in either HD or Ultra HD.
Amazon's layout is very straightforward, and they largely stay out of the way for you to search around. Since I was listening with the Cobalt DAC and Denon headphones at my desk, I mainly used the desktop app. Pretty much anything I wanted to listen to was available in HD, and a lot of albums and songs were in Ultra HD. All were easy to identify at a glance. A big "HD" or "Ultra HD" badge is prominently displayed.
Music Discovery
It's not surprising to me that Amazon has chosen "clean and functional" over everything else. That's not a bad thing if I know exactly what I want to listen to, but sometimes I find myself paralyzed by so much choice.
Funny enough, years ago when I first tried Spotify, I laughed at the idea that some algorithm could know my music tastes better than I did myself. But these days, I rely heavily on Spotify's music discovery prowess. They often tip me off to new acts or unearth older gems that I never knew about.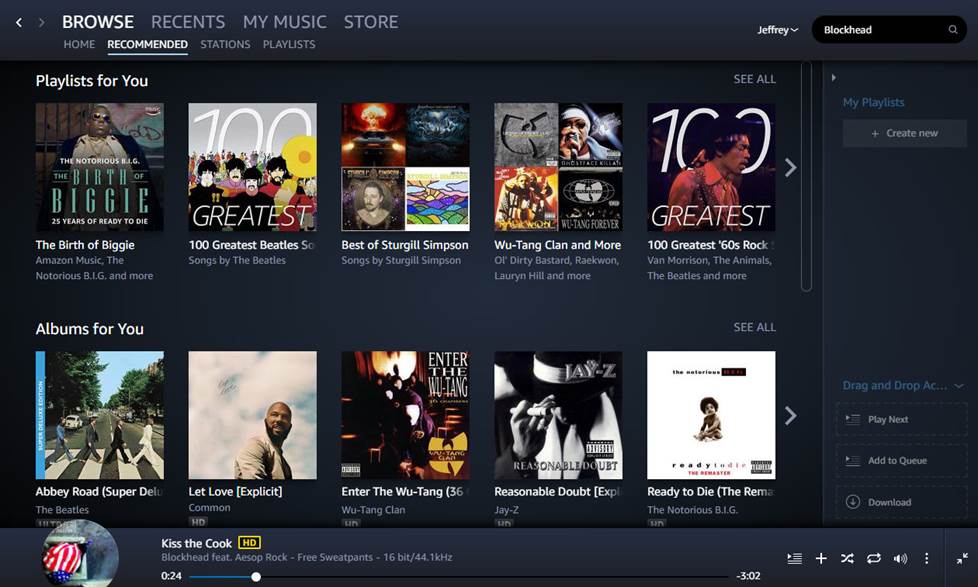 My "Recommended" section in Amazon Music HD felt a little too obvious compared to the deeper cuts I get from my Spotify Discovery.
Amazon has a "Recommended" section, but it feels pretty "by-the-numbers." In other words, if I listen to a Nas album, I'll enjoy a Biggie playlist. But the choices rarely take me out of my comfort zone.
Sure, Spotify will serve up a similar Biggie playlist if they know I listened to Illmatic. But on my weekly personalized "Spotify Discovery" playlist, they will also slyly slip in the original jazz number that Nas sampled on track 3 of the album.
Playing HD and Ultra HD tracks
Of course, "music discovery" is admittedly a very specific use case. And it might not matter as much to everyone. Overall, everything was where I expected it to be, and neatly organized. I really liked how easy it was to find specific information about Ultra HD tracks.
When I played a song, I could click on the Ultra HD badge for more info:

When you click the "Ultra HD" badge next to "Lyrics," it will show you detailed information on the sample rate and resolution.
Then a box would come up that not only showed me the audio quality of the track, but also the quality at that very moment (based on what my DAC, device, or network could handle):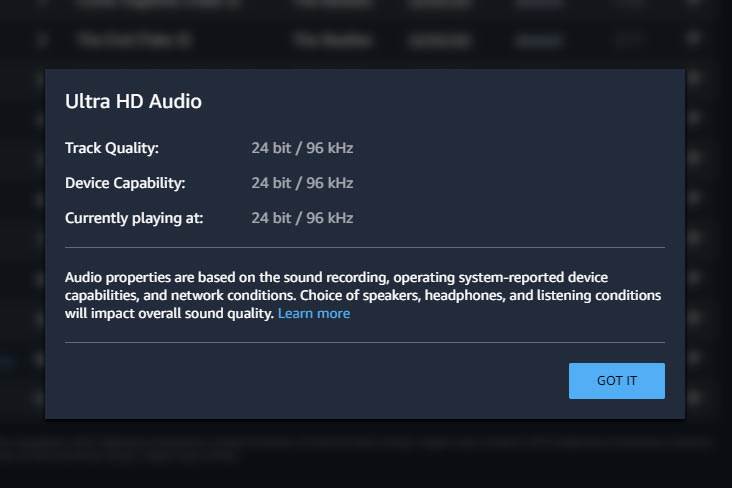 How does Amazon Music HD sound?
Just as I was assigned to audition Amazon Music HD, the Beatles released the 50th anniversary remix to Abbey Road. Talk about timing!
I had already listened on Spotify through the same headphone setup, and enjoyed Giles Martin's subtle tweaks to the original masterpiece. I noticed better stereo separation and a slight bass emphasis.
But Amazon's Ultra HD version of the album really opened things up. It wasn't necessarily that it sounded more spacious — the Denon AH-9200 headphones are pretty spacious on their own — but it made better use of the available space. Everything sounded clearly defined, particularly Paul's vocals. They had more bite and sense of place.
The percussion, the string instruments, and the guitars also occupied their own space in the large soundstage. I even heard some ad-libs and sound effects above my ear or off to the corner. Overall it just felt like a richer experience — more of an event.
My conclusion
I'll have to admit, it's pretty thrilling to see one of the largest companies in the world focus on sound quality. For years, I felt like it was an afterthought to convenience. Now we don't really have to compromise on either.
And we offer plenty of gear that can play Amazon Music HD so that it sounds its best. Contact one of our Advisors if you have any questions on how to get started.