You may have seen those Apple TV ads for "spatial audio on Apple Music," or perhaps you've already given it a spin. It's a new, three-dimensional way to listen to music that stretches beyond two-channel stereo.
Spatial audio doesn't just give you the traditional left/right stereo music presentation. Instead, an immersive soundfield envelops you with sonic artifacts pouring from all directions.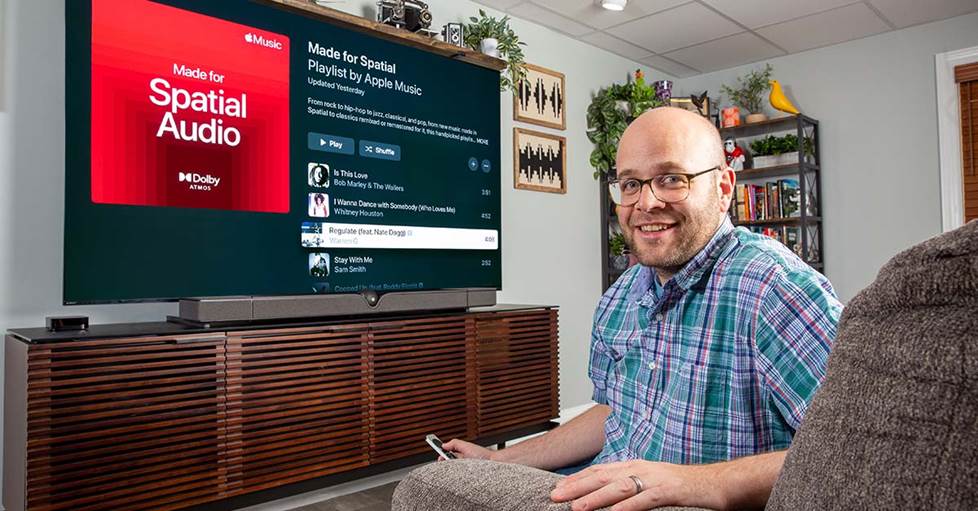 I've demoed Apple spatial audio on AirPods, full Atmos theater systems, and everything in between (like this Devialet Dione sound bar), so I can share some tips to help make your music soar!
Apple has done a great job of championing and promoting this format. But we find that there's still some confusion out there about spatial audio.
I'd like to clear up what spatial audio is — and what it isn't — and show you how to hear it at its best. I'll cover how to listen to spatial audio through headphones, speakers, and other gear. And I'll answer some of the questions we hear most often.
What is spatial audio?
The most obvious question is also the most loaded. So let me break it down the best I can: Spatial audio is Apple's version of what's known as "immersive" or "3D" audio. In these special mixes, sound comes at you from all sides, behind you, and even above your head.
Since Apple has pushed this concept so passionately, "spatial audio" has also become shorthand to define immersive, multidimensional audio formats. Super-producer/mixer Giles Martin, when explaining how he remixes his father George's Beatles recordings, will mention "spatial" in the same way he says "stereo" or "mono."
Where can I find spatial audio songs?
Spatial audio tracks are readily available on the Apple Music streaming service, prominently displayed on the app. And they are available at no extra charge to a subscription. Most of Apple's spatial audio tracks are mixed for Dolby Atmos Music and marked as such.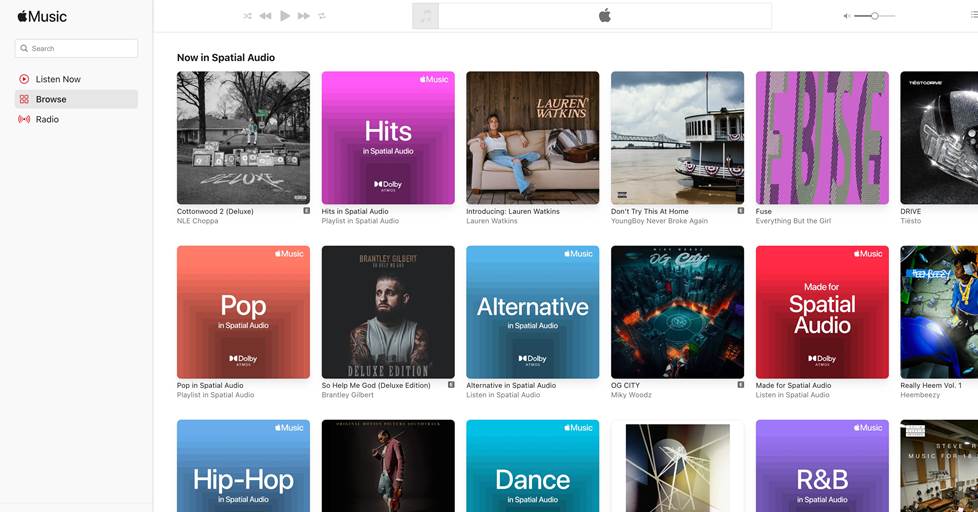 Every week, Apple showcases several new releases and classic reissues in spatial audio on their streaming music service.
What is Dolby Atmos Music?
Dolby Atmos is the most common 3D audio format. You've likely encountered it for films and shows, either out at the movies or in your home theater. Music mixed for Dolby Atmos similarly expands and rises to surround you and engulf you in sound.
It's been around for about a decade now, but has really taken off since Apple Music started featuring spatial audio. Spatial audio mixes were few and far between — and most were remixes of older music. But that's changed. Sonos CEO Patrick Spence recently told The Verge, "85 of the top Billboard 100 artists over the last year released [music] in Dolby Atmos."
How will it avoid the fate of other "surround sound" music formats?
Accessibility and flexibility.
Surround sound music in the past has always had a high barrier to entry. That's going back to the 1942 Walt Disney movie Fantasia, scored by conductor Leopold Stokowski's Philadelphia Orchestra in wraparound sound. Walt's "Fantasound" system was so expensive and elaborate — the full 63-speaker system cost roughly $2 million in today's money, adjusted for inflation — only two movie theaters in the entire country could afford the entire setup.
Price and inaccessibility led to a similar fate for quadraphonic sound in the '70s and DVD-Audio in the 2000s. These niche platforms required a specific number of speakers, limited setup options, and physical media that could demand a higher price.
Spatial audio, on the other hand, starts with a subscription to Apple Music and a few taps on the iPhone. There are also more options when it comes to gear — and it's more sophisticated overall. Artists and engineers can place and move sound all around your listening area. (Spatial audio also relies less on classical music...no disrespect, but not my kids' first choice!)
Is Dolby Atmos Music only available on Apple Music?
No, TIDAL also has a solid selection of Atmos tracks and Amazon Music HD has some tracks available. But TIDAL makes them much easier to find than Amazon. Apple has the largest selection by far.
What kind of music is available in spatial audio?
In short, all kinds. I've been pleasantly surprised at the number of new releases each week on Apple Music that are mixed in Atmos. Creating an Atmos version of a new single or album has quickly become a normal part of the music creation process. Artists and labels like the visibility on the Apple Music app, and many are excited to push the limits creatively.
And there are a lot of classic rock, soul, jazz, and orchestral standards re-released in Atmos, too. Less surprising — but still often stirring to hear a new take on an old favorite.
What does spatial audio sound like?
It depends on the song and the mix, but I've heard some very cool examples. For instance: I press play on the Dolby Atmos mix of "When Doves Cry," and Prince's familiar guitar intro shrieks to life...only I've never heard it quite like this.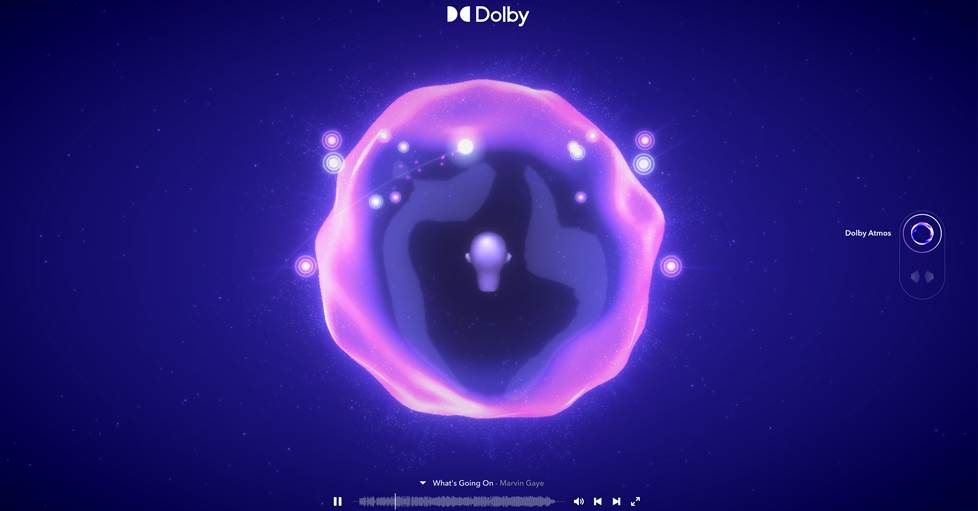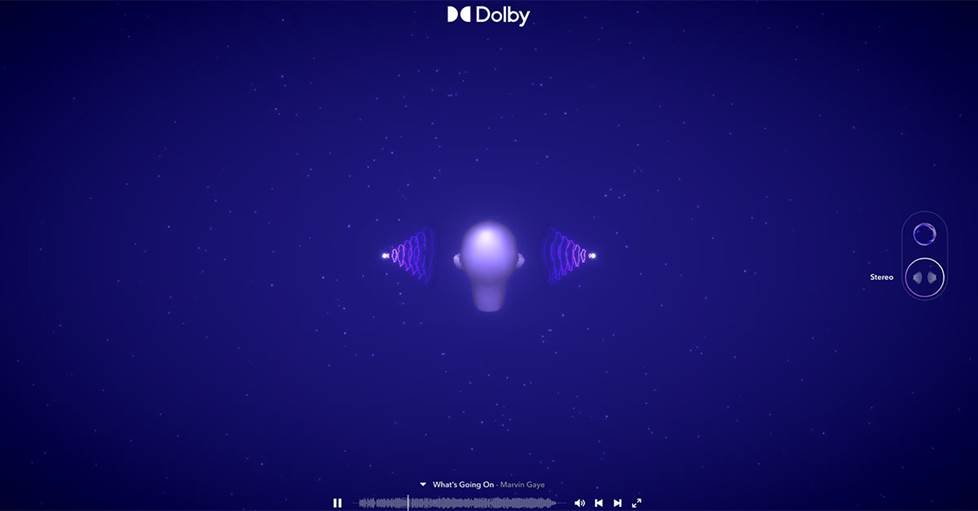 Unlike a traditional stereo presentation, the song seems to wash over me. Vocals, ad-libs, and synths dart and swim around my head. It can be at once disorienting and thrilling.
Is spatial audio better than stereo?
Results may vary! Dolby Atmos is a new frontier for artists and engineers, and they're still experimenting with it. I find their sonic choices (both the hits and misses) to be thrilling and interesting.
Manny Marroquin, the 14-time Grammy Award-winning mixing engineer, told me that it requires a whole different approach to music. "For stereo, it's always been an evolution of how we 'glue' [sounds together] to make emotion," he said. "Now we're trying to make emotion with space."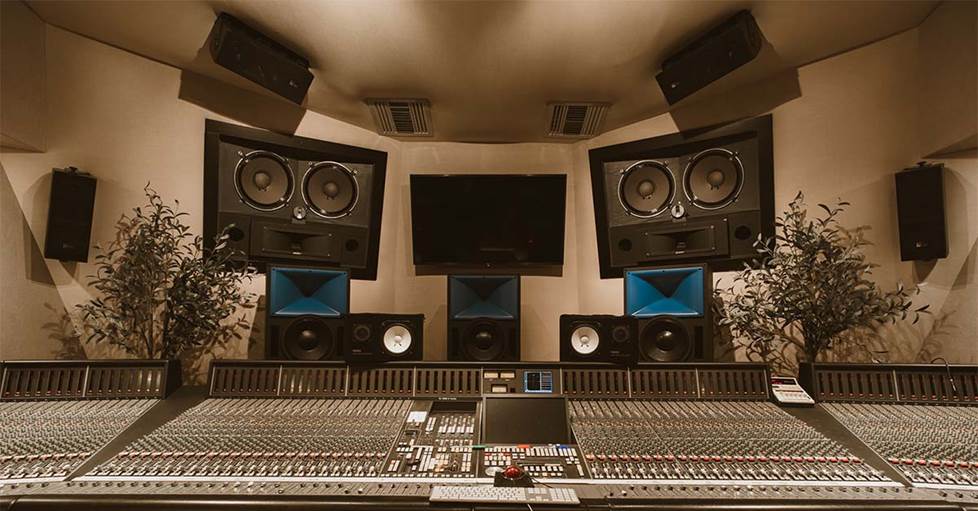 The Atmos room at the legendary Larrabee Studios features monitors calibrated by Dolby and a trackball control that allows Manny to precisely place sound "objects" in your listening space.
Some Atmos mixes are admittedly over-the-top or distracting. Retired Crutchfield editor Jim Richardson lamented an experimental choice on an early Atmos mix of James Brown's Super Bad — Parts 1, 2 & 3: "The lead vocals were in the rear channel. What were they thinking?"
But the good ones — like Manny's own hypnotic mix of Kendrick Lamar's latest album — shrewdly use the extra space and depth to enhance a mood. Oftentimes subtlety can be a powerful tool.
What devices support spatial audio?
The first thing you need is a music source that can support and pass along Dolby Atmos. Of course, newer iPhones, MacBooks, and iPads will work, but many Android phones support Atmos now too. (My Samsung Galaxy phone from a couple years back does.)
When it comes to network streaming players, the Apple TV 4K is the only one that offers Atmos for both Apple Music and TIDAL right now. I'm hoping that becomes a more standard feature of streamers going forward — the way Atmos for movies has become.
Do you need special audio gear for Dolby Atmos Music?
Yes. One way to play is if you already have a Dolby Atmos sound system set up for movies and shows. You can use it to listen to spatial audio too. That could include a home theater system with an Atmos-capable receiver or an Atmos sound bar system. As noted, your best bet with either is connecting an Apple TV streaming player via HDMI.
I became sold on Atmos Music when I heard Rush's "Tom Sawyer" through a premium Focal 7.2.4 setup at this the AXPONA 2022 audio show in Chicago. Four of their beautiful Chora 826-D floor-standing speakers with up-firing drivers surrounded the listening area — and two subs handled the bass. I was dropped in the middle of Neal Peart's iconic solo, drums rolling left, right, and overhead.
Can you listen to spatial audio through Sonos?
Yes, the Sonos app now supports spatial audio with Dolby Atmos on Apple Music. This new feature coincides with the release of the Sonos Era 300 speaker, which was designed with spatial audio in mind. That's a big deal, because up until now you would have needed an Apple TV to play spatial audio on a Sonos system.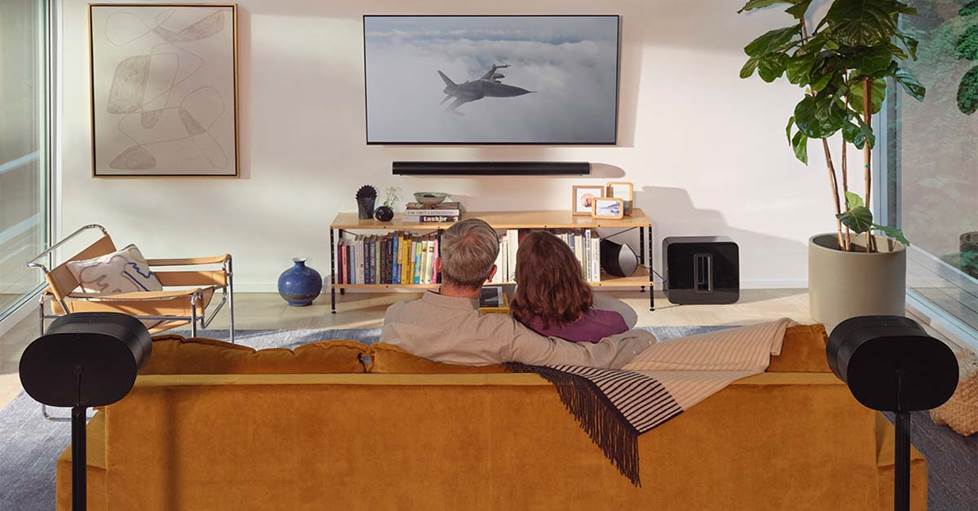 In this full Sonos 7.1.4 system, the company's advanced processing takes over and added overhead effects from all angles, including the Era 300s behind you.
As a single standalone speaker, the Era 300 does a remarkable job of bouncing sound off the walls and ceiling for spatial audio. Just be sure to place it somewhere in the room that allows it to do its thing — the angled drivers aren't as effective when blocked by a shelf or positioned too close to a wall.
Crutchfield Trainer Rodell told me the Atmos Music experience was extra special in a full Sonos 7.1.4 system. He used two Era 300s as the rear wireless surrounds with the Sonos Arc and Sub.
Watch his full rundown and impression:
Can you listen to Dolby Atmos with headphones?
Yes, but there's a caveat. Headphones are the quickest and easiest way to listen to Dolby Atmos Music and other spatial formats. But the headphone version of Dolby Atmos is not the same as what you get from a home theater or sound bar setup. It is mixed down to stereo, with spatial cues to give you the sense of direction and location you get from a full Atmos mix.
AirPods work most seamlessly with Apple sources, but let's clear up a misconception: you use any wireless headphones to listen to spatial audio.
What about wired headphones?
Most wired headphones work too, but you must be careful. My Samsung phone still has a minijack, so I can connect and take advantage of the phone's built-in Atmos processing. But if you need to use a dongle to connect your wired headphones, it likely won't pass Atmos through.
Can you use a DAC to listen to spatial audio?
No. I would recommend using a separate digital-to-audio converter when listening to high-res music — or pretty much any other digital music. But you don't want to use a DAC to listen to spatial audio. You'll lose the effect.
Since the headphone "version" of Atmos is mixed down to stereo in the special processing, you could lose a lot of the spatial cues. The proper metadata simply won't pass through the DAC.
Does spatial audio sound better with AirPods?
It depends — the Apple AirPods are definitely above average, but I preferred the Sennheiser Momentum TW3 earbuds when listening to spatial audio. Their premium drivers deliver more nuanced mids and highs, better-controlled bass, and a genuine sense of space — all attributes that allow Atmos tracks to ascend and transcend.
The AirPods do offer an extra layer of immersion with their built-in head-tracking capabilities. I've heard it greatly expand the soundstage and it can make for compelling listening.
How does Apple's head-tracking help?
There are two main ways to mix down the large Atmos file into stereo:
First, Dolby "binaural rendering" relies mostly on the head-related transfer function (HRTF), where you brain detects distance based on the relation of the sound to your left or right ear. Streaming services like TIDAL use binaural rendering, and it's the baseline of Apple's spatial audio.
With the iPhone and AirPods, Apple adds extra processing on top of the Dolby binaural rendering that incorporates the head-tracking technology. On paper, it is better because in when we move our heads in real life, we get an even better sense of distance and direction.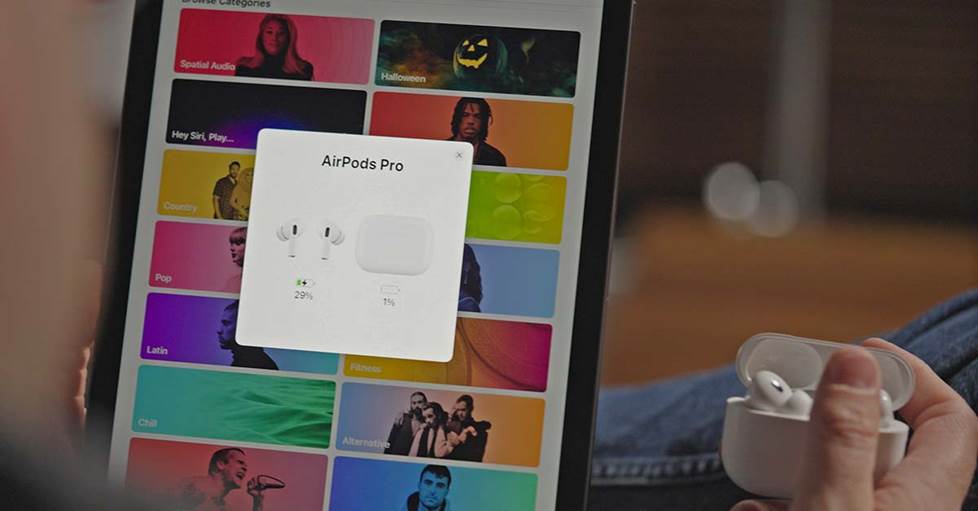 With head-tracking, easy pairing, and snappy controls, Apple designed the AirPods to excel with their gear, Apple Music, and spatial audio.
Since the AirPods have more control over the space, they can "trick" your ears a little better — and even offer a little more height.
Does the head-tracking make it better?
As noted, I've gotten incredibly immersive results without that extra layer. One shining example is the JBL Tour Pro 2 earbuds, that have generated buzz for their touchscreen case. I'm personally more struck by their sonic performance, especially when it comes to spatial audio. On the epic Atmos mix of Henry Brandt's Ice Field, the sonic scope and directionality were uncanny.
Through low-profile earbuds, I was able to grasp the full magnitude of this sprawling symphony hall with orchestra members strategically placed around the building. (Read this great Stereophile review/explainer of the recording — the strings were on stage as usual, while horn and percussion sections played from the surrounding lofts and balconies.) It turns out that JBL's linear tuning is crucial for reproducing atmospheric elements.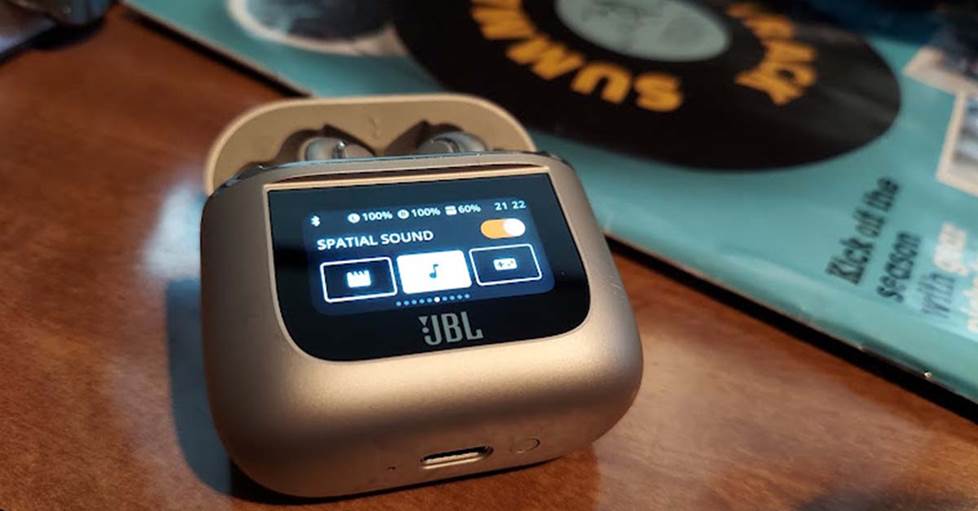 The JBL Tour Pro 2 earbuds have spatial sound settings that you can access on the case's touchscreen.
Earlier this year at CanJam NYC, I spoke to Dr. Sean Olive, the head of acoustic research at JBL's parent company Harman International. I asked what made for a great set of "spatial audio headphones," and he told me it's part of their ongoing studies these days. But generally speaking, if a set of headphones is tuned for accurate stereo sound, it will also deliver the proper sound localization cues for our brain and ears.
So, is spatial audio here to stay?
These things are always hard to predict, but I'll go on the record as saying yes. Apple getting behind it has obviously been a huge deal. But I'm even more bullish now that it's easier to play on Sonos. It helps solve one issue I've had since spatial audio debuted on Apple Music — it was hard to determine whether I was getting the "full effect" of Atmos.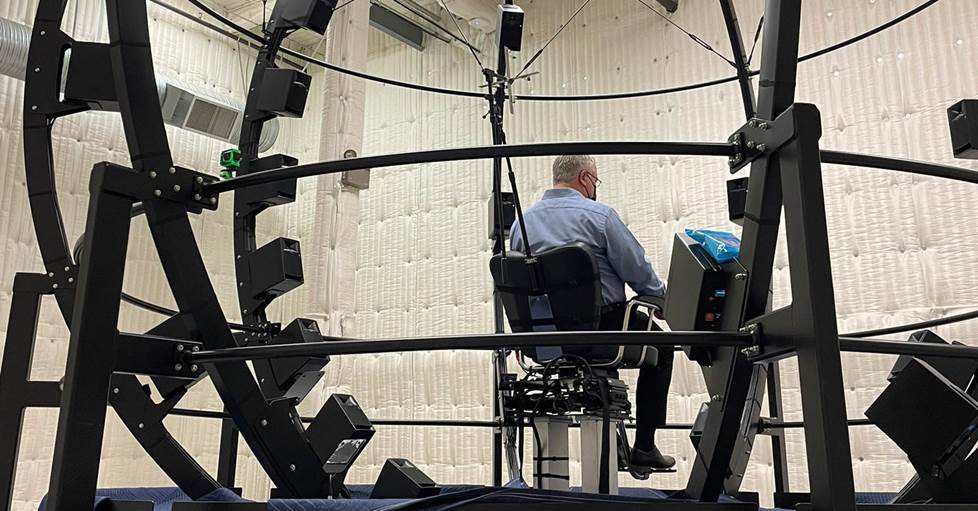 Harman and JBL use cutting-edge measurement equipment like this "Hyperion Sphere" to ever-improve the accuracy of spatial audio reproduction in their headphones.
I hope this article has helped remove some of the mystery and I'm also hopeful things will get even easier and clearer soon. Meanwhile, as artists, mixers, and engineers get more familiar with their music creation tools, I think we'll see more consistently interesting use of the format.
We're here to help
And while all this is happening, you can always contact us. Our expert Advisors can make sure the first time — or next time — you listen to spatial audio and Dolby Atmos Music, you hear it at its best.
And free lifetime tech support is included with your Crutchfield purchase.