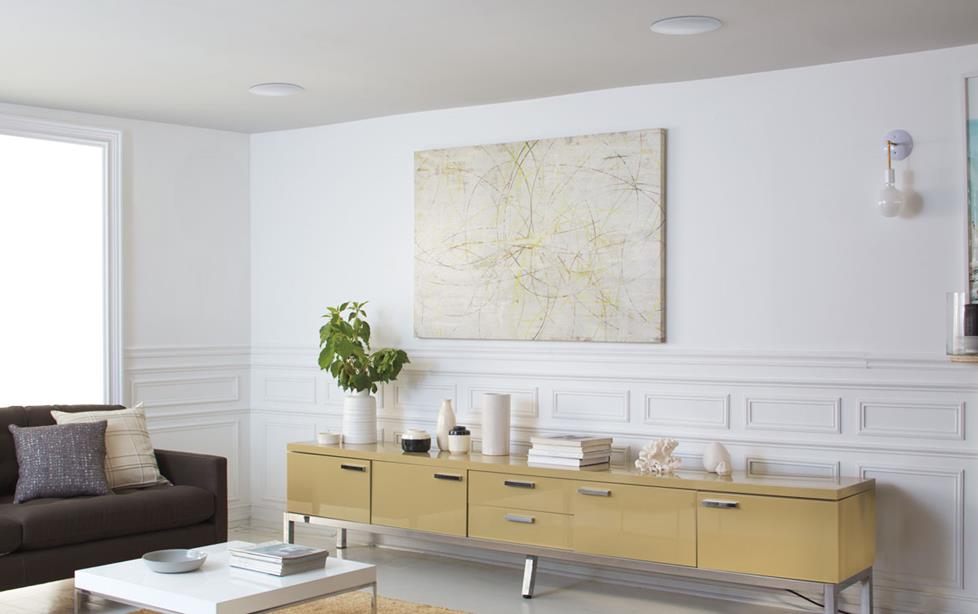 Built-in speakers save space on your floors and shelves. The wiring is hidden behind the walls. And paintable grilles make flush-mounted speakers nearly invisible.
In-ceiling and in-wall speakers provide high-quality sound without cluttering up your decor. Want music in your kitchen without a speaker taking up counter space? How about a surround sound system without bulky speakers in the living room?
Generally speaking, ceiling speakers are best for multi-room music systems. In-wall speakers are ideal for space-saving surround sound. We'll show you the options for both.
Ceiling speakers for whole-house music
There are two main things to consider when planning your in-ceiling music system. First, how many speakers does each room need for good sound? That depends on the room's size and how it's being used.
One or two ceiling speakers may provide good background music for your dining room. But say you have a large living room with a high-ceiling. You might need five or six speakers to get the volume you need when you throw a party.
The other factor to consider is speaker placement. You want your music system to deliver even coverage throughout your room. This takes careful planning to get the best results.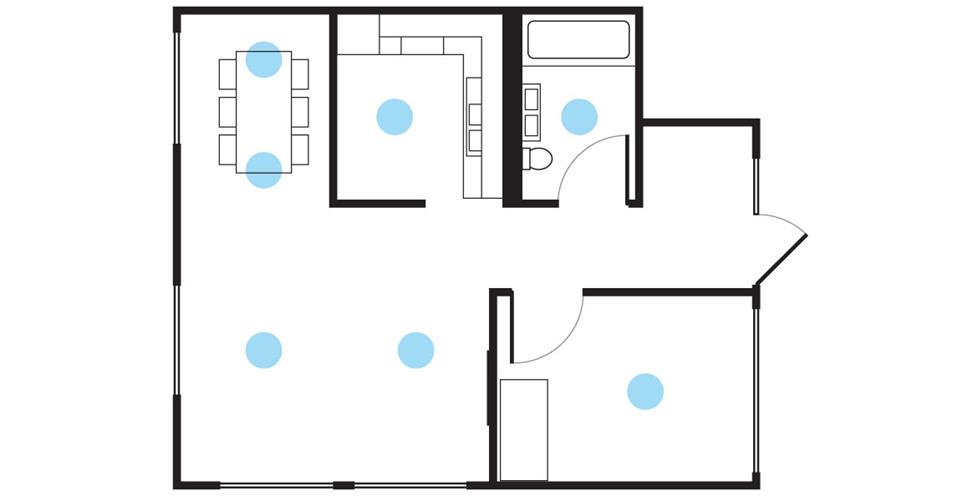 Your A/V Designer will map out the ideal locations for your rooms.
Customized system design for your home
It takes experience and expertise to plan a good multi-room music system. Let one of our residential A/V Designers map out everything for you. Upload floorplans and photos of your rooms and your designer will draw up a system proposal. You'll see what size speakers to get, how much power you need, and where everything should go. You'll even receive a pre-loaded shopping cart with everything that you need.
System design for your business
Residential audio gear isn't well suited for stores, restaurants and other commercial buildings. We have a separate team of designers to help you put together a system for your business. Get started by filling out a commercial system design request form.
How much should you spend?
Let your budget be guided by the listening experience that you want in each room. Modestly-priced speakers are fine for background listening. But if you're passionate about music, you want a system that you can really jam to. Go for higher-quality speakers that deliver the live concert experience. Tell your designer about your performance goals for each room. He or she will help you choose the right equipment.
Ceiling speaker features
Direct your high frequencies
Many ceiling speakers offer a tweeter that can be rotated. Instead of sound going in one fixed direction, it can be directed towards you for better performance.

Choose a speaker with an aimable tweeter to direct the sound exactly where you want it.
Get stereo sound from a single speaker
Sometimes you want music overhead but just have room for one speaker. Stereo input speakers play both the left and right channels of music in a single location. They are a great way to add music to small spaces. Or you may want several of these in a room that's not well suited for stereo pairs.

Stereo input speakers have two tweeters and play both the left and right channels of music.
Use a moisture-resistant speaker in your bathroom
Some speakers use heavy-duty materials that hold better up in humid environments. They are perfect for withstanding steam in the bathroom or kitchen. You can even use them in the ceiling of a covered porch for music outside.

Choose moisture-resistant speakers for areas with high humidity. They're ideal for bathrooms, kitchens, and saunas.
Self-enclosed speakers
Most in-ceiling speakers only require a few inches of mounting depth. But some are 8 or 9 inches deep, because they have extra large woofers or they have enclosures (back boxes) built around them. Enclosed speakers offer excellent bass performance. But the extra depth can pose a fit problem in some homes. Check the speaker measurements to make sure they will fit between your ceiling and the floor above.

Self-enclosed speakers offer great bass, but are extra deep. Be sure to measure your mounting depth to make sure your new speakers will fit.
In-wall speakers for serious listening
Sometimes sitting down to listen to music — and doing nothing else — is good for the soul. If you have a room where you can do dedicated listening, consider in-wall speakers. When placed at ear-level, they provide a more direct field of sound and a "sweet spot" for stereo imaging. This makes you feel more like the band is live on stage in front of you.

Carefully placed in-wall speakers provide a front-row listening experience for music.
Choosing in-wall speakers for surround sound
An in-wall surround system provides a true theater experience. Just like with ceiling speakers, there's a range of sizes and designs. Your speaker selection will be based on your room's layout and your performance goals. Here's how a typical 7.1 in-wall system looks:

Here's the typical in-wall speaker placement for a 7.1 surround sound system.
The importance of voice-matching
Every speaker brand has subtle tonal qualities that are unique to them. This makes for a distinct audio "voicing". If you were painting a room blue you'd use the same shade for all four walls. You wouldn't paint one wall a different shade of blue than the others. You want them to match.
Speaker voice-matching works along the same lines. You want to use the same brand of speakers throughout your room. This gives you consistently great sound as action moves all around you.
For front left and right channels
Most in-wall speakers can be used for your left and right channels. They install vertically on either side of your TV.
For the center channel
The center channel is perhaps the most important speaker in your home theater. It's responsible for the movie's dialogue. It installs horizontally, typically below your TV or projector screen. Use a center channel that has a tweeter in the middle of the speaker. This balanced design provides even dialogue for all of your seating locations.

Choose a center channel speaker that has a tweeter between two woofers. This lets everyone hear dialogue clearly.
For side and rear surround sound
Adding speakers beside and behind you makes you feel like you're a part of the movie. Consider using surrounds that feature tweeters that fire in different directions. This design delivers lifelike sound in a wide area. Everyone gets wraparound effects - especially if you have multiple rows of seating.

In-wall surround speakers use tweeters that face different directions to provide immersive surround effects
Give your system the bass it deserves
No home theater is complete without a subwoofer for the low end. For a completely invisible system, install a sub into your wall or floor. These sneaky-good subs get their power from an external amplifier.

Install a subwoofer into your wall for impactful bass without taking up space. A separate power amp provides power.
Dolby Atmos
Want an immersive home theater with sound coming from all directions? Create a Dolby Atmos system by installing speakers into your ceiling and connecting them to a surround sound receiver with Dolby Atmos decoding. You'll feel the rain gently failing through the trees in the jungle. You might even duck when the helicopter swoops down from the sky.

You don't need special ceiling speakers to make Atmos work. But you do need a Dolby Atmos-capable receiver.
Explore other setup options
There are numerous ways to set up a flush-mounted surround system. For more information, check out our in-wall and in-ceiling speaker placement guide.
Installation accessories
Use the right wire for your speakers
It's important that you use speaker wire that's approved for in-wall runs. You want UL-rated wire that's labeled CL2 or CL3. Check out our ceiling and wall wiring guide for more info.
Rough-in brackets for new construction
If you have access to your wall studs or ceiling joists, use pre-construction brackets. They provide a more stable and secure mount for your speakers. They also act as a speaker placeholder when the drywall is being cut.
Keep the sound where you want it
Your ceiling speakers may have another room located above them. Use speakers with back boxes to limit the sound that leaks through. Back boxes also improve bass response by providing an enclosure around the speaker.
Easy volume control
For a simple way to control your music's volume in each room, install an in-wall volume control.
Related articles
For info on how to drive speakers throughout your house, check out our multi-room power guide. Self-installing? Check out our in-ceiling and in-wall installation guide.