here are tons of approaches you could take to getting your music to play throughout your house. Whether you're building your dream home and wiring it for sound or looking to get into the wonderful world of wireless streaming, you've never had so many solid choices for whole-house audio.
Wireless systems are the easiest solution. We'll explore those first.
Wireless multi-room audio
It's amazing how far wireless solutions for multi-room audio have come since a handful of Silicon Valley innovators developed the protocols for Sonos in the early 2000s. It's been an enormously popular wireless ecosystem ever since. Other companies have been taking wireless multi-room technology in a variety of different directions. And we'll continue to get better connectivity, better control, and better sound as technology advances.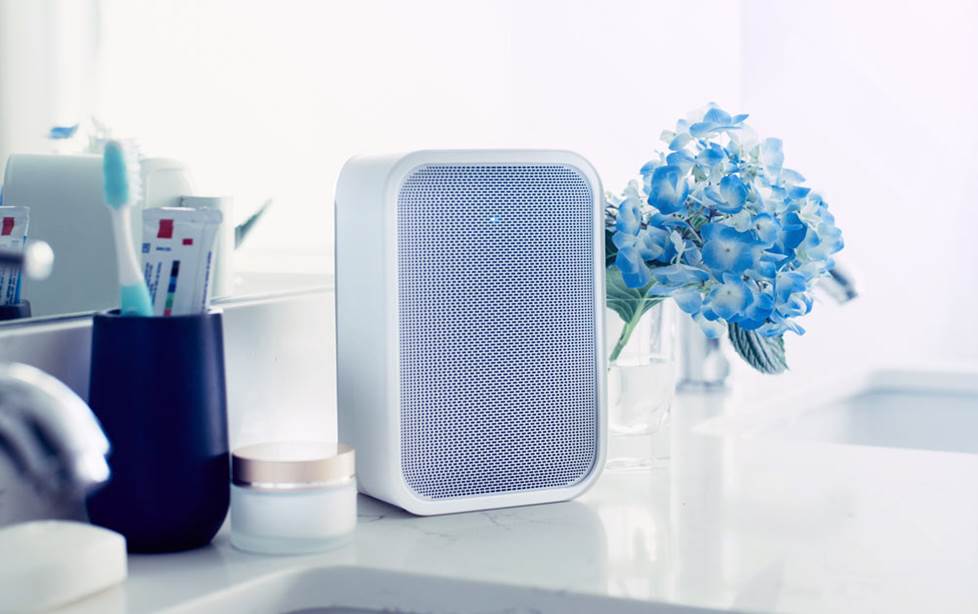 The Bluesound Pulse Flex 2i doesn't take up much space, but can open your home to wireless multi-room streaming music.
You can walk a narrow path with an expandable platoon of standalone wireless multi-room speakers like the Sonos Five or Bluesound Pulse Flex 2i. Within those brand ecosystems, you can liven things up with subwoofers, soundbars, and more.
But you don't have to start from scratch if you've already got a hi-fi system that sounds and looks great in your home. You can add multi-room streaming to what you've already got, and I'll talk later about a few different ways to do it.
Simple, expandable ecosystems
Thinking about gettting into Sonos? Check out Crutchfield writer Ralph's article on what you need to know if you're planning to get into Sonos.
Bluesound offers a similar choice of multi-room speakers and components. They use the BluOS operating system, which also comes built into a range of hi-fi integrated amps and receivers.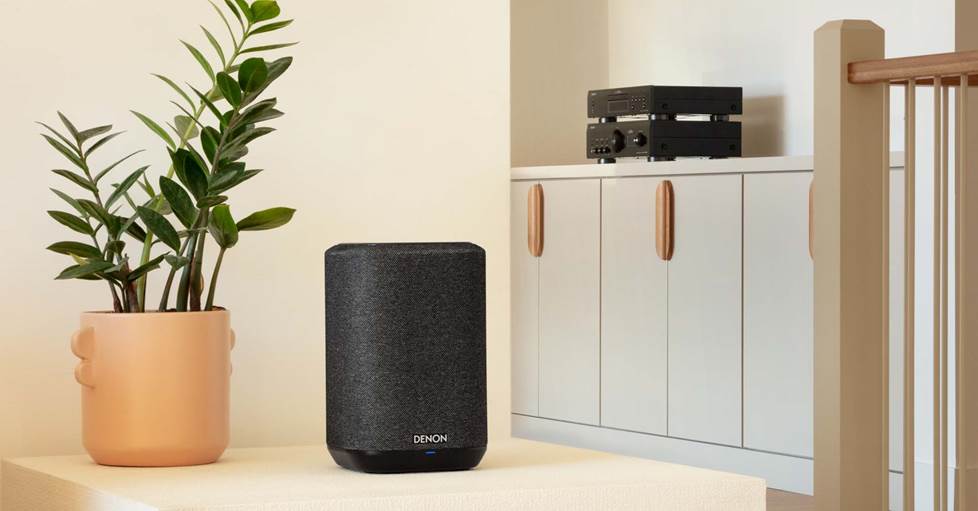 Denon Home wireless powered speakers work with other HEOS built-in components in a wireless multi-room music system.
Denon's wireless multi-room speakers use the HEOS operating system, which also comes built into a lot of their components. The same goes for Yamaha's MusicCast ecosystem, which we explore in this video.
Big tech wireless multi-room ecosystems
Broad-platform ecosystems like Chromecast and Apple AirPlay2 come built into a large and growing number of components. From humble voice assistants to high-end integrated amps and A/V receivers, these platforms make it easy because they just show up as speaker options from within nearly all the top streaming services' apps.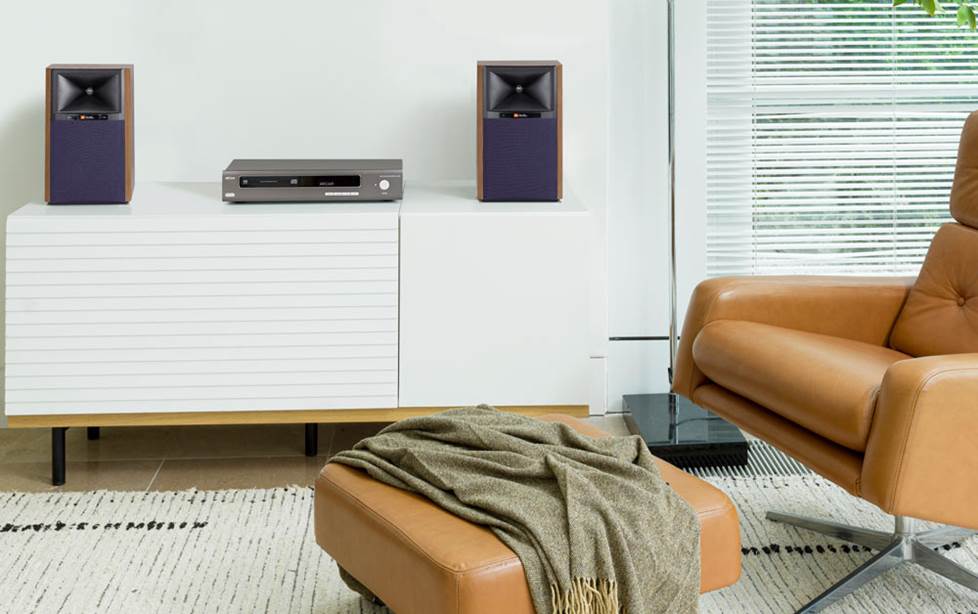 The JBL 4305P Studio Monitors wireless powered speakers deliver reference-quality audio and feature Chromecast built-in, AirPlay 2, and other multi-room options.
Google's Chromecast has been around since 2013. It boasts 24-bit/96kHz resolution and, in my experience, very quick and immediate playback control. Check out my article about brands and products that have Chromecast built-in.
Apple's AirPlay2 works like a charm when you're playing music from an iPhone or iPad. It gives you multi-room CD-quality sound with user-friendly connectivity. Find out which brands and products make use of this ecosystem in our article on what works with AirPlay2. Keep in mind that some products still come with the original AirPlay, which can't be used for multi-room sound.
Amazon Alexa has a good reputation for making it easy to use voice control. That means you can easily play the same music on multiple Echo units throughout your house, but it's not going to be a hi-fi experience. But since Alexa (and, for that matter, Google Assistant) control is built into tons of Wi-Fi multi-room components, you can use your voice to control great-sounding music if you want. Check out my article on using voice assistants with your hi-fi.
Roon
The subscription-based online music aggregator Roon — available in a long list of components — gives you multi-room capability. It also gives you great notes on artists and recordings and makes suggestions based on your taste. Our article goes into detail on how Roon works.
Traditional wired multi-room audio systems
Maybe you don't have the greatest internet connection, but you still want music throughout your home. Or maybe you're building and have the opportunity to wire everything before the drywall goes up.
Either way, you can extend your reach more traditionally with a wired multi-room system. A lot of A/V receivers have zone outputs for powering speakers in other rooms. You can also get separate zone amplifiers for each room.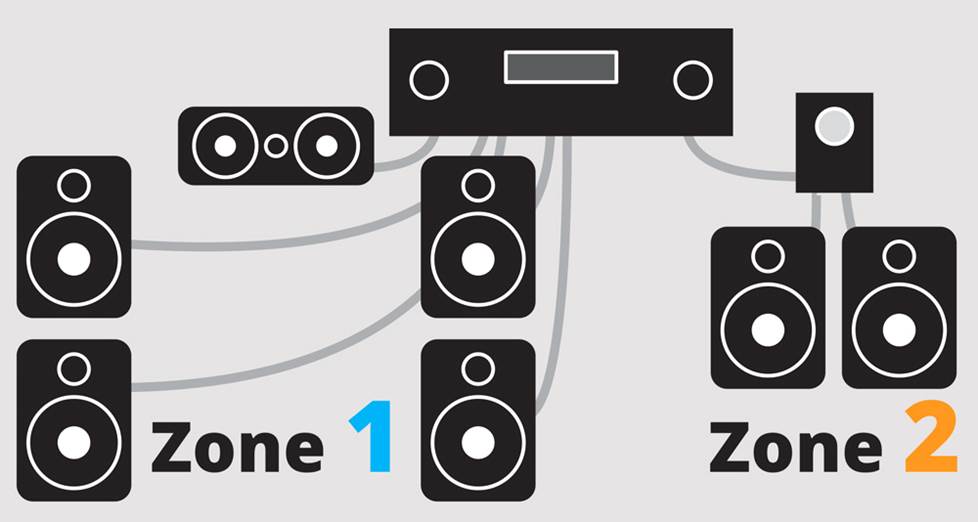 The illustration above shows how you might connect multiple sets of speakers to an A/V receiver with zone outputs.
Wired solutions are more complicated to install, but you'll have a more stable connection to your speakers, and if the internet drops out, your music still plays. Check out Crutchfield writer Deia's article on powering speakers in multiple rooms.
If you have an ambitious wired multi-room audio project, you might want to connect with our custom system design team.
Hi-Fi approaches to multi-room audio
If you love listening to music in high fidelity like I do, you don't have to stick with a single brand to have multi-room audio in your house.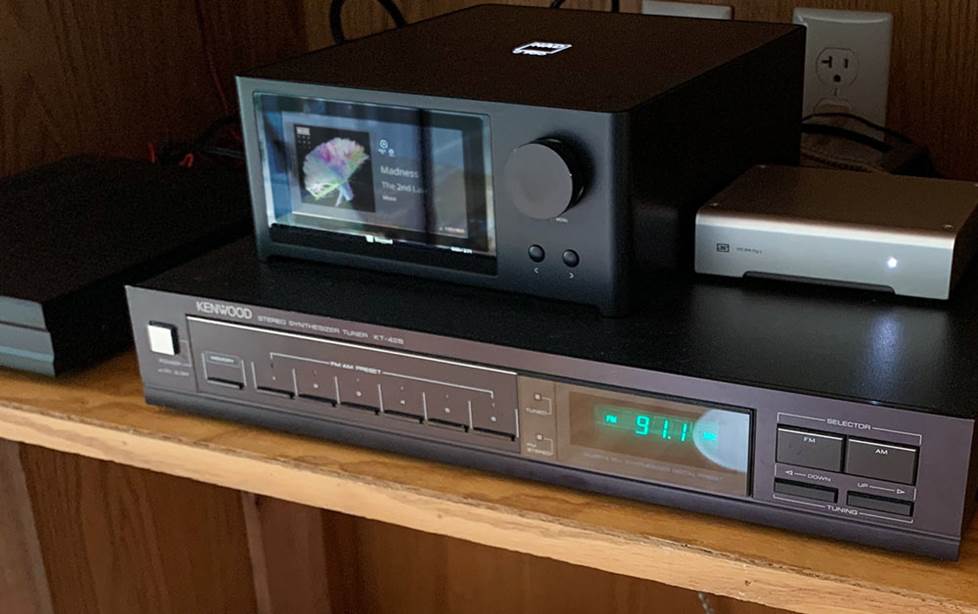 My NAD C 700 integrated amp has BluOS built-in, but most of the time I use Apple AirPlay 2 to connect to it — and my two Bluesound Nodes in my other home hi-fi systems.
For example, I've got three different hi-fi stereo systems in my home, and use the BluOS ecosystem — two Nodes and an NAD C700 integrated amp — to connect them together. One Node is powered by my vintage Harman Kardon Stereo Recital II receiver, the other by my Mission LX Connect wireless powered speaker system.
But most of the time I use AirPlay 2 — built in to BluOS — to select which systems I want to play music on and control playback and volume. That's mostly because it's so easy — all three systems show up as speakers from within my streaming music service's app. I use Qobuz, but it works the same way with Spotify, Tidal, Pandora, and many others.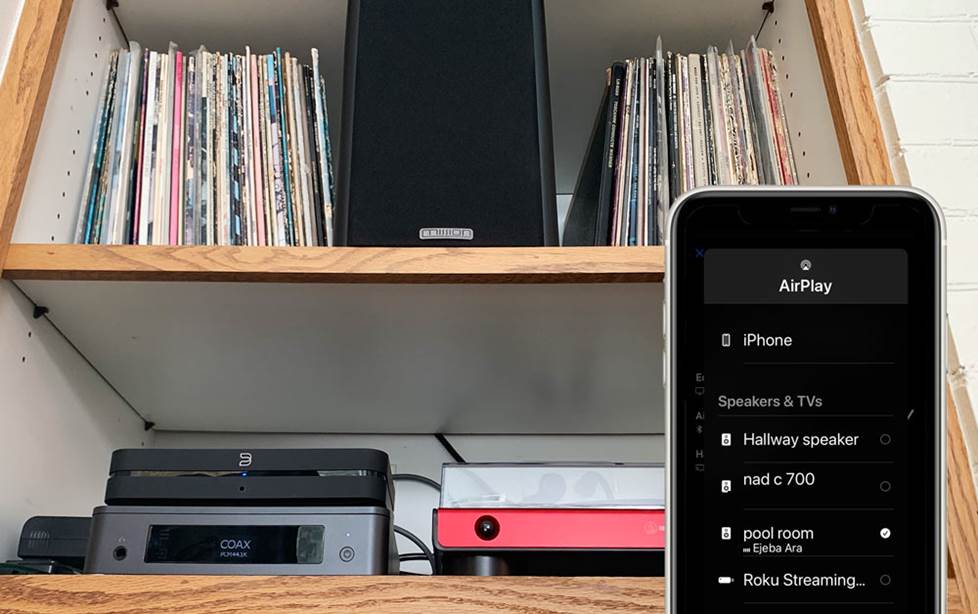 The Bluesound Node in the "pool room" is the only selected component on this speaker list, but I can select multiple speakers — and even TVs — and control volume independently all from within this AirPlay 2 menu.
And I've learned firsthand that I can add non-BluOS components that have AirPlay 2 — like the McIntosh RS250 — and control them together with my iPhone. To put it in one nutshell, BluOS, Sonos, HEOS, and MusicCast devices all support AirPlay 2.
Take your music outside
If you're like us and love to listen to music while you hang out on your deck or patio when the weather's nice, you can include your outdoor spaces in your multi-room ecosystem. If you're using Sonos, the portable Move 2 and Roam speakers are nice options.
But if you're adding a more permanent outdoor zone, you would want to hardwire the speakers to an amplifier or receiver that has your streaming ecosystem either built in or added on in one of the ways I talked about earlier.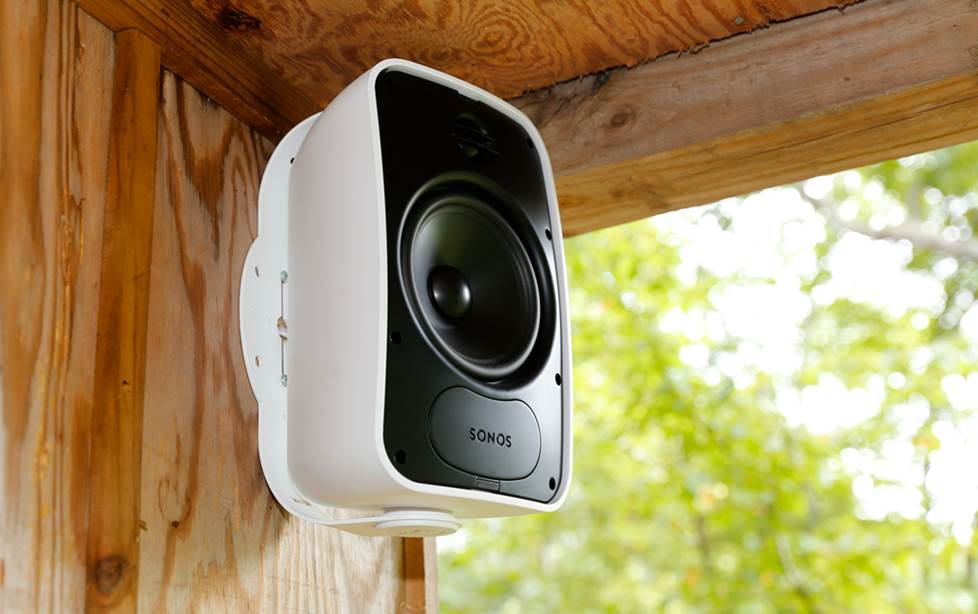 Crutchfield content manager Tara's treehouse is like another room when the weather's nice; she keeps the music flowing with a pair of these Sonos outdoor speakers powered by a Sonos Amp.
In our article on how to use Sonos with wired outdoor speakers we discuss a few scenarios. You can also check out our outdoor speaker planning guide and buying guide for more info on putting together an outdoor system.
Want to talk about it?
Still have questions about getting multi-room streaming audio in your home? Take advantage of our legendary support by getting in touch with one of our advisors.