How to use Sonos with ceiling speakers and outdoor speakers
Wireless music players and amps for your favorite wired speakers
Before Sonos came along, multi-room audio systems were expensive and complicated. Sonos wireless systems changed the game. Their self-powered speakers are super-easy to install, set up, and operate.
The only problem is that most Sonos wireless speakers speakers aren't built for outdoor use, and you certainly can't put them in your ceiling. This article shows you the solutions.
ant to include ceiling speakers or outdoor speakers in your Sonos system? You'll need some Sonos gear (and some wires) for that. Below, we'll tell you about the gear, show you a system example, and suggest some useful accessories.
Basic gear requirements
To begin with, you'll need a Sonos music player for each zone/room that includes ceiling speakers or outdoor speakers. You can pair a Sonos music player with an amplifier from another brand. Or you can get a Sonos music player with a built-in amp.
Sonos music players and separate amplifiers
The Sonos Port is a non-powered music zone module. In other words, it's a digital music player that connects to a separate amp, which in turn drives your ceiling speakers or outdoor speakers.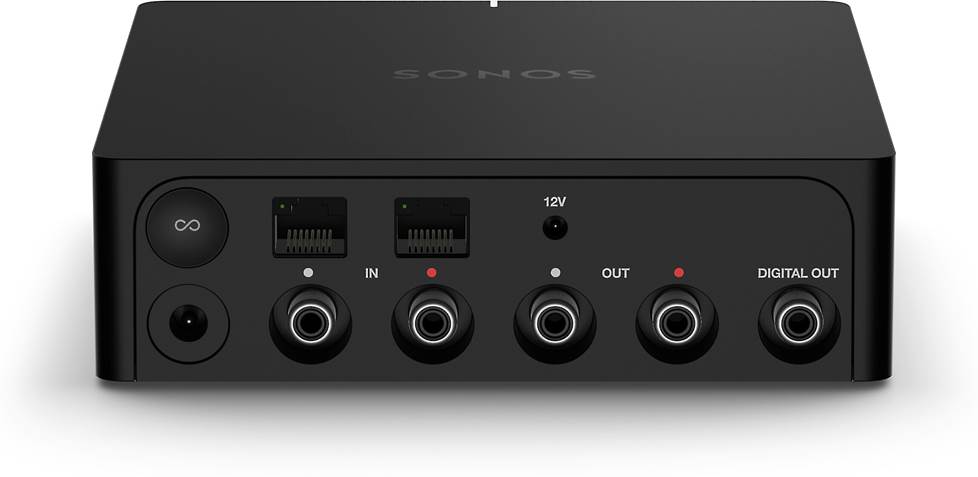 The Sonos Port requires a separate amplifier. You'll want one for each listening zone in your home.
What sort of amp goes with the Sonos Port?
That depends. For one pair of speakers, a simple stereo amp will do. If you want to drive multiple pairs of speakers, you might opt for a multi-channel amp.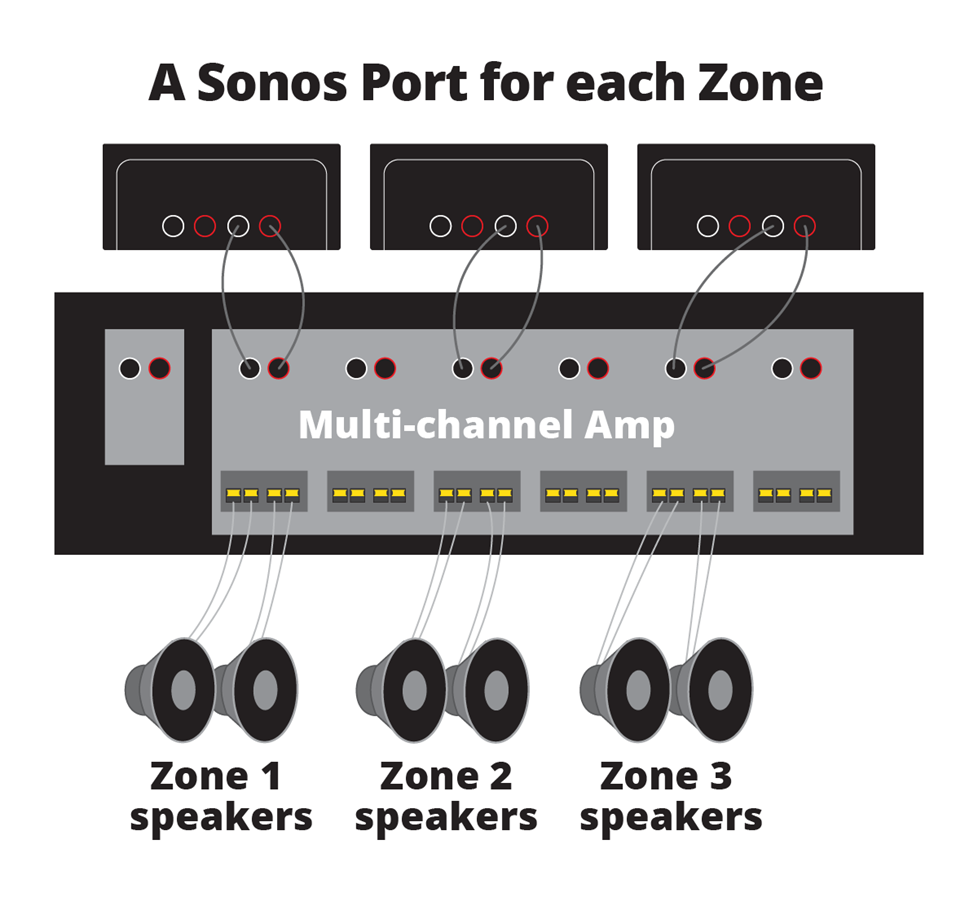 This illustration shows you a typical 3-zone system involving Sonos Port music players and a multi-zone amplifier.
Multi-channel amps are versatile, but they can be a bit perplexing. Talk to a Crutchfield A/V system designer for help with your selection.

The back panel of a multi-zone amp includes inputs for several music players and outputs for multiple speaker sets.
Sonos music player with a built-in amplifier
The Sonos Amp is a music player with a built-in amplifier. The amp packs a robust 125 watts per channel, so it's well suited to outdoor speakers and high-volume listening. The Sonos Amp can drive two pairs of 8-ohm speakers. With two pairs of speakers, you spread the sound more evenly over a large area. The two-pairs approach is great for open floor plans and outdoor installations.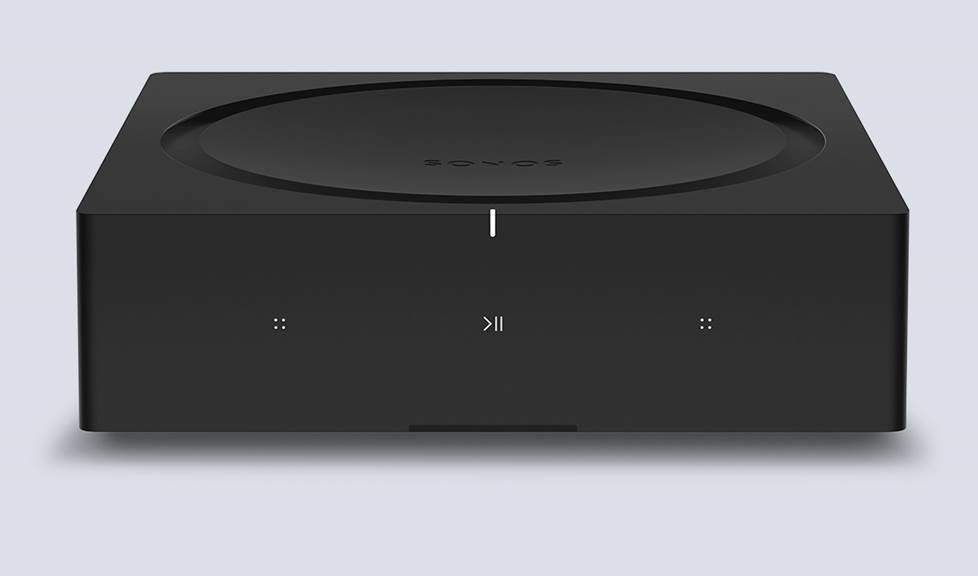 The Sonos Amp is a music player with a very powerful amp. It's capable of driving two pairs of 8-ohm speakers.
Sonos by Sonance architectural speakers
Sonos partnered with a company called Sonance to create a line of architectural speakers with power handling ability that perfectly matches the Sonos Amp. With in-wall, in-ceiling, and outdoor options, it's a great way to keep your speakers voice-matched for a seamless listening experience.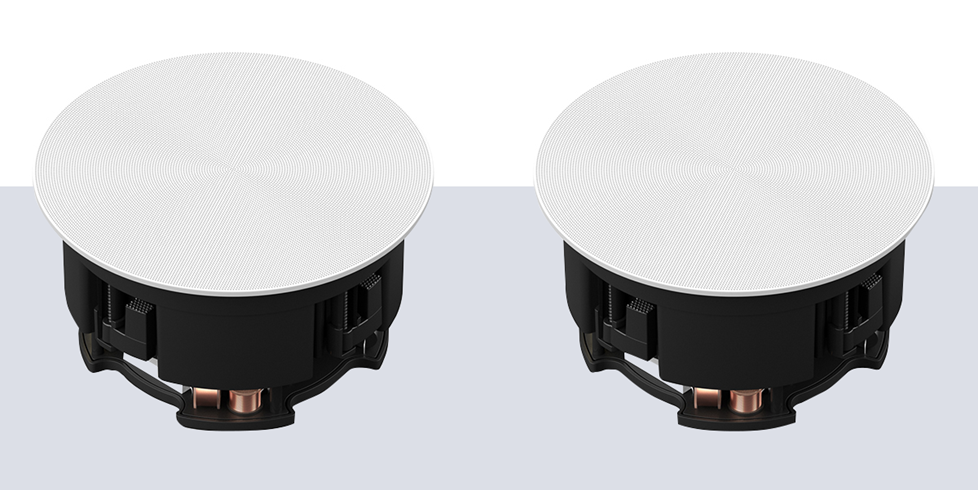 Sonos now offers its own line of ceiling speakers that work well with the Sonos Amp.
Do you have to use Sonos speakers with the Sonos Amp? Of course not. Just about any ceiling speakers or outdoor speakers will work well. Please consult one of our A/V system designers for help with your speaker selection.
How to use Sonos with existing wiring
Say your home, like the one in our illustration below, already has speaker wires running from various rooms to a central location like a utility closet. In our scenario, the wires connect to a 16-channel amplifier.
A system example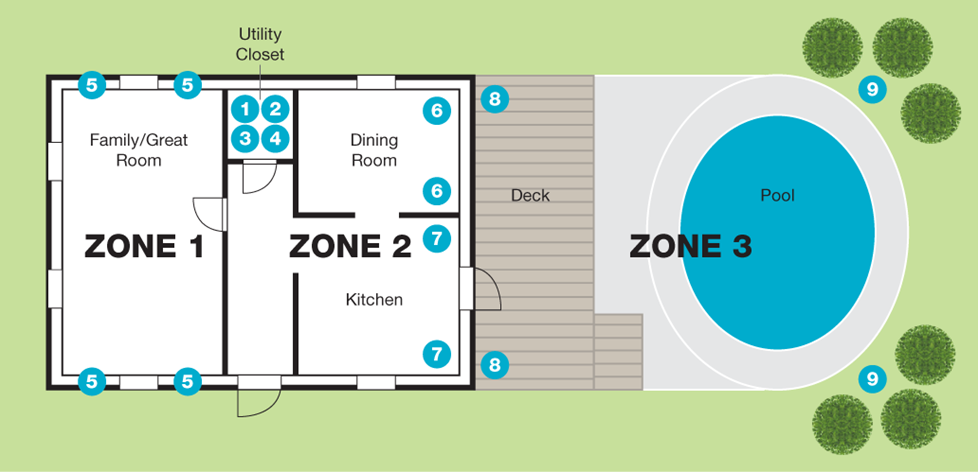 A 16-channel power amp
Sonos Port wireless streaming music modules
A multi-outlet power line conditioner and surge protector
Your Wi-Fi router (For best results, one of the Sonos Port modules must be connected to the router with an Ethernet cable)
In-wall speakers
Ceiling speakers (dining room)
Ceiling speakers (kitchen)
Outdoor speakers
Outdoor rock speakers
Each listening zone has its own Sonos Port. This means you can play the same music in all zones or something different in each one.
Eight of our amplifier's channels are being used in Zones 1 and 2 to power in-wall speakers in the family room, and in-ceiling speakers in the dining room and kitchen.
The amp's other eight channels are being used in Zone 3 to drive our outdoor speakers. Four of those channels have been combined (or bridged) into two channels. This is done in order to supply adequate power to each of our deck speakers. The other four channels are feeding two stereo-input "rock" speakers by the pool.
The beauty of this system is that it can be expanded to include more zones. You can create a new zone by adding one or more Sonos wireless powered speakers, another Port module, or Sonos Amp.
Installation accessories
For a tidy installation in your utility room, consider a rack-mount setup. Racks can be configured with shelves to accommodate a wide range of amps, zone music players, power protection units, your Wi-Fi router, and more. Ask a Crutchfield system designer for help with your rack selection and configuration.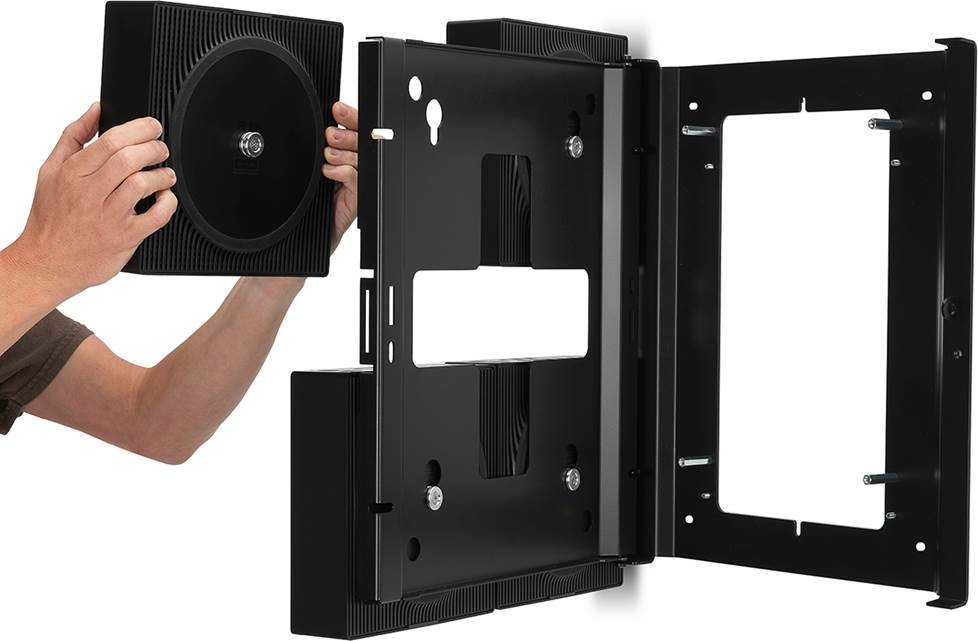 This wall-mount Flexson rack holds four Sonos Amps.
Sanus makes both free-standing and wall-mount component racks. One Sonos Amp will fit in a 1U rack space, two will fit a 2U rack space, and up to four will fit in a 3U rack space.
Don't want to spring for the rack mount system? Flexson makes a dock that will hold four Sonos Amps. They also offer wall mount brackets for Sonos Amps.
Need to run wire through your walls to ceiling speakers or outdoor speakers? Make sure you use speaker wire that's safety-rated for in-wall installation.
Remote control
The Sonos app is terrific. But you may not want to use your phone each time you want to change something. How about using your voice? Sonos is Amazon Alexa-compatible. At some point in 2019, a firmware update will make it compatible with Google Home.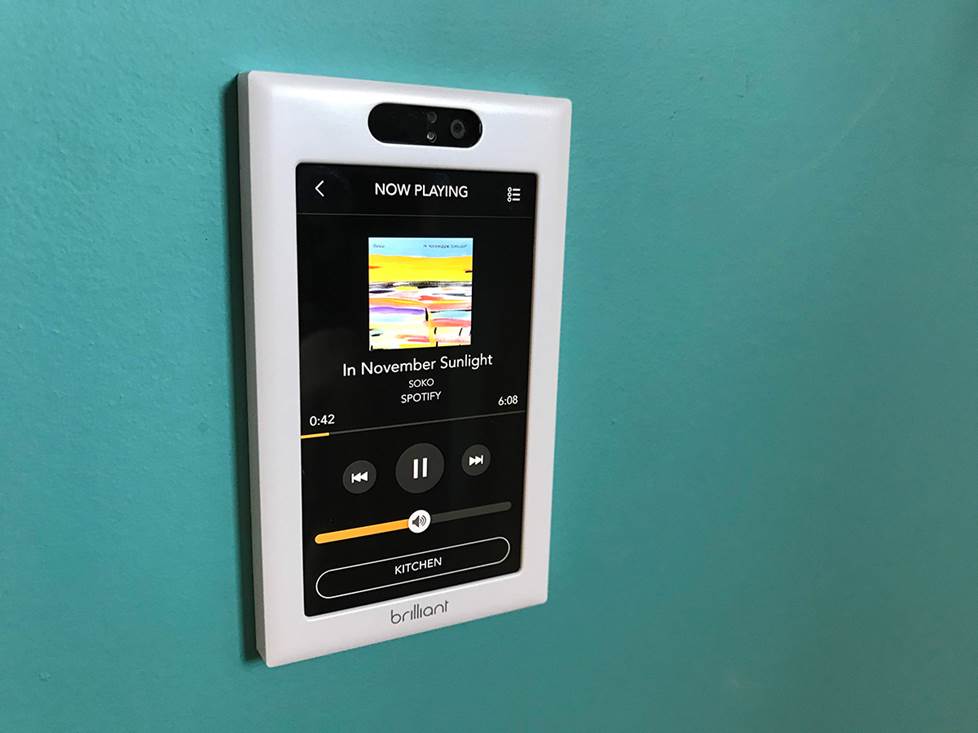 Brilliant Smart Home Controls let you control your Sonos system, as well as smart lighting and other smart home devices.
Another attractive option is the Brilliant Smart Home Control, which takes the place of a standard wall-mount light switch.
The Sonos Move portable weather-resistant speaker
When this article was first published Sonos did not offer a speaker suitable for outdoor use. Now they have the portable, weather-resistant Sonos Move. It can be used outdoors, but will only remain a part of your Sonos multi-room system if you stay within range of your Wi-Fi signal. Outside of Wi-Fi range, it can be used as a stand-alone Bluetooth speaker. To learn more, read our Sonos One vs Sonos Move article.
Need help?
Want to learn more about multi-room audio systems? Check out our article on how to power a multi-room music system.
No need to go it alone when adding Sonos to your home. Our friendly, knowledgeable Advisors can help you put together a system that matches your unique layout, as well as your budget.
---
Get a free system design
In a well-designed home, form and function are on the same team. Furnishings and appliances smoothly serve your family and guests. You should expect no less from your audio/video gear. But first you need a plan, and that's where your Crutchfield A/V design specialist comes in. Submit a system design request today! You'll receive a detailed system plan and a link to a pre-filled shopping cart.
3 easy steps
1
Share your info and ideas