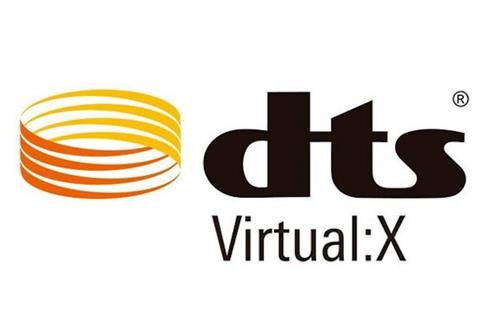 There's a lot of buzz surrounding the release of DTS Virtual:X. This new audio technology promises a full, three-dimensional surround sound experience without a roomful of speakers.
We got to find out if Virtual:X lives up to the hype. To celebrate its release, DTS gave us an in-house demo using Yamaha's YAS-207 sound bar. (The YAS-207 has been discontinued, but there are some newer Yamaha sound bars with Virtual:X.)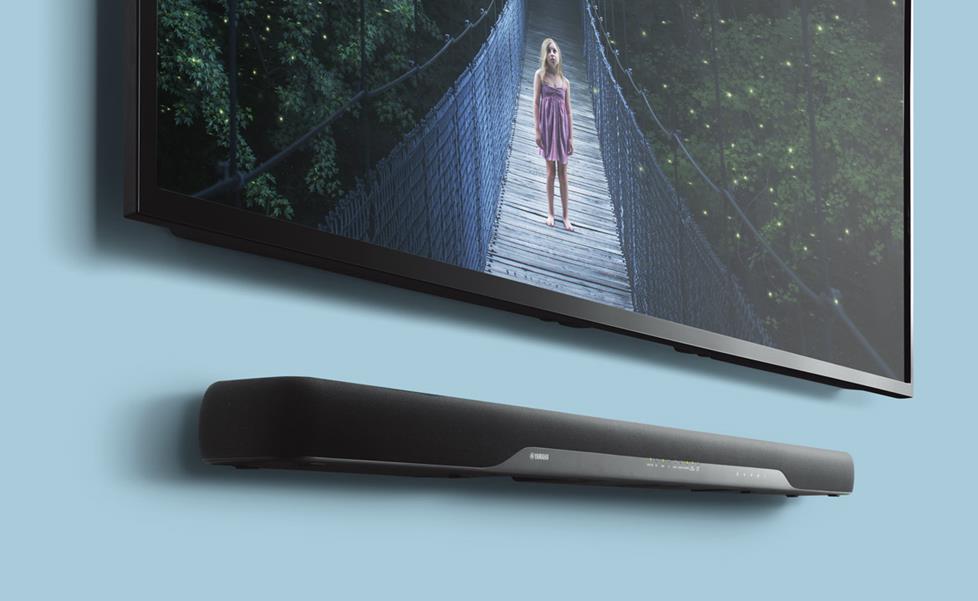 The top-selling Yamaha YAS-207 sound bar is the first piece of audio gear to include DTS Virtual:X.
What is DTS Virtual:X?
DTS has long been a leader in movie and home theater sound — you've no doubt noticed their logo before some of your favorite films. Their latest movie sound codec is DTS:X, a completely immersive surround sound format that even includes a height dimension for overhead atmospheric effects. (Think leaves rustling on a tall tree or birds chirping above.)
This is usually accomplished with a home theater receiver, rear surround speakers, and either in-ceiling or upward-firing speakers for the "height" channels.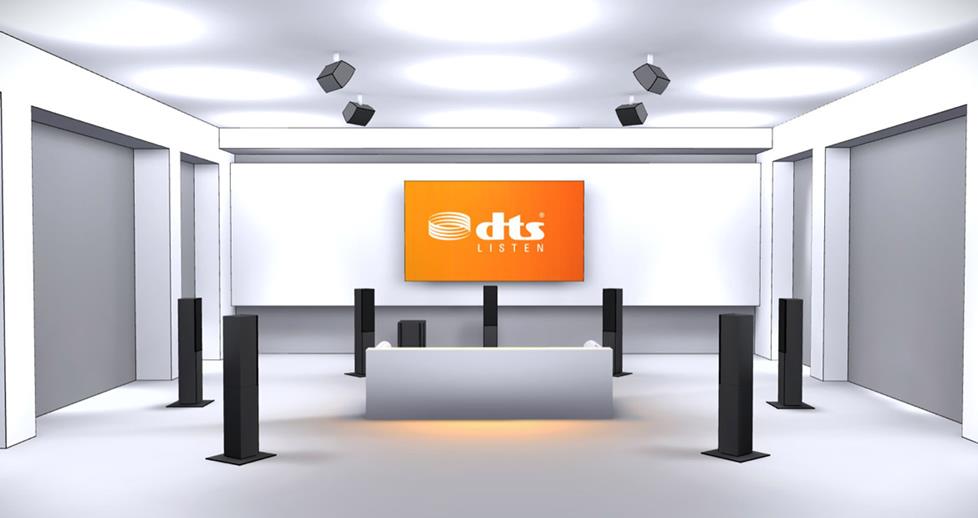 A typical DTS:X system with seven surround sound speakers and four height speakers would look something like this.
"Not everybody has the space or budget to strategically place speakers around the room," DTS rep Todd Baker told us. So Virtual:X uses special digital signal processing — one of the company's strong suits — to simulate the full experience with a less elaborate setup.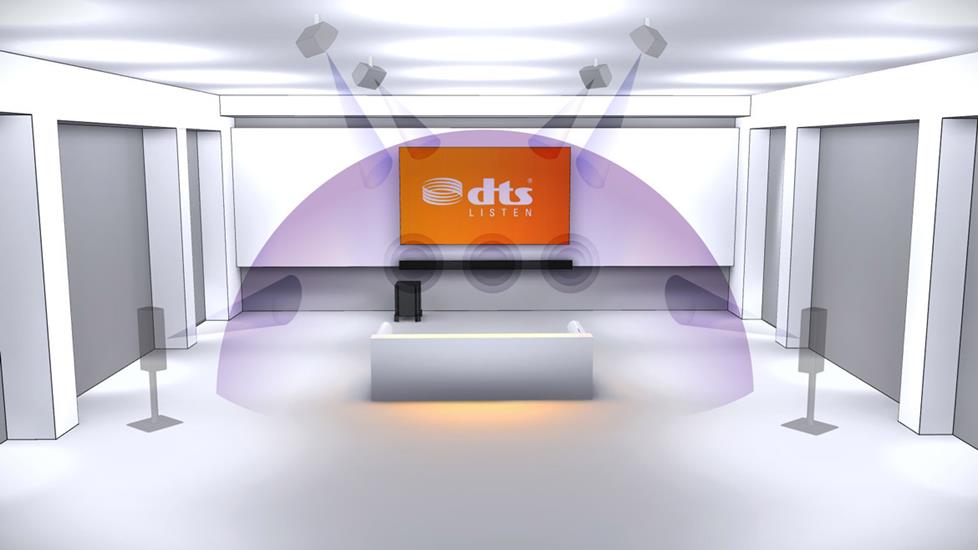 Using only a two-channel bar and separate subwoofer, DTS Virtual:X can simulate a three-dimensional surround sound experience.
Yamaha always seems to squeeze big performance from affordable sound bars, so this was a great place to debut Virtual:X.
(Since the debut in 2017, DTS has rolled it out to certain Denon and Marantz home theater receivers — giving you simulated overhead effects without the use of height speakers.)
One Virtual:X advantage? Versatility
Many sound bars simulate surround sound by bouncing sound off your walls and ceiling. "That's great if you have the right room layout," said Todd, before pointing out problems in our own demo space. "We'd get great sound reflection on one side, but nothing on the other side."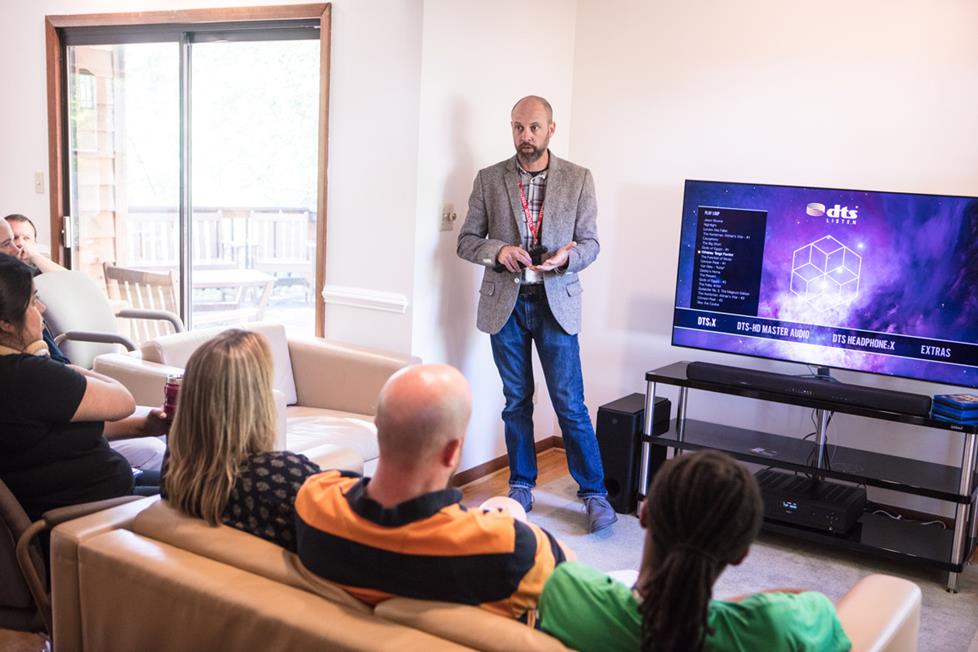 DTS rep Todd demos Virtual:X in "The House", our on-campus smart home and meeting space. The living room has one open wall.
Instead of reflecting sound, DTS Virtual:X almost completely relies on digital sound processing. That means you can get immersive sound in any kind of space — including open floor plans.
How does it work?
DTS Virtual:X uses what Todd called "spatial audio techniques" to — my word here — "trick" you into thinking you're hearing sound all around you. "Time and timbre cues tell our brains where a sound is coming from," Todd explained.
DTS uses sophisticated audio delays and adjustments to create a larger, wider, and higher soundstage.
Large, yet nuanced soundstage
During the demo, I would occasionally hear some effects off to one side or over my head, but what struck me most was the level of detail. Todd played a clip from the movie The Big Short and toggled Virtual:X on and off so we could hear the difference. The processing made the dialogue sound more clear and natural, like it was coming from the screen, rather than the bar below.
When Todd first played it with the processing turned off, I frankly thought it was a strange choice for showing off surround sound. It was simply an office scene with two investor-types talking back and forth. I didn't even notice that it was storming outside their office.
Then he turned Virtual:X on, and the whole on-screen world opened up. I could better feel the faint rumbles of thunder and soft patter of rain hitting the windows. "You go from watching two characters talk in an office," Todd said, "to two characters talking in an office...in the middle of a rainstorm."
Bass is stronger, too
Of course not everything I heard was quite so subtle. During a frantic chase scene, the bass hit incredibly hard. While a lot of the credit goes to the YAS-207's powerful mid-sized sub, Virtual:X added a noticeable low-end punch.
Todd said the extended bass is created by boosting certain harmonics. He explained: "It makes your brain go 'there must be a fundamental sound I'm missing,' and then it creates it."
"So you're actually 'hearing' sound that doesn't exist — the bass goes an octave lower than the speaker actually plays," said Todd. That extra bass presence gives you a sense of place, since that's one of the main sounds we use to perceive distance.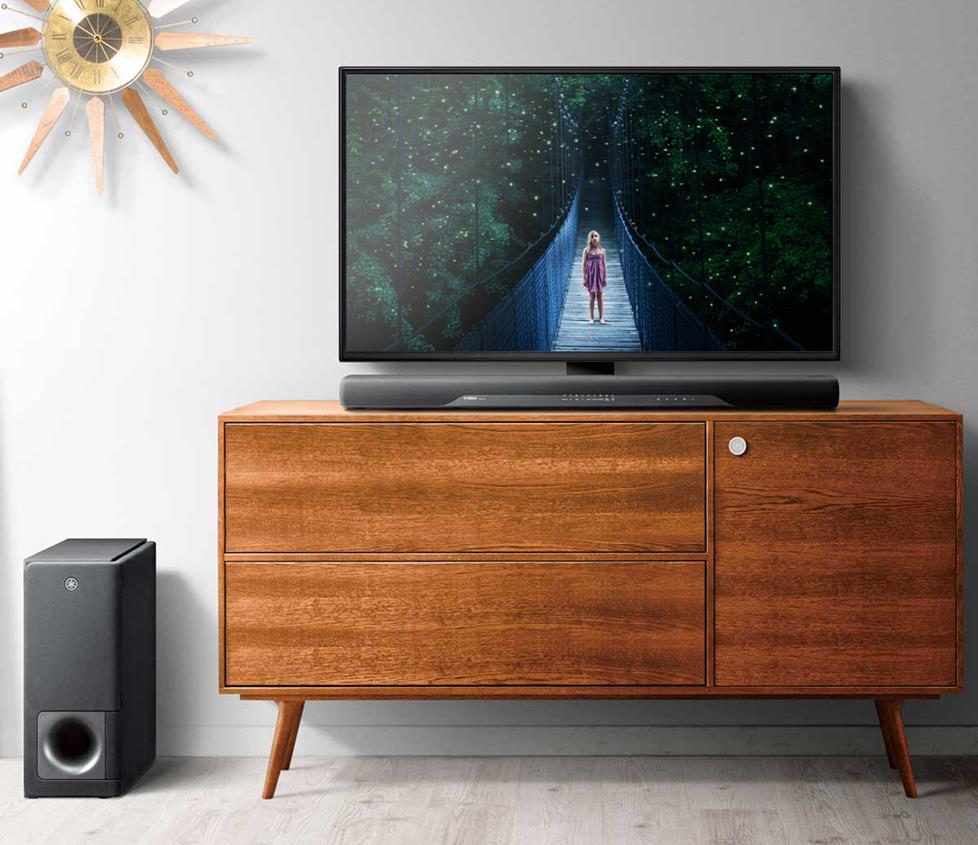 DTS Virtual:X delivers immersive, multi-dimensional TV and movie sound.
Running diary: Virtual:X in my living room
DTS let me take the YAS-207 sound bar home for the weekend, so I could live with Virtual:X for a bit. Here are a few highlights:
First impressions
It would be too strong to say that I felt there were speakers were above my head at all times. I don't want to promise that illusion. But the first movie I turned on really underscored the advantage of Virtual:X. I happened to catch the movie Sully on cable just as the heroic pilot landed the plane in the Hudson.
The sound bar created this massive sound field that was larger than the screen. It gave me a larger-than-life sensory overload that expanded beyond my periphery.
Overhead effects
The most realistic — and startling — overhead effect happened when my wife and I watched the thriller Get Out (on standard DVD, not mixed for DTS:X or Dolby Atmos). One of the antagonists clanks a spoon against a tea cup to hypnotize the main character. The sound had a similar lulling effect on us. Then a deep thunder strike came out of nowhere and gave way to heavy, violent rain pouring from above — jolting us out of our trance.
The main event: Game of Thrones
I capped my weekend off with a new episode of Game of Thrones. To avoid spoilers, I'll try to speak as generally as possible. The harp-and-violin-fueled opening theme song was appropriately epic — the familiar opening rumble felt extra potent, really setting the tone.
Clearer Westeros dialogue (although I still can't keep all the characters straight)
Quieter scenes got a boost, too. As much as I love the show, I often have problems following the dialogue. Some of that has to do with the characters' accents, and sometimes there's just too much going on in the background to hear what everyone is saying.
With Virtual:X, all the usual atmospheric noise was present — crackling fires, whistling wind, murmuring townspeople — but it was more spread out, like it would be if you were actually standing in the scene. And dialogue stayed front and center. Even when brooding characters whispered, their voices sounded clear, intelligible, and properly placed in the mix.
Huge, heightened effects
The YAS-207 really got to show off during an intense naval battle scene. The visceral thud of a cannonball smacking the side of the ship sounded all the more sickening thanks to the powerful sub and bass extension. Flaming arrows rained from above and hectic chatter and screaming added to the chaos.
As big and brash as the scene sounded, I was even more impressed when I watched it a second time. Through all the carnage I could pick out the subtle splashing of the ocean, slapping against the boat.
Final thoughts
Obviously you shouldn't expect a sound bar to give you the same experience you'd get from a roomful of speakers. There's no substitute for the real deal. But the level of performance that Virtual:X adds to this 2.1 system has me super intrigued over what it can do for a 5.1 surround setup.
Stay tuned, because we'll certainly keep testing Virtual:X as it shows up in home theater receivers and other audio gear. But if you're looking for a sound bar now, the Yamaha YAS-207 is a formidable system that frankly punches out of its price range.