Small home theater ideas
Design tips and surround sound gear for small rooms
The movie theater experience is larger than life for a reason.
How much of that kind of magic can you expect from a small home theater? Let's talk about it.
Is your home theater room also your living room?
When I say "home theater," do you picture a single-purpose room, designed and furnished with movie nights in mind?
Or do you see a living room that happens to have a big TV and a nice sound system?
If it's the latter, then your home theater gear will have to fit comfortably into a space that's designed for family gatherings of all sorts. Here's a list of some things you may not want in your living room:
Big floor-standing speakers that get in the way of foot traffic
Speakers on stands that can be easily knocked over by pets or children
A mess of gear or wires that clutters up your décor
"How many components can I get it down to?" said Tyler, a Crutchfield home theater expert. "That's the idea of 'small' that I'm seeing more of these days."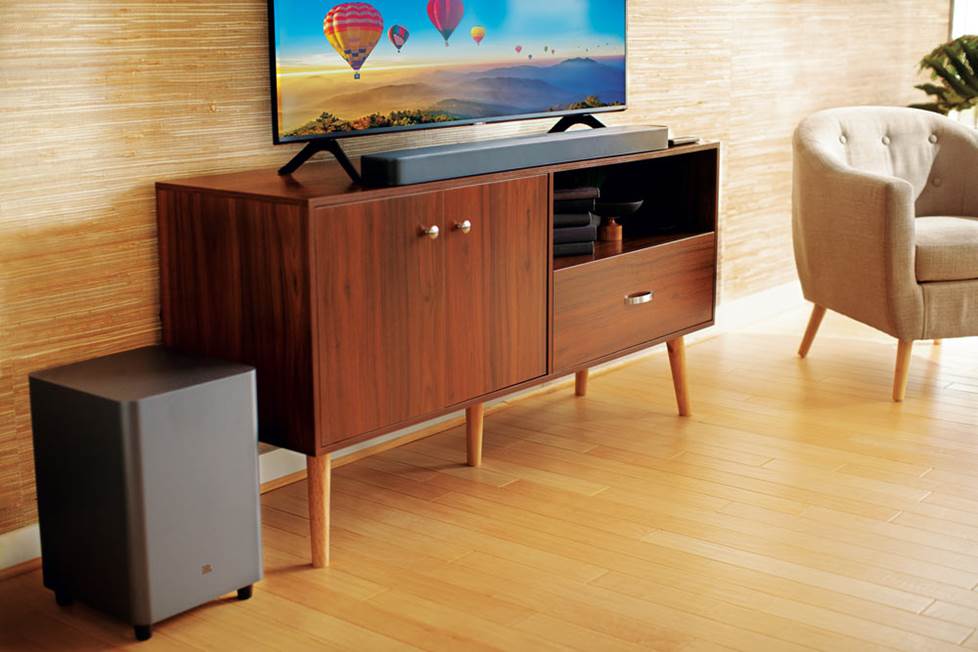 The sound bar solution
A lot of Tyler's customers are looking at 5.1 sound bars. A smart TV and a good sound bar are all that many people need for a living room system. The TV's streaming video apps supply the movies, and the 5.1 sound bar generates simulated surround sound that can be pretty convincing. They bounce sound waves off your side walls to create a wrap-around effect. Some even include up-firing speakers that bounce sound off your ceiling.
Will you use your system for music, too?
I recently sat down with Tyler and a few more of Crutchfield's home theater experts for a chat about small home theater ideas. They shed some light on how they help customers choose gear. One of the first questions they ask is whether the system will be used for movies and music.
"Sound bars are great," said Paul, one of the experts I spoke with. "But if you're going to be listening to music, and you want to focus on that music, you're going to need separate left and right speakers."

If you are really into both music and movies, consider a 3.1 system instead of a sound bar.
What's a 3.1 system?
Think of a 3.1 system as a 5.1 surround sound system minus the rear speakers. You'll need the following ingredients:
With a 3.1 system, you get good separation between the left and right speakers. That's what makes a 3.1 system better than a sound bar for stereo music listening.
The discrete center channel speaker is crucial for movie soundtracks and TV sound. You won't have to strain to clearly hear the dialogue.
The AV receiver gives you a lot more power than a sound bar, so you'll be able to play your music and movies louder, without hearing any distortion. But it's not just about the volume and the stereo imaging. You'll hear a greater dynamic range and more of the subtle sonic details that make your music and movies come alive.
One of my colleagues did a hands-on sound bar vs 3.1 home theater experiment in her own living room. If you're weighing the pros and cons of these two solutions, it's worth reading her article.
I mentioned that many sound bars offer simulated surround sound. A few receivers do, too. For example, some Yamaha models have a Virtual Cinema DSP mode that delivers virtual surround sound from a 3.1 speaker system.
If you later decide that you want real surround sound, you can add rear speakers. Some receivers give you the option of adding wireless rear speakers, and that makes the installation much easier.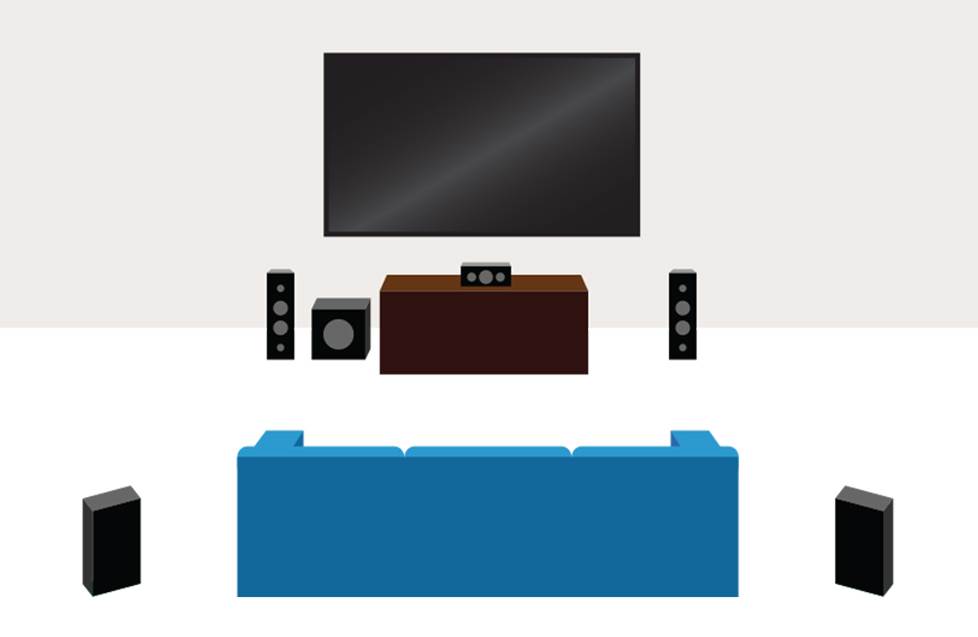 A 5.1 surround sound system includes five full-range speakers and a powered subwoofer.
5.1 and beyond
Now let's talk about complete surround sound speaker systems for small home theaters. How many speakers do you really need in a small room?
If your goal is to keep things simple or to stay within a small budget, go with a 5.1 surround sound system. Your receiver may support more speakers than that, but it's OK to start there. You can always add more speakers later.
What gear do you need for a 5.1 system?
A surround sound receiver
Left, right, and center channel speakers
Two rear speakers
A powered subwoofer
The addition of the two rear speakers makes all the difference in the world. The sound envelops you, providing three-dimensional spatial cues that pull you into the story unfolding on your big TV screen.
Take it up a notch with Dolby Atmos
A Dolby Atmos system greatly enhances your feeling of immersion by adding overhead sound effects. You can easily assemble a 5.1.2 Atmos setup by placing special Atmos-enabled speakers on top of your front left and right speakers.
Atmos-enabled speakers fire upward. They bounce the overhead sounds (like lightning or helicopters) off of your ceiling. Just know that they don't work well if you have a vaulted ceiling.
A 5.1.2 system is the simplest of the various Atmos configurations. To learn about the more elaborate surround setups, read our article about surround sound formats.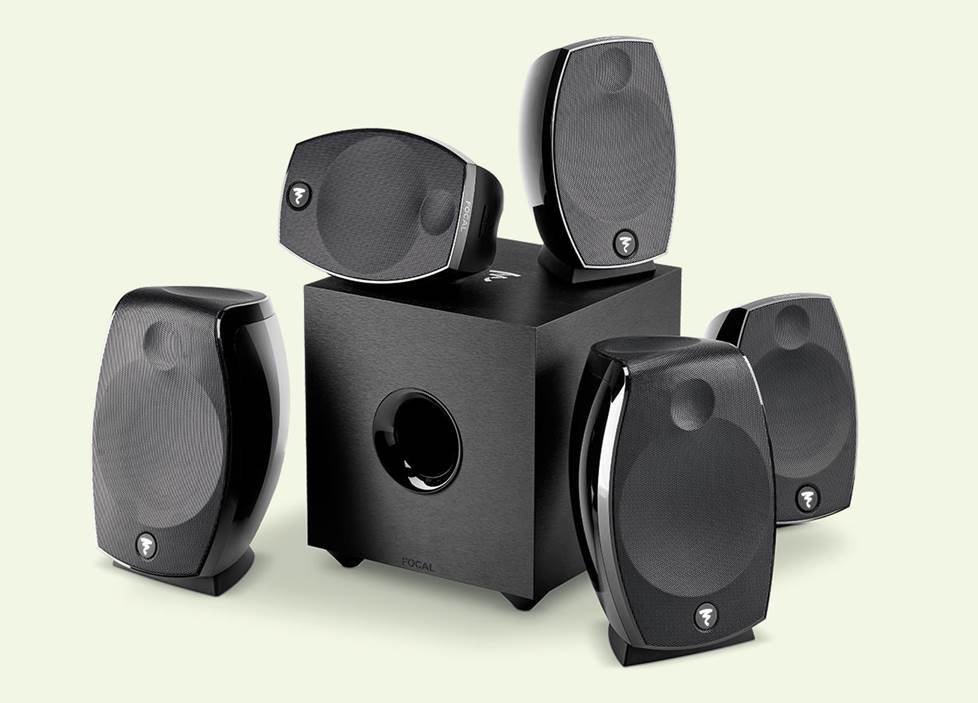 The compact Focal Sib Evo Dolby Atmos 5.1.2 speaker system includes front left and right speakers that have upward-firing drivers built-in.
Space-saving surround sound speaker systems
Bookshelf speakers and slender center channel speakers are great for small home theaters. Look for good spots to position them on your TV stand or bookshelves. Measure the available spaces and check the speaker dimensions before buying. Don't stray too far from our home theater speaker placement guidelines.
Is your TV wall-mounted? Look for speakers that can be wall-mounted, too. Most small bookshelf speakers can be wall-mounted. Specially designed on-wall speakers like the MartinLogan Motion SLM or the Klipsch Reference Premiere Designer On-Wall models have a flatter profile. They look great next to a wall-mounted TV.
For an even less conspicuous installation, consider in-wall speakers. If you're using in-wall or on-wall speakers, you'll need to conceal the wires. For tips on how to do that, see our in-wall wiring guide.
How to hide the subwoofer
In a formal or stylish living room, powered subwoofers can be an eyesore. But there are a few models that are small enough or slender enough to be concealed inside an entertainment center or tucked behind a chair or sofa. In-wall subwoofers are another décor-friendly option.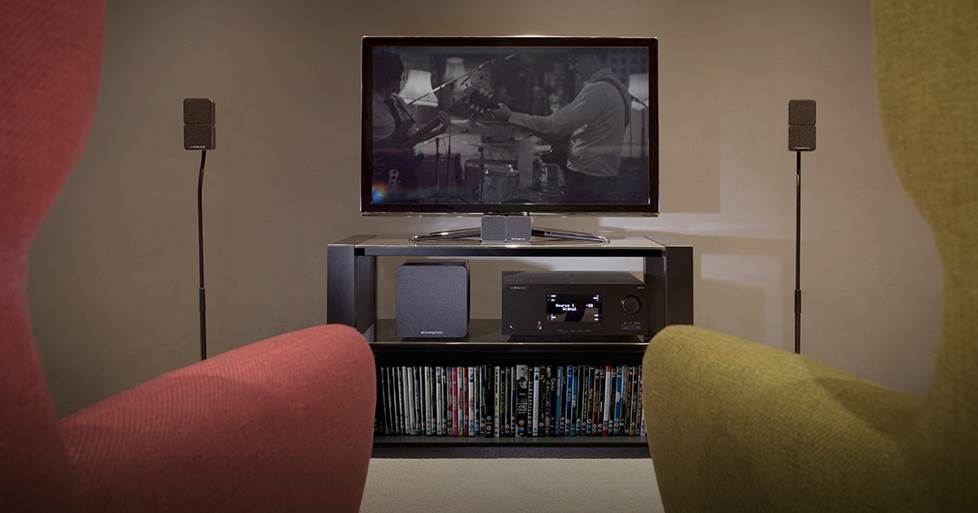 The Cambridge Audio Minx X301 powered subwoofer is small enough to fit on a shelf. It's the perfect companion for the tiny Minx Min 12 and Minx Min 22 satellite speakers.
Dedicated home theater rooms
Do you have a seldom-used spare bedroom or basement bonus room? Then you probably have the space for a dedicated home theater. A 12' x 15' room is plenty big enough for a good-size TV, a compact surround sound system, and a strategically placed sofa.
Don't be afraid to place the sofa close to the TV. The closer you sit, the more you'll feel like you're in a real theater. The TV picture will fill up more of your vision field. You'll be in the sweet spot for the surround sound, too. The worst place for the sofa, sound-wise, is right up against the rear wall.
"How immersed do you want to get?" said Athena, another one of our home theater experts. "Do you really want to feel like you're at the movies?"
In a living room, it may not be feasible to move the sofa up close to the TV. But it should work in a dedicated theater room.
Can you get too close to the TV?
With a 4K TV, probably not. Sit too close to a lower-resolution screen, and you might be able to see individual pixels. That's seldom an issue these days.
Let's say you have a 65" 4K TV. You can sit as close as 5-1/2' from the screen. To see the recommended seating placement ranges for other TV sizes, read our guide to TV viewing distance.
Caveat: If you're far-sighted, you might find that sitting close to the TV causes eye and neck strain. Or, for whatever reason, you may simply be more comfortable sitting further back. Please take the viewing distance recommendations as suggestions, not as hard-and-fast rules.
Can you sit too far off to the side of the TV?
What are the worst seats in a movie theater? Some would say the ones way off to either side, especially if you're close to the screen.
The same can be said of home theater seating arrangements. If you're going to have some seats off to the side, an OLED TV is a better choice than an LCD TV. That's because OLED screens provide better pictures when viewed "off axis." Another solution is to use a full-motion wall mount, so your TV can be angled as needed.
The surround sound won't be quite as good in the side seats. But your receiver's auto calibration feature may be able to help optimize the sound in each seating location.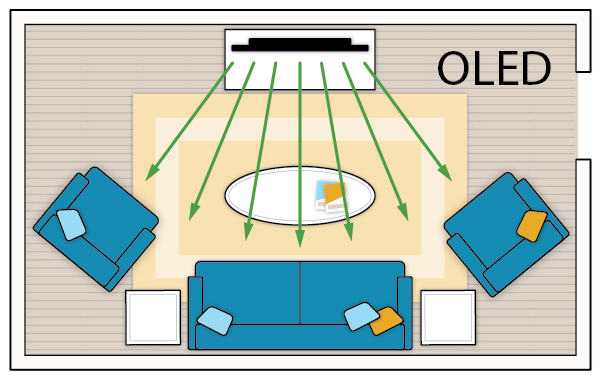 OLED TVs look great for viewers in all seats, even those way off to the side.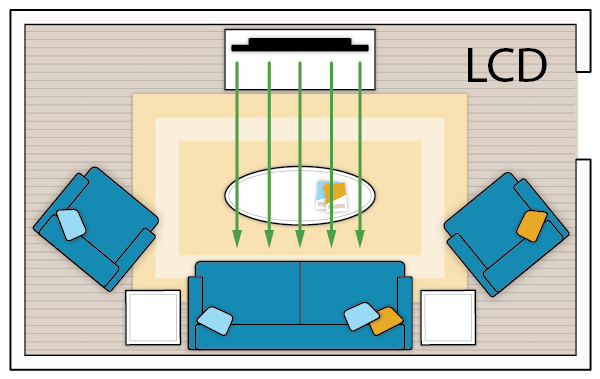 LED-LCD TVs provide their best picture to those sitting right in front.
Wall mount your TV to save space
To save precious floor space in a small room, wall mount your TV and your speakers. You'll save a couple of feet by ditching the TV stand. Or you could go with a projector. A small room will accommodate a screen as large as 100". To save even more space, consider installing your receiver and other components in a nearby closet or utility room.
Surround sound speaker system plans
Bookshelf speakers can easily fill a small room with sound. They can be used for the front left and right channels and the rear surround speakers.
Smaller center channel speakers will produce plenty of volume for a small room. And they mate well with small bookshelf speakers. If you have an enormous TV, you might want to go a little bigger.
Likewise, a relatively small subwoofer (8" or 10") should suffice in a small room. Action movie fans should go bigger, if possible, and opt for one that has ample power.
If your primary goal is great movie sound, you might want to build your speaker system from the inside out. That means starting with the center channel speaker, which is arguably the most important speaker for movie soundtracks. Get the biggest and best center speaker that fits your space. Then choose left, right, and surround speakers that complement it.
It's best to choose the same brand and series for all of your speakers. That ensures smooth transitions when the sound shifts from one speaker to the next.
Envision a scene in which an actor starts speaking at center stage, then walks over to the extreme right side of your screen. The sound of his voice will move from the center channel speaker to the right speaker. If the two speakers aren't "voice-matched," then it might sound like two different people are speaking. And that can snap you right out of your willfully suspended disbelief.
Here are some examples of voice-matched surround speaker systems for small rooms.
Need help choosing?
Before you make a major investment in a home theater system have a discussion with one of Crutchfield's home theater experts. They have listened to almost every speaker we sell, either in training sessions or in their own homes.
Your advisor can tell you which brands bring out the best with different types of movies. Some brands work better for action movies that are rife with chase scenes and bomb blasts. Others work better with the delicately textured soundtracks of suspenseful dramas or artful indy films.
Your Crutchfield expert can help you choose the speakers, receiver, and TV that fit your space and match your personality. To start the conversation, call 1-800-555-7088.