In this article: Our top picks for an immersive home theater experience without the trouble of running wires...
...And we'll also break down the different types of wireless surround systems and explain how they work.
urround sound is hands-down the best way to enjoy movies, TV shows, and video games. Being able to hear the action around you draws you deeper into your favorite stories. A high-quality surround sound system is the closest you can get to the joy of going to the movies from the comfort of your home. There's some work involved in getting all that set up, though.
A traditional component home theater installation requires running speaker wire across your floor to each set of speakers in your system. This can be pretty time-consuming and not always easy, depending on the shape and layout of your room. A wireless surround sound system gives you that immersive experience you're looking for, but without all the extra hassle.
Just how "wireless" are these systems?
The term "wireless" in this case refers to signal transmission. Wireless surround sound systems can transmit and/or receive audio signals without wires linking each speaker. There are a few wireless systems that feature battery-powered surround speakers, but the vast majority will require each component to be connected directly to an AC outlet for power.
Can I use Bluetooth for surround sound?
In short, no. Bluetooth is a great wireless techology for a lot of applications, but it doesn't currently have the bandwidth to handle surround sound audio signals. You can get impressive Bluetooth stereo music playback through any of the wireless systems on this list, but you'll need a Wi-Fi connection for wireless surround sound.
What are the different types of wireless surround sound systems?
We carry two kinds of wireless surround sound systems. One involves a full set of surround speakers and a wireless transmitter, and there are also sound bar-based systems with wireless surround speakers.
Multi-speaker surround sound systems with a wireless transmitter
Transmitter-based wireless surround sound systems use several satellite speakers placed around your room. This arrangement ensures you're getting sound from key points around you. These speakers communicate wirelessly with the transmitter, which is physically connected to your source via an A/V cable. Usually, this is an HDMI or optical digital cable hooked up directly to your TV. The transmitter and each speaker would then be plugged into AC power.
Sound bar systems with wireless rear speakers
Sound bars with wireless rear speakers work similarly to transmitter-based systems. The bar itself connects directly to your source via an A/V cable. The rear speakers go in the back of your room and receive a wireless audio signal from the bar. Again, each component has to be plugged into an AC outlet. The sound bar's multiple built-in speakers produce a wide soundstage in the front of your room, while the rear speakers provide wraparound surround effects.
If you already own a sound bar and want to expand to true surround sound, you might be in luck. Many sound bars are compatible with optional wireless surrounds. And if you're looking to pick up everything you need at once, we frequently bundle together compatible bars, subs, and rear speakers into a single package. A few of our choices below fit that very bill.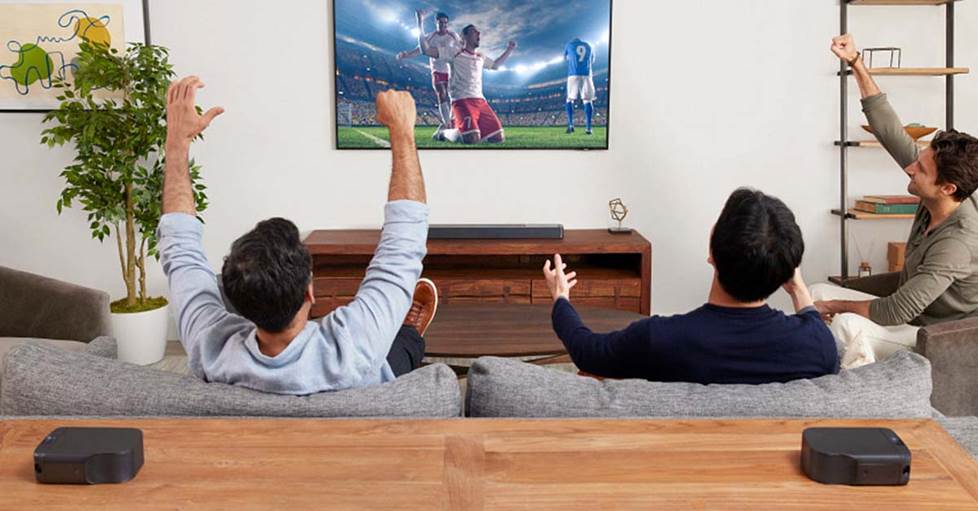 Best wireless 5.1 surround sound system — JBL Bar 700
The JBL Bar 700 delivers fantastic-sounding 5.1-channel sound from a streamlined bar and sub with support for Dolby Atmos. The bar packs in six speakers including up-firing drivers for overhead effects, while the 10" down-firing subwoofer brings the action onscreen to life with hard-hitting bass. All that makes for a great movie night, but what makes the Bar 700 truly special is the included pair of true wireless surround speakers.
The Bar 700's surround speakers are detachable and rechargeable. This means you can leave them connected to the sound bar to charge, then detach them when you want a deeper home theater experience with true wraparound sound effects. No wires, no power cables, just place them wherever is most convenient for your space. They can play for up to 10 hours, but only take three hours to reach a full charge. Now that's "wireless."
Plus, with Bluetooth, Apple AirPlay 2, and Chromecast built-in, the JBL Bar 700 makes it easy to stream your favorite music when you're not watching TV.
Details
sound bar, wireless subwoofer, and true wireless surround speakers
surround speakers feature built-in batteries and recharge when attached to the sound bar
delivers 5.1-channel sound with support for Dolby Atmos
bar features 6 built-in speakers powered by a 240-watt amplifier
Apple AirPlay 2, Bluetooth, and Chromecast built-in for wireless music streaming from compatible devices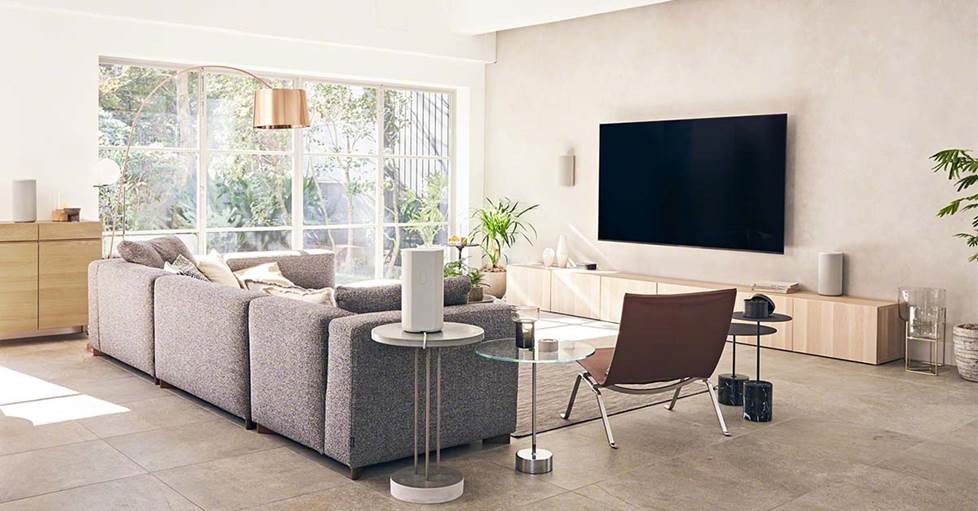 Best for 3D audio — Sony HT-A9
The Sony HT-A9 is a powerful multi-speaker system that offers an expansive, cinematic soundstage with support for Dolby Atmos and DTS:X. Each of the system's four speakers has a front-firing woofer, soft dome tweeter, and up-firing driver for overhead effects.
The HT-A9 can simulate up to 12 "phantom speakers" for immersive sound no matter how the speakers are configured. Sony's advanced 360 Spatial Sound Mapping technology lets you tailor the sound to the shape of your room. You can track sounds coming from all directions, from the whoosh of aircrafts zipping overhead to the squeal of tires on pavement, and get pulled into your favorite movies and games.
To complete the action-packed soundscape, you can match the HT-A9 with one of Sony's powerful subwoofers. The 6-3/8" SA-SW3 adds low-end impact to help you feel the sounds around you. And if you want even deeper bass, you can also hook up the 7" SA-SW5.
Want to snag the HT-A9 and a sub at the same time? We bundle them together to keep things nice and simple.
Details
wireless home theater surround sound system with support for Dolby Atmos and DTS:X
360 Spatial Sound Mapping calibrates the sound to match your room and speaker configuration for an expansive, immersive soundstage
four speakers connect wirelessly with a control box that plugs into your TV via HDMI
each speaker has an up-firing driver, soft dome tweeter, and woofer
built-in Wi-Fi and Bluetooth for wireless music streaming from compatible devices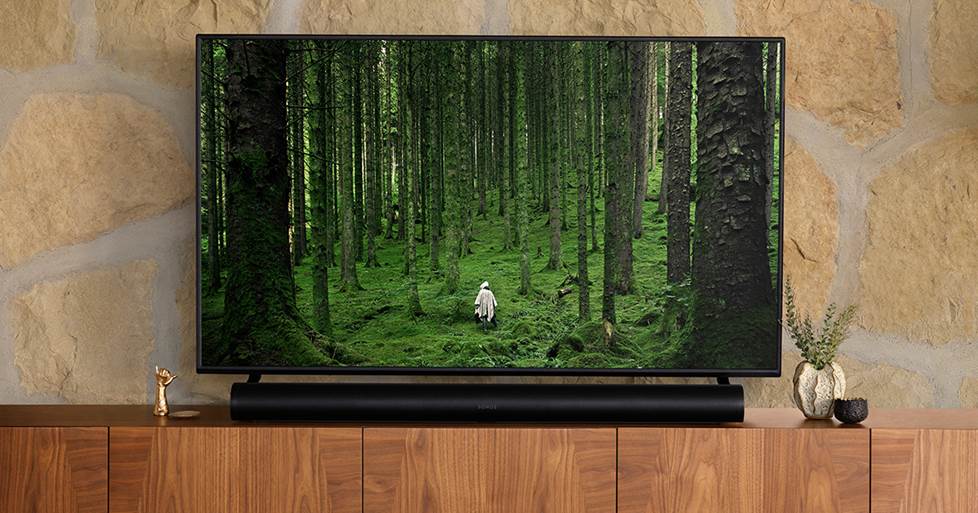 Best wireless surround sound system for music — Sonos Arc
The Sonos Arc is one of our most popular and best-rated sound bars. This speaker-packed bar uses angled side-firing and up-firing drivers to reproduce Dolby Atmos surround sound all by itself. But you can also expand your system to include a pair of Sonos Era 300 or Era 100 wireless speakers and a Sonos Sub for true wraparound surround sound effects with impactful bass.
We've even bundled compatible Sonos sound bars, surround speakers, and subs together to make it easier to pick up a full system at once.
The coolest thing about Sonos, though, is that it's easy to expand the sound throughout your home. Every Sonos component can tie into a wireless multi-room music system that you can control from an intuitive app on your phone.
You can stream the same music in in several rooms or different music in each room. Start up the Frozen soundtrack for the tenth time of the day for the kids, and you can still rock out and pump iron to Metallica in your home gym. With access to all the major streaming services available, you've got a ton of options, too. Sonos lets you play whatever you want, wherever you want it.
Details
11 built-in speakers, including up-firing drivers and angled side tweeters
plays TV sound, streaming music, and digital audio files from your home network
communicates with other Sonos players via Wi-Fi or a dedicated SonosNet wireless network
built-in Google Assistant, Amazon Alexa, and Sonos Voice for easy voice control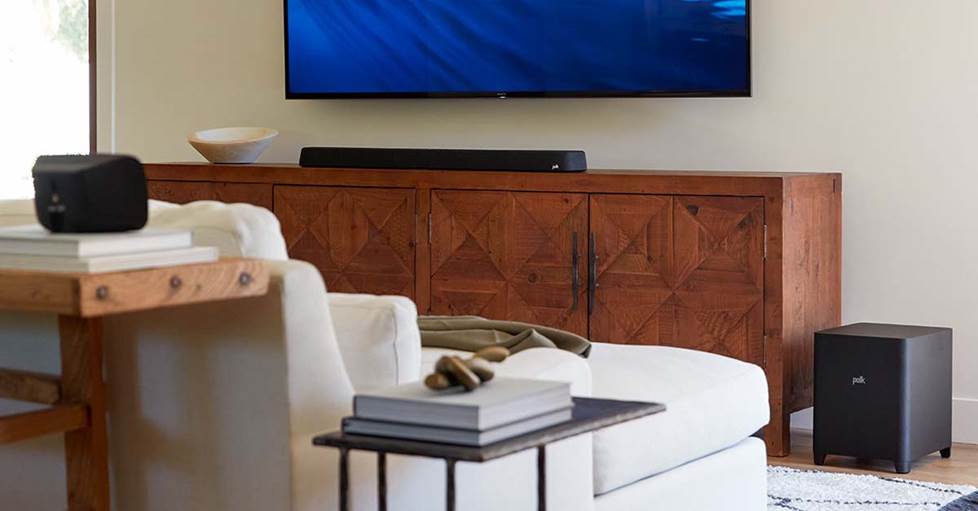 Best value — Polk Audio MagniFi MAX AX SR sound bar system
The MagniFi MAX AX SR sound bar system offers big 5.1.2-channel sound with support for detailed multichannel formats like Dolby Atmos and DTS:X. The bar features an impressive built-in speaker array with 11 drivers that direct sounds for greater immersion, including up-firing drivers for overhead effects. It also includes a 10" wireless subwoofer that supplies impactful bass effects. And to provide true wraparound sound effects, it comes with a pair of wireless surround speakers.
The MagniFi MAX AX SR has a dedicated center channel to bring conversations front and center. And Polk's VoiceAdjust™ technology lets you further boost voice levels to make sure you're consistently getting clear, intelligible dialogue.
And if you just want to chill and listen to some tunes, this bar handles streaming music beautifully, with flexible options including built-in Wi-Fi, Bluetooth, Chromecast built-in, Apple AirPlay 2, and Spotify Connect.
Details
sound bar with wireless subwoofer and surround speakers
wireless surround speakers plug into AC power and feature dual 3" drivers
delivers 5.1.2-channel sound with support for Dolby Atmos and DTS:X
bar features 11 built-in speakers
Apple AirPlay 2, Bluetooth, and Chromecast built-in for wireless music streaming from compatible devices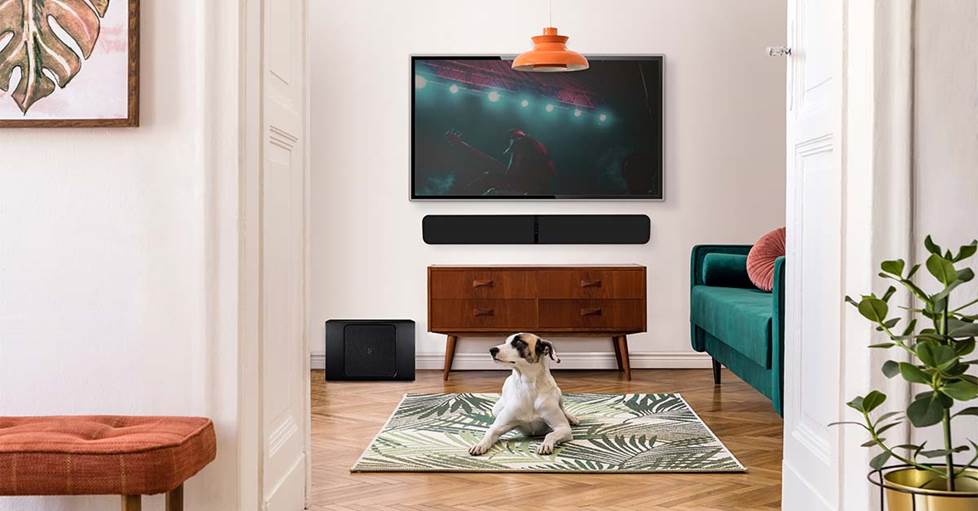 Best sound quality — Bluesound PULSE SOUNDBAR+ Bundle
The Bluesound PULSE SOUNDBAR+ was designed to be an audiophile-grade system and offers super-detailed wireless hi-fi sound. This compact bar supports Dolby Atmos and DTS:X for immersive, object-based home theater and high-resolution audio tracks.
You can play high-res tracks stashed on a USB flash drive or stream them from services like TIDAL, Qobuz, or Amazon Music HD with the bar's built-in Wi-Fi (subscriptions required). The system also supports high-fidelity Bluetooth with compatible devices.
The Bluesound PULSE SOUNDBAR+ Bundle adds the PULSE Sub+ subwoofer and two FLEX 2i surround speakers for fantastic home theater sound with punchy, accurate bass and wraparound effects.
You can control and group each of the bundle's components with the BluOS app and even expand by adding more Bluesound players into your home to build a wireless multi-room system with up to 64 zones. If you want sweet sound somewhere in your house, Bluesound can deliver.
Details
includes Bluesound PULSE SOUNDBAR+ with virtual Dolby Atmos support, PULSE SUB+ wireless subwoofer, and two FLEX 2i wireless surround speakers
bar features six audiophile-grade drives and two passive radiators powered by a 120-watt DirectDigital™ Hi-Fi amplifier
communicates with other Bluesound components via your home network (wired or wireless)
high-fidelity Bluetooth with aptX HD audio coding for more musical detail
supports high-res audio files up to 24-bit/192kHz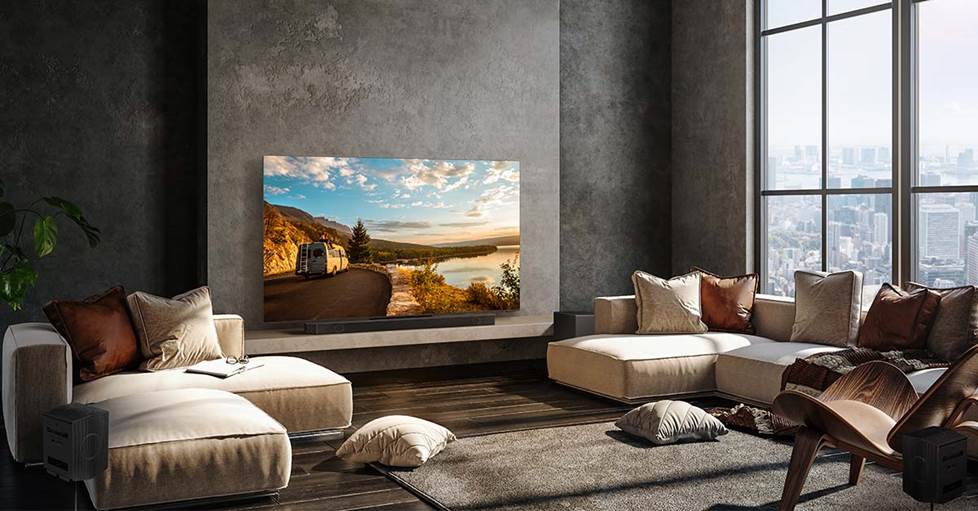 Best for 4K TV compatibility — Samsung HW-Q990C
Samsung's HW-Q990C 11.1.4-channel system delivers impactful, room-filling Atmos sound with a bar, sub, and rear speakers. The bar is packed with nine speakers that include side-firing, corner-firing, and up-firing drivers for a detailed, wide soundstage. The rear speakers help position sound behind you and the punchy sub adds deep bass to pull you into the action onscreen.
This system works great with almost any TV, but it's designed to complement Samsung's impressive line of QLED TVs with a range of extra features. When connected to a compatible Samsung QLED, the sound bar system can work together and synchronize with the TV's built-in speakers via Q-Symphony for an even fuller soundstage. With SpaceFit Sound+ the TV's powerful processing can be applied to the audio signal and calibrated to match the room for greater immersion.
The HW-Q990C can even receive a wireless Dolby Atmos signal from compatible Samsung TVs, for an even simpler wire-free set up.
Details
powered sound bar with wireless subwoofer and rear speakers
delivers 11.1.4-channel sound with Dolby Atmos and DTS:X
bar features 9 built-in drivers driven by a 384-watt amplifier
Q-Symphony feature allows bar to synchronize with select Samsung TVs to create a fuller soundstage
can receive a Dolby Atmos signal via Wi-Fi from your compatible Samsung TV
SpaceFit Sound Pro lets compatible Samsung TVs process the audio signal based on your room for added clarity and immersion
Get started today!
There are tons great wireless systems to choose from, and we're here to help. If you need a little guidance finding exactly what you're looking for, don't hesitate to get in touch with one of our friendly Advisors.
Free lifetime tech support is included with your Crutchfield purchase.
Popular questions customers ask
Surround sound uses more than one or two speakers to reproduce the immersive multi-channel soundtrack technology of modern movies and TV. The single center channel speaker contains most of the soundtrack dialogue, and pairs of left/right speakers add layers of surround sound, starting with front, then side, then rear, then overhead. Subwoofers supply the super-low frequencies.
Wireless surround sound systems use Wi-Fi to send Dolby and DTS soundtrack audio to your surround sound speakers.
It depends. If you connect all your sources to your TV, it needs to have an HDMI output and be able to support the Dolby and DTS surround sound formats that you want. If not, look for a system that has enough HDMI inputs for all your sources.
In this case, "wireless" generally means "without speaker wires." But all speakers in a wireless surround system still need power, which means that in most cases, each speaker will need to be connected to AC power (plugged into an electrical outlet). Some sound bars connect wirelessly to surround sound speakers connected by speaker wire to a dedicated wireless transmitter/amplifier. Other systems use wire-free, battery-powered side, rear, or overhead surround speakers.