In this article... We had the pleasure of helping a father/daughter team upgrade the stereo system in a vintage Camaro. See how they transformed the audio with the help of Crutchfield and RetroSound.
Really, there's nothing more American than a classic muscle car. I'm well acquainted with this concept, as I basically grew up in the back seat of my mom's '68 Chevy Camaro. So when a colleague of ours let us know that a friend of his was interested in upgrading the sound system in her '67 Camaro, I jumped at the chance to help out.
May's dad bought the car in 1974 from its original owner, and recently passed it on to her. Needless to say, she loves it. "It was such a cool privilege growing up riding, watching, and helping with the restoration of the Camaro. I think I knew, even at a young age, that it was so unique to have that opportunity, and I definitely made some of the neighborhood kids jealous because of it.
"Sometimes I still can't believe that I can just go in the garage and fire up this amazing car that gets more and more special by the day. It just turned 50 years old and that thought never leaves my mind."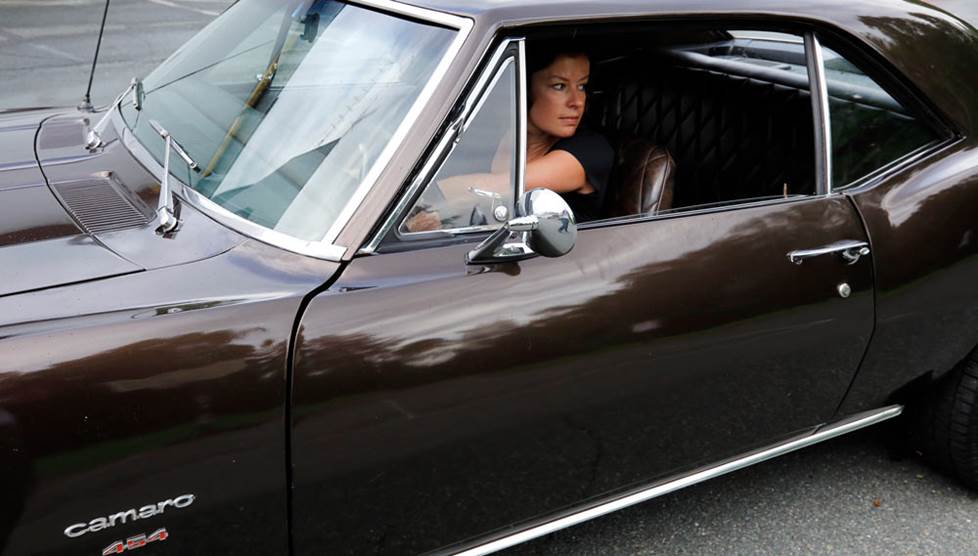 It's been a hobby car for them. While they've taken great pains to keep the body as original as possible, her Dad has had no qualms about playing around with everything else. The car's motor, for example, is actually it's third. And it's a beast of a 454, quite a step up from the original 327. The transmission is bigger than stock, too, to handle all that extra torque and pure giddy-up.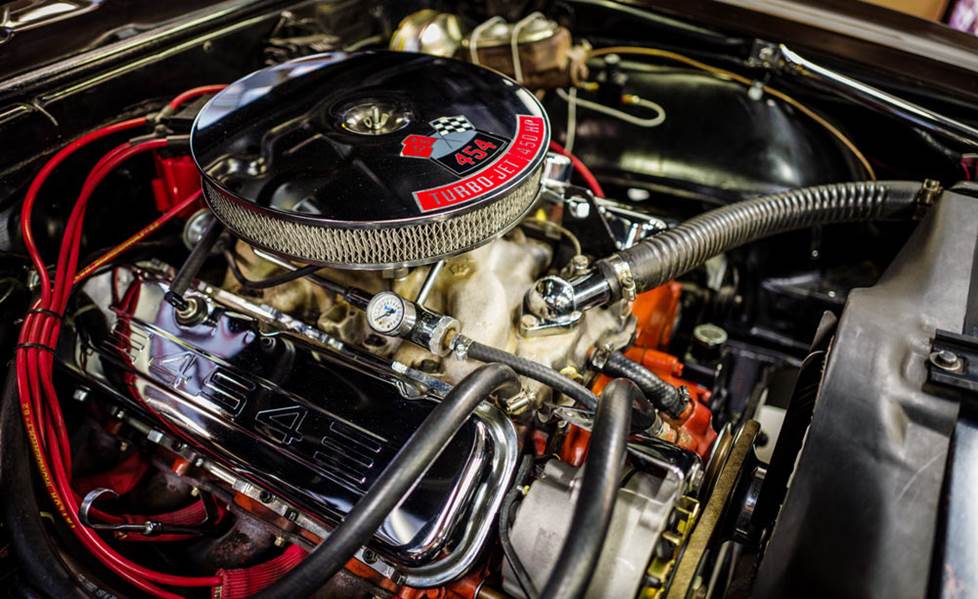 When we embarked on this project, however, everyone, including May and her Dad, decided that keeping as much of the car's original aesthetic was a key goal. That made our choice of gear easy: RetroSound.
RetroSound is a cool company that uses painstaking research to build stereos, speakers, and other gear that looks and feels like it was made in the muscle-car era, but is jam-packed with modern tech. For May's Camaro, we decided to go with this setup:
The gear we installed in May's Camaro
RetroSound R-410N 4"x10" speaker with dual voice coils
To make sure the project went smoothly, we grabbed Drew, one of our advisors with tons of both A/V and automotive experience.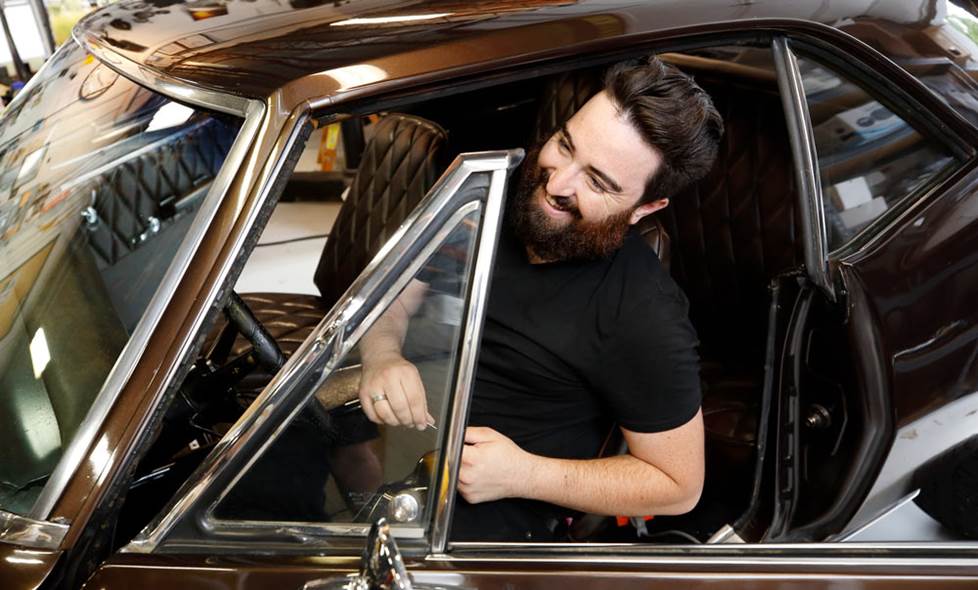 Crutchfield Advisor Drew prepares to get to work.
With May and her Dad also in the mix, we took the divide-and-conquer approach and evenly divvied up tasks. Drew and May's Dad would work on the front speaker and stereo, while May and I would tackle the rear speakers, amp, and subwoofer. With our plan in place, we rolled up our sleeves and got to work.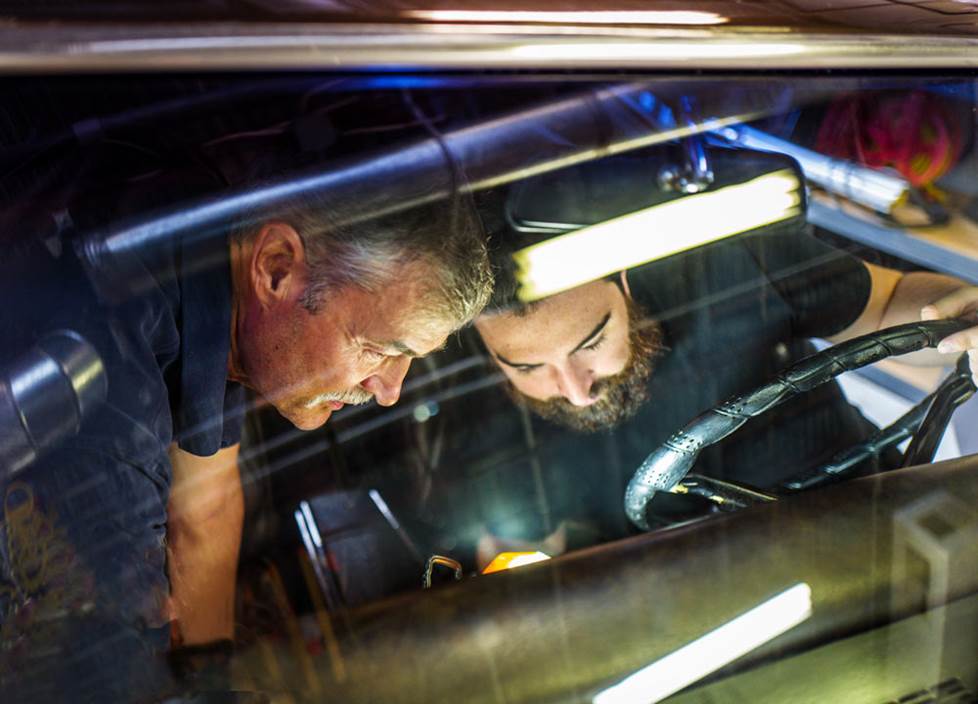 Drew and May's Dad strategize removing dash panels.
Installing the new single dash speaker
The Camaro was built when AM radio ruled, and mono recordings were king, so it originally only came with an AM/FM radio and a single speaker in the dash. Not ideal in today's stereo world. Luckily, RetroSound has a nifty solution: their single speaker with dual voice coils. It's designed to fit the space perfectly and to handle stereo signals. (Editor's note: Unfortunately, this speaker is no longer available from the Crutchfield website.)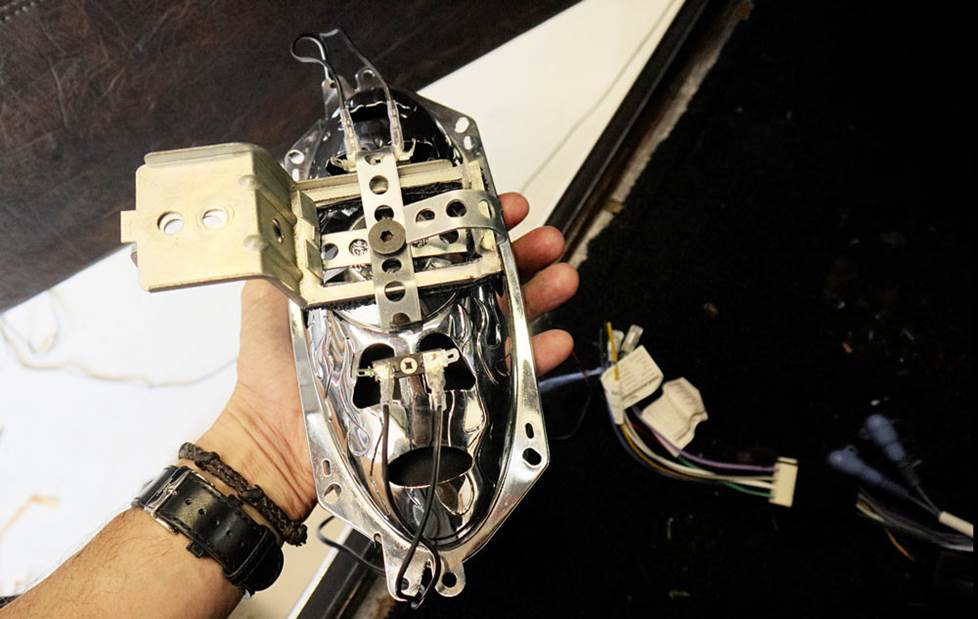 After taking apart the necessary dash pieces and removing the speaker that had been there, Drew created a custom mounting bracket using backstraps. He wanted to make sure that the extra torque and rumble of the big motor wouldn't cause it to shake loose. It went in perfectly, and mounted quite securely. A great start to the project!
A major stereo upgrade for the dash
As I mentioned earlier, this Camaro is a hobby car. Not surprisingly, then, the radio wasn't the original model. But it wasn't new, either. All it had to offer was AM/FM radio, a cassette player, and not much in the way of power.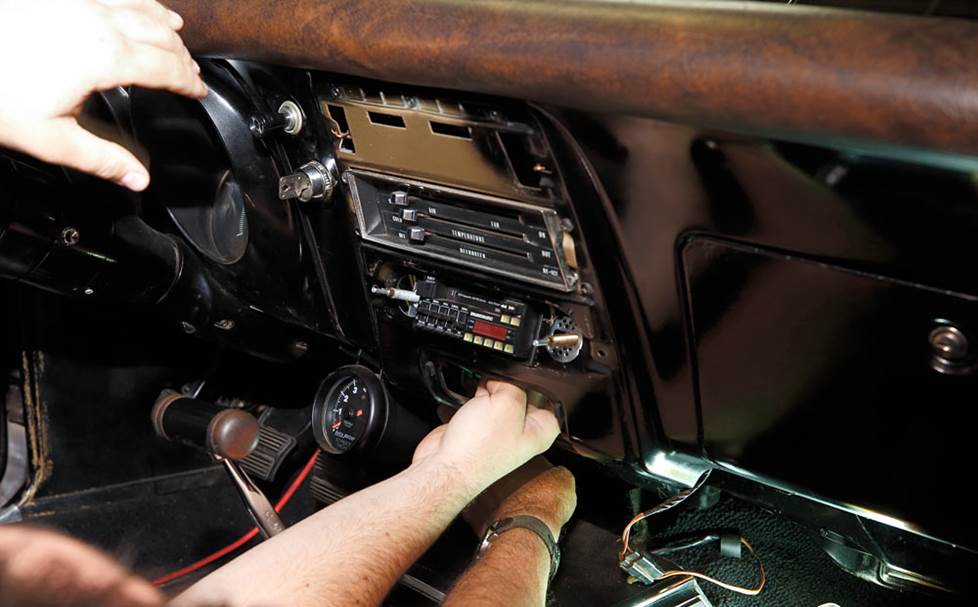 The RetroSound Long Beach Drew installed in it represented a major upgrade. It fits the space like any shaft-mount receiver would, but it has the advantage of working with RetroSound's custom Camaro faceplate and knobs. Now it looks like it rolled off the assembly line, but gives May the options of radio, Bluetooth® streaming, a USB input, an aux input, and even satellite radio, if she wants to add it later. The only giveaway that something modern is going on is the face itself, with its cool but understated LCD that shows song information as it's playing.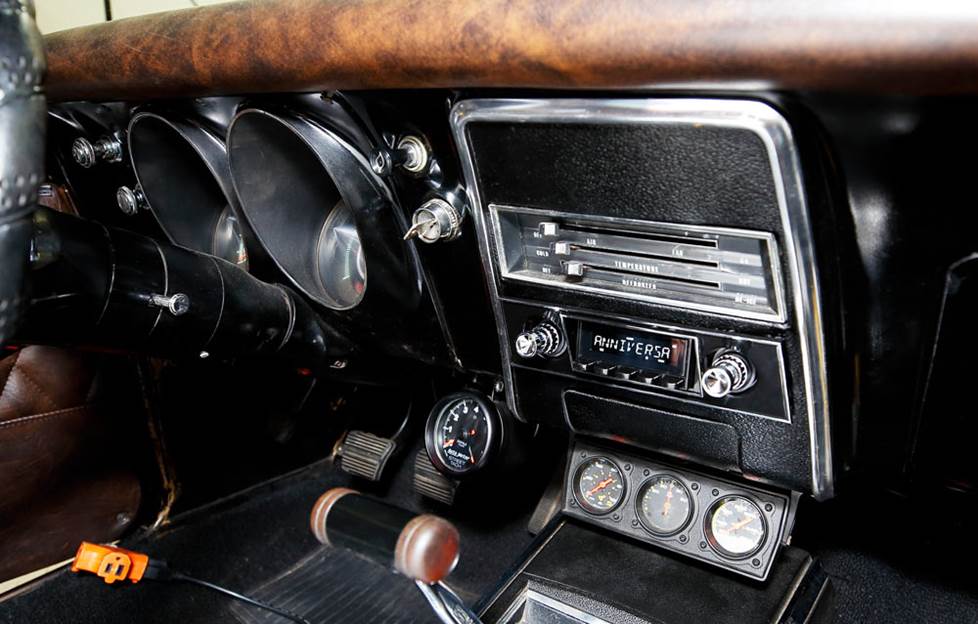 Drew reinforced it with a backstrap, so it wouldn't bounce around, then finished securing it with the nuts for the receiver's shafts.
New speakers for the rear deck
To improve the overall sound, years ago May's Dad had cut holes in the back deck to accommodate rear speakers. He did a great job of it, because RetroSound's 6"x9" replacements dropped right in, and fit neatly under the grilles that were already there. And even though they're only visible from beneath, May really liked the etched flames on the chrome speakers baskets.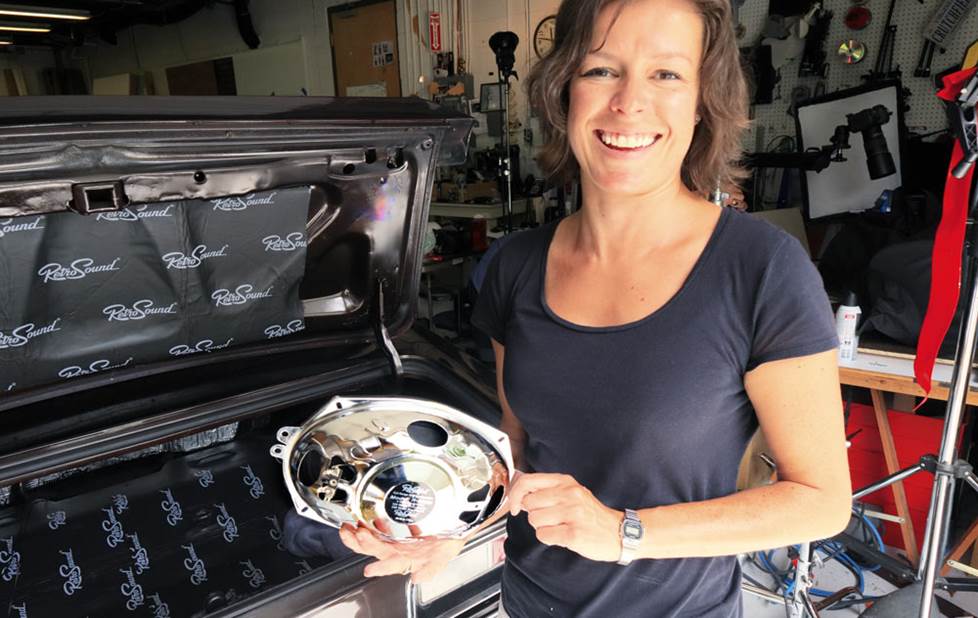 Adding an amplifier and some extra bass
Have I mentioned that the motor is loud? When it's putting out its full-throated rumble, it can tend to dominate everything in its vicinity. We knew that the best way to make sure that May can hear all the tunes she's able to play would be to add more power. And that's where the RetroSound Stereophonic 3-channel amp comes in.
It's a compact class-D amplifier that doesn't take up much space or draw too much current from the battery, but puts out plenty of power to elevate the sound of speakers and a sub over the muscle-car roar. And true to RetroSound's brand ethos, it even features a logo with cool retro styling that fits perfectly with the Camaro's looks.
For simplicity's sake, we decided to power the front speaker directly off of the stereo. That left the amp free to handle the rear speakers and the subwoofer we also added (more on that below).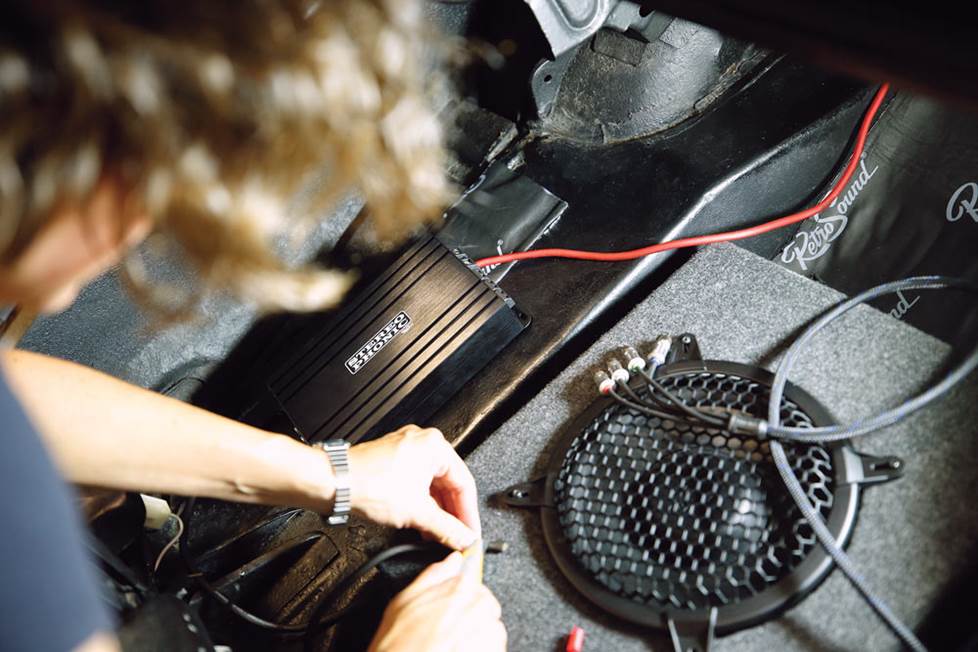 The Stereophonic amp and sub help elevate May's music over the sound of the motor.
I ran the amp power wire from the battery through a grommeted hole in the firewall that was already accommodating wires for the dash. Which was a good thing, because we wanted to make sure not to add any more holes to the vehicle; more holes would have increased its susceptibility to rust, and we didn't want that!
The power wire and the patch cable both ran neatly under the Camaro's carpet (the front seat came out simply by removing four bolts), then fed easily into the trunk. As for the amp mounting, we used a couple of strips of self-adhesive Velcro®, which keeps it perfectly in place.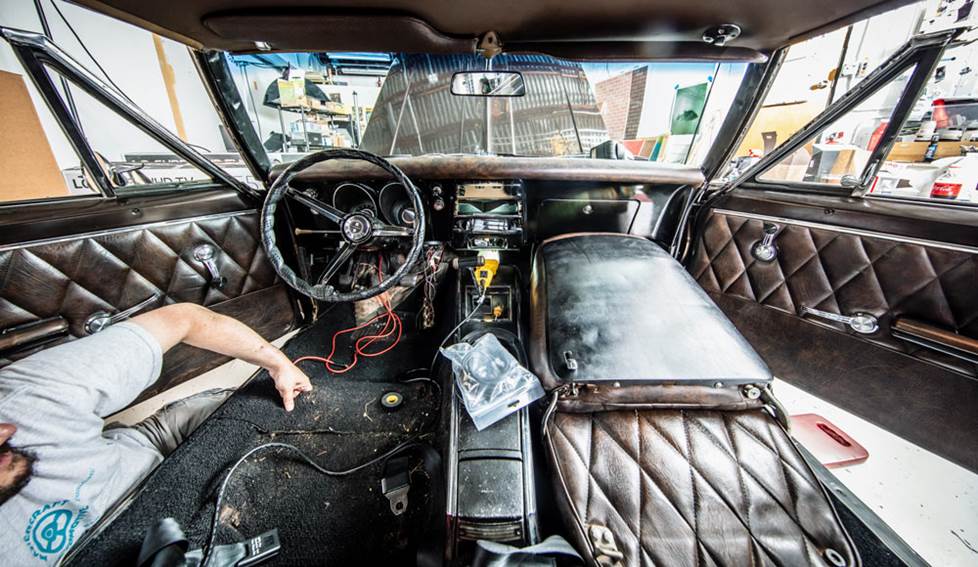 We added a shallow-mount subwoofer to the mix to make sure May gets plenty of bump to go with the Camaro's rumble. It fits in RetroSound's compact sub box, which ensures that the whole rig takes up minimal space in the trunk. In fact, it sits down perfectly right next to the spare tire. It doesn't put out an overwhelming amount of bass, but enough that she can feel the beat and enjoy music with real depth.
A little sound-deadening goes a long way
Like any older car, the Camaro has its share of acoustic quirks and rattles. So we used some RetroMat sound-dampening material to keep these at bay. We lined most of the trunk and the rear deck with the material. The result: clearer sound, and a much stronger overall bass response from both the sub and the rear-deck speakers. It didn't take much, but it made a huge difference.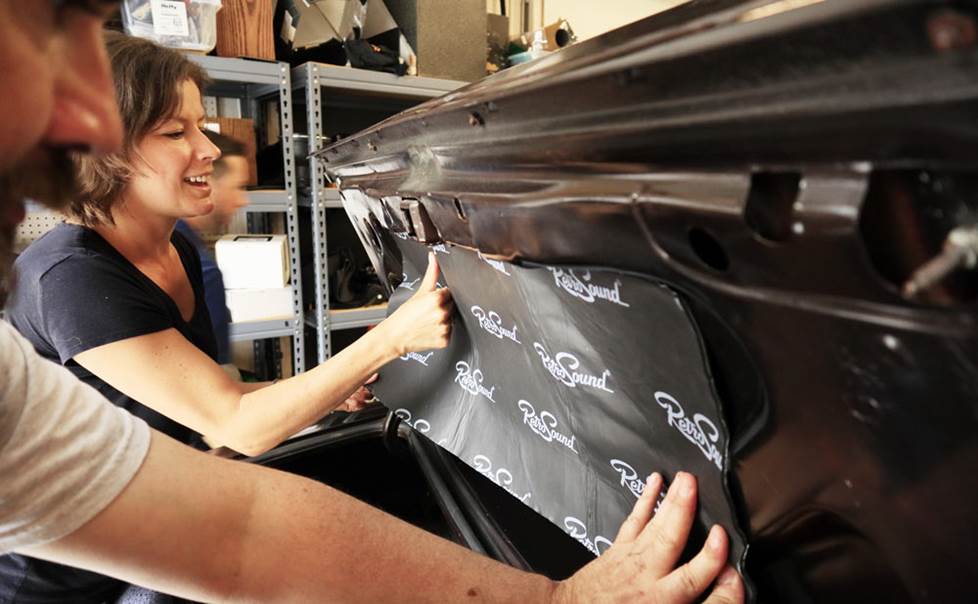 The results
May and her Dad love the new system. "Rock 'n roll has never sounded so great in this car! Now I can really do my Sunday drives justice when I can use the Bluetooth to play my favorite tunes on the awesome speakers. Quite a nice upgrade from an 8-track or cassette player, not that I don't love an old-school analog system."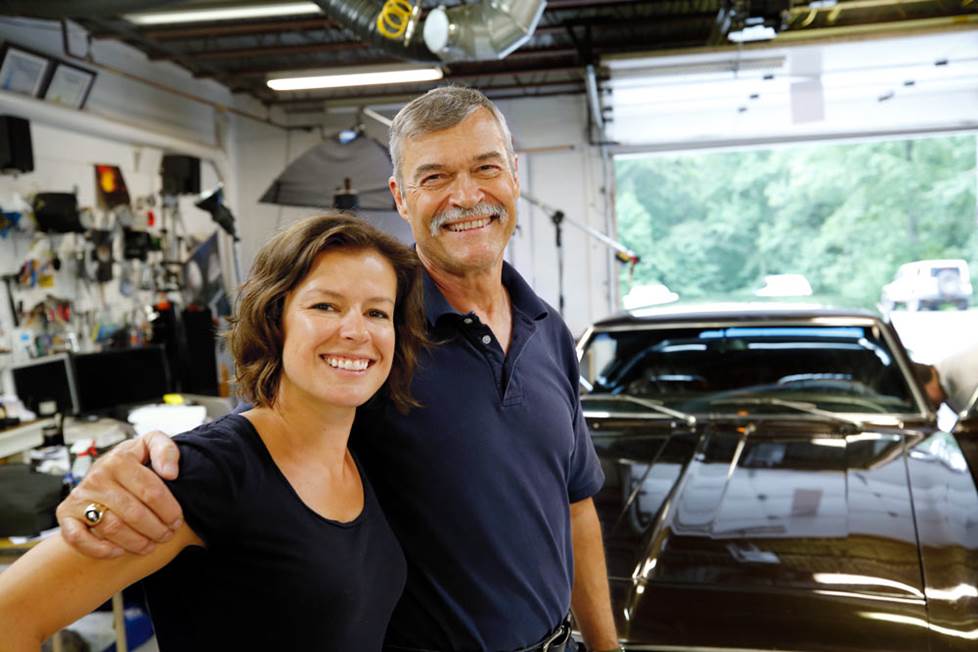 May and her Dad are both big fans of the new sound and tech in the Camaro.
May also enjoyed the installation process itself. "I loved installing RetroSound in the Camaro. They make it easy to do, and it was fun testing my DIY stereo install skills. When else do you get an excuse to lay upside down in the trunk of your own car for a few hours?"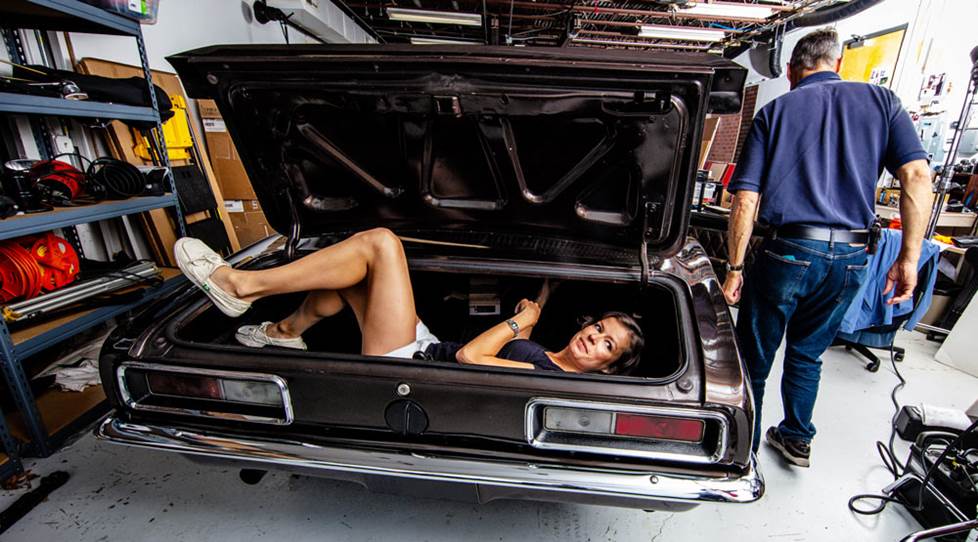 Your turn!
Have classic that needs a stereo upgrade? Drew and our other advisors are here to help you find exactly the right gear for it.