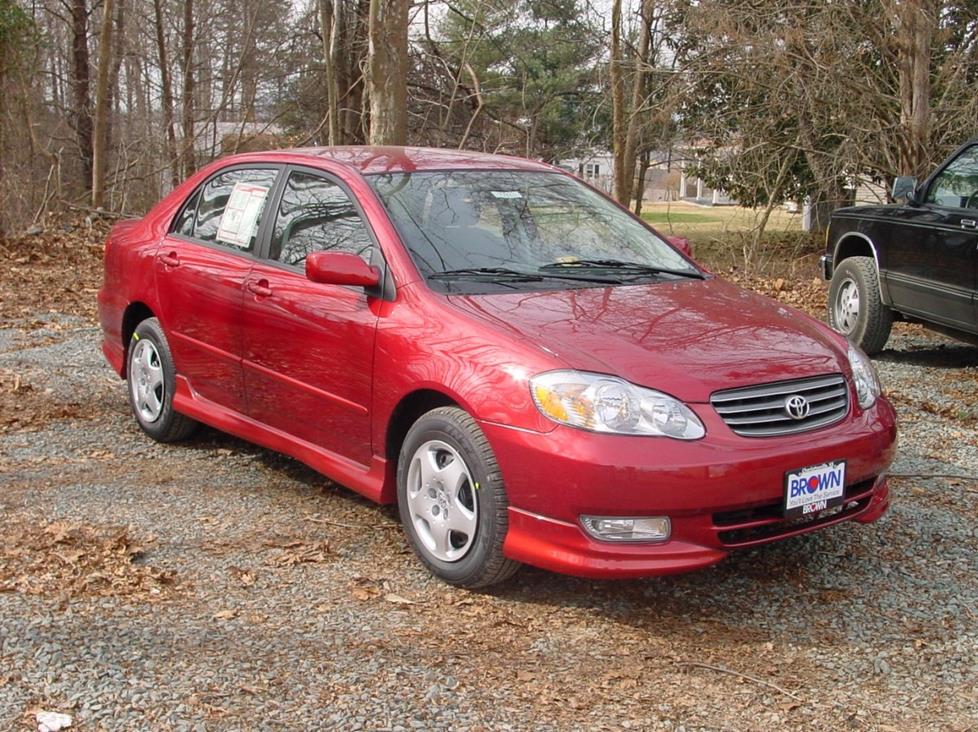 In brief: This Crutchfield Research Garage article gives you an overview of your Corolla's stock stereo system and your aftermarket upgrade options. We'll tell you all about:
Then, use our vehicle selector to find the gear that will fit your Toyota.
Overview of the Toyota Corolla
The 2003-08 Toyota Corolla is an economical car with a high reliability factor. If you've picked up a used Corolla and you're checking out your audio options, we've got lots of good news for you. First, you bought a nice car. Second, you can install a great stereo system in this vehicle.
Toyota offered a basic 4-speaker system and an upgraded 6-speaker system that adds tweeters in the front door sail panels. You'll rarely see the JBL sound system that Toyota offered for the 2005-08 Corolla, and we don't have a lot of information about the speakers in that setup. If you're interested in upgrading your audio system, you can easily replace the radio and speakers in the 4- and 6-speaker systems, and the radio in the JBL version.
Detailed stereo and speaker removal instructions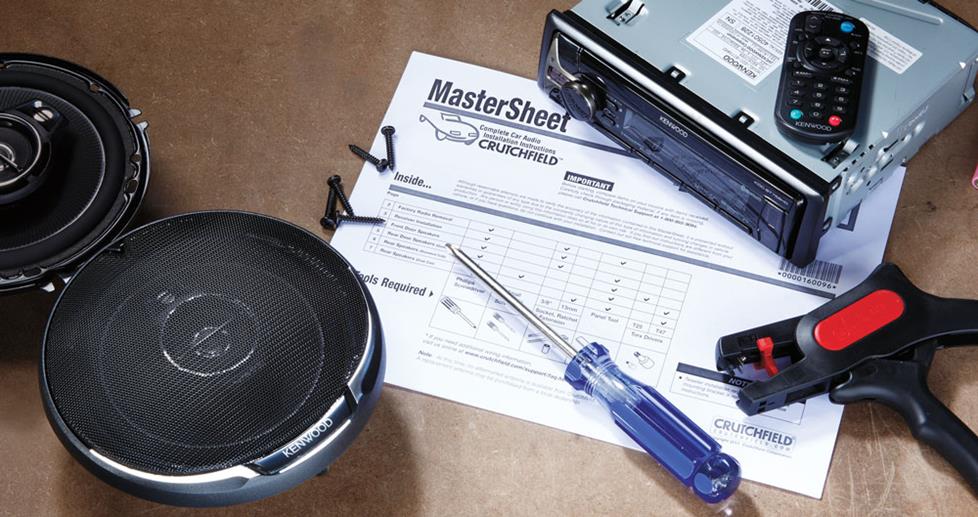 With step-by-step disassembly instructions and plenty of up-close, detailed photos, our exclusive
Crutchfield MasterSheet
™ takes the guesswork out of removing the factory stereo and speakers. It's free with your Crutchfield order, or you can purchase one separately for just $9.99.
Removing the factory radio
Here are the basic things you'll need to know when you install an aftermarket radio in your Corolla.
As a general rule, we advise all DIY-ers to be especially careful when prying on the plastic panels in this Corolla. The plastic is very soft and the potential for damage is there. Just be patient and gentle, though, and you should be fine.

Factory radio in 6-speaker system (Crutchfield Research Photo)
4- and 6-speaker system
A new car stereo will always make your factory speaker system sound better, plus it allows you to add new features like iPod® control or HD Radio™ reception.
You'll need a dash kit to install a DIN (2" tall) or double-DIN (4" tall) radio. It's possible to hard wire a new stereo to the factory wiring but getting a wiring harness will keep you from having to cut into the factory wires.
The dash kit and harness needed for this installation are available at a discounted price with most orders, and our step-by-step instructions for your Corolla. are included free.
If you want to keep the factory look, you'll find inputs on the rear of the Toyota radio that make it easy to add additional features. You can add an adapter that allows you to control your iPod with the controls on the Toyota radio, and another adapter that allows you to make hands-free calls through the factory radio. You can build a full system around the factory radio with new speakers, amplifiers, and subwoofers, but an aftermarket stereo will give you a cleaner sound that will make these upgrades sound even better.
Installation notes: You can't install a double-DIN receiver with a fold-down face in this car. If you have the Toyota satellite radio option, you'll lose it when you install a new stereo.
Corolla dash disassembled (Crutchfield Research Photo)
JBL system
The JBL logo on your radio tells you that you have the upgraded Corolla system. The JBL system is so rare that we haven't been able to research its speaker configuration, but we have it on good authority that the speakers are the same size as the base models. You may want to speak with a professional installer if you wish to replace your factory speakers in this system.
You'll need the same dash kit to replace the radio in the JBL system, and you'll also need a special wiring harness that retains the JBL amplifier. You'll probably want to keep the JBL amplifier unless you're prepared to run speaker wires from your new radio to each of the speakers. That can be a difficult and time-consuming job.
Besides, you'll usually hear improved sound quality when you install a new car stereo, because it'll send a cleaner signal to the JBL amp. Crutchfield offers a Toyota Factory Integration Adapter that plugs into the factory harness and keeps the JBL amplifier working. Crutchfield offers a very nice discount on this special adapter when purchased with any car stereo.
Installation notes: You will need to have an aftermarket stereo with two pairs of preamp outputs to connect the special JBL adapter. If you have the Toyota satellite radio option, you'll lose it when you install a new stereo.
Tools needed: Phillips screwdriver, small flat blade screwdriver, 10mm socket ratchet & extension, panel tool
Replacing your factory speakers
There are some challenges involved in replacing the Corolla's speakers, but the job is well within the skills of the average DIY-er.
Basic 4-speaker system
This basic system comes equipped with 6-3/4" speakers in the front door and 6"x9" speakers in the rear deck. Toyota uses 4-ohm speakers up front and 6-ohm speakers on the rear deck, so almost any aftermarket speakers will work well with the factory radio. The only exceptions would be high-performance speakers that really need an amp to be happy.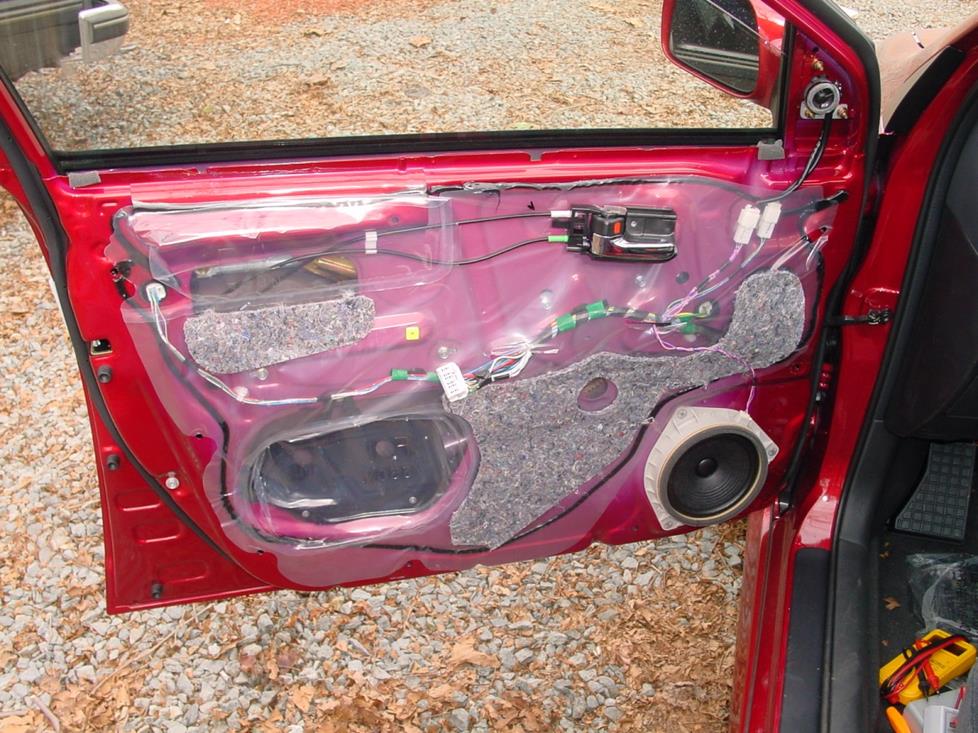 Front door in 4-speaker system (Crutchfield Research Photo)
Front doors: The Toyota's front door houses a 3-bolt 6-3/4" speaker, and there's no direct replacement. You can install a 6-1/2" or 5-1/4" speaker in the front door with the help of a mounting bracket, but you'll need to drill new screw holes to mount this bracket. No offense to Toyota, but the stock front speakers aren't the greatest, so you'll experience a big jump in sound quality when you install new speakers.
You'll have to remove the door panel to get at the factory speaker, which is attached to the door with three rivets. You'll need to drill out the rivets to remove the speaker, so make sure you have the right tools for the job.
Since the factory speaker is molded to a bracket in the door, you will definitely need a new bracket to mount any aftermarket speaker. You'll also need wiring harnesses to connect the new speakers to your factory wiring. When you purchase your speakers at Crutchfield, we'll give you a very nice discount on those installation essentials.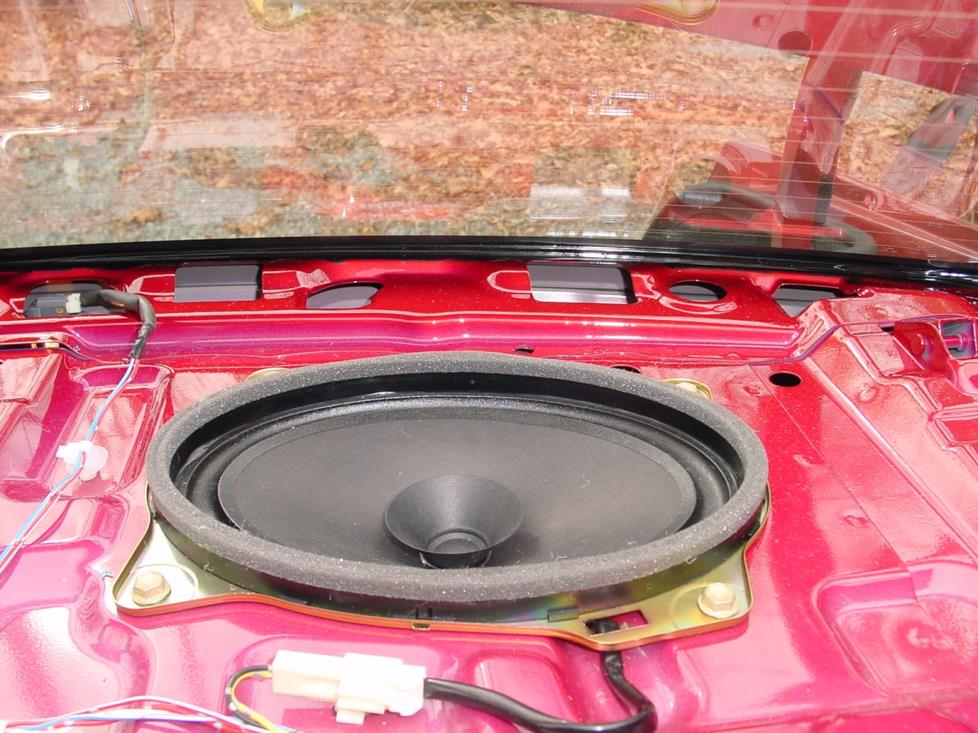 The factory rear deck 6"x9" (Crutchfield Research Photo)
Rear deck speakers: You'll find 6"x9" speakers on the rear deck in both speaker systems. To access this location, you'll have to fold down the rear seats and remove the rear pillar trim. You can then remove the rear deck panel.
You can install a 6"x9" speaker in the rear deck, or a 6-1/2" or 5-1/4" speaker if you use a mounting bracket. You'll need to drill holes in the rear deck to install aftermarket speakers, and the angle of rear window makes this job very difficult.
There will be a bit of a gap between the speaker and the rear deck or the bracket, so we recommend using a speaker baffle to fill in the gap. You'll want to cut off the bottom of the baffle and use the remaining portion as a gasket.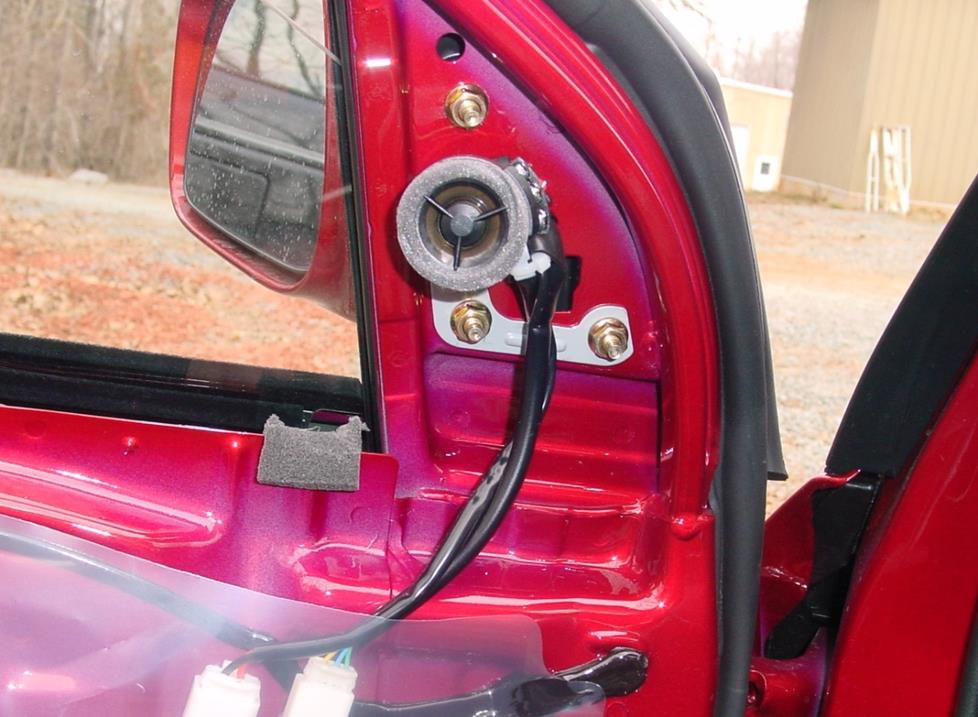 The Corolla's 6-speaker system includes front door tweeters (Crutchfield Research Photo)
6-speaker system
The upgraded 6-speaker system adds front door tweeters to the standard 4-speaker system and accommodates the same size speakers. You may be able to use the factory tweeter mounting bracket when installing new tweeters as long as your aftermarket tweeters have a threaded insert on the back.
Tools needed: Phillips screwdriver, small flat blade screwdriver, 10mm socket ratchet & extension, drill & 1/8" bit with right angle adapter, panel tool, shop rag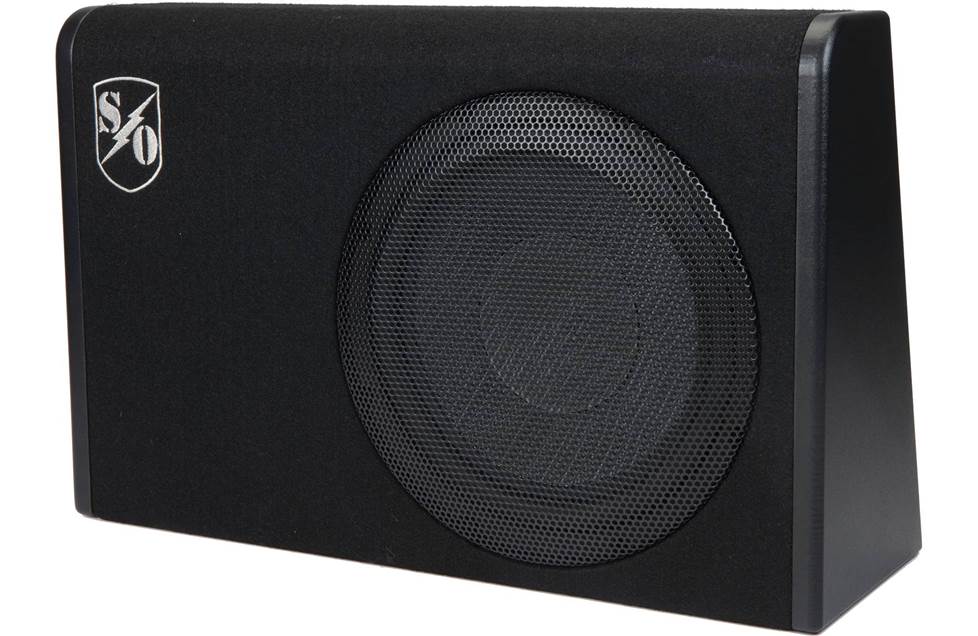 The Sound Ordnance B-10AS sports a single 10" subwoofer and a 100-watt amp
Bass in your Toyota Corolla
The Corolla has a decent-sized trunk, so finding room for a subwoofer and amplifier (or a powered sub) won't be a problem. You can use the wiring of the rear deck speakers to get a signal to your sub system.
There are a couple of other options if you need all your trunk space. You might find a small powered sub that'll fit under one of the seats. Or, fortify the rear deck with Dynamat or some other noise-killing material so it will handle the bass without rattling, and install some smaller component subs back there.
Other options for your Corolla
Here are some other ideas for upgrading your Corolla:
Amplifiers
Powering your new speakers with an amplifier will give you an enormous boost in sound quality, regardless of sound system. We don't recommend using an amplifier with your factory speakers as they aren't designed to handle that kind of power.
Satellite radio
You can add a Dock-and-Play satellite radio that you can take from car to car. If your factory radio came equipped with satellite radio, you will lose that option with a new car stereo, so look for a new radio that'll work with an outboard SiriusXM tuner.
Security
Installing a security system in your Corolla isn't easy (security systems rarely are), but it's definitely a good idea. Our Crutchfield Advisors can help figure out what you need to get the job done, but we usually recommend taking your car and new gear to a professional installer.
Let's get started!
Ready to shop? Use our vehicle selector to find the gear that will fit your car or truck. If you have questions, give us a shout via phone, chat, or email