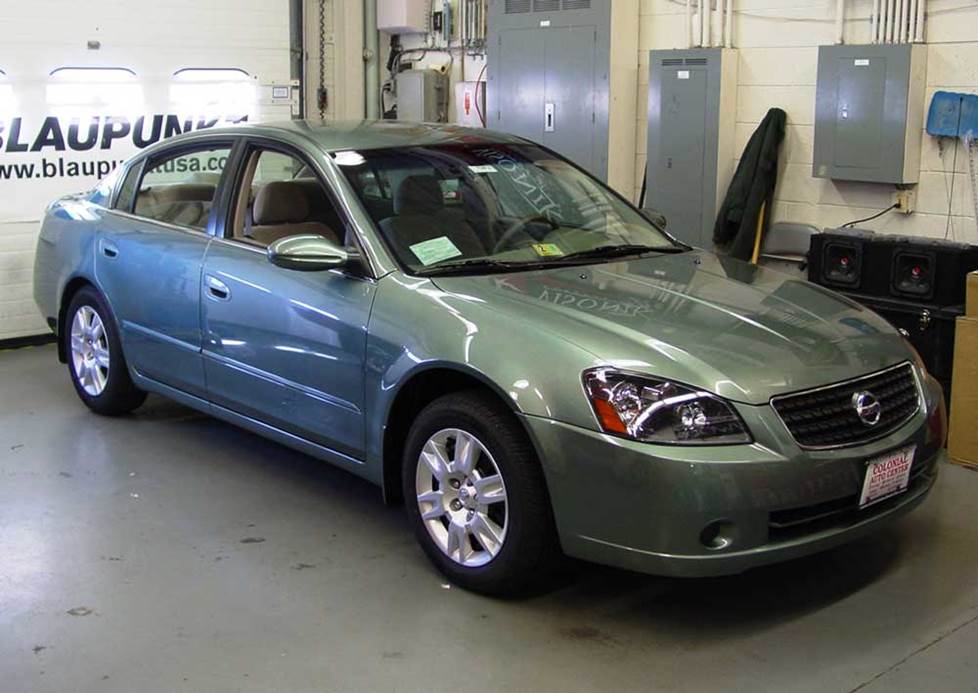 In brief: This Crutchfield Research Garage article gives you an overview of your Altima's stock stereo system and your aftermarket upgrade options. We'll tell you all about:
Then, use our vehicle selector to find the gear that will fit your Nissan.
Overview of the Nissan Altima
With an efficient engine and sharp styling, the 2005-06 Nissan Altima remains a popular choice for commuters and car lovers alike. For this Altima, Nissan offered a basic system and upgraded Bose stereo system, and aftermarket upgrades are available for each. You can replace the stereo and speakers without too much work, and you can even retain your steering wheel audio controls.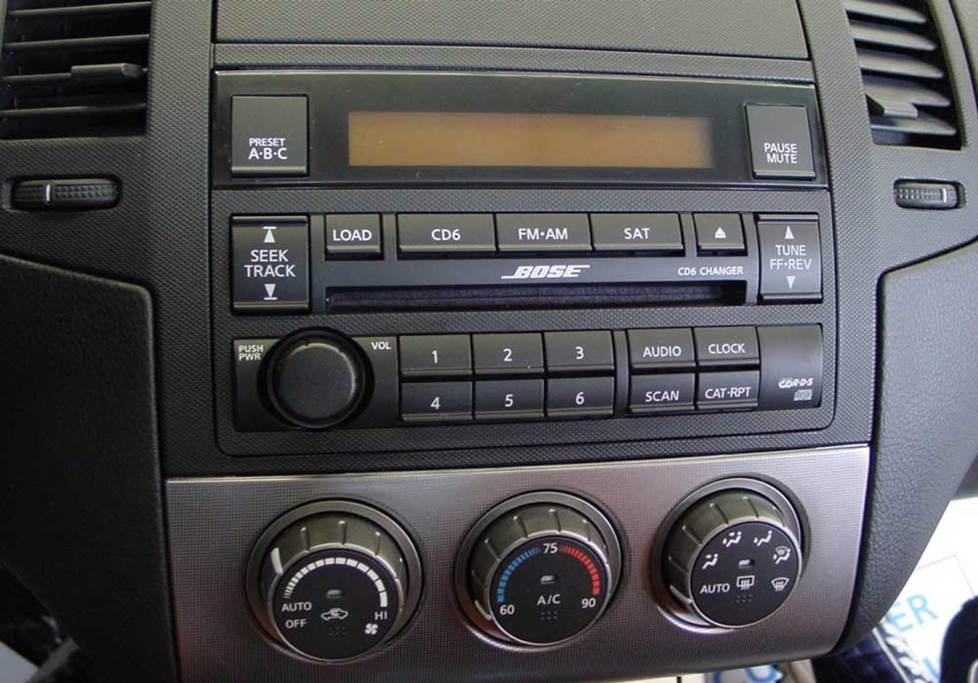 This is the Altima's optional Bose radio. Note the logo on the face. (Crutchfield Research Photo)
Removing the factory radio
The Altima was available with two different systems, a regular 6-speaker system and an optional Bose® system.
6-speaker system
Installing an aftermarket stereo is a great way to make your factory system sound better, plus add new features like iPod control or HD Radio reception. You'll need a dash kit to install a DIN (2" tall) or double-DIN (4" tall) car stereo, and it's a good idea to get a wiring harness that plugs into the Nissan plug so you don't have to cut into the factory wiring.
The dash kit and harness needed for this installation are deeply discounted when you buy from Crutchfield, and our step-by-step instructions for your Altima are free.
If you don't want to change your radio, you'll find inputs on the rear of the Nissan radio that allow you to add an iPod adapter or a satellite radio tuner, then control them with the Nissan radio or your steering wheel controls. You can certainly put together a complete audio system with new speakers, amplifiers, and subwoofers while retaining the factory radio, but a nice aftermarket stereo offers superior circuitry that will make these upgrades sound even better.
Note: If you have the Nissan satellite radio option, you'll lose it when you install a new stereo.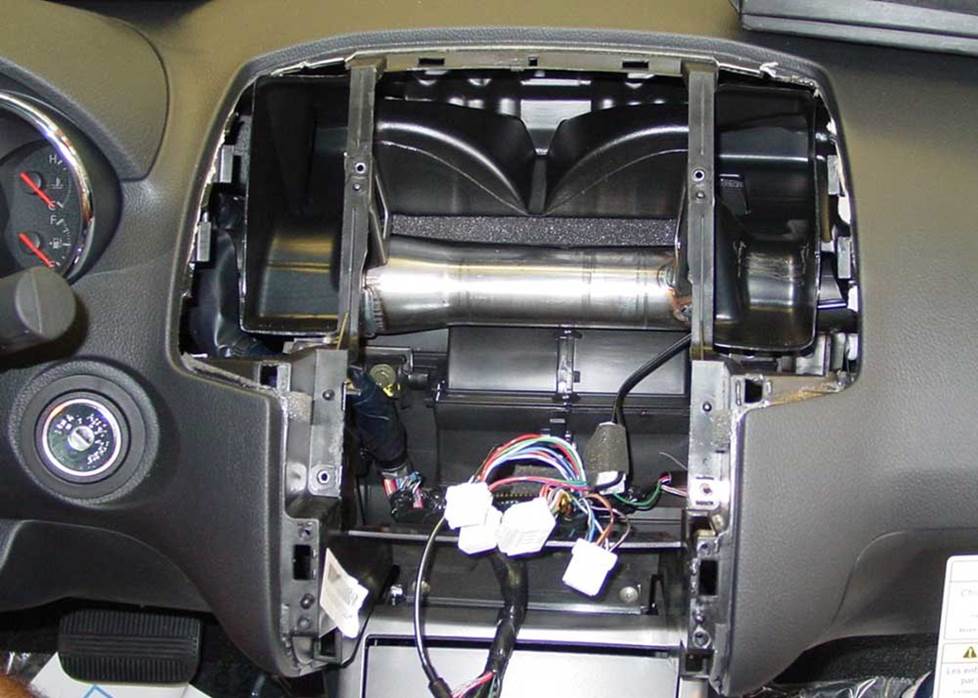 The Altima's dash, disassembled (Crutchfield Research Photo)
Bose® system
You'll know that you have the upgraded Altima system if you see the Bose® logo on your radio and on the rear deck speaker grilles. The Bose system sports a set of 5-1/4" speakers in the rear door, along with the tweeters in the dash, 6-3/4" speakers in the front door, and 6"x9" speakers in the rear deck.
You'll use the same dash kit to replace the radio in the Bose system, and you'll also need a special Nissan/Infinity Factory Integration Adapter that connects your new stereo to the Bose system's amplifier.
Why keep the Bose amplifier? If you want to get rid of it, you'll have to run speaker wires from your new stereo to each of the speakers in your Altima, and that takes a lot of time and effort. Plus, a nice aftermarket receiver will send a cleaner signal to the amp so you'll hear the difference in the quality of sound. This Scosche adapter is also available at a deep discount.
If you want to keep the Bose radio, you can buy adapters to connect your iPod® or add satellite radio reception. You can also replace the factory speakers in the Bose system without having to replace the radio.
Note: If you have the Nissan satellite radio option, you'll lose it when you install a new stereo.
Tools needed: Phillips screwdriver, small flat blade screwdriver, panel tool
Detailed stereo and speaker removal instructions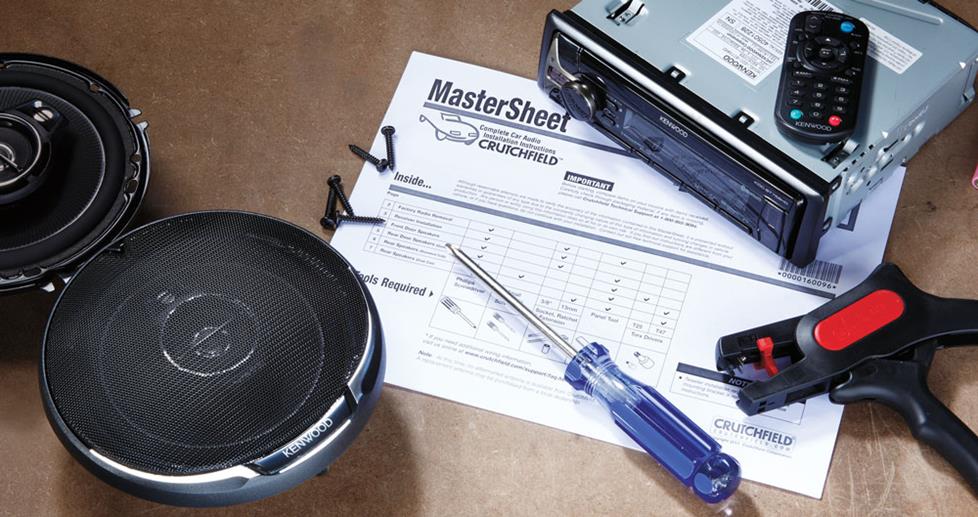 With step-by-step disassembly instructions and plenty of up-close, detailed photos, our exclusive
Crutchfield MasterSheet
™ takes the guesswork out of removing the factory stereo and speakers. It's free with your Crutchfield order, or you can purchase one separately for just $9.99.
Read our Car Stereo Buying Guide for shopping tips and advice.
Shop for car stereos that fit your Nissan Altima
Steering wheel audio controls
In most cases, it's reasonably easy to retain your Altima's steering wheel audio controls when you install a new stereo. When you enter your vehicle information, our database will choose the adapter you need to make your factory steering wheel controls work with a compatible aftermarket receiver.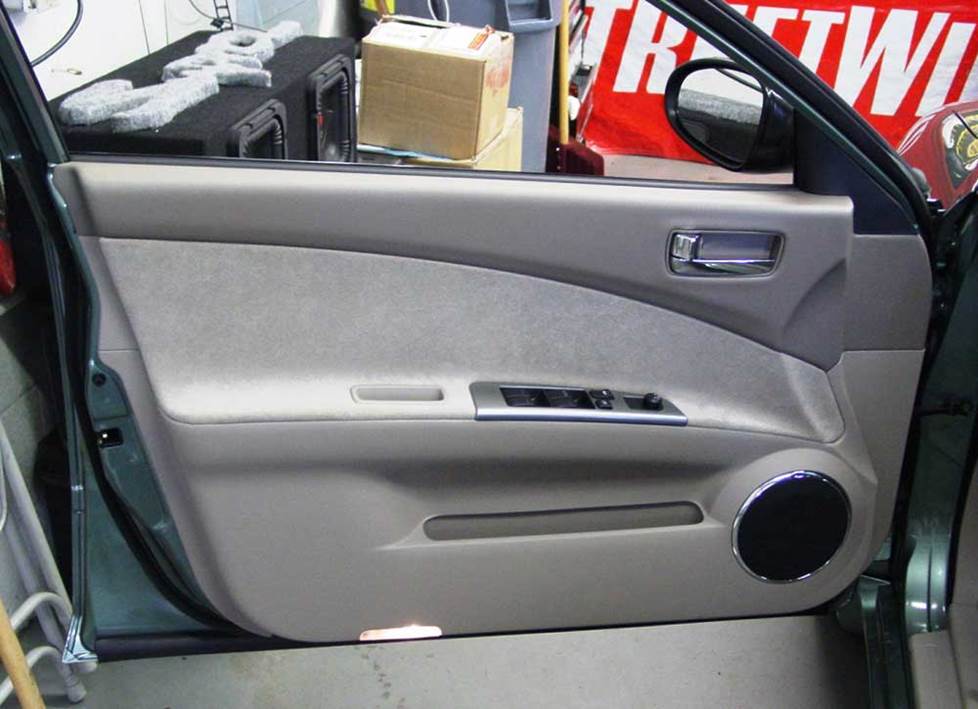 A look at the Altima's front door (Crutchfield Research Photo)
Removing the factory speakers
Removing and replacing the speakers is basically the same with the two different systems. The Bose ystem adds rear door speakers and an amplifier to the mix, though.
Basic 6-speaker system
This basic system comes equipped with tweeters in the dash, non-standard 6-3/4" speakers in the front door, and 6"x9" speakers in the rear deck. Nissan typically uses 2-ohm speakers in their factory systems, so you'll want to use JBL, Infinity, or other aftermarket speakers that offer 2-ohm impedance if you're keeping the factory radio, or you'll hear a very noticeable loss of overall volume.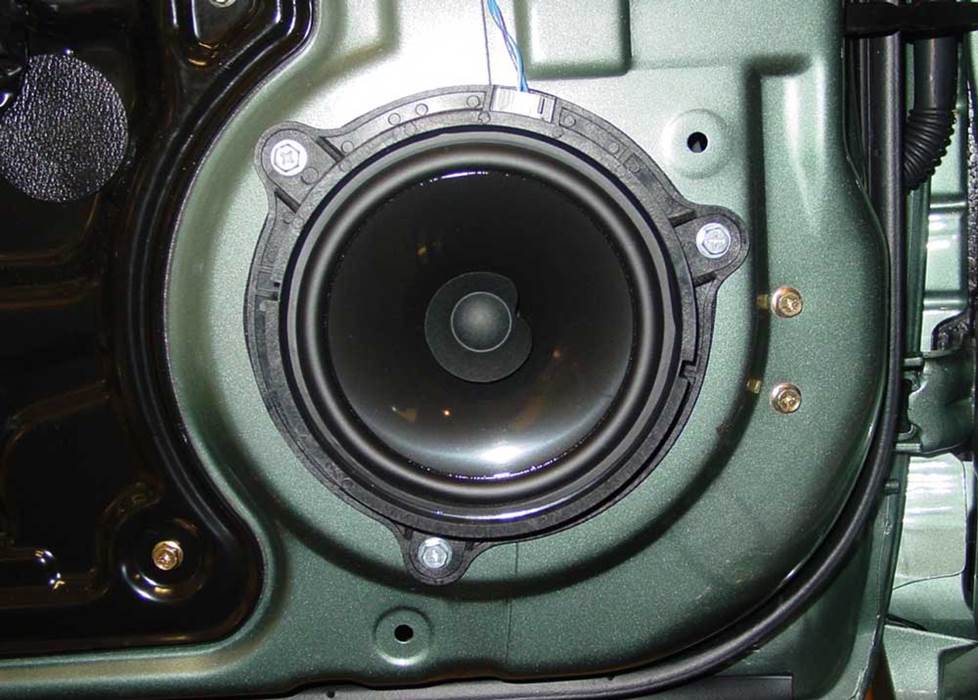 A close-up of the front door speaker (Crutchfield Research Photo)
Front doors
The Altima's front doors house 6-3/4" speakers with a 3-bolt pattern, so an aftermarket 6-3/4" speaker will not fit. You can install a 6-1/2" or 5-1/4" speaker in the front door with the help of a mounting bracket, but you'll have to redrill your screw holes.
The door panel must be removed to get at the speaker and the factory speaker is attached to the door with three Phillips screws. The factory speaker is molded to the bracket, so you will definitely need a new bracket to mount any aftermarket speaker. Those mounting brackets are available at a special price with every speaker order.
At this time, wiring harnesses are not available to connect your new speakers to the factory wiring, so you'll need to use Posi-Products speaker connectors.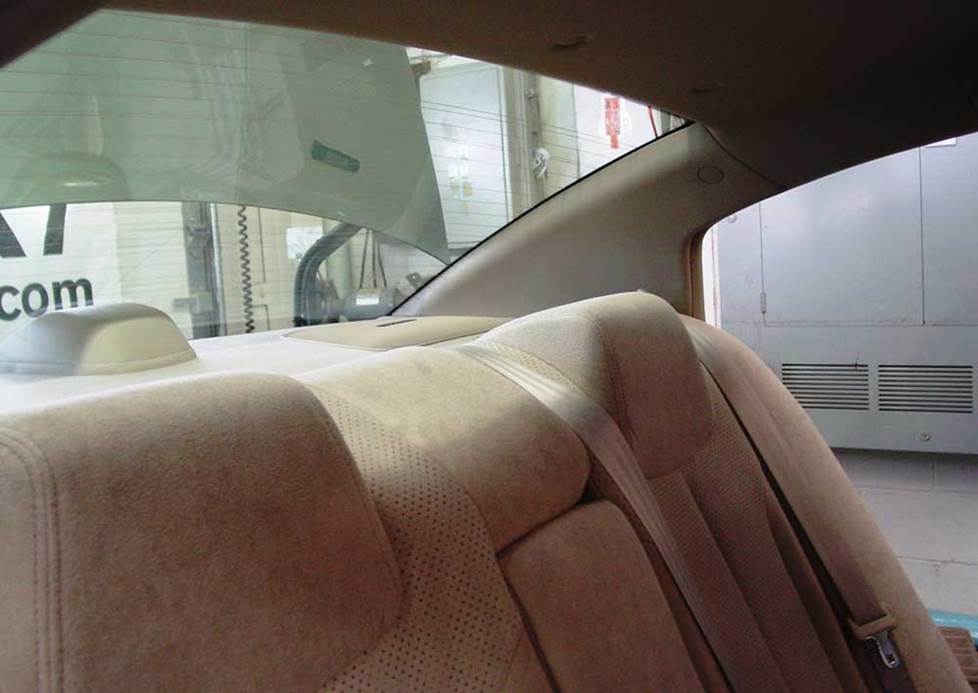 The Bose® system includes rear deck speakers (Crutchfield Research Photo)
Rear deck speakers
You'll find 6"x9" speakers on the rear deck in the 6-speaker system. To access this location, you'll need to remove the rear seat and the rear deck to access the speakers. It's not a difficult job, but it'll take a little time.
You can replace these speakers with aftermarket 6"x9" speakers or use a bracket to install 6-1/2" or 5-1/4" size speakers. At this time, there isn't a wiring harness available for the rear speakers either so you'll need to use Posi-Products speaker connectors here, too.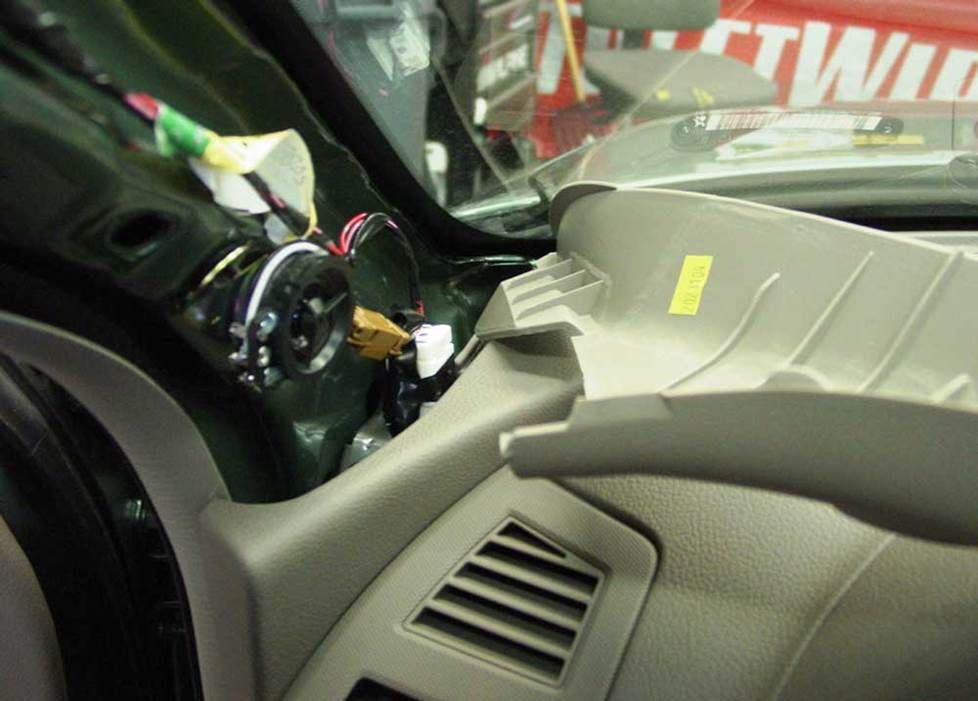 Tweeter with "A" pillar removed (Crutchfield Research Photo)
Tweeters
The Altima has tweeters in the front "A" pillars. You will remove the "A" pillar trimpanel to access the tweeter location. Keep in mind that tweeters do not come in standard sizes, so you may have to cut, drill, glue, or fabricate a mounting plate to install an aftermarket tweeter in the factory location.
If you're shopping for tweeters, the factory tweeter is a shade under 1-3/8" in diameter, and you have a mounting depth of about 1-1/2" behind the pillar.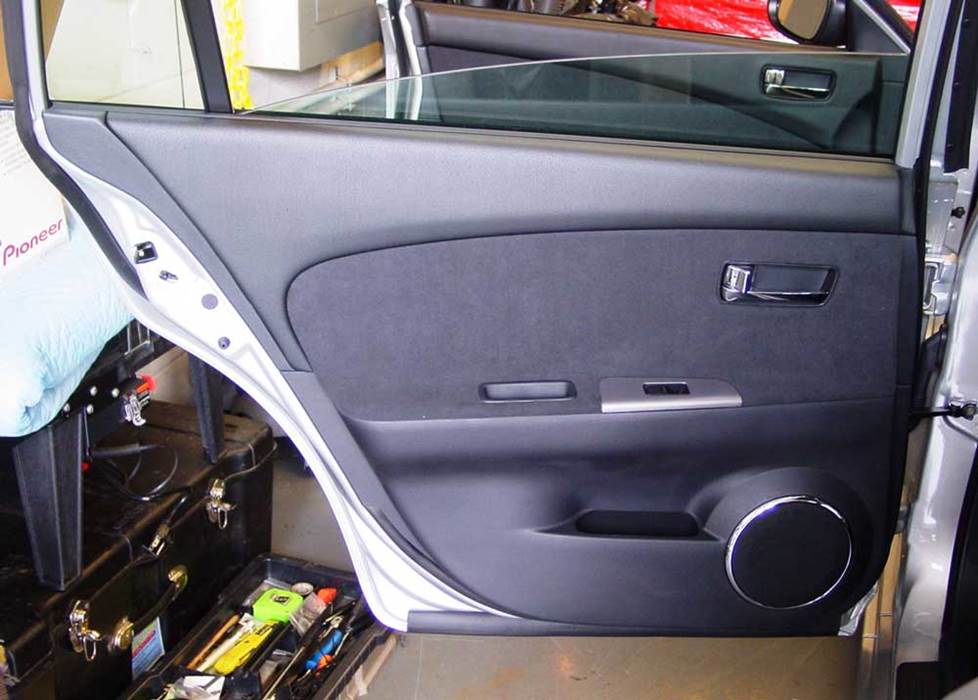 Bose® system rear door speaker (Crutchfield Research Photo)
Bose® system
The upgraded Bose system adds rear door speakers and an amplifier to the mix. The other speaker locations are present from the standard 6-speaker system and accommodate the same size speakers. Again, the Bose speakers are usually 2-ohm, so you'll want to pick new speakers with a lower impedance.
Rear door speakers
The rear door speakers found in the Bose system are standard 5-1/4" speakers. You'll have to remove the door panel to install new 5-1/4" speakers. You shouldn't have to drill new screw holes or use a mounting bracket for installation, and there's a wiring harness (available at a discounted price) that will attach your new speakers to the Nissan speaker plugs.
Tools needed: Phillips screwdriver, small flat screwdriver, 8mm, 10mm, and 12mm socket, panel tool, wire stripper/crimp tool, crimp caps, drill and 1/8" bit
Read our Car Speakers Buying Guide for more information.
Shop for speakers that fit your Nissan Altima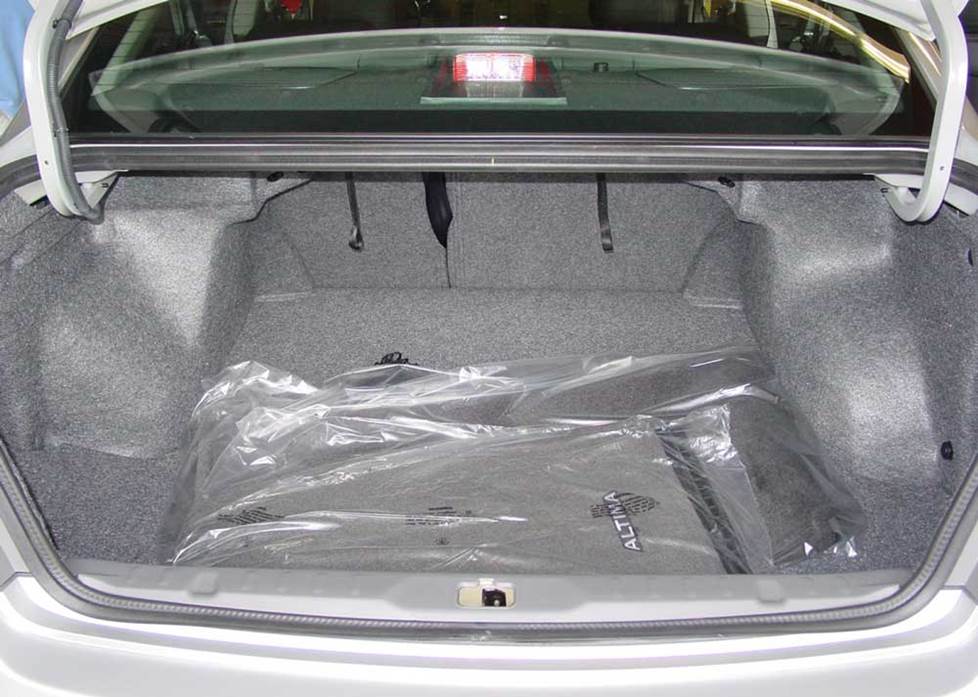 There's room for more boom in the Altima's trunk (Crutchfield Research Photo)
Bass in your Nissan Altima
The bad news is that nobody makes a custom-fit sub enclosure for the Altima. The good news is that the Altima has a decent-sized trunk, so finding room for a subwoofer and amplifier (or a powered sub) won't be a problem. You'll have easy access to the wiring of the rear deck speakers if you want to use them to get audio signal for your subwoofer system.
Learn more about building a bass system in our Car Subwoofer Buying Guide.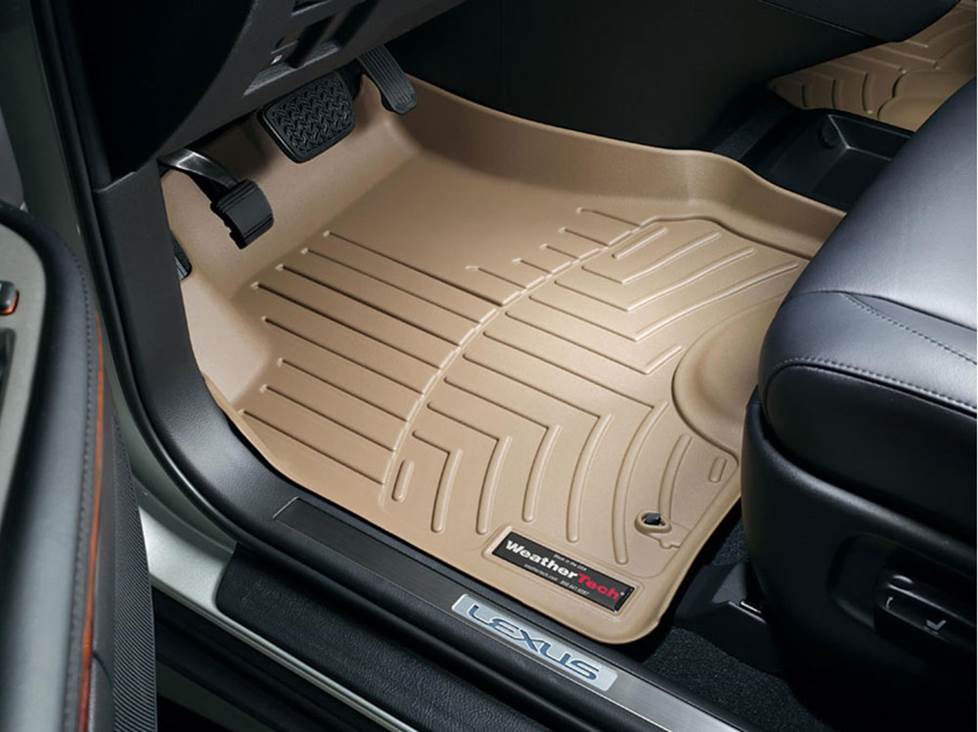 Protect your car's carpeting with a set of custom-fit WeatherTech FloorLiners
Other options for your Altima
Here are some other ways to improve your Altima's sound and functionality.
Protect the carpets with WeatherTech floor liners
It's easier than you think to mess up your Altima's interior while you're going about your daily business. Floor mats and liners from WeatherTech will help protect your car's carpeting from dirt and damage. And if they're already dirty and damaged, these mats will cover it up and make your car's interior a nicer place to be.
Add amps
An amplifier will give you a big boost in the performance of your new speakers, even if your vehicle came with the Bose system. We don't recommend using an amplifier with your factory speakers as they won't handle that much power. You can learn more about adding amps to your system in our Car Amplifier Buying Guide.
Enjoy SiriusXM satellite radio
SiriusXM satellite radio is a great thing to have in a car and there are a few ways to add it to your Altima. A SiriusXM tuner can be controlled by the factory stereo and will show station and artist information on the display. You can also add a Dock-and-Play satellite radio that you can take from car to car. If your car came equipped with satellite radio, look for a new radio that'll work with an outboard SiriusXM tuner.
Install remote start and security systems
Adding remote start capability to your vehicle lets you warm it up in the winter or cool it down in the summer. The iDatastart system is incredibly convenient and makes it easier than ever to install a remote start system, so we highly recommend it. The module requires a vehicle-specific T-harness (sold separately) to connect with your vehicle's computer, security, and ignition systems, so we ask that you call to order so that we can make sure you get the right harness for your ride.
You can also talk to your Crutchfield Advisor about a security system. They're not as easy to install (we usually suggest letting a professional do the job), but we can help you choose a system that'll work in your vehicle.
Let's get started!
Ready to shop? Use our vehicle selector to find the gear that will fit your car or truck. If you have questions, give us a shout via phone, chat, or email