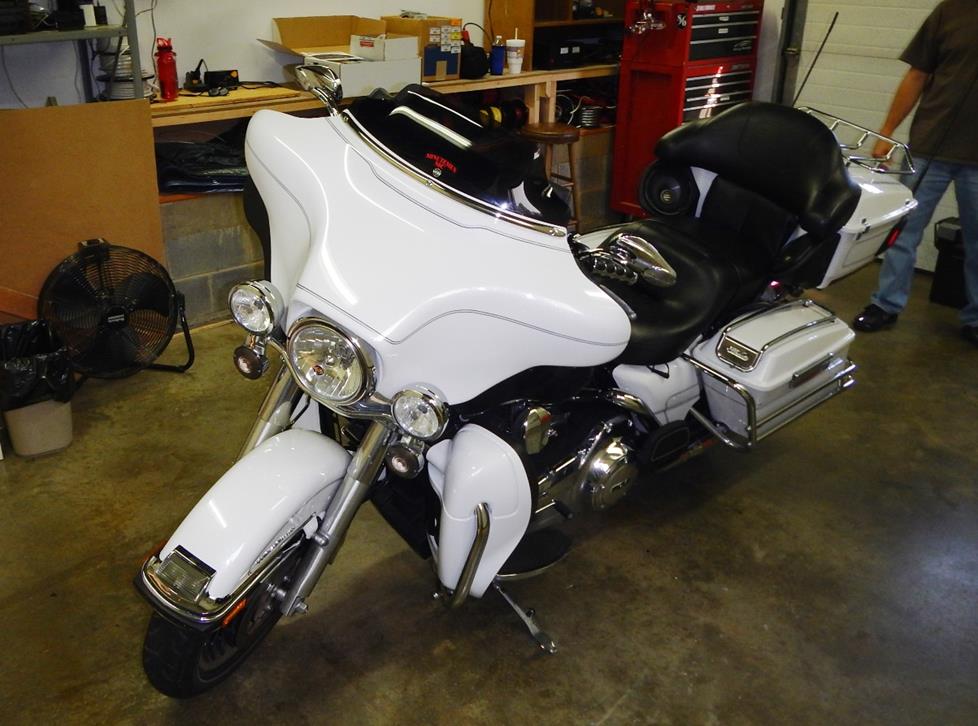 In brief: This Crutchfield Research Garage article gives you an overview of your Harley's stock stereo system and your aftermarket upgrade options. We'll tell you all about:
Then, use our vehicle selector to find the gear that will fit your Electra Glide, Street Glide, or Ultra Glide.
Overview of the Electra Glide
A touring motorcycle like a Harley-Davidson Electra Glide, Street Glide, or Ultra Glide is made for riders who enjoy taking long trips on nice days in maximum comfort. With a suspension tuned for the open road, seats designed for long stints, and a fairing that keeps the wind at bay while putting everything within reach, these big bikes are worthy heirs to Harley's touring tradition.
Touring bike riders know what they like, and Harley-Davidson excels at giving them exactly that. Audio systems are important to today's customers, so the various trim levels (Standard, Classic, or Ultra Classic) can be had with some very nice factory stereo gear. But if you're really serious about enjoying music while you're enjoying a long trip, upgrading the stereo is a must. We have the gear you want, plus we have the expert advice you need to install it properly.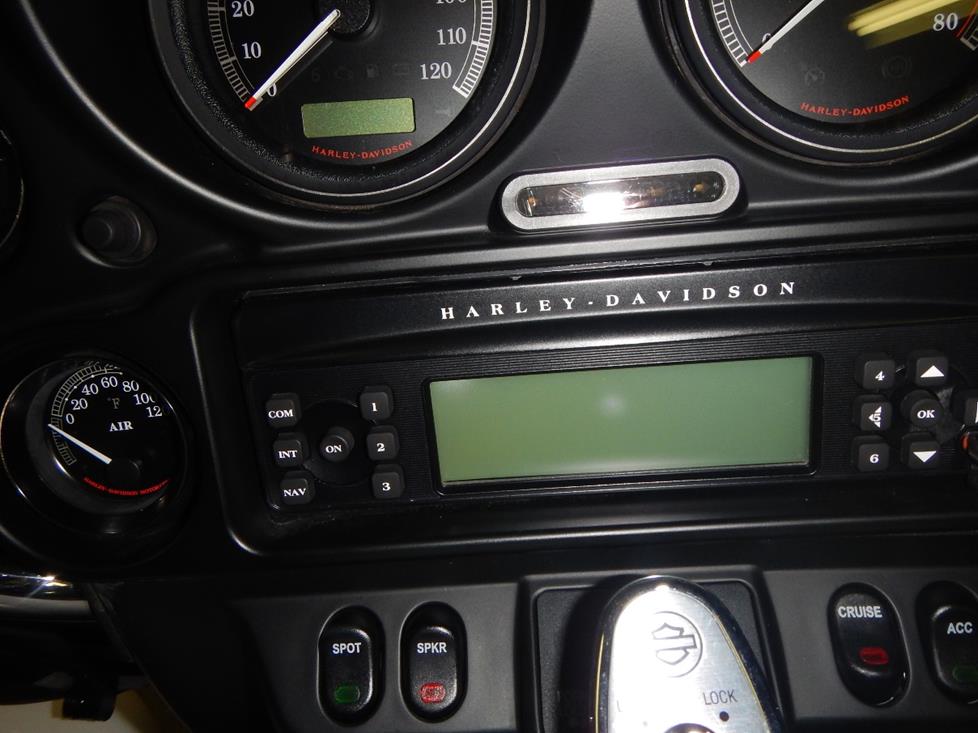 The factory radio can be replaced by a variety of aftermarket models. We recommend a digital media receiver. (Crutchfield Research Photo)
The factory stereo system
In addition to a base model with two speakers in the fairing, there was also a "Touring" package that included rear speaker pods. Replacing the gear isn't especially difficult for an experienced DIY-er, but if you're new to motorcycle repair or just not totally comfortable doing the work, you might want to consult a car audio shop in your area.

It's good to have a helper when you're removing the fairing (Crutchfield Research Photo)
Replacing the factory radio
Nothing against CD players, but when you think about it, they really aren't ideal for motorcycle applications. You may have come to this realization already, and if you're tired of listening to the radio while you ride, a new digital media receiver might be the very thing you need.
A variety of single-DIN (2" tall) receivers will fit into your Harley's dash, and the installation process is reasonably easy. You'll need some basic tools, a reasonable amount of time, and some DIY ability, but this is a totally do-able project for the average motorcycle enthusiast. And, as a Crutchfield customer, if you run into any trouble, our Tech Support team is just a phone call away.
Detailed stereo and speaker removal instructions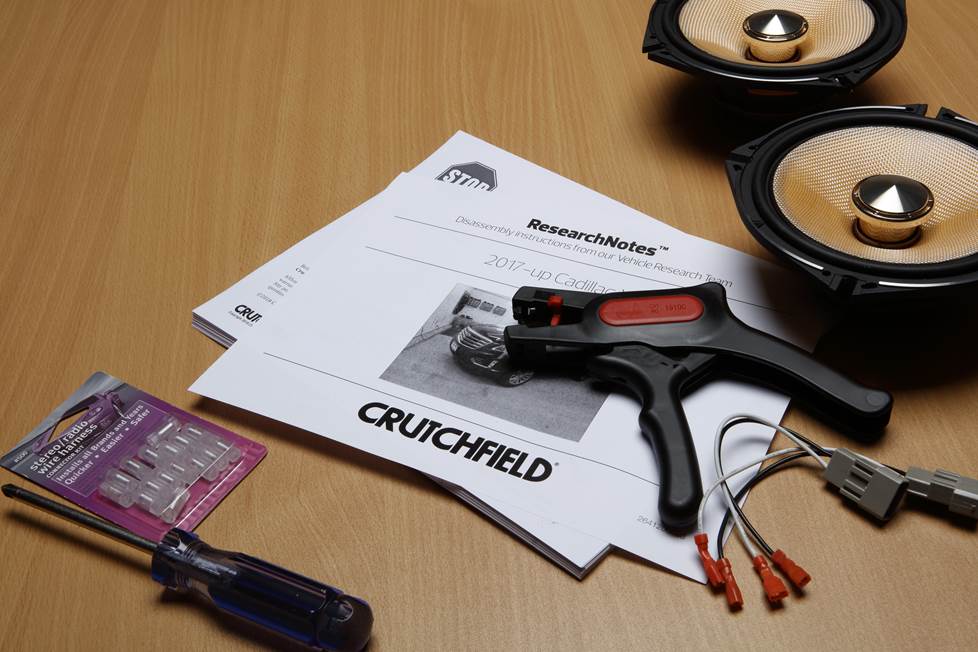 With step-by-step disassembly instructions and plenty of up-close, detailed photos, our exclusive
Crutchfield ResearchNotes
™ takes the guesswork out of removing the factory stereo and speakers. It's free with your Crutchfield order, or you can purchase one separately for just $9.99.
This bike is no café racer, so the fairing face is a rather substantial piece. We recommend having a friend around to help you remove and replace it safely. You should also have an old, soft blanket available to make sure the fairing doesn't suffer any unnecessary scratches while it's sitting on the garage floor.
For reasons both physical and, well, obvious, video receivers with retractable screens are not recommended for this (or any other) motorcycle. Video receivers in general are not recommended for motorcycles. And neither are texting at stoplights, juggling while riding, heading out onto the highway with a ferret tucked into your jacket, and using a Prius as your chase car. You get the point.
Note: Even if your Harley is not equipped with a factory radio, you can install an aftermarket stereo.
Tools needed: Torx T-25 driver, Phillips screwdriver, 3/16" and 1/4" hex drivers
Handlebar audio controls
It's relatively easy to retain the handlebar audio controls when you install a new stereo in your Harley. When you enter your motorcycle information, our database will choose the adapter you need to make your factory controls work with your new receiver.
Shop for car stereos that fit your Harley Davidson Electra Glide
Replacing the factory speakers

Here's a close-up look at the fairing speakers (Crutchfield Research Photo)
Fairing speakers
As long as the fairing face is off the bike and stored safely, you might as well replace the stock 5-1/4" speakers. You'll hear some improvement in your sound with just a new receiver, but if you really want to get the most out of your music, new speakers are a necessity. Add in the "While you're up…" factor, and doing it now will look like an even better idea.
A healthy number of 5-1/4" aftermarket speakers will fit this bike, plus there are some 6-3/4" models that can be bottom-mounted to the fairing with the help of brackets that are available with your speaker purchase. You'll want to use the factory speaker grilles with either size, so be careful when you're removing them.
When you're choosing your new speakers, remember that replacing the 1- or 2-ohm factory speaker with a higher-impedance aftermarket speaker will result in lower volume levels. Look for lower-impedance replacements.
Tools needed: Torx-T25 driver, Phillips screwdriver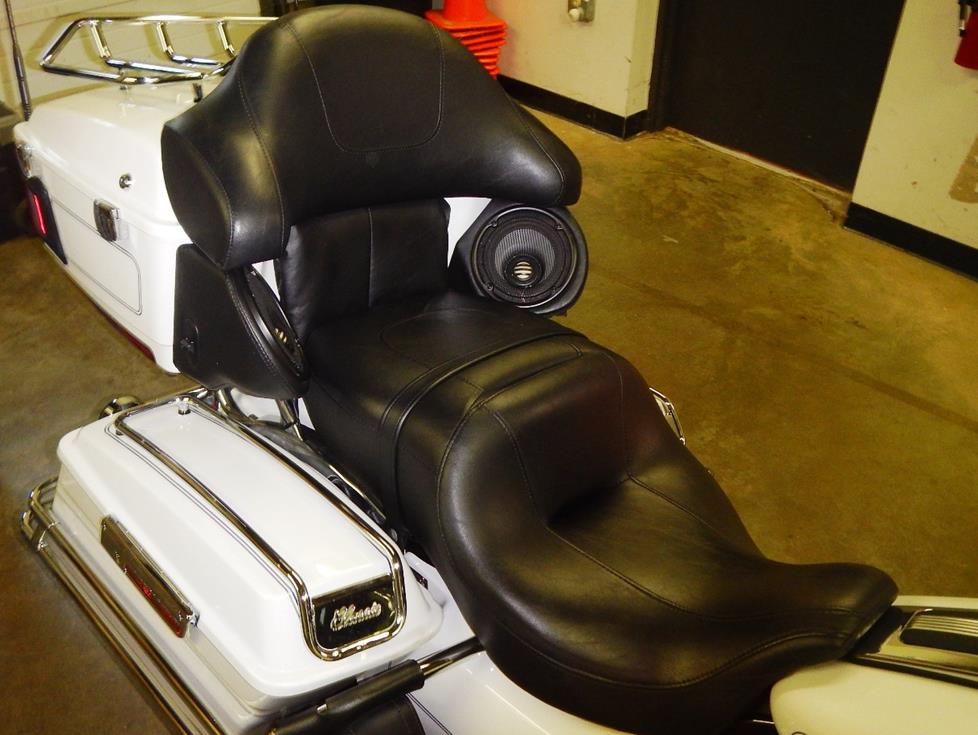 You can replace the "Touring" rear speakers with aftermarket 5-1/4" models (Crutchfield Research Photo)
Rear speakers
The "Touring" package includes rear speaker pods mounted on either side of the second seat. The stock speakers are 5-1/4" models, and there are plenty of aftermarket options, including marine-rated speakers that stand up to the elements.
These speakers are also quite easy to remove and replace. All you need to do is remove four Phillips screws securing the speaker and the grille to the speaker pod, then disconnect the wiring and remove the speaker and grille. You'll use the aftermarket grille that comes with your new speakers.
And again, remember that replacing the 1- or 2-ohm factory speaker with a higher-impedance aftermarket speaker will result in lower volume levels.
Tools needed: Phillips screwdriver
Shop for speakers that fit your Harley Davidson Electra Glide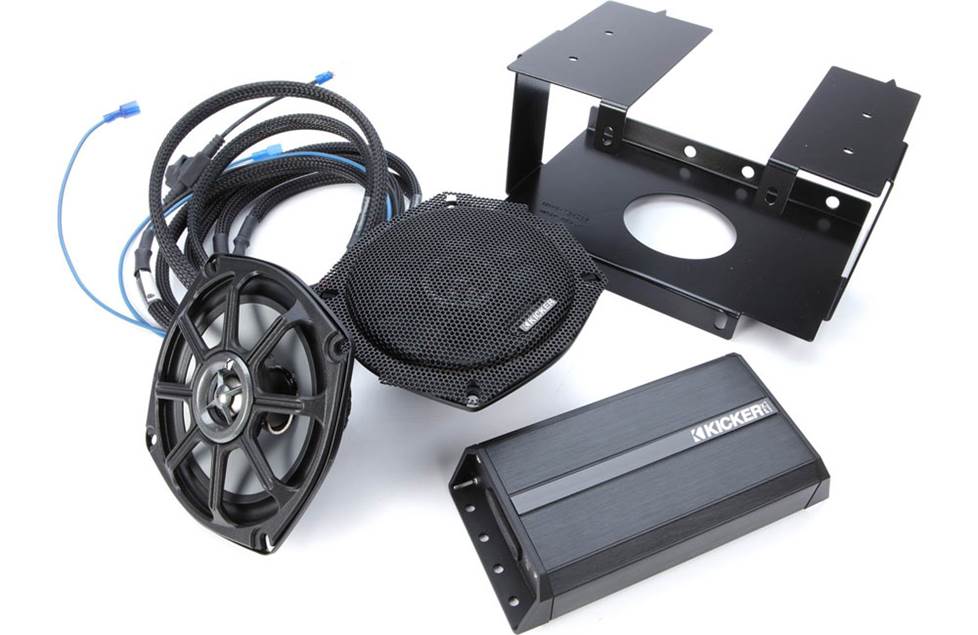 There's a Kicker kit made for your Harley-Davidson. Enter your bike's info to see what fits.
Other options for your Harley-Davidson
Here are some other great ideas for your Harley-Davidson:
Amps and speaker packages
If you're looking for a one-shot speaker solution, we offer speaker packages from Rockford Fosgate, Biketronics, and Klock Werks Powered by Kicker. To learn more, enter your bike info to see what fits. If you prefer to go "a la carte" with your audio system, a compact, weatherproof amplifier will make your speakers sound their best.
Camera
A GoPro camera is an awesome accessory for touring, and it can also be a handy thing to have on your bike when you're cruising around town.
Security
Installing a new security system on your Electra Glide, Street Glide, or Ultra Glide isn't easy (security systems rarely are), but it's definitely a good idea. Our Crutchfield Advisors can help figure out what you need to get the job done, but we usually recommend taking your car and new gear to a professional installer.
Let's get started!
Ready to shop? Use our vehicle selector to find the gear that will fit your car or truck. If you have questions of your own, give us a shout via phone, chat, or email