In this article... Adding a fairing or an audio system can be a great way to upgrade any cruising motorcycle. Adding both is an enormous upgrade to both sound and style.
t's a pretty radical change, in terms of both looks and audio performance, but this project really came together nicely. Ed, our Senior Operations Manager, recently decided to transform the look and sound of his Honda VTX 1800C.
A new fairing from our friends at Vector houses an outdoor-ready Aquatic AV digital media receiver, a pair of Kicker PS694 speakers and a Kicker 42PXA3004 4-channel amp. The result is a very nifty system that sounds great whether he's riding to work or cruising around town.
Before we get into the details, here's Ed to tell you about the experience:
Adding a sleek custom fairing
Believe it or not, space for audio gear isn't the only reason to add a fairing to your motorcycle. It's a very, very good reason, of course, but there's more to it. A fairing moves air over the bike (and you), which means improved aerodynamics, extra protection from flying debris, and a more comfortable ride overall.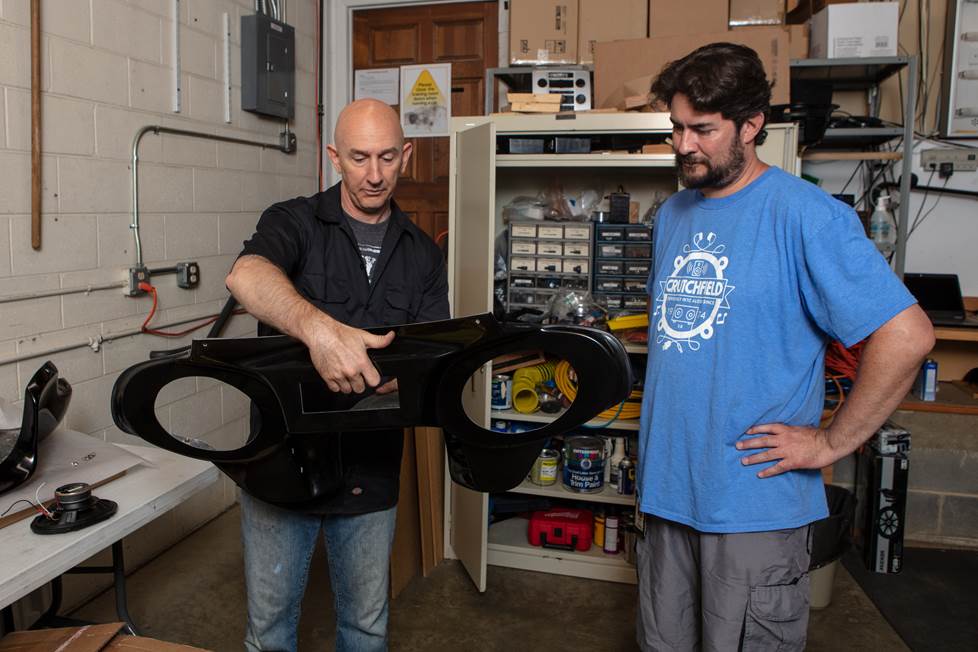 Ed (left) and Managing Editor Matt take a closer look at the Vector fairing
When Ed started planning this project, he quickly decided that a Vector Batwing Fairing would be the ideal home for his new system. He talked to some folks at Vector, who agreed that this really was a great idea and agreed to provide the fairing. Ed was very impressed with the fairing he chose, and very grateful to Vector for their partnership on this build.
Designed for this Honda model and made from hand-laid fiberglass, the fairing is finished in gelcoat and looks pretty sharp out of the box. Ed plans to wrap his fairing, but for a lot of riders, the standard gelcoat look would be perfect. Installation was generally easy, with the expected filing and fitting, but very little excess drama. He also added a headlight extention kit from our friends at Glen's VTX Garage. Ed spent about two days on the project, but that time did include photography and a few stops to deal with actual, y'know, work stuff.
This rugged receiver is ideal for motorcycles
The Aquatic AV AQ-MP-5UBT-S is a tough, smart, all-weather digital media receiver that's ready for the road. This rugged receiver has a lot of cool features that are ideal for motorcycle applications like this one, including AM/FM radio, built-in Bluetooth® connectivity, and an internal device shelf that'll hold a smartphone or media player behind the removable water-resistant face. There's even a USB port for charging Ed's phone. A water-resistant faceplate cover comes in handy when Ed parks and stashes the removable faceplate in his jacket.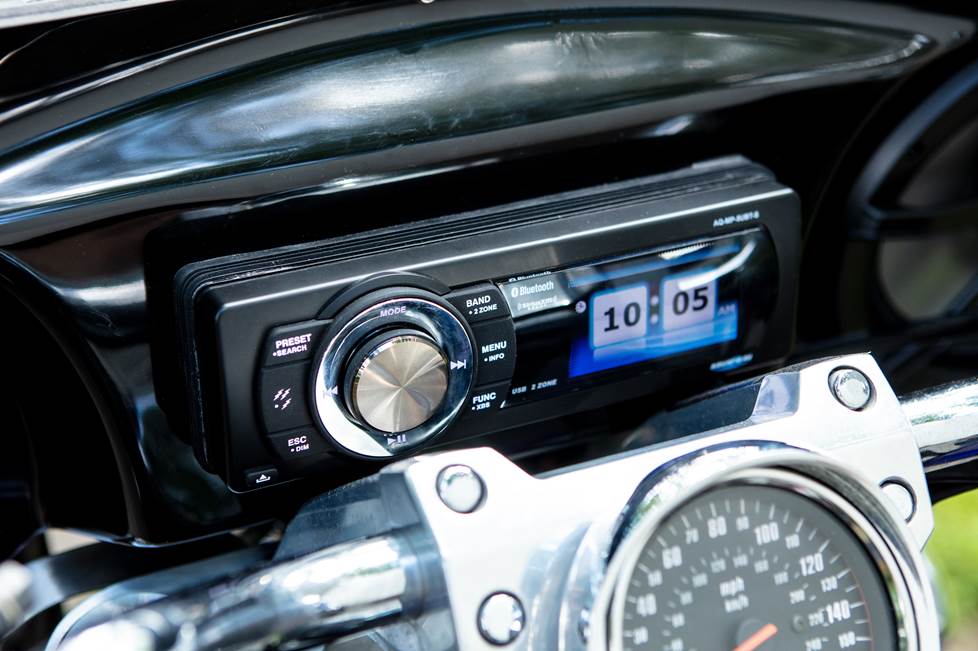 The Aquatics AV receiver fits neatly into the fairing
Note: In case you're wondering, this receiver will NOT work with Harley-Davidson motorcycles. For those, you'll need Aquatic AV's AQ-MP-5UBT-HS digital media receiver. It fits select 1998-2013 touring bikes and comes with Harley-specific mounting brackets and a direct plug-in to the Harley-Davidson wiring harness.
Two Kicker speakers deliver serious sound
Ed chose a pair of Kicker PS694 6"x9" speakers for his Honda. These rugged, travel-ready speakers are the biggest and baddest models in Kicker's motorcycle/powersports lineup, and they really bring the noise. Each PS694 features a heavy-duty ceramic magnet, rugged components, and weather-resistant materials, so they'll sound great for years to come. And no matter how loud they get, the high-efficiency design will ensure minimal current draw, which is good news for this bike's battery.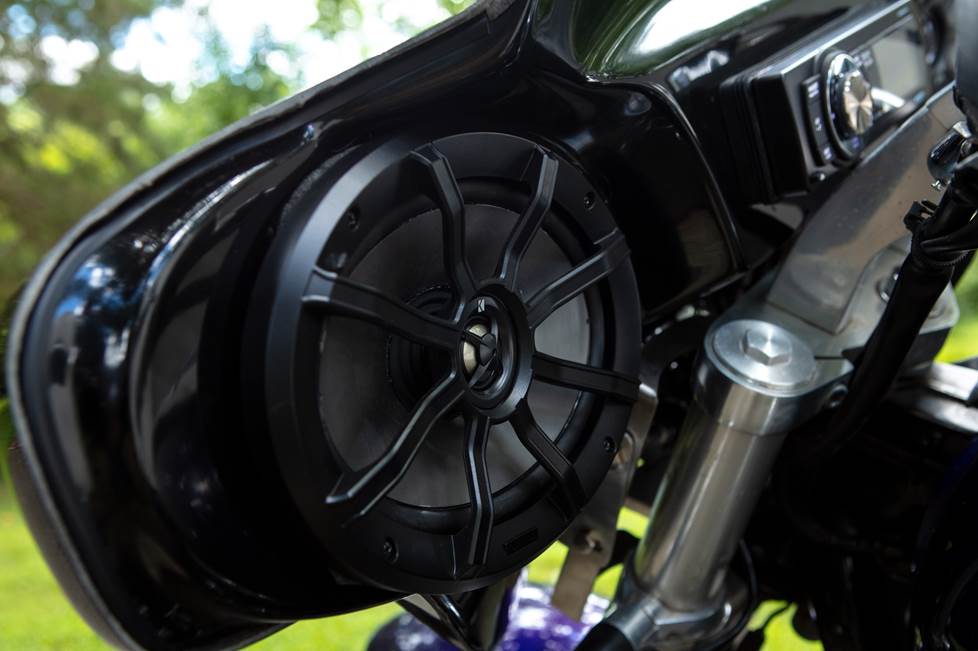 The Kicker speakers are built tough and crank out plenty of sound
Ed installed Stinger Roadkill speaker rings on the speaker frames and behind each speaker. The rings help minimize resonance and improve the mid-bass response.
This compact Kicker amp has plenty of power
As impressive as the speakers are by themselves, Ed wanted to make sure they got all the clean power they could. He chose a Kicker 42PXA300.4 amplifier, an astonishingly compact (about the size of a brick) model that delivers up to 75 watts per channel. This water-resistant 4-channel amp fit neatly into the fairing and it really helps the music stand out over wind and road noise.
Here's what Ed installed on his Honda
Kicker 42PXA300.4 4-channel moto/marine amplifier
Vector Batwing Fairing (Great people to work with, by the way!)
Headlight Extension Kit from Glen's VTX Garage
Bring better sound to your bike
Thinking about upgrading the audio on your motorcycle? Check out our full selection of motorcycle audio systems. And don't hesitate to reach out to our Advisors via phone, email, or chat. Their experience with systems like these can save you hours of research!