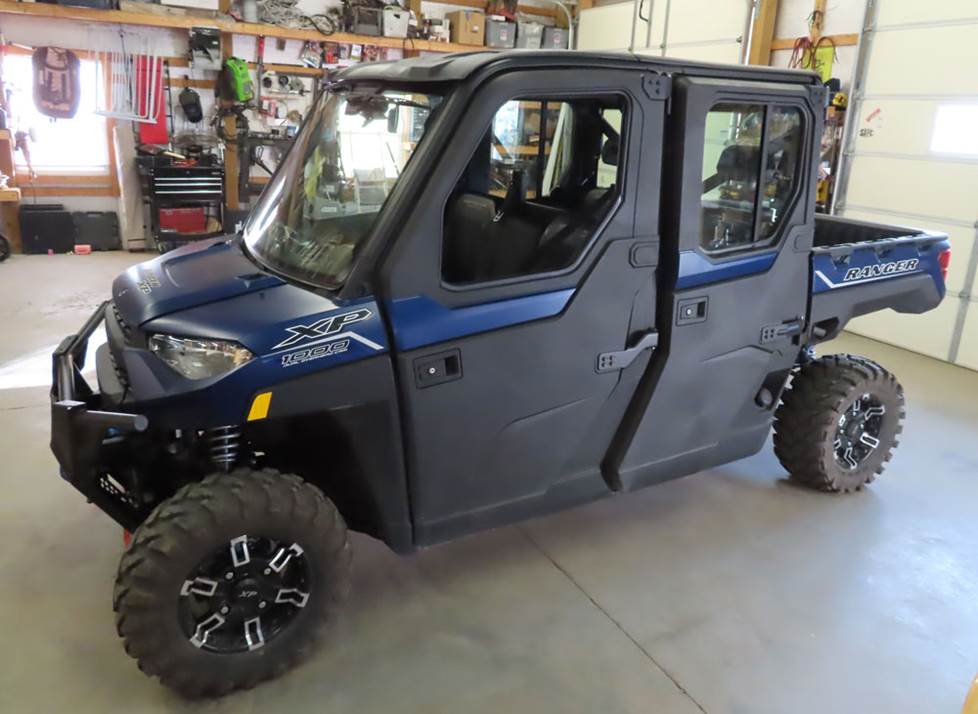 In brief: This Crutchfield Research Garage article gives you an overview of your Ranger XP 1000's stock stereo system and your aftermarket upgrade options. We'll tell you all about:
Then, use our vehicle selector to find the gear that will fit your Polaris.
Overview of the Polaris Ranger XP 1000
The Polaris Ranger XP 1000 is, first and foremost, designed for hard work. There's plenty of horsepower, plenty of useful space, and a truly vast array of comfort, convenience, and attachment options available. Basically, the XP 1000 is what you'd get if you crossed a mini-truck with a full-size farm tractor.
But that doesn't mean you can't have some fun with it. You can cruise the back forty, explore the woods, or even tow a race car to the starting line with this versatile beast, and that's just a few uses we can think of off the top of our heads.
You might want to enjoy some music while you're doing any or all of those things, and that's where we come in. There are a growing number of audio upgrade options for the Ranger XP 1000, ranging from Bluetooth® enabled soundbars to full custom systems designed to bolt right into your UTV.
This article is designed to give you a broad look at what's possible and a closer look at some of the disassembly tasks you'll need to perform if you install a custom system in your XP 1000 or XP 1000 Premium UTV. To see everything that's available for your ride, enter your vehicle information.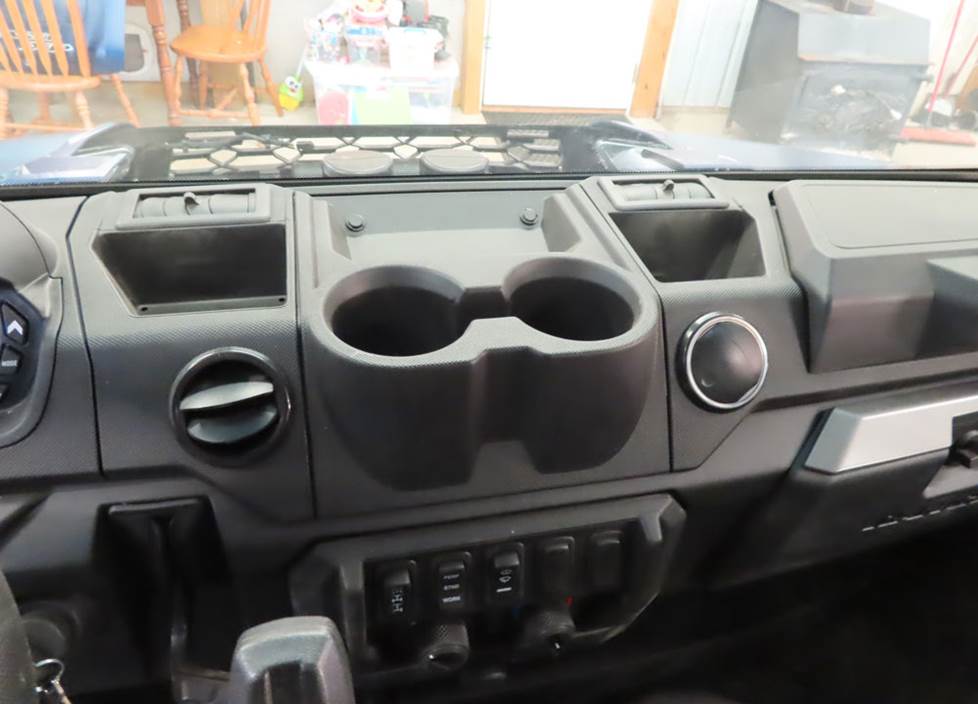 The Ranger XP 1000 can be had without a radio (shown) or with the optional 7" Ride Command system monitor (Crutchfield Research Photo)
The Ranger's factory stereo system
The Ranger XP 1000 is kind of like a pickup in a lot of ways, but the one that's relevant here is that it can start off pretty basic and be optioned up into something pretty trick. The Ride Command® package includes a factory-installed 7" infotainment system monitor with Bluetooth connectivity, GPS mapping, AM/FM radio, vehicle diagnostics, a backup camera, and more. There's also a pair of in-dash speakers, which we'll discuss below.
If you don't have a radio at all, you'll want to add one, plus a pair (or more) of aftermarket speakers. If your Ranger has Ride Command, there are specialized harnesses that let you connect an amplifier to power your speakers and subwoofer.
Have questions? That's what we're here for. Our experts will help you design a great system for your Ranger, and make sure you have the accessories and harnesses you need to install it yourself. Give us a call or chat when you're ready to start choosing your new stereo gear.
Shop for speakers that fit your Polaris Ranger XP1000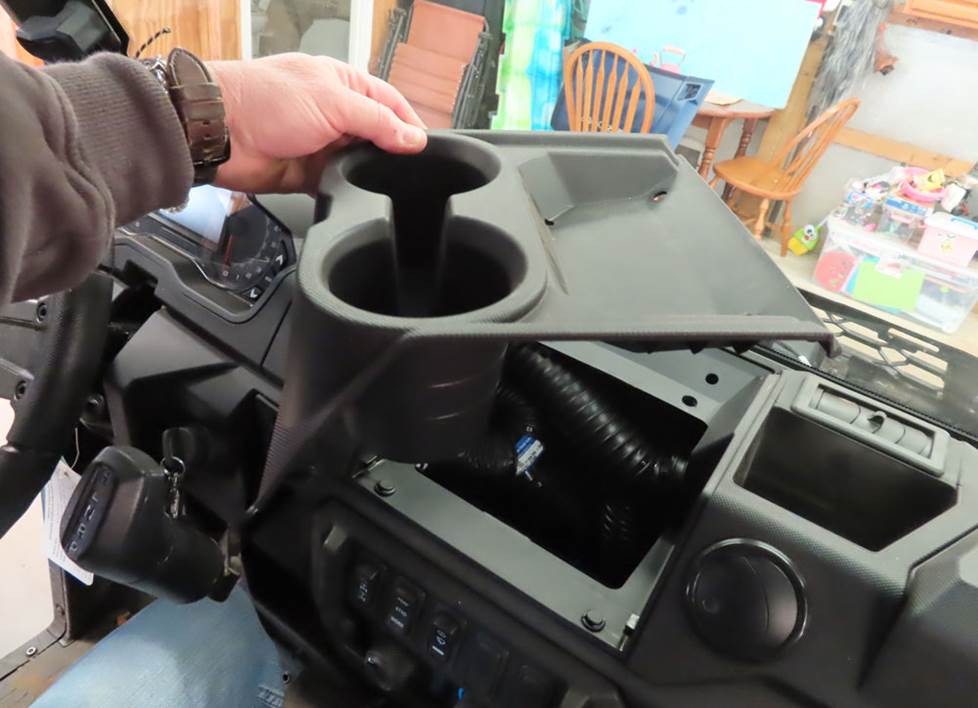 The SSV Works dash kit fits into this opening at the top of the dash (Crutchfield Research Photo)
Removing the factory dash
If you're installing a custom receiver and/or speakers, the job begins with taking the relevant pieces of the dash apart. This isn't hard to do, but there are a few steps to the process, so it helps to be patient and stay organized.
The first step is to disconnect the battery. Flip up the passenger seat and remove the center tray to access the battery, then disconnect the negative battery cable. Once that's done, you can get to work on the fun stuff.
The process begins at the top of the dash. Pry out the two center push pin clips in the top dash tray by first prying out the center pin, then removing the entire clip. With that done, you can pull the top dash tray toward the rear of the vehicle and remove it, then remove the two center push pin clips exposed by removing the dash tray.
Remove the two center push pin clips securing the gauge cluster assembly, then pull the assembly toward the rear of the vehicle, disconnect the harness, and remove the cluster. Once that's done, you'll see two center push pin clips, and you'll need to remove those, too.
Next, remove one center push pin clip beneath each side vent. Pry out three clips and remove the two Torx T-25 screws securing the headliner, then disconnect the windshield wiper harness, if your Ranger is so equipped.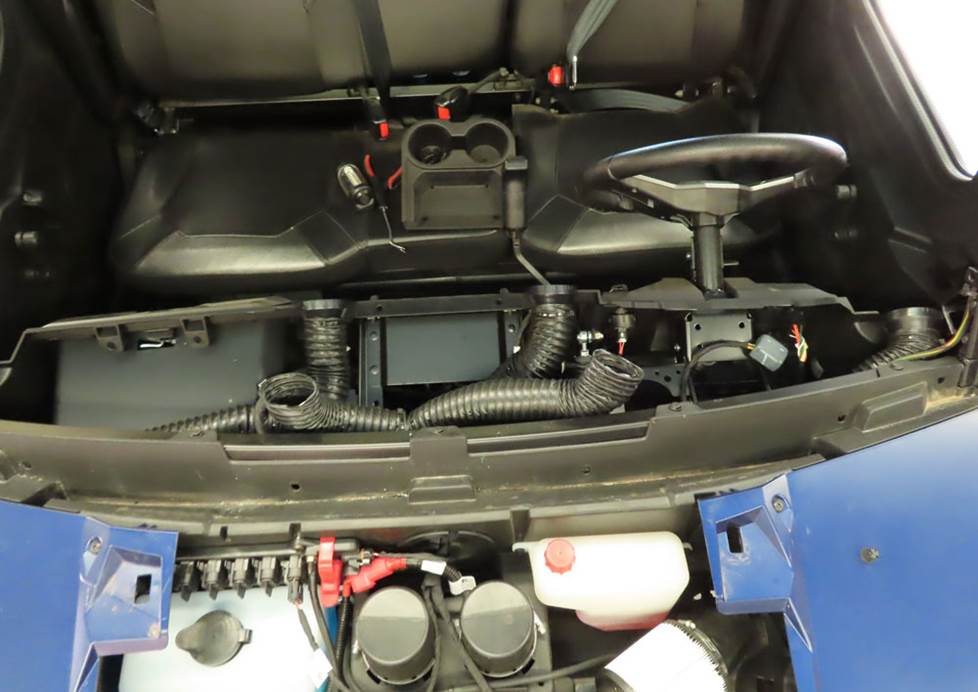 Removing the windshield is part of the process. It's not as hard as it might look. (Crutchfield Research Photo)
If your Ranger has a windshield, that'll need to come off. Turn the four latches securing the windshield, remove the windshield, then pull off the two foam gaskets in the lower windshield corners. Be careful with those gaskets, because you'll reuse them when you put the whole deal back together.
Pry out the six center push pin clips along the front edge of the dash, then open the upper glove box lid and remove four Torx T-25 screws before removing that assembly. That will expose two center push pin clips, which you'll also need to remove.
Remove the four round dash vents by rotating them counter-clockwise, then lift the dash panel, cut the zip ties securing both defroster hoses, then lift up the dash panel and remove it. Make sure you have some new zip ties handy for reassembly!
To install the new radio/dash kit assembly and/or the new speakers, follow the instructions included in that package. Be sure to test the system before you put the whole deal back together. If you run into some challenges, remember that when you buy your UTV stereo and speakers at Crutchfield, you also get free tech support for the life of the gear.
Tools needed: Panel tool, Torx T-25 driver, wire cutters, flathead screwdriver for push-pin clips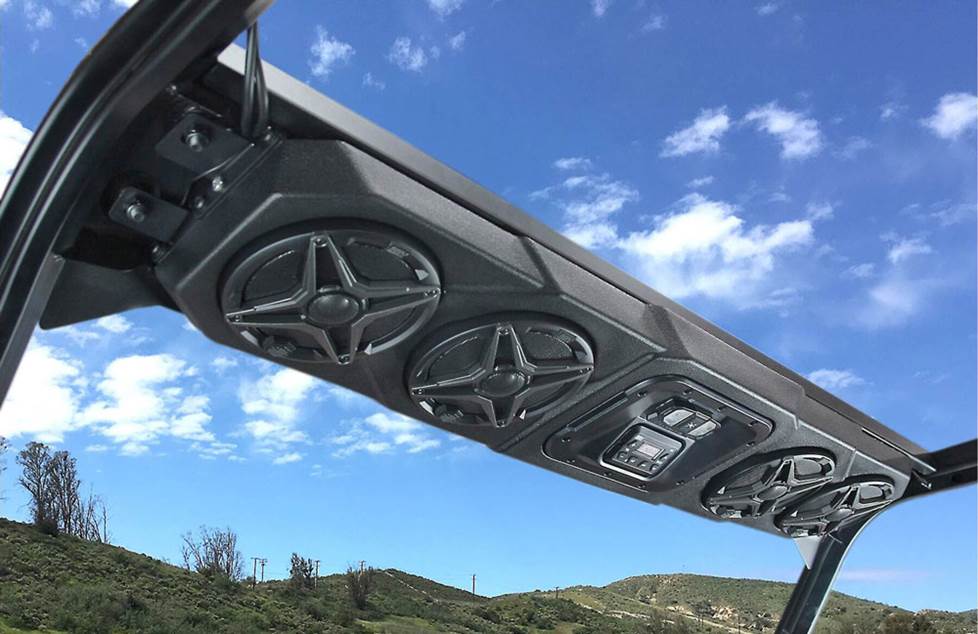 This SSV Works sound bar is made for your Ranger XP 1000
Adding a sound bar to your XP 1000
If you don't want to install a whole new system to your Ranger, you can always go with a weatherproof sound bar. There are a wide variety of "universal fit" bars that can work on your Ranger, but it will depend on your roof situation. These bars sound great, and you'll enjoy the convenience of pairing up, choosing a playlist, and tucking your phone into a nice, safe, dry pocket.
There's also a custom-fit SSV Works sound bar (shown above) that fits neatly into the front of the roof and contains a 2-piece digital media receiver, four great-sounding SSV Works speakers, and a super-bright dome light. It's also weatherproof and Bluetooth-enabled, of course.
If a sound bar doesn't quite work for your situation, you still have options. If you have a receiver or Ride Command system, you can add a set of tower speakers that will clamp securely onto the rollbar and provide great sound. If you'd prefer a more minimalist solution, there are some excellent Bluetooth packages that include speaker pods and an amplifier.
Shop for car stereos that fit your Polaris Ranger XP1000
Adding speakers to your Ranger XP 1000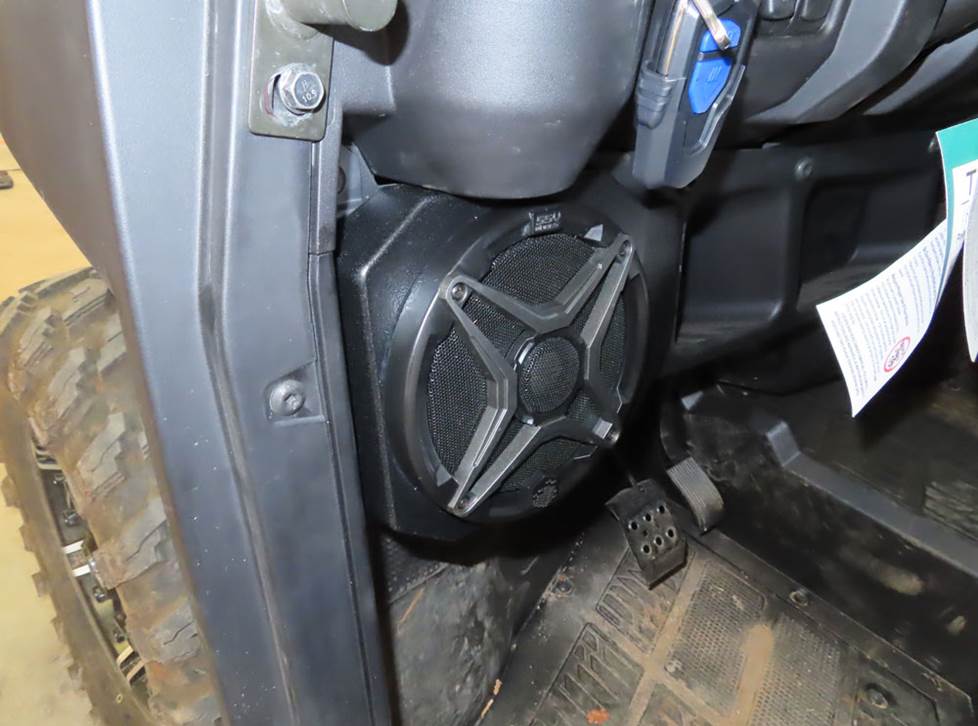 The SSV Works speaker pods fit right into your Ranger. They're available loaded or unloaded. (Crutchfield Research Photo)
If your Ranger XP 1000 has a factory receiver or RideCommand unit, you also have a pair of in-dash speakers. If you don't have anything in the dash, you'll want to fix that and add some speakers while you're up. As you might expect, the aftermarket is there for you with some very cool, vehicle-specific options.
There are some very nifty custom speaker enclosures available for the Ranger XP 1000. The enclosures from JL Audio, MB Quart, and SSV Works are made from rugged, durable materials and finished with textured coatings that blend right into your Ranger's cockpit.
Use our vehicle selector to find the speakers and other gear that will fit your Ranger.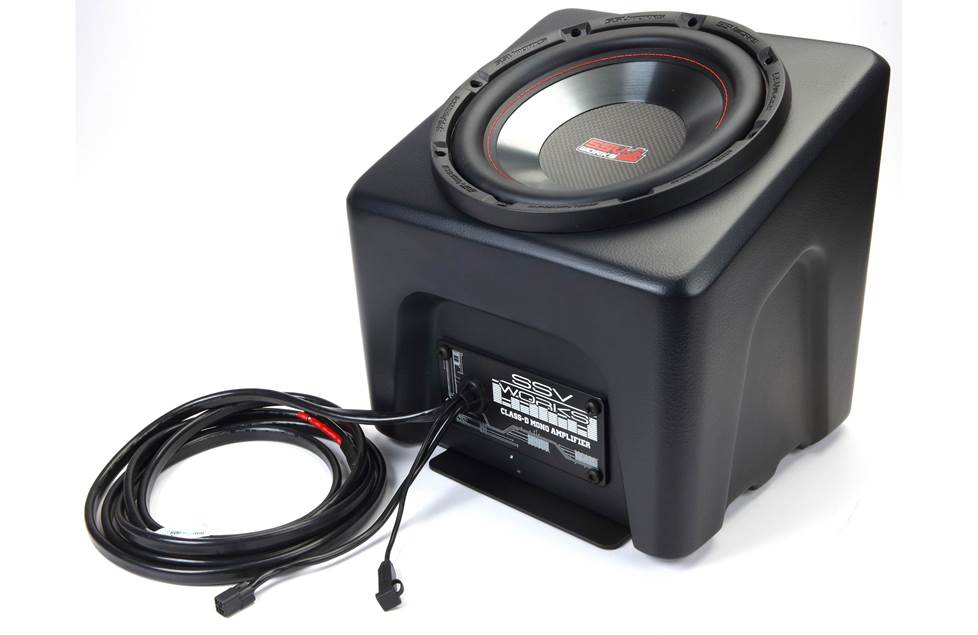 This SSV Works powered sub fits under your Ranger's front seat
Bass in your Ranger XP 1000
If you're installing a custom subwoofer and enclosure, the job is pretty easy overall, but there are some things you'll need to do. Powered subs are available, as are complete kits with speakers and a sub
If you flipped the passenger seat back down while you were working on the radio, flip it back up to work on the subwoofer situation. Using a panel tool, extract the push pins to remove the cover over the center driveline center column. Next, you'll see three T-40 Torx screws on the floorboard to the right of the battery compartment. Remove those.
SSV Works subwoofer enclosures include a mounting bracket. Before installing this, you'll need to align the bracket and the enclosure, then place it on the floorboard and mark the spots for your new mounting holes. Once the markings are done, you'll use a power drill and a 13/64" drill bit to drill the new holes. This isn't hard at all, but we recommend that you work carefully and wear eye protection. To ensure a solid, safe installation, be sure to drill through the chassis beneath the floorboard.
Complete instructions are included in the instructions included with your sub/enclosure combo.
For non-custom subs (and amps), you'll need to mount those securely, too. We recommend a sturdy Metra ABS mounting plate. This 12" by 12" sheet of 3/16-inch thick ABS plastic can easily be cut to the shape you need and drilled into for mounting screws. You can even shape your ABS bracket to fit irregular surfaces by applying heat and bending the plastic.
Tools needed: Panel tool, Torx T-30 and T-40 drivers, flathead screwdriver, power drill and 13/64" bit, pen or marker
Shop for vehicle-specific subwoofers for your Polaris Ranger XP1000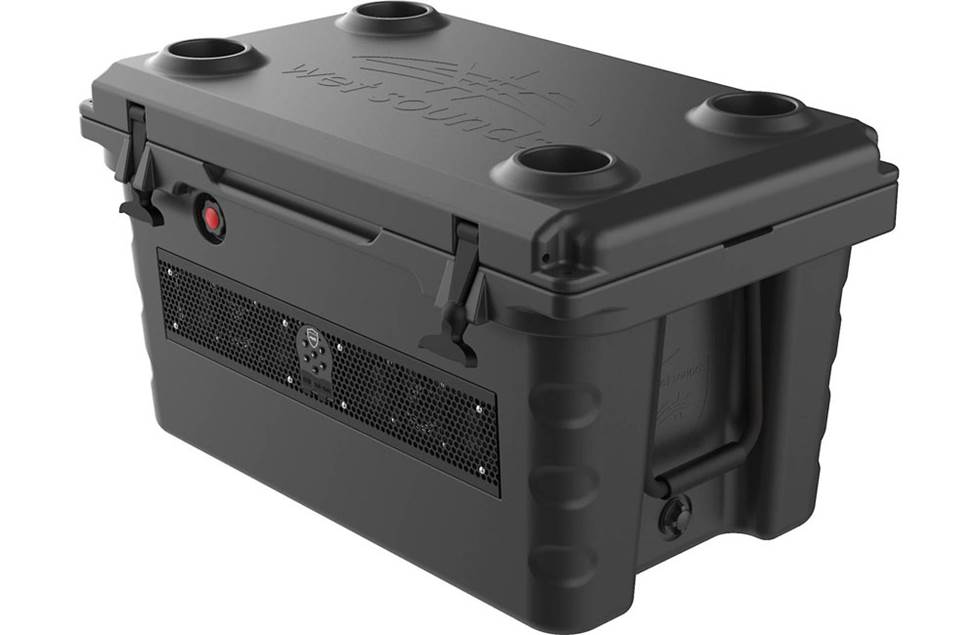 This cooler is also a Bluetooth stereo. With six colors to choose from (Battleship Gray, Black, Desert Brown, Desert Tan, Seafoam, and White), you can get the look you like.
Other options for your XP 1000
Here are some other cool ideas (including a cooler) for your Polaris Ranger XP 1000.
Record your ride with action cameras
An action camera is a great way to record your coolest or wildest rides. You can mount these rugged, compact cameras wherever you want to get the view you like.
Keep in touch with two-way radios
When you're out in the boonies with your friends, knowing where you are and where everyone else is can be crucial. Our selection of off-road GPS units and two-way radios will give you the information and communication you need when you're getting away from it all.
Off-road ready accessories
If you're looking for "universal fit" amplifiers and subwoofers, we can help you with that. We also offer an ever-growing collection of other accessories, including clamps, lighting, and some exceedingly useful all-weather mounts and bags.
A very cool cooler
Sometimes, all you need for a good time is a cooler full of beverages and some cool music to get the party started. The Wet Sounds SHIVR-55 is a rugged cooler that holds plenty of food and beverages, but it also contains a Bluetooth stereo system with a built-in amp and six speakers. The built-in lithium-ion battery pack gives you up to eight hours of play time, and you can recharge it from any AC outlet.
Let's get started!
Ready to shop? Use our vehicle selector to find the gear that will fit your car or truck. If you have questions, give us a shout via phone, chat, or email