Integrating your smartphone with your car stereo. In this article, we'll talk about several ways you can access the handy features your phone brings to the table when you connect it to a car stereo.
How can I use my smartphone with a new car stereo? That's one of the questions our advisors get asked every day. And as the technologies within both phones and stereos and the ways to connect them continue to evolve, it's a topic we do our best to stay on top of.
There are two main factors to consider when deciding on a stereo to work with your phone:
1. Which phone functions do you want to use?
The first is which smartphone functions in particular do you want to use with your stereo. There's a veritable laundry list of possibilities here, but most people usually want one or more of the basics: hands-free calling, playing music stored on the phone, streaming music, news, or podcasts using a specific app, integrating other apps (such as navigation), and phone screen mirroring.
2. How do you want to connect — wires or no wires?
The other factor is the type of connection that you feel most comfortable with, whether it's a wireless option like a Bluetooth® connection, or a single-cable solution such as USB, or possibly something a little more involved. Some functions can work between different phones and stereos when connected in different ways, but other functions require a solution that's a little more robust, regardless of the phone or stereo involved.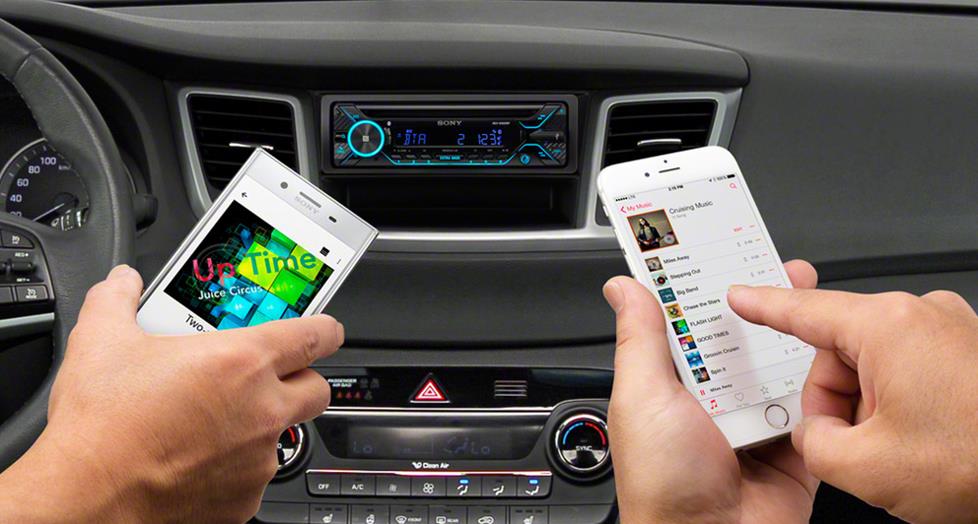 Bluetooth® for audio streaming and hands-free calling
Bluetooth wireless connectivity is typically the most convenient way to get audio from your phone to your stereo, since it doesn't require any plugging in. And when an important call comes in, you can talk without worrying about holding your phone while driving.
And when it comes to music, a Bluetooth connection lets you see, select, and control your music from the stereo, even from a lot of streaming sources.
App control for your radio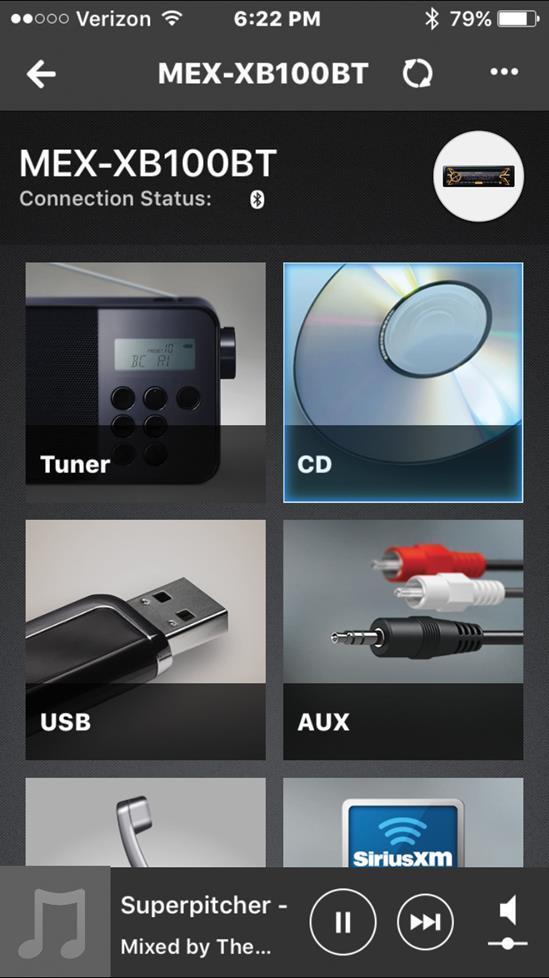 A lot of stereo manufacturers offer apps to control the stereo from your phone when using Bluetooth. This is really handy for tuning the sound. It's often much easier to adjust the stereo's sophisticated sound controls using your phone.

As you can see from this screenshot, Sony's app lets you control the playback and volume of your music from select Sony stereos, as well as choose which source you want.
Bluetooth has often gotten a bad rap for having noticeably less fidelity than a wired connection, but with sound-enhancing developments like aptX®, the sonic differences between Bluetooth and a wired connection — or even CDs in some cases — are hardly noticeable. Here's our selection of stereos with aptX. To enjoy Bluetooth with aptX, your phone needs to have it, too. Other upgrades like Wide Band Speech Technology allow for easy-to-understand conversations between you and your callers. Receiver makers also listened to customers and provided current stereos with the ability to pair more than one phone for multiple users.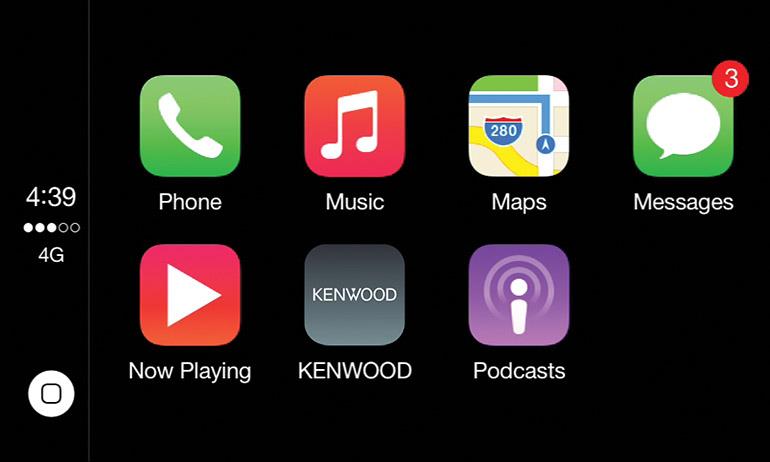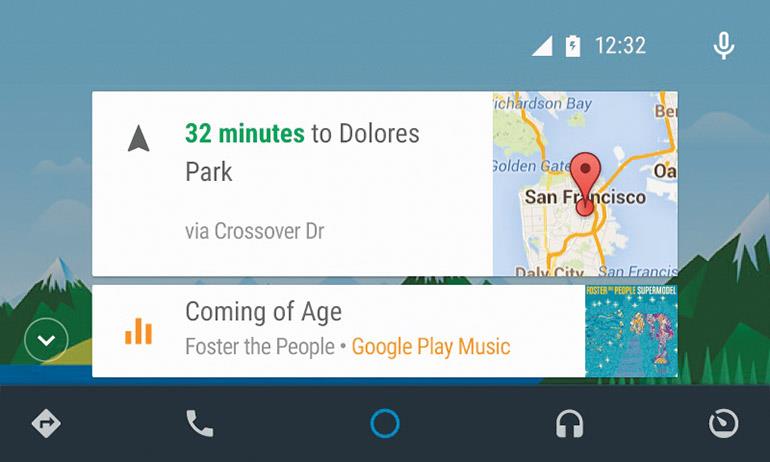 Direct control over your Android and iPhone
Android Auto™ and Apple CarPlay® compatibility both do very similar things: they allow receivers to replicate commonly used phone functions and apps for calling, music, maps, and messaging on the receiver's touchscreen display.
Do the displays look familiar? In both cases, the user interface is similar to the phone's, but optimized for in-car use. And like your phone, you can control the apps with both finger touches and spoken commands. You can even have your incoming texts read aloud to you as you drive. Connection is easy — you plug into the receiver with the USB cable that came with your phone, whether it's an iPhone or Android.
Some receivers offer compatibility with both Android Auto and Apple CarPlay, making them a great choice for owners of either kind of phone, or for those who share a vehicle with drivers who use different phones. There are also many wireless options for both platforms, where you don't even have to plug in your phone.
Our overview of Apple CarPlay provides more details on how it works, while our introduction to Android Auto explains how it can help you use your smartphone from the driver's seat.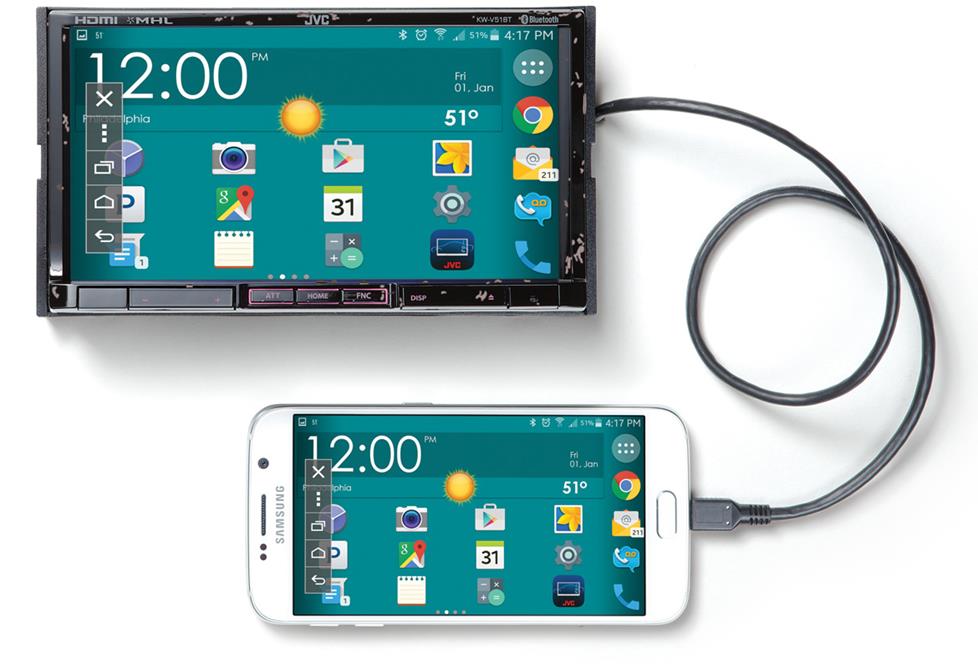 MHL/HDMI connection for phone screen mirroring
MHL stands for "Mobile High-Definition Link," and it's a technology standard for transmitting video content from one source to another via an HDMI cable. With the right combination of Android™ phone, cables, and receiver, it's a convenient way to view maps, music info, and other phone apps trough the receiver's display (you'll need to be parked in some cases, such as when using video apps like YouTube® and Netflix®). Currently, MHL technology is only compatible with Android phones.
iPhone® users can also benefit from an HDMI connection. It will allow users to view stored videos (while parked) and select apps on the stereo's screen. In most cases, an extra adapter (or adapters) is required, and not all stereos feature an HDMI connection, although they are becoming more common in order to allow compatibility with Apple's Lightning™ interface.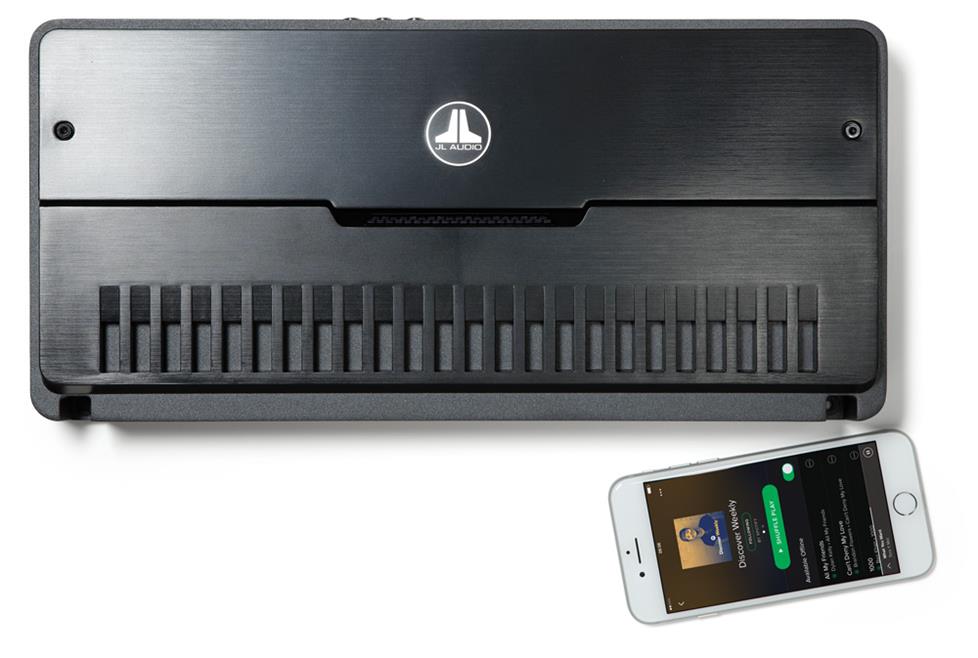 When you can't install a new car stereo
There are those vehicles that simply aren't accommodating to a new car stereo. But, there are still ways to upgrade your sound system and get your phone involved. We now carry several amplifiers that have Bluetooth built-in, so you can still integrate your phone into the system without replacing the stereo. And the new amp will give your music a big boost in sound and clarity.
If you have more questions about how to integrate a smartphone into your car, check out these articles: