Eric S's 2015 Honda Accord Sport
Gradual upgrades make this everyday commuter car sound awesome
We really like this installation, not just because it's cool, but because we were in touch with Eric the whole time he was working on it. We always tell people that building a system in stages can be highly rewarding, and Eric's Accord proves our point nicely. Honestly, we had fun just following along!
Eric is an engineer by trade, so planning, innovation, and attention to detail are basically second nature. There's a lot of all three in this system, which combines a new Alpine receiver with the old factory head unit in one of the niftiest installations we're seen in a while.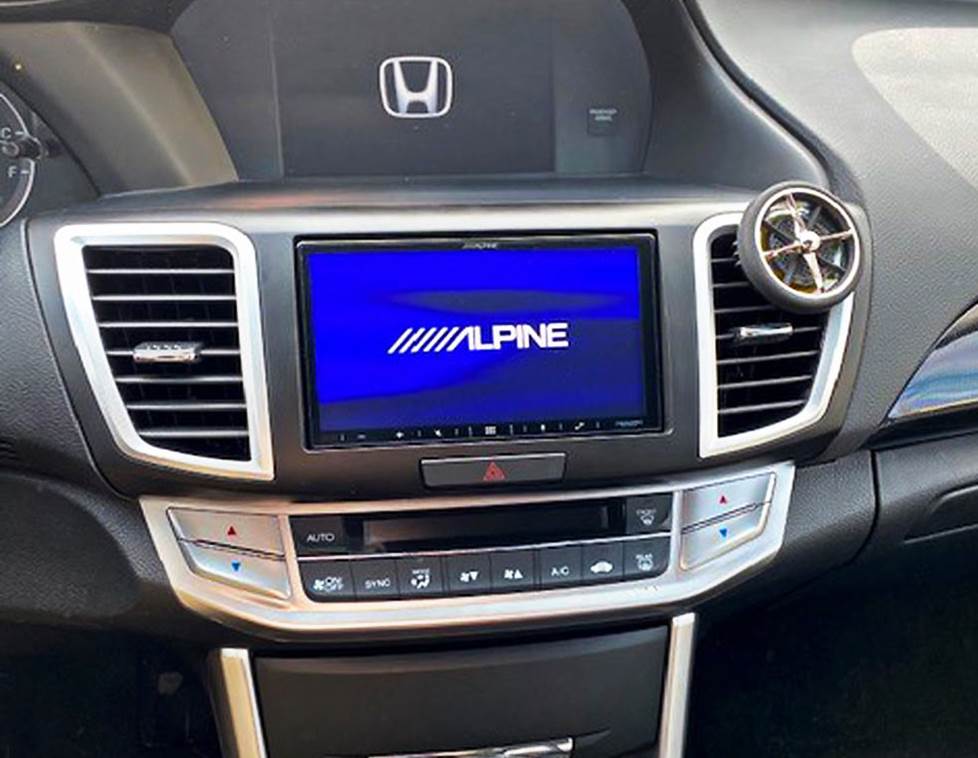 The Alpine iLX-650's slim profile made it a great choice for the Accord's dash. Eric is impressed with the performance and functionality, too.
Items installed:
Polk db1001 tweeters in front door sail panels
Fat Mat damping mat
OEM Honda Accord EXL mirror sail panels with tweeter mounts
Donor OEM Accord radio (to harvest connectors)
Kicker Hideaway HS8 8" subwoofer (perfect fit under passenger seat)
Stock lower front door speakers
Alpine KTP-445U amplifier (in dash under head unit, where ANC module once resided)
Alpine iLX-W650 CarPlay head unit
Scosche HA1717B radio dash installation trim kit
Polk DB652 Speakers (rear deck)
PAC SWI-RC steering wheel remote adapter
Scosche HAA2B antenna adapter
Microbypass device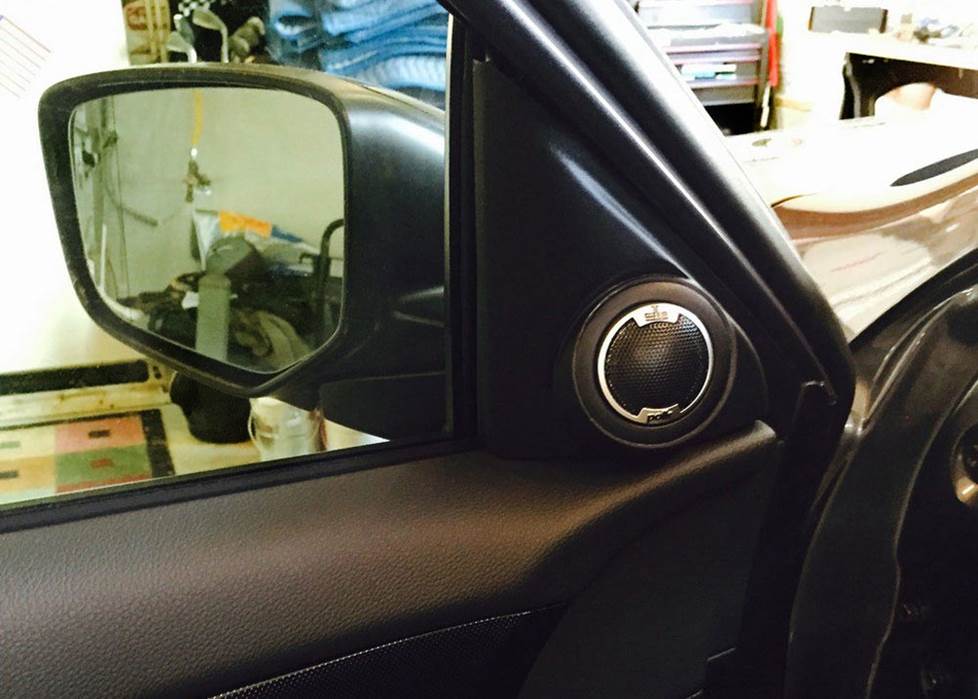 The Polk Audio tweeters look like they're factory pieces.
The installation
"My approach was 'modular' in that upgrades had to be compatible with future mods, since I couldn't afford to buy this whole system at once. The goal was making my 105-mile daily interstate commute more enjoyable, so cost mattered and sound quality was more important than volume.
Polk tweeters
I installed the Polk db1001 tweeters right after buying the car new, using OEM EXL model sail panels, with molded tweeter mounts that were perfect for the DB1001s. About 2 years later, I added the amazing Kicker Hideaway HS8 powered sub. With just these two upgrades, a friend with an identical car but with over $3000 invested in modifications told me it beat his car easily (per dollar spent)!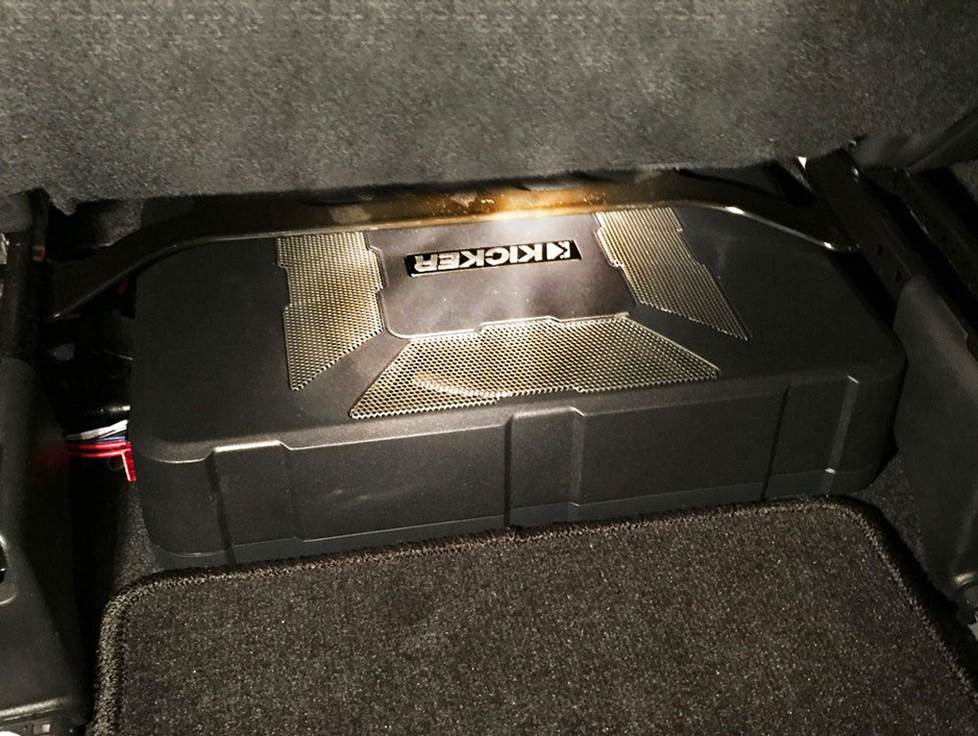 Eric needs trunk space, so he chose this compact Kicker powered sub and installed it under the passenger's seat.
Alpine amplifier and car stereo
The next upgrade, in the Summer of 2019, was the Alpine KTP-445U 45W x 4 amplifier, (which can be bridged to 90x2). This fit neatly inside the dash under the factory head unit.
The "pièce de resistance" was the addition of the Alpine iLX-650 CarPlay receiver in December 2019. This slim-profile beauty not only sounded amazing, but allowed burying the factory head unit chassis in the dash behind it without infringing on storage bin space below. The W650/445U was only connected to the factory speakers. All other harnesses remained connected to the buried factory head unit, allowing full function of the factory iMID display, including the back-up camera, MPG display, etc.
Polk speakers and factory system controls
The final steps were installing Polk DB652s in the rear deck and fabricating an "umbilical" cord to the buried factory receiver using connectors I harvested from a donor model found on eBay. With this umbilical, I can still make occasional adjustments to factory display settings like clock, auto headlight sensitivity/timing, etc. I keep the donor faceplate in a soft case and connect it only as needed."
Okay, let's pause for a moment to ponder what Eric just shared. He created his own custom installation harness to allow all the car functions to continue working via the OEM display. Normally everything gets routed through the new stereo and inevitably some factory functions are lost. Impressive.
Later, he created a remote cable option using parts he took from a second OEM radio (purchased on eBay) so that he can make adjustments to the factory settings when needed. This is hardcore stuff that required lots of research and know-how. Not for the faint of heart.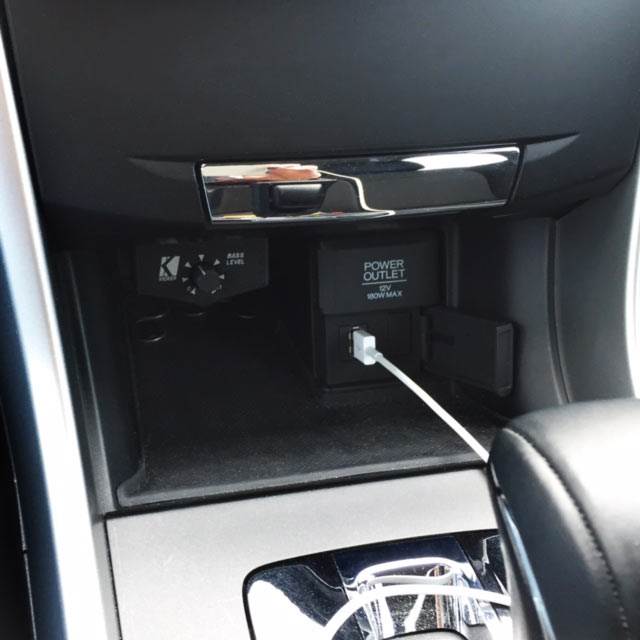 The sub controls fit neatly into this cubby in the center of the dash.
Q&A
Why did you decide to upgrade your A/V system?
The stock system had zero high frequency response.
What's the first thing you show people about your installation?
The stock appearance. With the invisible sub and the EXL tweeter panels it looks like the car was built this way.
Why did you choose these products?
Quality and features per dollar spent, fit/space consumption, and future upgrade-ability.
What was the most difficult part of the installation?
Wiring and installing the W650, the SWI-RC, the KTP-445U, the HS8, and MicroBypass device. It was a lot to fit in the dash.
When asked what plans he had for future upgrades, Eric said that he wants to upgrade the front door speakers, add another KTP-445U amplifier so he could bridge both to achieve a 90W x 4 system, and upgrade the underseat subwoofer from an 8" model to the more powerful 10" Kicker HS10.
Sounds like a plan, Eric!
---
Vehicles in the Custom Car Showroom are submitted by customers and fans, and edited by Crutchfield writing staff. You can find more of these articles on the Showroom main page.