When Paul, the owner of this 1963 Cadillac Eldorado Biarritz, opened his garage to reveal his new purchase, I did a double-take. Pristine, turquoise curves, gleaming white leather interior, iconic Cadillac badges — it was a slice of Frank Sinatra's Las Vegas just chillin' amid the rolling hills of Central Virginia. And it was big — a 2-door convertible longer than most SUVs. Everything in this top-of-the-line luxury ride still worked (power windows and cruise control!) except...
... the sound system was a bust. The previous owner had installed an aftermarket stereo that'd failed, and we thought we could do better than the single speakers in the dash and backseat locations. While there was plenty to love about the rumble of that GM V8 and the cloud-like ride, Paul admitted he craved a soundtrack for his top-down drives on summer days.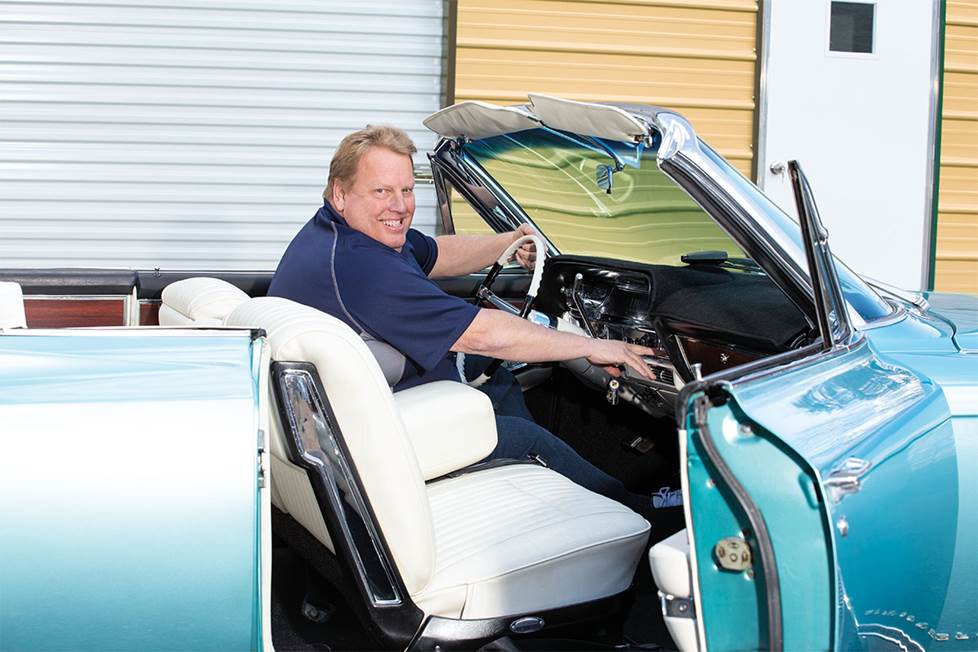 The car audio brand for the job
One look and we knew there was only one car audio brand for this job... RetroSound. Designed and built with classic car enthusiasts in mind, RetroSound has earned a great reputation providing awesome sound that fits in the variety of non-standard locations antique vehicles are infamous for. Most importantly, RetroSound prioritizes vintage aesthetics, so their gear always blends in.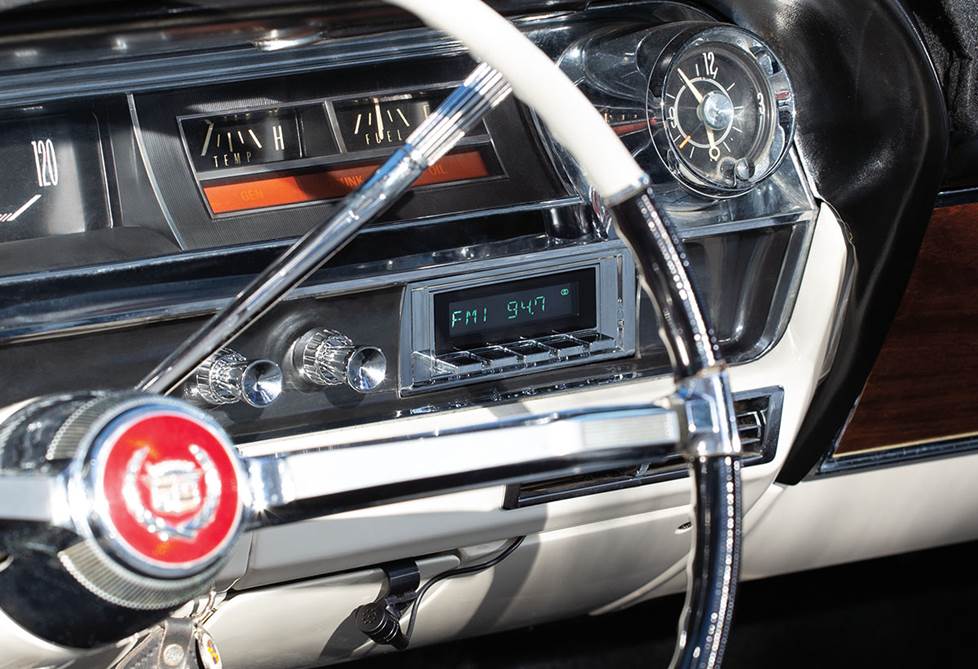 A customizable stereo and hideaway power
You won't be surprised to know that there's a whole lotta chrome adorning the dash of a '63 Cadillac Eldorado – and the RetroRadio Motor 4HD digital media receiver and RetroSound faceplate and knobs deliver on the theme. We were able to adjust shaft placement to perfectly fit the Caddy's openings, and the RetroSound knobs themselves had authentic heft and looked like they'd been installed at the Detroit factory in 1962. But those classic looks don't mean old-fashioned functionality! Paul was delighted to discover how easily he could pair his phone for Bluetooth® calling and music streaming. With two USB inputs, he has good options for sources (and phone-charging). Plus, he has goodies like an HD Radio™ tuner and the option to add a SiriusXM tuner.
When it comes to system-building, RetroSound makes it easy, thanks to quick proprietary connections with their Quad4 compact amp. The Eldorado's cavernous dash meant we could mount the amp behind the glovebox. With plenty of power from both the Quad4 and the stereo's built-in amp feeding the speakers we installed, robust sound came easy.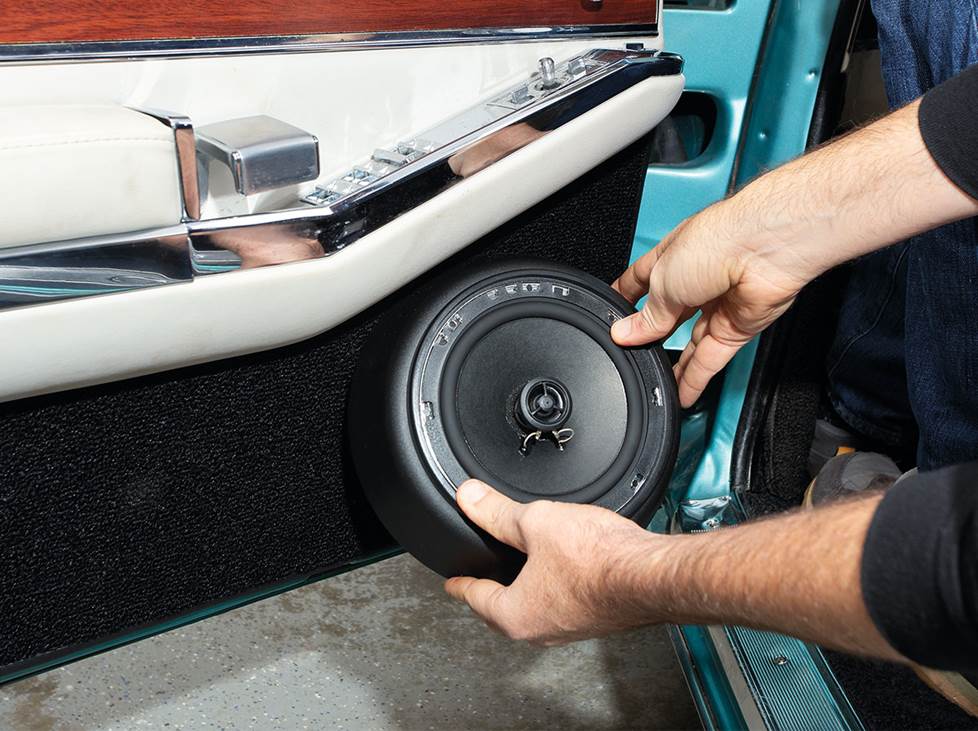 Speaker solutions for vintage vehicles
Because so many classic vehicles (like this one) only have openings for single front and back speakers, RetroSound thoughtfully designed dual-voice coil speakers to simulate stereo sound from a single location. We used a couple of these to replace the speaker in the dash and the one between the rear seats.
We also mounted speaker pods on the doors and loaded them with shallow-mount RetroMod Series speakers. The stereo feeds the dash speaker, while the Quad4 amp delivers plenty of power to the speakers in the pods and in back — we wanted to ensure Paul would be surrounded by deluxe sound, even when cruising with the top down.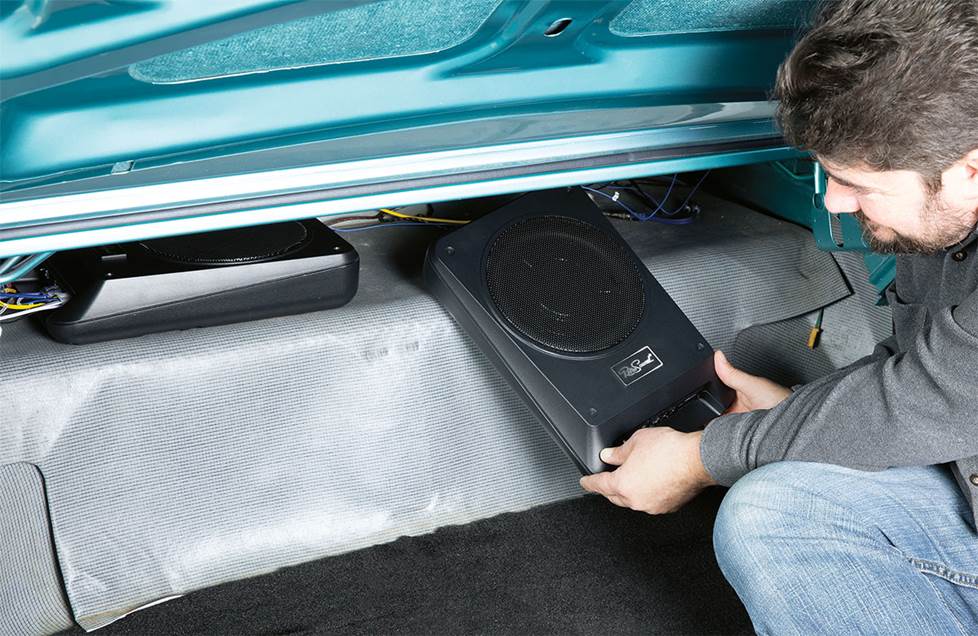 Why stop with one subwoofer?
The trunk of Paul's Eldorado is as big as a campsite. With all that room, we couldn't resist installing two compact RetroSound SUB-8100 8" powered subwoofers. They actually fit in an unused area underneath where the folded convertible top lives. That way, Paul gets to keep all the space in his miles-wide trunk and feel some serious bass as he takes the classiest Sunday drive in Culpeper, VA.
What audio gear works with your classic car?
Are you rockin' a '60s Mustang or an '80s Porsche? We got you. Same goes for a wide variety of vintage rides. Discover specialty audio gear that's made for special cars like yours by using our vehicle fit guide. If you need help with anything or just some solid advice, reach out to one of our Advisors. They're available by phone and chat every day.