Best portable high-res music players for 2023
How to take great sound on the go
Portable high-res music players are the hypercars of the personal audio world. They're purpose-built to handle high-resolution audio. High-res files have a resolution that's greater than CD quality (which is 16-bit/44.1kHz). Some can even handle special formats, like DSD and MQA. If you'd like to know more about the ins and outs of high-res audio, check out the article we did on all its nuances.
You might ask, "Isn't a portable high-res player just a glorified MP3 player?" Not quite.
More than just an MP3 player
These players can play MP3 files just fine, but they were designed to tackle much more. They use top-of-the-line digital-to-analog converters, specialized digital filters, and premium headphone amplifier chips to set themselves above your run-of-the-mill MP3 player. All have high-quality circuitry and components designed to bring out the most in your favorite albums.
Picking out the right portable player can be a challenge. Here are my top picks to help you get started.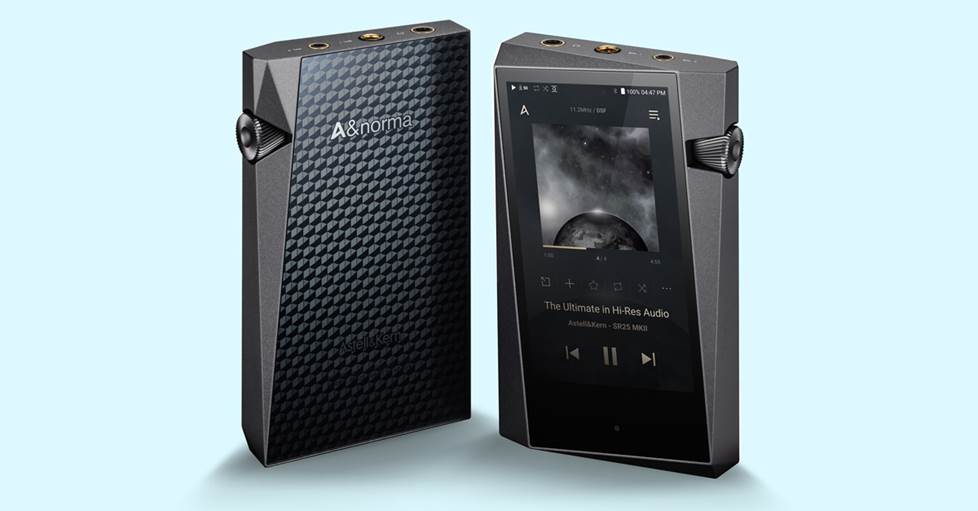 Most value-packed high-resolution player — Astell&Kern A&norma SR25 MKII
Astell&Kern are well known in the audio world for their audiophile-grade portable players. They developed the A&norma series specifically to provide folks with a device capable of high performance at an exceptional value. The A&norma SR25 MKII is a compact portable player that packs a considerable punch.
Twin Cirrus Logic CS43198 digital-to-analog converter chips handle the tricky switchover from digital to analog. The benefit of having two separate DAC chips is that the left and right channels get processed independently, leading to greater clarity and fidelity across both channels.
This player supports both Wi-Fi and Bluetooth 4.2. The SR25 can either transmit or receive a Bluetooth signal, meaning you can have it send a signal to your stereo receiver or a pair of Bluetooth headphones or you can stream to it from your smartphone.
Details
64GB internal flash memory (SD card slot accepts up to 1TB SD cards)
built-in rechargeable battery lasts up to 20 hours
Bluetooth 4.2 with support for aptX HD and LDAC formats for high-fidelity streaming
plays a wide range of digital music formats, including MP3, FLAC, WAV, ALAC, DSD, and MQA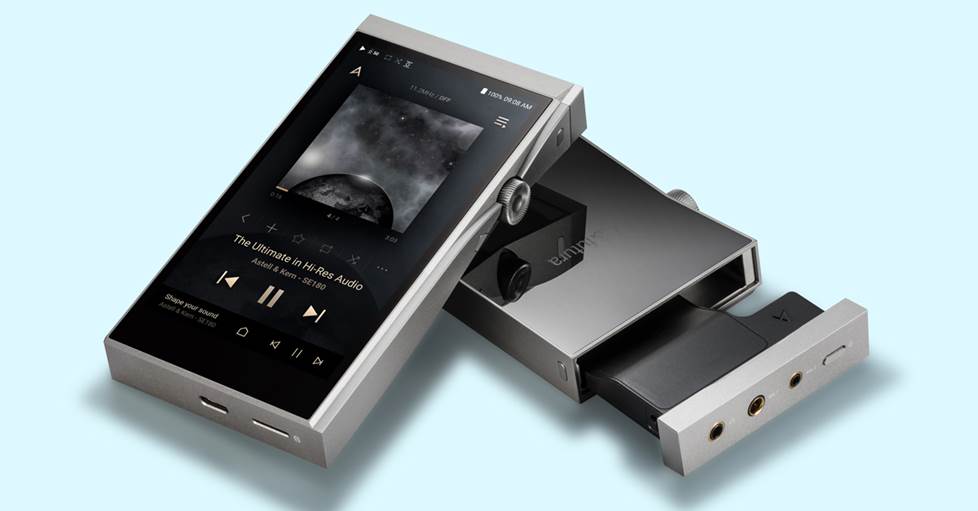 Best modular portable high-resolution player — Astell&Kern A&futura SE180
The A&futura SE180 is a first for Astell&Kern. This all-aluminum player is unique in that it features an interchangeable DAC module, making its sound incredibly modular. If you'd like to get a different sound signature or more processing prowess, separate DAC modules are available for purchase from Astell&Kern
The SE180 has a 5" 1080p touchscreen — more than enough real estate to navigate through folders and albums with ease. There's also a volume knob on the side that doubles as a nice multi-function button for playing, pausing, skipping, and restarting tracks. The top has balanced 2.5mm and 4.4mm outputs and a single 3.5mm unbalanced output for connecting compatible headphones.
Details
256GB internal flash memory (expandable with SD cards up to 1TB)
10-1/2 hours of playback on a single charge
included DAC module comes with ESS SABRE ES9018PRO 32-bit DAC chip
supports WAV, FLAC, WMA, MP3, DSD, OGG, APE, AAC, ALAC, AIFF, DFF, DSF, and MQA files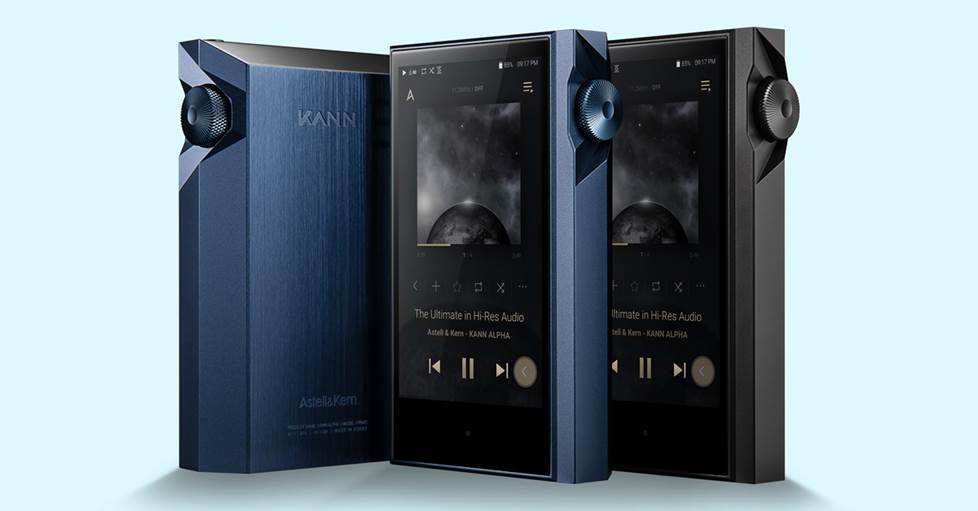 Best audiophile portable music player — Astell&Kern KANN Alpha
Astell&Kern are masters of their trade, and the KANN Alpha is an excellent audiophile choice through and through. It sports a clear 4.1" HD touchscreen that makes breezing through album choices easy. The side volume knob feels great and offers precise level adjustments. The knob also features an LED indicator ring that gives you visual cues as to the volume level and source quality.
The KANN Alpha provides a premium listening experience whether your headphones are wired or wireless. It has built-in Bluetooth 5.0 and supports both aptX HD and the high-fidelity LDAC codec to make the wireless signal crystal clear.
If you choose to go the wired route, the internal headphone amplifier boasts a low noise floor and can handle just about any pair of headphones you throw at it. Not only does the amp have a lot of power to spare, but it also has a balanced 4.4mm and 2.5mm outputs, as well as an unbalanced 3.5mm output. The amplifier provides rich, full-bodied sound while keeping distortion astonishingly low.
The twin 32-bit ESS Sabre 9068AS digital-to-analog converters independently process the left and right channels, leading to clearer sound and incredible stereo separation and soundstage width.
Details
64GB internal flash memory (expandable with SD cards up to 1TB)
14-1/2 hours of playback on a single charge
Twin ESS Sabre 9068AS digital-to-analog converter chips
plays MP3, FLAC, WAV, ALAC, DSD, and MQA audio files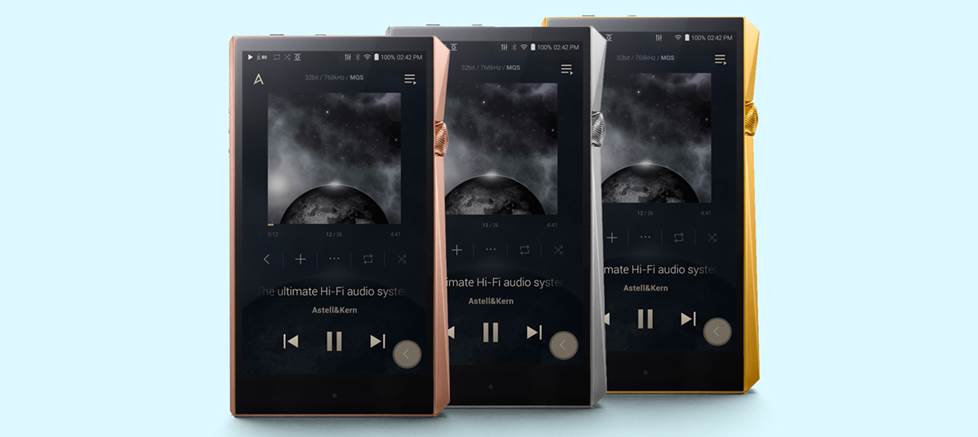 Most built-in storage — Astell&Kern A&ultima SP2000
The A&ultima SP2000 is Astell&Kern's flagship portable high-res player player. It touts advanced, custom-designed electronics for maximum playback accuracy. There are separate circuits for balanced and unbalanced headphone connections to keep distortion and crosstalk low. Going even further, Astell&Kern's engineers tuned the DAC chips to their liking.
There are two DAC chips inside (one for each channel), and each DAC supports up to 32-bit/768KHz PCM and 22.4MHz DSD resolution. The DACs also also have voltage-controlled clocks to keep jitter down.
Being a flagship player, A&K made sure the SP2000 was as source-inclusive as possible. It can stream music over Wi-Fi from NAS drives or computers, and can also pair with Bluetooth headphones for streaming. It even natively supports MQA files.
The player offers 512GB of internal storage and can be expanded with a 1TB SD card for a max of 1.5TB of storage, giving you ample space for all your high-res files.
Details
512GB internal flash memory (expandable with SD card)
stream music stored on NAS drives or computers to the player
twin Asahi Kasei AK4499EQ DAC chips process left and right channels independently
balanced 2.5mm and unbalanced 3.5mm outputs
plays MP3, FLAC, WAV, ALAC, Ogg Vorbis, AAC, AIFF, WMA, DFF, DSF, and MQA audio files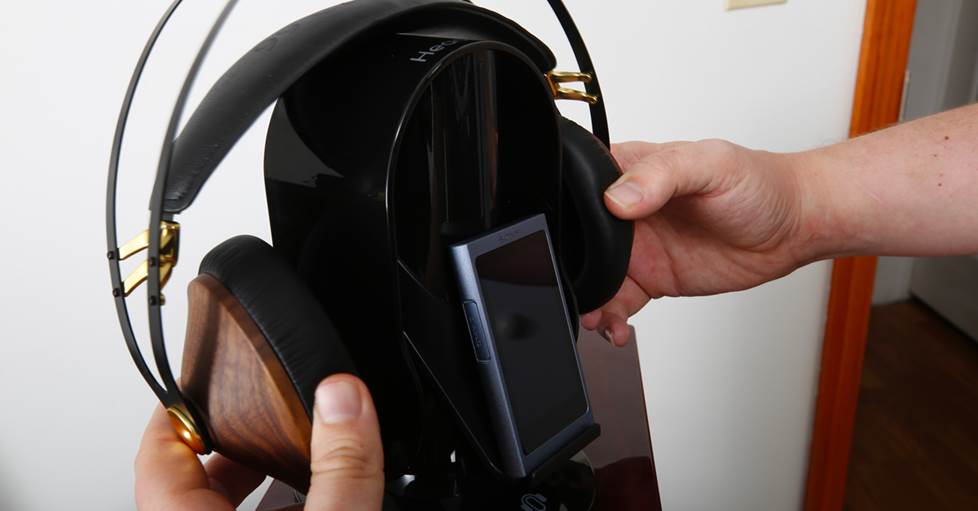 Headphone recommendations
Once you've got your portable high-res player picked out, you may want to grab a pair of headphones as a complement if you don't already have some.
If you've picked out a player with Bluetooth and plan on listening to music wirelessly, I'd strongly recommend Sony's noise-cancelling WH-1000XM4s. They're comfy, offer great noise cancellation, and support LDAC for hi-fi Bluetooth streaming from compatible devices.
If you're going the wired route, I'd recommend checking out Meze Audio's 99 Classics. These gorgeous over-ears are the comfiest headphones we carry. Their warm sound signature is incredibly inviting and they're some of the easiest headphones to drive. The detail they're able to reproduce is incredible, given their sub-$400 price tag.
The next level up from the 99 Classics is Sennheiser's HD660 S headphones. Sennheiser's legendary HD600 series has served as the entry point to the audiophile world since its creation, and the 660 S carries that legacy on with grace. Their timeless look, transparent drivers, and incredible detail make them a great companion for a mid-tier portable player.
Focal's Celestee headphones are the next step up the ladder. These closed-back headphones use Focal's famed M-shaped drivers to deliver tightly controlled, lighting-quick sound. For closed-back headphones, the Celestees have an impressively wide soundstage. They also look pretty sharp.
Rounding out the list are Meze Audio's Empyrean headphones. Machined and hand-built in Meze's headquarters in Romania, they're a true labor of love. These headphones offer exceptional resolution and detail, and have some of the deepest, most effortless bass out there. Plus, they're easy to drive despite being planar magnetic headphones.
Any Questions?
Don't hesitate to reach out to any of our advisors if you have any questions or need a bit more direction. They're extremely knowledgeable and get hands-on with a lot of the gear we carry. They're more than happy to delve into your needs and help you pick out the right portable player.
Popular questions customers ask
All the portable high-res players we carry have an unbalanced 3.5mm output and a balanced output, usually 2.5mm or 4.4mm (or both).
Portable high-res players support all popular audio formats, like MP3, FLAC, AAC, WMV, AIFF, and even DSD. Some models can also natively decode MQA files.
All the portable high-res players we carry come with some form of internal storage. They provide 64GB of storage at the very least. Some models have up to 512GB. The good news is that in either case, the storage can be expanded by using a separate microSD card.
Yes. Many of the portable high-res players we carry have built-in Bluetooth and support high-quality Bluetooth codecs like LDAC and aptX.
A lot of portable high-res players allow you to download apps straight from the Google Play store. They give you access to your favorite music streaming apps, from TIDAL to Qobuz to Spotify.
Last updated 11/17/2022