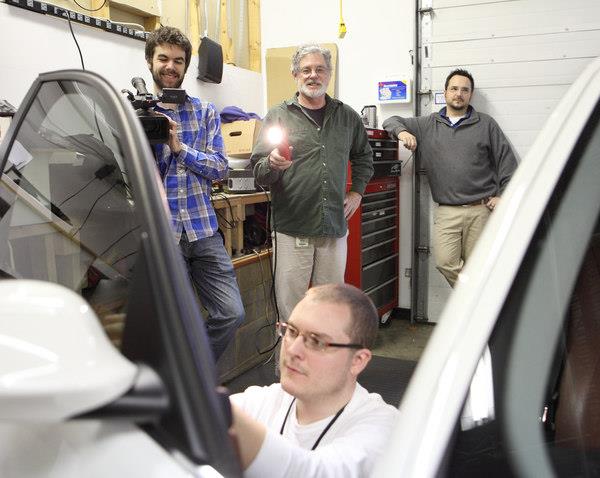 Evan, Buck, and Russ "helping" Joanathan
Russ, a Crutchfield Information Architect, didn't like the lack of bass, low power, and poor high-frequency clarity in his "premium" system. His luxury car's factory system left him wanting something better.
He wanted better sound, but he couldn't find a stereo or set of speakers that fit his 2008 BMW 335i without custom modifications to his car or the aftermarket gear. When we learned that Focal, a world leader in sound, had designed speakers specifically for his car, we asked if he'd like to try them out. He jumped at the chance.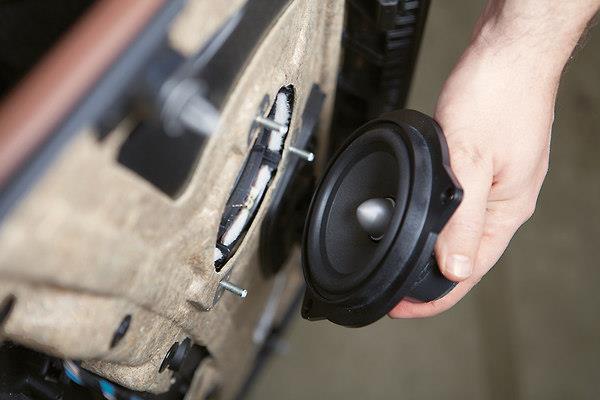 Focal designed the woofers to "drop in" and fit perfectly
Custom-fit for real
It took Jonathan, one of our Technical Advisors, just a couple of hours to install a set of Focal components in the front doors and full-range speakers in the rear doors of Russ's Beamer. (Russ and I helped by holding parts and a flashlight for him.)
Everything went smoothly — the speaker's mounting holes matched the unique bolt pattern of the BMW, and the front tweeters easily snapped into place. "The whole installation went much easier than I expected," Jonathan said. The speakers themselves actually were "plug and play," with connections exactly matching the factory locations and wiring harnesses.
Focal includes the tools necessary for installing each IFBMW speaker system, but Jonathan recommends you use your own 8-mm socket wrench and Torx driver that can give you better leverage with tight screws than you can with the small included wrench.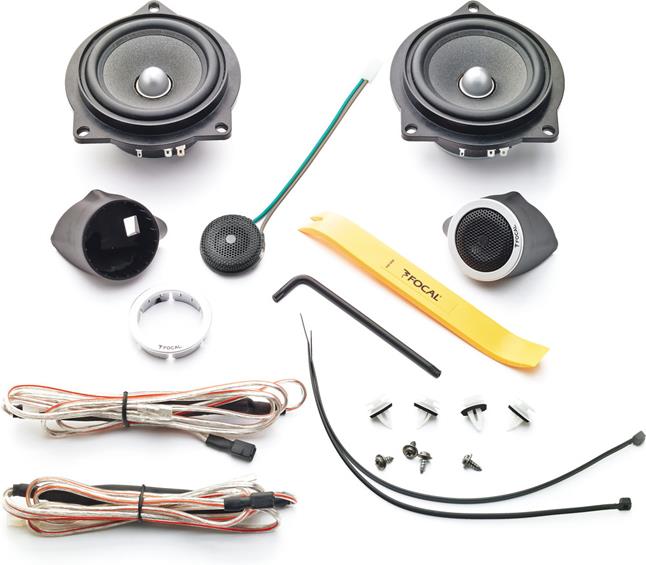 Focal includes all the parts and tools you'll need
Night and day difference in sound
"I had the premium system and it sounded like a muffled mess compared to now," Russ said. "The Focals sound super clean and crisp, and they really open up the sound. The soundstage seems larger and the individual instruments are more readily identifiable. Playing some Floyd with a full orchestra behind them really illustrated this nicely. Prior to the Focals, it all sort of blended together.

"The guys at the dealer were pretty stoked to find out about this Focal Integration system and definitely appreciated the quality sound improvement without any noticeable aftermarket looks. The factory speakers really looked like junk when compared to the Focals. Their magnets are at least twice as thick. It's amazing the speakers fit into the same openings without any modification, because they really do pack a lot more technology and design into the same dimensions."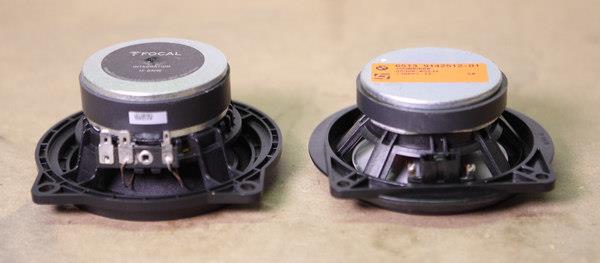 Focal on the left vs. BMW factory speaker on the right
What fits your car?
Use our Outfit My Car tool to see all the options available for your car, including vehicle-specific selections like these from Focal. If you have any questions, contact our advisors via phone, chat, or email.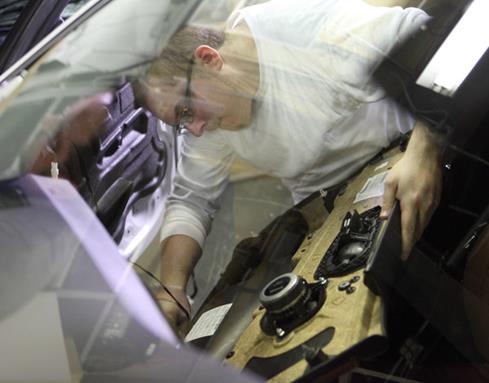 Putting it back together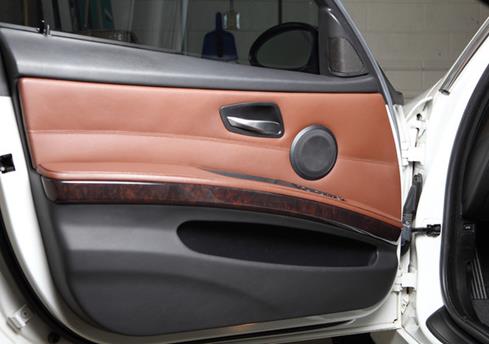 Finished and looking like new