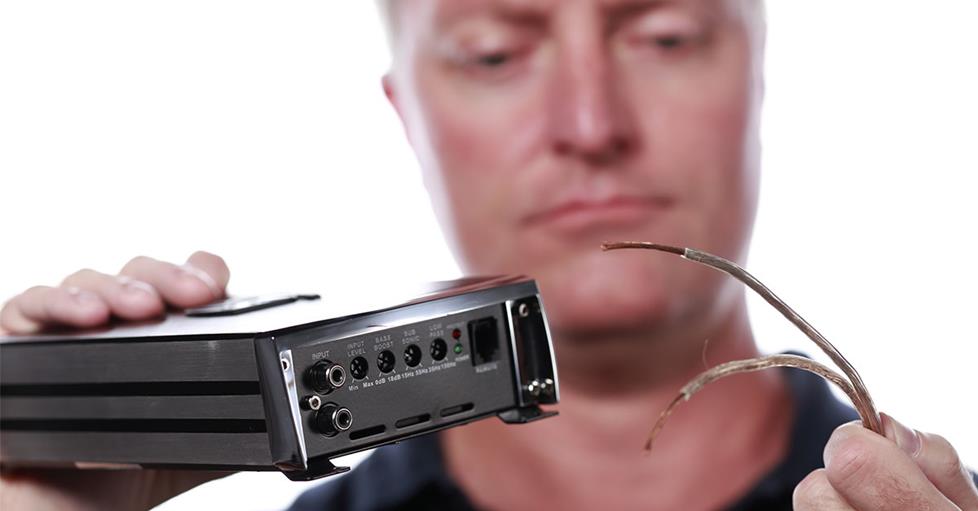 Adding an amplifier to your vehicle's sound system is a great way to add more volume, and more depth and detail to your tunes, especially if you still have the factory stereo. But factory stereos don't have the preamp outputs needed to connect an amp. That's when a line output converter can help.
Q: What is a line output converter?
A: A line output converter, or LOC for short, converts a speaker-level output signal into an RCA preamp-level signal. This lets you connect the radio to the amplifier. It can also be used to connect a new radio to a car's factory amp (see below).
Q: How can I connect an amplifier to my car stereo that doesn't have RCA preamp outputs?
A: Over the years, we've been asked thousands of times, "How do I install a line output converter?" It's a great question. If your stereo doesn't have preamp outputs, or not enough of them, a line output converter is a great solution. You connect the stereo's speaker wires to the LOC's inputs and use RCA cables to run the signal from the LOC to your amplifier.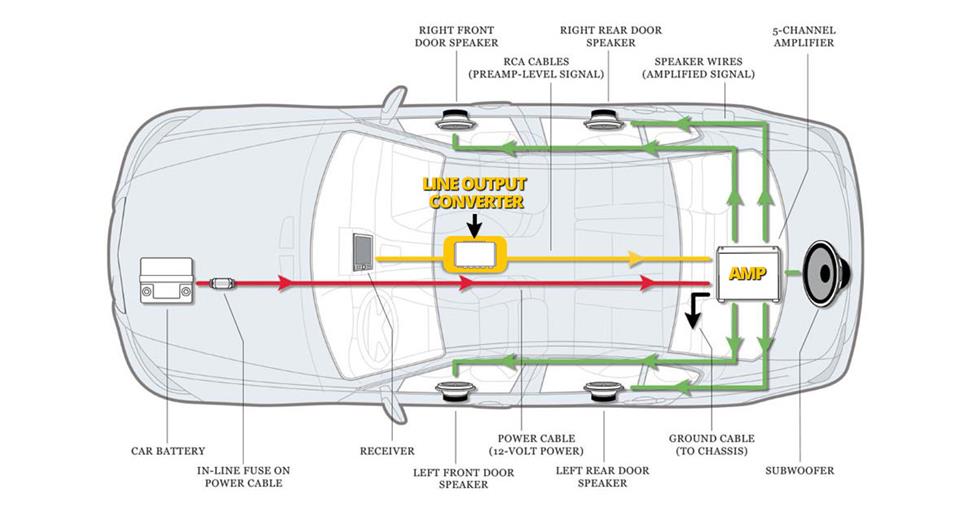 Q: Do factory radios have preamp outputs?
A: It's extremely rare for a factory radio to have preamp outputs, so an LOC provides the connections you need to add an amp. Many folks don't want to replace their factory radio, because of its look in the dash or the fact they have a leased vehicle. However, they can still upgrade the sound in their system by tapping into the speaker wires for the audio signal. A line output converter provides the connectivity needed to do it in most cases.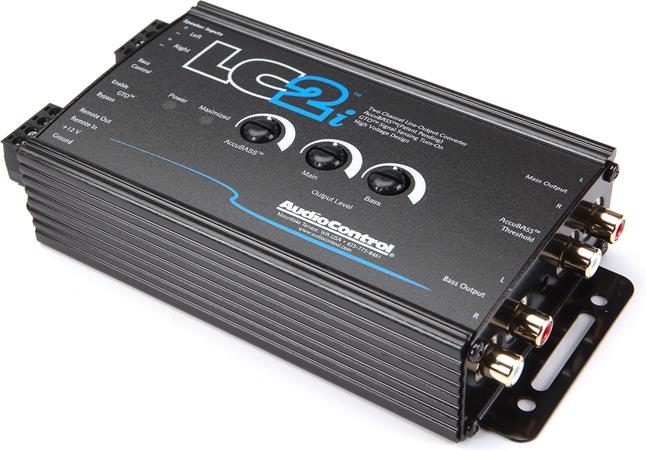 The AudioControl LC2iB is a popular LOC for adding an amp or powered sub to an audio system.
Q: Will I lose the sound from the speakers connected to the wires I'm tapping for the line output converter?
A: Normally you would cut the speaker wires and run them to the LOC, then run new speaker wires from your amp back to the other side of the cut wires (to send signal to your speakers).
But if you're adding an amp to power additional speakers or a subwoofer, then you'll just tap into the stereo's speaker wires to pick up the audio signal needed to feed your amp. As long as you're only tapping the wires (using wire taps or PosiTaps, for example), then you'll still get audio from those speakers, and the LOC will get the signal it needs for your amp to power the additional speakers.
Q: Why are some line output converters much more expensive than others?
A: Some converters provide more features and power handling than others. So, it's important to know the total power output of the signal going into LOC you choose. We list the maximum RMS wattage that can go into to the line output converters we sell.
In terms of added features, some converters include higher preamp output voltages, which keeps the audio signal to your amp ultra-clean. Others can include bass restoration circuitry or equalizers on board too. It's all a matter of the power you'll be working with and how much you want to tweak your system.
Q: Are there amps that don't require a line output converter?
A: Yes, definitely. Amplifiers that offer speaker-level inputs don't require a separate line output converter to tap into existing speaker wires to get their signal. Many powered subwoofers offer this feature, too. The speaker-to-line level conversion is done inside the amplifier. Check out our selection of amplifiers with speaker-level inputs.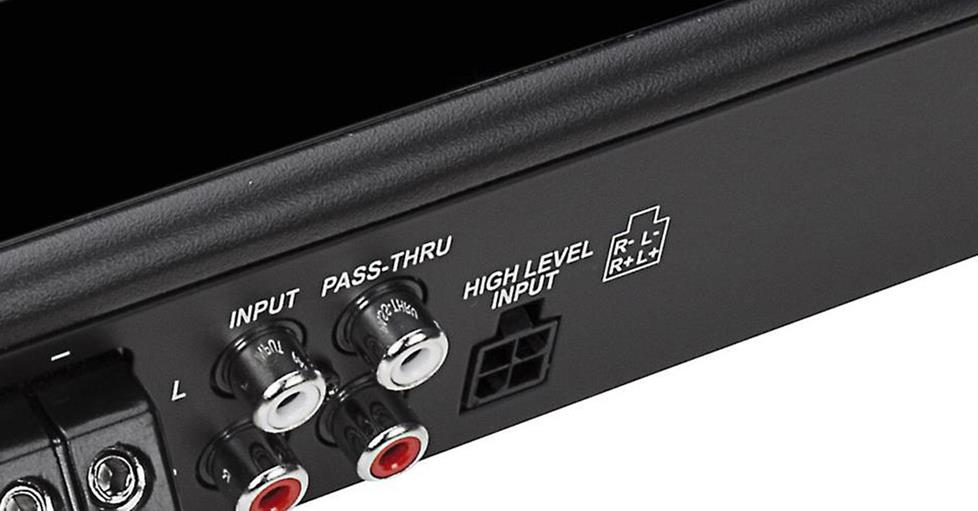 This amp includes an adapter that lets you connect your speaker wires directly, without needing a line output converter. The adapter plugs into the amp's "high level input" connection.
Q: Would I ever want to use a line output converter over an amp with speaker-level inputs?
A: As mentioned above, some upgraded converters offer additional features that an amplifier you're considering doesn't have, such as on-board equalizers, higher voltages on the preamp outputs, or restoration circuitry that resets the factory system's equalizer to a flat setting. This lets you start from scratch in terms of setting up the sound the way you want it. So, it really depends on what type of system you want to create.
Q: Someone said I need a line output converter to install a new stereo. Why is that?
A: Line output converters are sometimes also needed to install a new stereo in a vehicle with a separate factory amplifier. They're used in conjunction with vehicle-specific wiring adapters to make the new high-powered stereo work with the factory amp. They often offer gain adjustments that let you balance the output from new radio to the input sensitivity of the factory amp for the best sound. When you use our OutfitMyCar™ application to shop for a new radio, we'll let you know if an LOC is needed.
More questions?
So even if you're working with a radio with no RCA outputs, you can still add some amplification to your speakers or add a subwoofer. If you have additional questions, check with one of our knowledgeable Advisors. We're here to help.