In this article: Find out what gear you need to start your own podcast…
...Plus get tips on producing a great program from our own Crutchfield podcasters.
Ready to jump into podcasting? Today's entry-level gear makes it easy and inexpensive to start recording. But having good equipment is only half the story.
To build an audience, your podcast needs to stand out from the crowd. Some of our resident podcasters share tips to help you start strong.
Sound quality — and why it matters
Investing in a good quality microphone can make a great deal of difference in your final product. And audio quality does count if you want your podcast to be heard by others.
"Sound quality is something beginners tend to ignore," notes Eric, Crutchfield A/V writer, and producer of Radio Superfly. "After all, if it's just me talking, how good does it have to sound?"
It's a common mistake. Your potential audience has lots of options.
"If it irritates them to hear your voice sound fuzzy or crackly," says Eric, "then they'll stop listening."
If you don't have recording gear, a podcasting bundle is a simple and inexpensive way to get up and running. These bundles provide all the basic gear you need for recording. They usually include studio headphones, a good-quality microphone, and the necessary cables.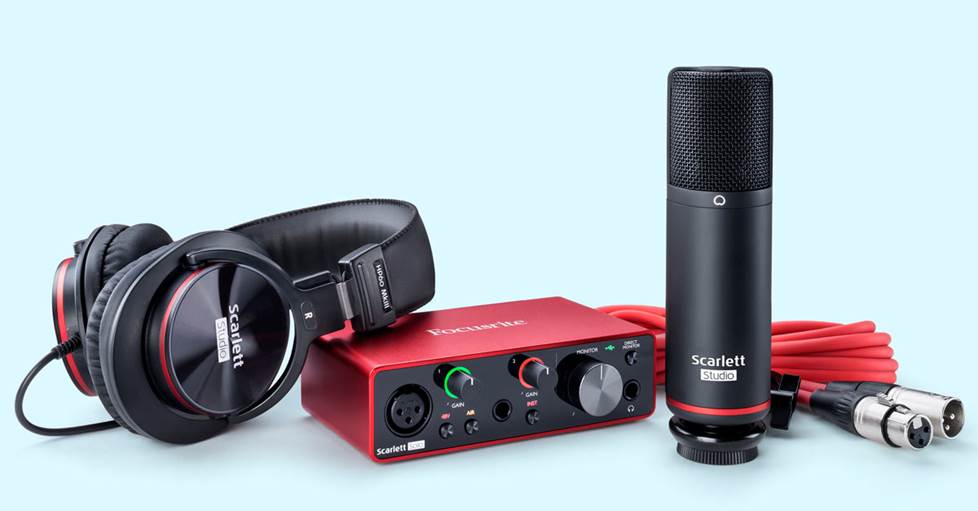 A podcasting bundle can get you up and running fast.
Many kits also come with their own audio editing software. Several include mic stands and other accessories. A few also include a mixer — this can be helpful if you intend to add extra mics to your system later on.
Do you already have some audio gear suitable for home recording? Then you might need only one or two pieces to get started.
A USB microphone is ideal for a simple podcasting setup. The microphone plugs directly into your computer — no mixer is required.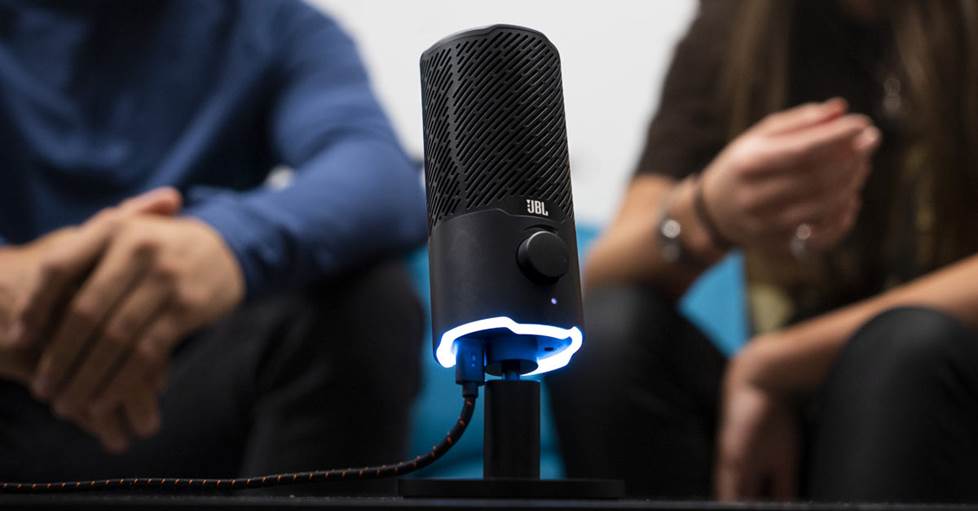 A USB mic like the JBL Quantum Stream lets you record directly to your laptop or computer.
XLR mics use a three-prong connection that requires a mixer. XLR mics have a number of advantages over USB mics. First, because the signal has to go through a mixer, you have more control over the sound.
You can adjust the sensitivity of the mic and fine-tune the high, mid, and low-range inputs.
XLR cables can also relay "phantom power." High-performance microphones require more power than a USB cable can deliver. Power, delivered through an XLR cable provides the juice these mics need.
Some mics have both USB and XLR connectors. These can be a great choice if you record both in and outside of a studio.
Looking for a mic that's great for beginners? Crutchfield training manager and podcaster J.R. recommends the Shure MV7 podcast microphone.
Microphone polar patterns
A microphone's "polar pattern" determines its sensitivity to sounds coming from different directions. Many microphones have selectable polar patterns, so you can change how the sound is picked up according to your situation.
Most mics have a cardioid polar pattern. The microphone picks up sound from the front, minimizing room noise and ambient sounds coming from behind and off to the sides — helpful if you're recording in your home rather than in a sound-proofed studio. This is the ideal choice for most podcasting applications.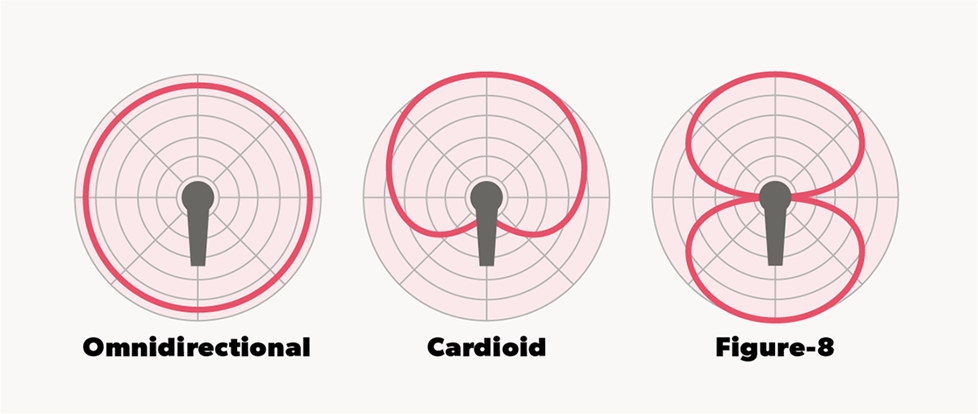 Different microphone polar patterns pick up sounds from different directions. The cardioid polar pattern is the most common choice for podcasting.
Will you and another person (like a co-host or an interview subject) be talking? Having a dedicated cardioid mic for each person will yield the best results.
But if you have to share, mics with a bi-directional, or "figure-8" polar pattern are commonly used in these scenarios. You and the other person can sit on either side of the mic, and it will block out sounds coming from the sides.
For three or more people in a conversation, an omnidirectional mic may be a better choice. It records everything in a 360-degree radius, so you can place it in a central location like a table and pick up what everyone has to say. It's also great for situations where you want to capture the ambient sounds of the room.
Crutchfield's Microphone Buying Guide has more detailed information on what to look for in a mic.
A high-quality microphone will record sound more accurately than an entry-level model. Similarly, a good set of studio headphones will let you hear far more detail than a set of earbuds That's important.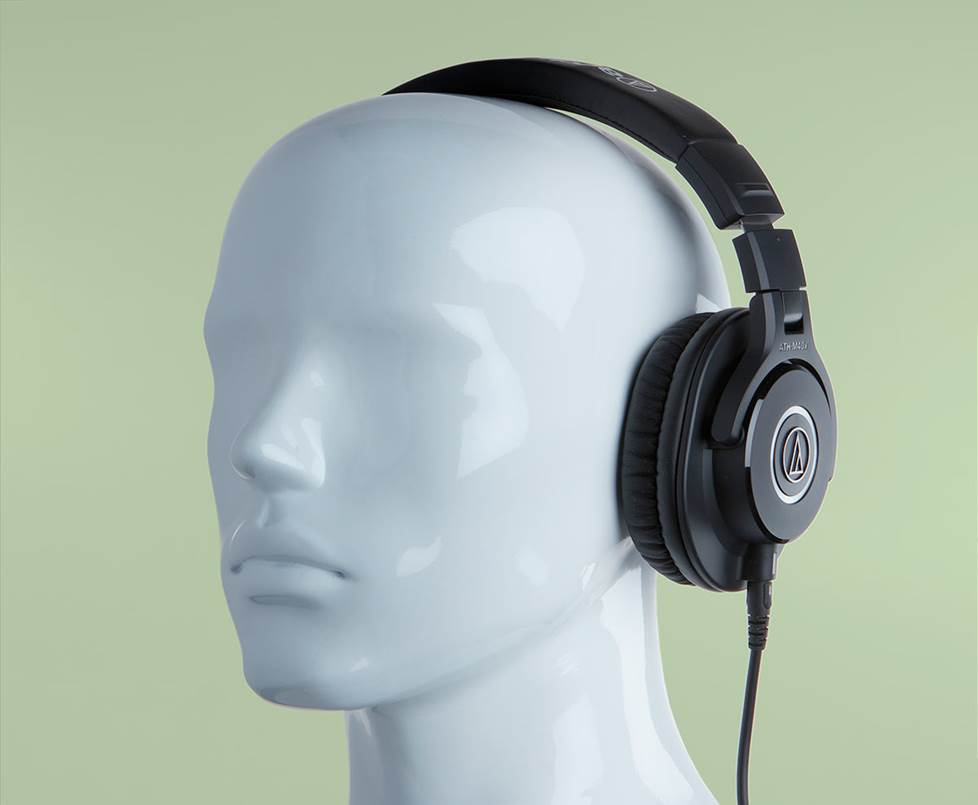 Audio-Technica ATH_M30x and other studio headphones are designed for hours of comfortable listening — a must for long editing sessions.
To edit your podcast to sound its best, you need to hear all the details — including the warts. Over-the-ear headphones shield your ears from room noise. This lets you focus on what the microphone is actually picking up.
Pro audio in-ear monitor headphones do so as well. Plus, they deliver finer detail than inexpensive earbuds.
Studio headphones are designed for comfortable wear over long periods of time. It's a feature you may come to appreciate during a late-night editing session.
What makes a good set of podcasting headphones differs from 'phones for personal use. Our pro audio headphones buying guide can point you in the right direction.
Studio microphones are an analog sound source. To feed the signal from the mic to your computer, it needs conversion to a digital signal. That's the role of a USB audio interface. An audio interface is a simple component. It's great if you don't have to juggle several inputs.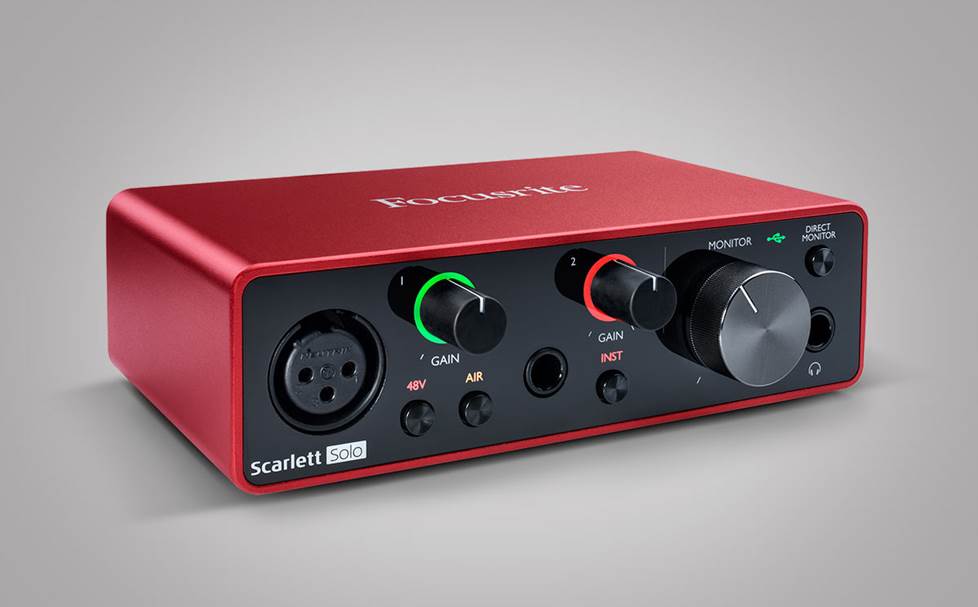 The Focusrite Scarlett Solo takes analog audio input and converts it for digital input to your computer's USB port.
An audio interface blends your input source(s) with playback from your computer for no-latency monitoring. Most interfaces have both 1/4" and XLR inputs for your mics. And they can have a stereo minijack input as well.
If you have more than two audio sources, a multi-channel mixer might be a better choice. A mixer creates one or more output signals from multiple audio signals. Some mixers come with built-in audio interfaces, giving you the same functionality as a dedicated audio interface, but with more connections and more control.
Some mixers offer a 3.5mm TRRS mini-jack connection for a smartphone — ideal if you're connecting remote interviews. If your mixer lacks this feature, you can incorporate audio from callers using USB to patch in audio from various apps like Facebook or Skype.
Besides XLR and 1/4" inputs, many also have RCA stereo output to connect to studio monitors. When shopping for a mixer, consider getting one that has at least one more channel than you need. Your setup may evolve, and that extra channel or two can come in handy.
A mixer also gives you more control over a channel's input than an audio interface. For example, mixers let you adjust high, middle, and low frequencies independently. They also let you adjust the stereo balance. Many mixers also have built-in effects so you can add reverb, change the pitch, and so on.
Our sound mixers buying guide has more information about what to look for.
There are many microphone accessories for podcasting, including stands and mounts. Some audio podcasters use a simple desktop tripod stand. Others prefer a boom stand, which can free up desk space for a mixer, show scripts, a laptop, and so on.
A windscreen or pop filter is often desirable. This helps soften harsh sounds that can cause a spike in the recording, like "p," "k" and "b" consonants.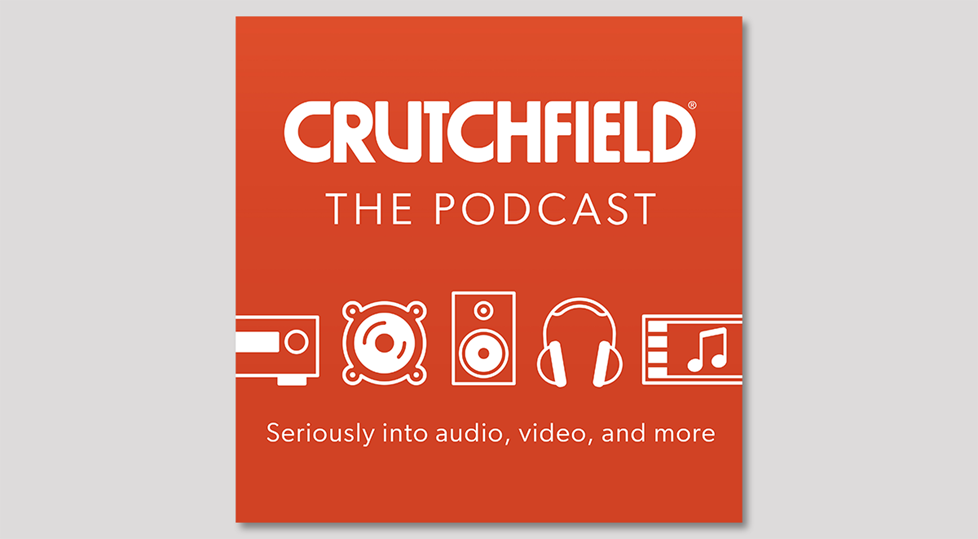 Crutchfield: The Podcast
We not only sell podcasting gear, but we also have our own podcast, produced in-house. In each episode of Crutchfield: The Podcast, J.R. interviews a Crutchfield employee about the gear they loved so much they bought it! Plus he answers common questions about consumer electronics.
There are podcasts for just about every subject imaginable — as well as every subgenre of those subjects. If you want to podcast, make your show about something you love and want to explore in detail.
And that "something" can be anything. Big subjects like sports, politics, and culture. Or sharply focused ones like Manchester United soccer news, politics in 19th Century New England, or detailed analyses of "Beverly Hills 90210" episodes. There are podcasts featuring DIY guides, product reviews, original audio dramas, celebrity interviews, and more.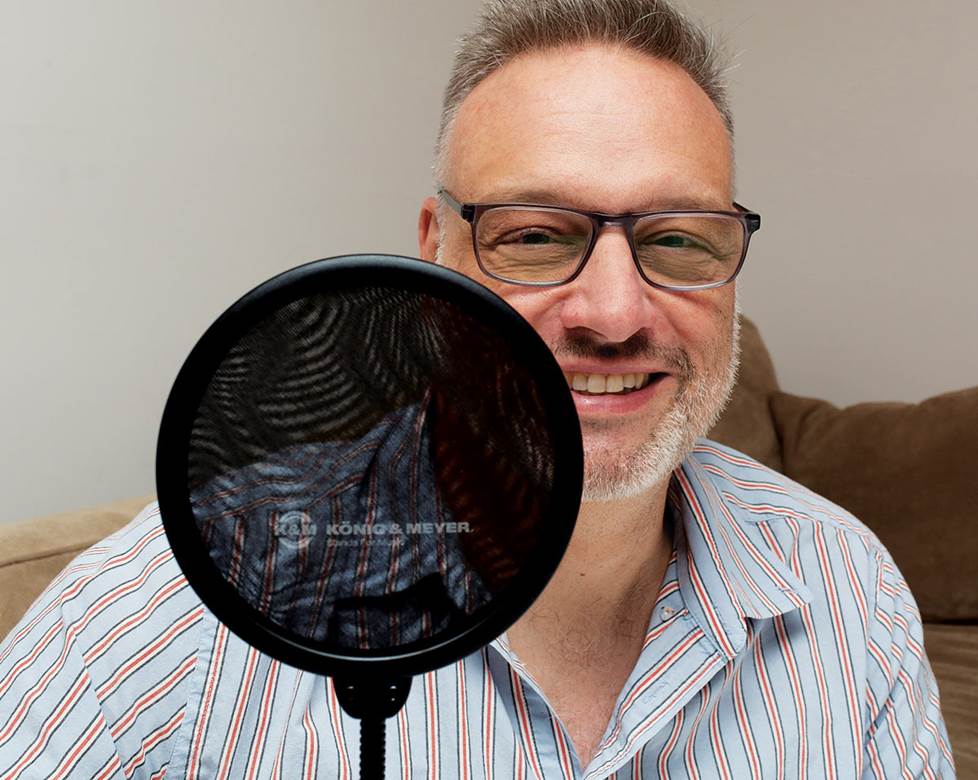 Eric, producer of the Radio Superfly podcast, considers the pop filter one of his best purchases.
Traditional media broadcasts content that appeals to the largest audience possible. Podcasting is the opposite of broadcasting.
"I'm narrowcasting," Eric says. "Not a lot of people are interested in what I want to talk about. But those who are can find me. And together we have our own little community."
Car writer Lex co-hosts the Well of Sound podcast and produces Crutchfield: The Podcast. He suggests picking a subject that you know you can keep going. Keep your episodes short at the beginning to keep your time commitment manageable.
Practice makes perfect
Once you have your subject, consider how you're going to present it. Eric suggests listening to podcasts you like and copying their style as a way to start.
Lex advises beginners to get familiar with their gear before launching into production.
"Use a test recording with sample audio to practice the production process from A to Z."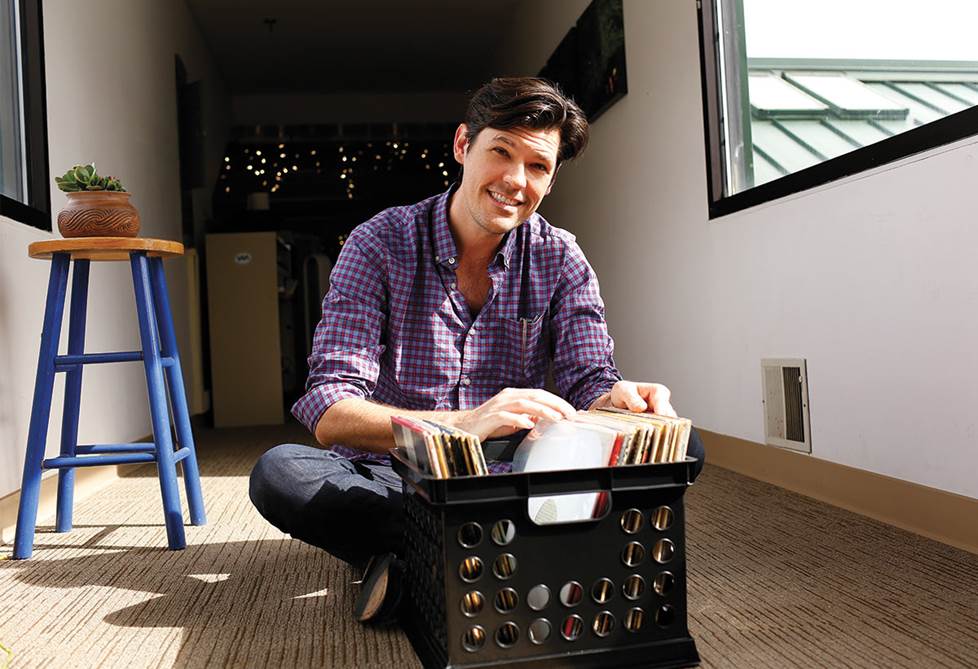 Lex, co-host of the Well of Sound podcast, is always looking for vintage recordings to feature.
Because Lex records with a co-host, he stresses the importance of preparation.
"If you're recording with somebody else, it's worth doing a quick dry run. You need to see how it comes out so you don't spoil the magic by recording too hot or too softly. You can quickly figure out what controls you need when you try it out. But try it out first."
Editing and production
Preparation is important, but how much should you do?
It can depend on your style, and the type of podcast you want to do. Eric always starts with a script, because he wants a narrative.
It also helps him figure out where to add interview segments to further the story.
"You would think just opening up the mic and talking would be OK," he says, "But that gets real tedious real fast."
But scripting doesn't mean explaining everything. You can use sounds to help tell the story. And for interviews, Eric advises letting your subject say things in their own words.
What about unscripted formats, such as panels and round table discussions? J.R. recommends to just keep recording.
"Some of the best stuff happens when you weren't planning on it."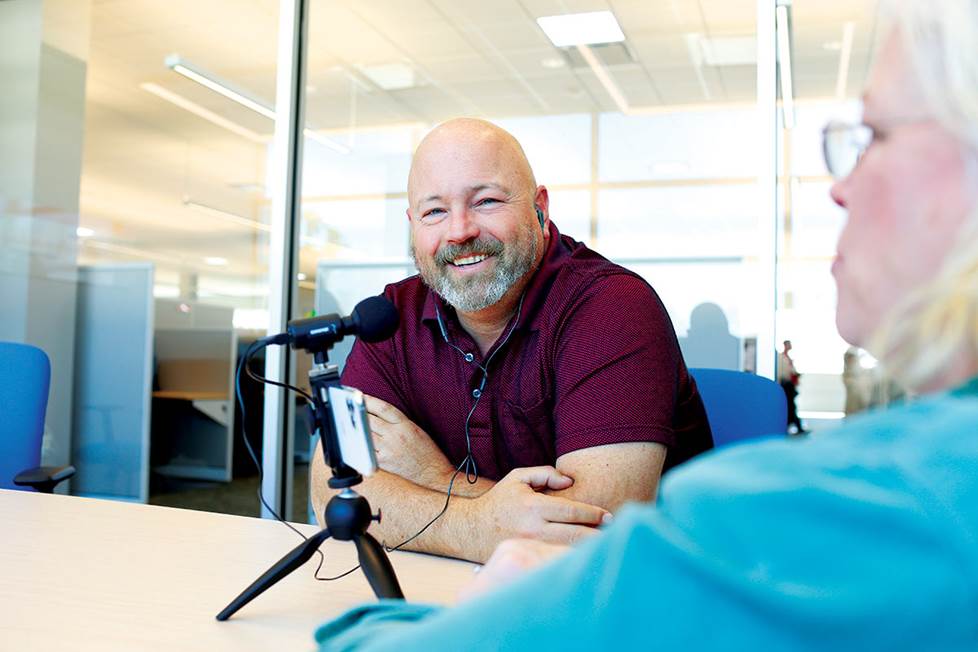 J.R. with a guest during a recording session for Crutchfield: The Podcast.
Of course, that means more work when it comes to editing. You can isolate the best parts of the segment. Discard the parts that didn't work, like awkward pauses, or meandering discussions. As with a scripted format, you can rearrange your clips for the best effect.
"A podcast doesn't have to be recorded in sequence," J.R. says, "But be prepared to do a lot of editing."
There are very few podcasts that can get away with little or no editing, according to J.R. But there is some good news: most people find that audio software, digital recording, and editing are easy and intuitive. And using it gets easier with practice.
Eric agrees.
"It's OK if you have to edit later. That's the beauty of digital recording. It's so easy".
Get the right software
You have a lot of options when it comes to podcast editing software. Some, like Audacity, are free. And some, like Adobe Audition, require a subscription. Alitu is a good beginner-friendly program, and automates some of the editing and publishing processes for you.
Use the internet to do your own research. When you find a program you think you might like, you can explore it further through online videos. Virtually all podcast editing programs have YouTube tutorials and reviews.
Lex produces his podcast on a Mac®, so he uses GarageBand.
"As I learn more and more about recording and publishing audio, I'm discovering that GarageBand grows with me. It has a multitude of features I haven't even touched yet. GarageBand is pretty intuitive. YouTube tutorials help but make sure you're watching one on the version you use. As the software updates, videos for older versions can become obsolete."
J.R. uses a Focusrite Scarlett 8i6 interface and the Ableton Live Lite 10 software that came with it
"It does everything I need it to do including recording my mic, and my computer sounds. This makes it easy to interview people using web conferencing platforms like Zoom, Microsoft Teams, Facebook Messenger, etc. There was a bit of a learning curve but I was up and running in a few hours. I've learned something new with each recording I've done for work, and for my podcast."
Publish that podcast!
Publishing a podcast has two parts. First, you need an online storage site for your podcast episodes. Second, you need to let podcast distributors (such as Apple Podcast, Google Music, Stitcher, Spotify, etc.) know where those episodes are.
Your storage service provides you with an RSS feed link. Basically, this link is what distributors use to display your podcast episodes on their service, and it automatically adds new episodes when you upload them.
Top hosting services give you all the tools you need to successfully publish a podcast. Some include features that help with promotion and monetization. Lex recommends researching before you commit to a service to figure out which features you prefer.
The list is rapidly changing, with new sites and services being offered. Use Google (or another search engine) to find "podcast hosting sites." Scroll past the paid ads to find the best recommendations.
Lex tried both SoundCloud and Podbean. He also recommends Buzzsprout and Anchor for their great resource libraries. Eric chose Soundcloud. It has a free version that offers limited storage, and a subscription plan with more features.
"I didn't want to be locked into a payment plan if I decided my podcast wasn't working, " he explained. "The free space was enough for 8-10 episodes of Radio Superfly — enough for me to decide it was worthwhile to continue with a subscription."
For J.R., Anchor was the answer.
"Anchor hosts your podcast for free. And their app lets you record, edit, and produce your podcast on a phone or tablet. In addition to hosting the podcast, Anchor also distributes it to Spotify, Apple, Google, and other major players."
Build your audience
Your podcast may be brilliant — but brilliance alone won't ensure listeners will find it. Or even subscribe once they do. Lex is also part of Crutchfield's social media team and has some suggestions to make your podcast stand out.
He says consistency is the name of the game if you want to build an audience. It's a good idea to have at least three episodes of your podcast in the can before launching. It gives you more time to produce new episodes. And that means you can keep to a regular release schedule.
Lex recommends having a social media account or website to support the podcast. Tell your audience about your social media accounts in your podcasts. And then use those accounts to tell your followers about your podcast. Attracting followers to your accounts helps build your podcast audience — and vice versa.
And Lex has tips about publishing your podcast.
"Select subcategories when posting your podcast to services like SoundCloud and Apple Podcasts. These make your podcast easier to find."
He also stresses that the title of your podcast, and its logo matter — a lot. Both should match the subject and tone of your podcast to give listeners an idea of what to expect.
"Like the cover of a book, the artwork will set your podcast apart."
One more thing — have fun
Podcasting is an intimate format. You decide what you'll be podcasting about, and how you'll present it. A podcast is as long or as short as you want to make it. You can use sound effects, music themes, and sophisticated editing techniques. Or you can just talk into a mic.
And you're always free to change things around. As Lex points out, podcasting is elastic.
"Shows and premises can change without losing their audience — they'll grow with you."
For J.R, the best podcasts are the ones you want to listen to all the way through.
"And you listen all the way through because there's something there. That's the goal for all of us. Have something there."
Hear more about it
Listens as the Crutchfield podcast crew talks about the gear they've used.
Need more help? Contact us!
Want personal advice so you can choose the best podcasting gear for your use and preferences? Contact us today.
Your Advisor can send specific Crutchfield pages to your screen, saving you a lot of browsing time. You'll get a shopping cart loaded up with everything you need.
Free lifetime tech support is included with your Crutchfield purchase.