How to choose a power inverter
Find the right size for your power needs
Going on a road trip? Making your car's electrical system safe for home electronics is what power inverters do. Here we'll discuss briefly some factors to consider when choosing a power inverter for your vehicle.
Why do I need a power inverter?
A power inverter allows you to use electrical equipment that requires an AC (alternating current) power supply in your car. AC power is delivered in buildings by 110- or 120-volt outlets, which are basically identical. Your car's battery provides DC (direct current) power, which is also called 12-volt power. Power inverters convert the power from your car's battery from DC to AC, so that you can safely use AC-powered equipment in your vehicle. Power inverters can be a real lifesaver on the road, at the beach, while camping, tailgating, or anywhere you might need some extra juice.
What size power inverter do I need?
Power inverter "size" is a measure of its wattage capacity — how much wattage it can reliably supply to all connected devices before shutting down. For low-power applications, a power inverter can usually get the job done plugging into one of your vehicle's 12-volt ports. For higher-duty loads, a direct connection to the car's battery terminals may be required.
What should I look for in a power inverter?
When you're choosing a power inverter, it's important to choose the right size. The size you need depends on how you intend to use the inverter.
Current draw of connected devices
The most important step is to figure out how many devices you want the inverter to operate at once, then estimate how much wattage they will draw in total. If you can find the specific wattages for your devices, add them together to get a minimum figure. This number will be the smallest inverter that'll suit your needs. From there, add between 10 and 20 percent on top to determine the size of inverter that you should install.
Typical small appliances can be used with most inverters. Smartphones and laptops only draw between 50 and 100 watts, while a small TV can draw 250 or 300 watts, and a microwave could require 1,200 watts or more.
Number of outlets
Most power inverters have at least one three-pronged AC outlet. Some can have as many as four, so consider how many devices you want to have going at once when making your purchase. Most inverters also have a number of USB connections for charging portable devices, such as smartphones, headphones, and tablets.
Type of installation
Do you want the flexibility and portability of a cigarette lighter adapter or a hard-wired, permanent installation? The general rule of thumb is that loads exceeding 150 watts will require a direct connection to the battery. That's generally the better way to go.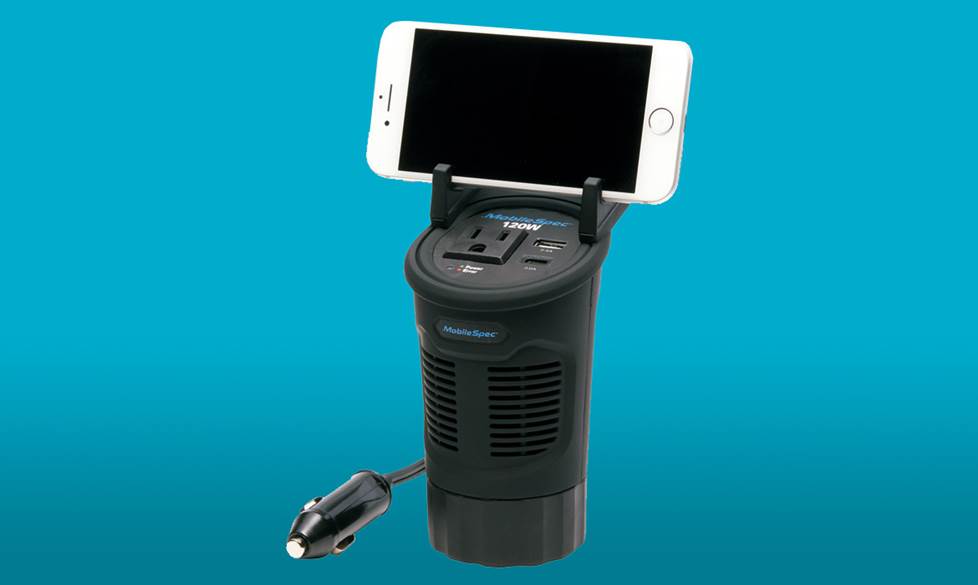 If you're only going to use the inverter occasionally and only for smaller loads (like charging your laptop or a couple of phones), a portable inverter that plugs into your car's cigarette lighter is fine. This method also gives you the freedom to use the inverter in different vehicles. If you won't be using it for a while, you can take it out of the car and store it indoors.
Frequency of use
Will you use your power inverter almost daily, or will you use it only as an occasional convenience item? If you will be using your inverter frequently, you may be better off hard-wiring it into the car. This means using a direct connection to your car battery.
Safety features
To prevent damage to your vehicle's electrical system or the devices themselves, power inverters offer built-in safety features such as high/low voltage, temperature, and overload protection. Some even have visible indicators and/or audible alarms to alert you when conditions are becoming unsafe.
Let's get started!
Ready to shop? Check out our full selection of power inverters. If you have questions of your own, give us a shout via phone or chat.
Last updated 11/11/2022