he moment Manny Marroquin realized the Audeze MM-500 headphones were ready for the world, he was technically on vacation. "I was in the Bahamas for a wedding, and my hotel room had the greatest view," the legendary mixing engineer told me. "It was beautiful."
But work deadlines loomed. He was finishing a track for DJ Khaled that featured the late, great Nipsey Hussle. "And Khaled was like, 'we got to turn this in today.'"
Manny was far from his usual setup at the iconic Larrabee studios in North Hollywood — where his dimly-lit workstation rivals desks at NASA mission control, both in its scope and the amount of impressive equipment. Instead, he had just his laptop, Pro Tools music production software, and a prototype of the professional open-back headphones that would ultimately bear his name.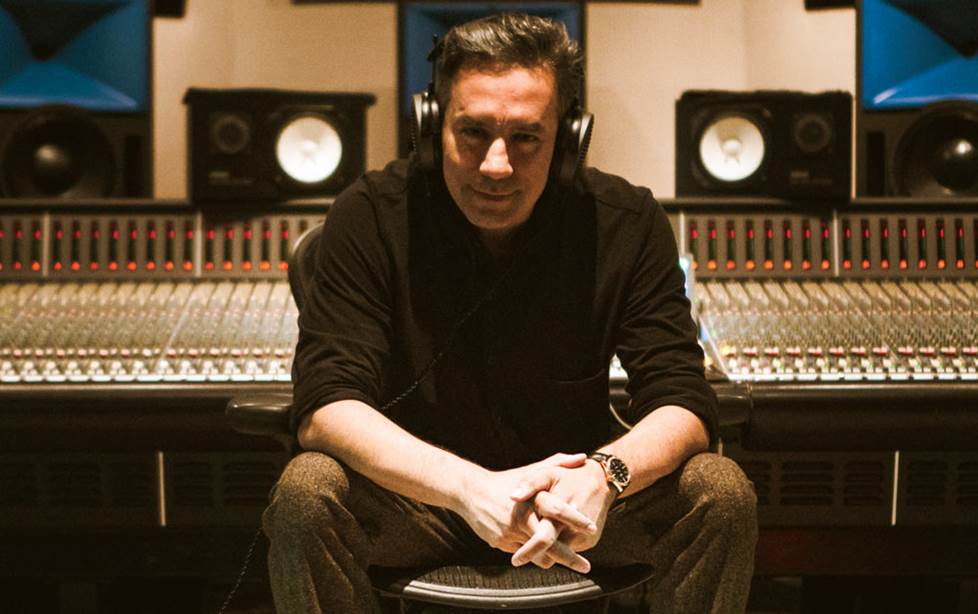 Marroquin is a creature of the studio (shown here in his room at Larrabee in North Hollywood), but the Audeze MM-500 headphones give him flexibility to work anywhere he can bring a laptop. Photo by Michael Pieters.
Fittingly, Manny is fond of telling people he's always on vacation. It's a tongue-in-cheek mantra to help him stay grounded in the pressure-cooker world of popular music, where you're only as good as your last hit. But it's also an homage to his mother, who fled Guatemala with nine-year-old Manny and his sister amidst a long, brutal civil war — and told them to pack for Disneyland.
The "hit-maker" sets his sights on headphones
If you don't know the name Manny Marroquin, you no doubt know his work. Going back to the early '90s, he's mixed seminal records from Alicia Keys, Taylor Swift, Elton John, Common, Imagine Dragons, John Legend and countless others. He's won 14 Grammys in the process. His mixes dominate radio, Spotify playlists, and Billboard charts — a dense catalog that includes megawatt earworms like Rihanna's "Umbrella," Bruno Mars' "Locked out of Heaven," and Lizzo's "About Damn Time."
I spoke to Manny over Zoom at his Los Angeles home about his amazing career, his latest collaboration with Audeze, and his projects nominated for the 2023 Grammys.
Early last year, he won his 11th Grammy — the big one, Album of the Year — for Jon Batiste's We Are. Soon after that, Alicia Keys' classic debut Songs in A Minor, one of Manny's first Grammy-winning projects, was officially preserved in the Library of Congress.
"I've been blessed to work with so many great artists over the years," he told me over Zoom, from his home in Los Angeles. The California morning sun seeped through his stained-glass background, casting a calm warmth over our conversation. Manny spoke with a steady composure, at once confident and gracious.
"The word 'confidence' is important in our work," he said. "You can hear a confident mixer from a mile away, and vice versa."
Manny remains one of — if not the — most in-demand mixers working today. In fact, 2022 may have been his most prolific year yet. All told, he racked up 16 nominations for the 2023 Grammy awards on Sunday, February 5th. That includes three nominations for Album of the Year (Mary J. Blige, Lizzo, and Kendrick Lamar).
Update 2/6/2023: At the 2023 Grammys, Manny won three more awards — Record of the Year for Lizzo's "About Damn Time," Best Latin Rock or Alternative album for Rosalía's Motomami, and Best Rap Album for Kendrick Lamar's Mr. Morale & the Big Steppers. That brings his total to 14 Grammys (17 including Latin Grammy awards).
"The thing that I love about Manny the most is his approach," hall-of-fame songwriter/producer Linda Perry said on her podcast. "If you want [straightforward] 4-track mixes, he'll do that. Or if you want it to sound like [you're in a stadium] and there are 100,000 people in there? Then Manny can do that, too."
He mixed 17 of the 18 tracks on Kendrick Lamar's return opus, Mr. Morale and the Big Steppers. That was one of several albums he worked on that made (or topped) year-end Best-of lists, like Lizzo's Special, Rosalía's Motomami, The 1975's Being Funny in a Foreign Language, and Pusha T's It's Almost Dry. He also mixed several high-profile releases from Paramore, Post Malone, Phoenix, Camilla Cabelo, Charlie Puth, and, yes, DJ Khaled's latest — featuring that Jay-Z verse.
I caught Manny at a particularly busy, un-vacation-like moment in time last fall. We met to discuss a new release, only this latest project wasn't a hit record. It was his stellar collaboration with Audeze, the MM-500 headphones.
Our conversation covered Manny's career, his approach to mixing, the development of the MM-500s — and how these headphones helped Manny tap into the mood of the Mr. Morale album.
What does a mixing engineer do?
A mixing engineer's work is technical and cerebral, but it requires an artistic knack. Along with the ability to identify a vibe and accentuate it. "It's less about 'sonic [characteristics]' at first," said Manny, on starting a mix. "It's more about emotion. Like does the song feel very moody…maybe dark, or bright?"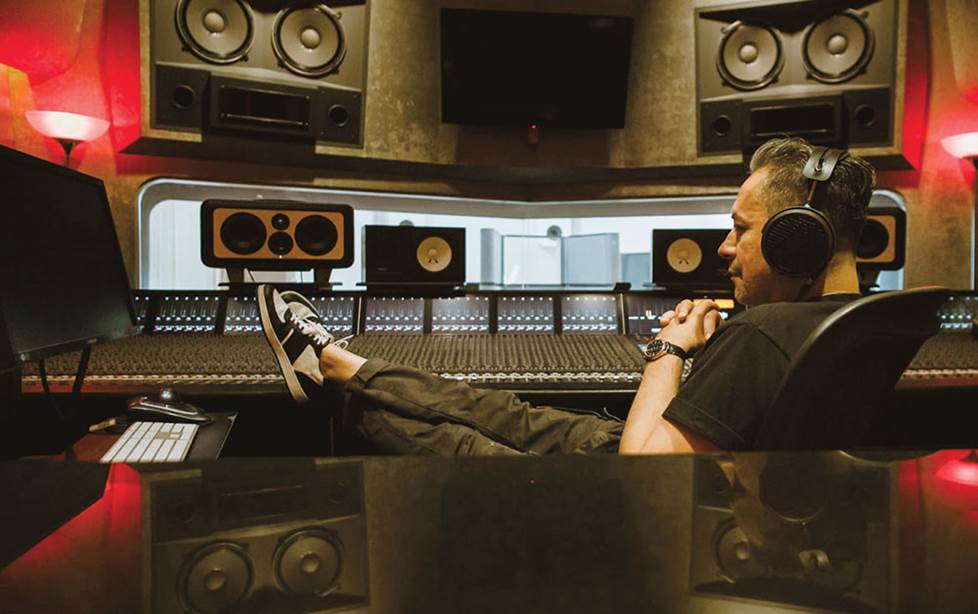 Manny has used his signature MM-500s for mixing several recent projects, including Kendrick Lamar's 2022 album, Mr. Morale & the Big Steppers.
When an artist records in a studio, the producer and engineers capture different sound sources independently — instruments, vocals, even as granular as different areas of a drum kit. That's where a mixer like Manny comes in. The mixer takes all those various recorded pieces as separate files, or multi-tracks, and assembles them together to make a song.
Only it's not "set it and forget it" for the whole song. Manny is moving faders and making adjustments every second of the track. Different instruments or vocals may need to be prominent at different parts of the song. Or, he may need to add certain sound effects, maybe reverb or decay, and he's constantly balancing the EQ.
"I treat every mix almost like it's a performance," Manny said. "And a lot of ideas come out of that — not just that I hit my stereo bus, but the way I punch it. Or how my head and feet are moving [to the groove]."
VIDEO: How Manny starts a mix
When Manny does his job right, nobody should hear him working. Everything should sound and feel natural. "So many people tell me 'I would love to watch you work,'" Manny laughs. "But I tell them you won't learn anything. I'm moving fast, but it sounds like I'm not doing anything. Then, when we're done, four, eight, or ten hours later you're going to say, 'what just happened?'"
In the past, Manny did his mixing in the same studio where the artists recorded. But these days, producers usually send their multi-tracks to Larrabee, where Manny's team organizes them and queues them up for Manny to do his thing. "So, I have my kick, snare, instruments, all the vocals right there for me," he said. "I'm so fortunate to have a great team, so I can just start thinking creatively."
Mixing Kendrick Lamar's Mr. Morale album on the MM-500 headphones
Call it fate, timing, serendipity, or something more calculated — but having a finished version of the MM-500 headphones handy proved advantageous for mixing Mr. Morale & The Big Steppers. These large headphones offer a sonic signature that complements the album's vibe. The soundstage is focused and controlled but stretches well outside the head and has a keen sense of place within.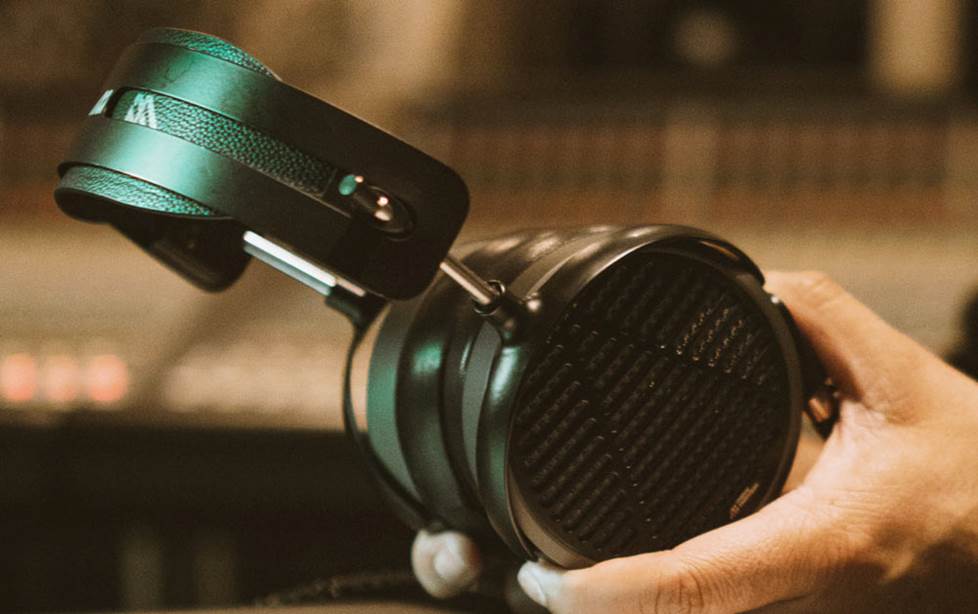 The MM-500s helped Manny tap into the distinct sonic mood of Mr. Morale. "I can actually EQ percussion and dial in the 808s, kicks, and snares," he said. "Very few headphones let me do that."
"[Kendrick's delivery] is amazing, the tone and the way it's so hypnotic," Manny said. "Once he starts, you almost can't stop listening. You can't turn away…it's pretty powerful."
And this was Kendrick Lamar's most personal, inward-looking album yet — an introspective self-portrait to contrast the sweeping, panoramic tapestries that were his previous albums. "The first song I mixed was actually the last song on the album," he said. "I thought, this is an entirely new sound for Kendrick."
Manny called it "one of the best experiences I've ever had" creating an album. One reason was the finished product — as a listener, Manny said it is his favorite album he's worked on. ("It's that special.") But Manny also really enjoyed the journey, working with both Kendrick and executive producer Sounwave for the first time.
"I can see why [Kendrick is] one of the best to do it," said Manny. "Why he's one of the greatest artists of our generation. [It's] the way he thinks, his intuition."
Manny was struck by Lamar's inquisitive nature, calling him a "people person" who asks more questions than most established artists. "He wants to know your process. He wants to know what you're thinking, what's your state of mind," Manny said.
The work itself was collaborative and fluid — "think of it like a basketball team" — with Kendrick and Sounwave clearing out space for Manny to operate. "They kind of let me do whatever I wanted and man, it was very liberating," he said. "Everybody plays their roles. Our captain was Kendrick, and he was very involved [in the entire process]. But my role is to give it a certain emotion."
Within the intimate confines of the Audeze MM-500 headphones, he could tap into this album's distinct ambiance and mood.
The artist at work
When Manny explains his mixing process to me, it's as if he's describing a séance. The room is dark and he's going through rituals and repetitions, searching for something mystical, a higher power. "It's music," said Manny. "Whether you're mixing analog or digital, it starts with 'how does it feel?'"
Numerous Gold, Platinum, and even Diamond records have passed through the boards at Larrabee studios — but very few of those plaques line the walls and hallways. Manny prefers to display paintings and artwork that inspire guests, rather than intimidate them. He says it also puts him in the right frame of mind to mix.
His mixing console at Larrabee is always laid out the same, so it becomes a blend of instinct, muscle memory, and riding the emotion of the song. "Every time I have my kicks, hear my vocals, my synths, my effects, all in the same place," he said. "So, all I do is I show up and start pushing faders."
VIDEO: Manny discusses working with Kendrick Lamar
Manny cut his teeth capturing recordings of hair metal bands in the late '80s at famed Enterprise Studio. He was a studio assistant for producer and mixer Jimbo Barton's live recording sessions. Manny learned firsthand how microphone placement can affect sound — even moving it slightly left or right can make a noticeable difference. He said having gone through that meticulous routine back then helps him when he's dialing in the EQ on a track today.
And he modestly believes that, perhaps, bridging the gap between the more hands-on, analog era and today's largely digital, computer-based world gives him a slight edge.
"How I set the EQ [at Larrabee] is different than how I do it in the box [on my laptop]," he said. "I'm not saying it's better or worse, but I can multitask and queue up five things at the same time. And I can do that without even thinking or opening and closing plug-ins or tabs…It's a game of inches and I feel like it gives me that inch."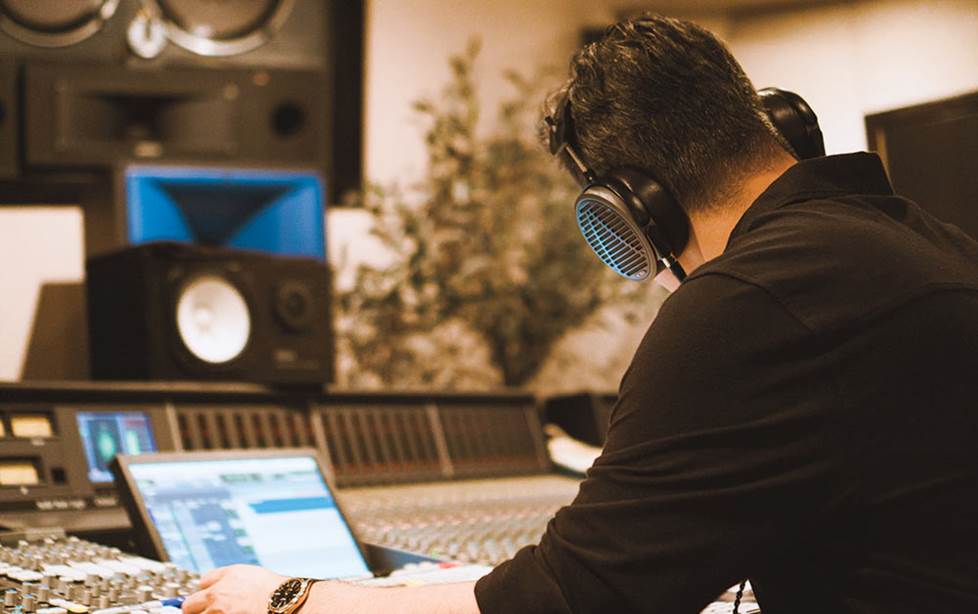 The top artists on the planet rely on Marroquin's steady hand and sharp attention to detail.
These days, professional and amateur mixers alike are often mixing "in the box," using a digital audio workstation (DAW), like Garage Band or Pro Tools. These are computer programs that mimic and function as full mixing board setups like the one Manny has at Larrabee. (Manny, never one to be overly precious or guarded about his process, often speaks at seminars for students and up-and-coming studio pros and even has his own software plug-in for Pro Tools that helps "de-ess" sibilant vocals.)
In reality, Manny rarely mixes entirely "in the box," or "on the desk." He's usually using a combination of both in Larrabee, where his room — studio 2 — is packed with cutting-edge digital gear, classic analog mixing consoles, and a plethora of hyper-calibrated monitor speakers.
There are times, though — like that trip to the Bahamas — when Manny is forced to work away from Larrabee. And clients still expect him to deliver a world-class mix. "Vocals are hard [to mix in headphones], because you have to EQ [the entire track] around the focal point," said Manny. "There's a lot of information in the midrange. So, a mix doesn't always translate as well in other speakers."
That's one reason he decided to help develop the MM-500 headphones. And he knew that the headphone experts at Audeze were up for the challenge. "Having a tool that you can be creative with and trust," Manny said. "I think that was always the goal and vision of these headphones."
Creating and developing the MM-500 headphones with Audeze
While the MM-500s are larger than the average over-ears, they look streamlined and feel lighter than traditional Audeze planar-magnetic headphones. "That was key to our design," Manny said. "Imagine having a true reference — basically a set of [high-end monitor] speakers you can travel with and put in a bag."
Manny detailed how he spent five years in development alongside Audeze — testing prototypes, providing design feedback, and helping fine-tune the sound. And the SoCal headphone experts welcomed his advice and criticisms.
"We've always tackled problems with research and analytics," Audeze founder and CEO Sankar Thiagasamudram told me. "Manny does that, too. But he's shown us the importance of going along with what feels right emotionally, particularly when it comes to sound."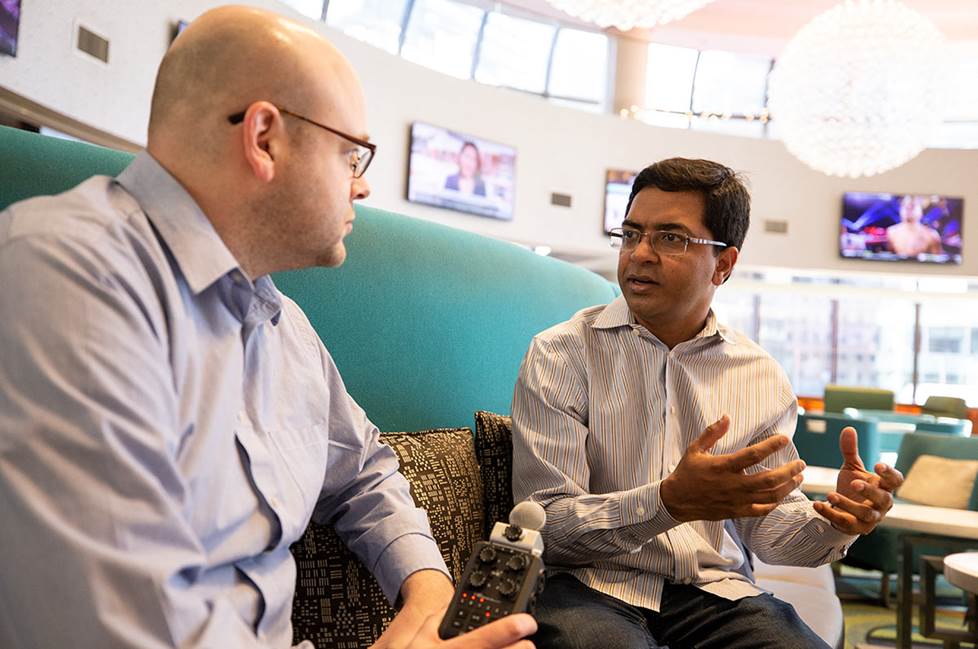 Me with Audeze CEO Sankar Thiagasamudram (right) in Manhattan for a recent CanJam personal audio show where the company is now a major attraction. "Back in 2009," he said, "we started with half a booth at CanJam."
Manny's been a fan of Audeze from the first time he repurposed a set of their high-end audiophile listening headphones for mixing in the studio. Six years ago, he was working on Imagine Dragons' second album and Audeze senior executive Mark Cohen swung by with a set of their LCD-X headphones.
"I was blown away," Manny said. "[Cohen] left them there, and I just stayed on them…Next thing you know, I mixed the whole song on headphones, which I had rarely ever done at that point."
The LCD-X headphones are a favorite of studio pros due to their linear frequency response and precise impulse control. Mixing engineers seek out headphones or speakers, known as monitors, that are designed to sound relatively neutral with very little sound colorization. When they're creating a mix, they want it to play as consistently as possible for the end listener — you or I — who could play music on anything from a laptop speaker to Sonos to a high-end audiophile stereo setup.
"And how do people mostly listen to music nowadays?" Manny asked. "Headphones."
Fine-tuning the MM-500s' design and sound
When Sankar and the engineering team at Audeze created the LCD-X back in 2013, they weren't thinking about pro audio. They were just looking to deliver a pure, neutral sound to the listener. Turns out that's exactly what studio pros needed, too.
But Manny felt that while the sound tuning was just right for mixing, the size wasn't conducive to life in the studio. "The LCD-X headphones are amazing, perfect if you're having a single malt, putting on Dark Side of the Moon." he said, smiling. "But they're big, they're heavy and can get in the way…plus, I wouldn't exactly have them on in front of the artist."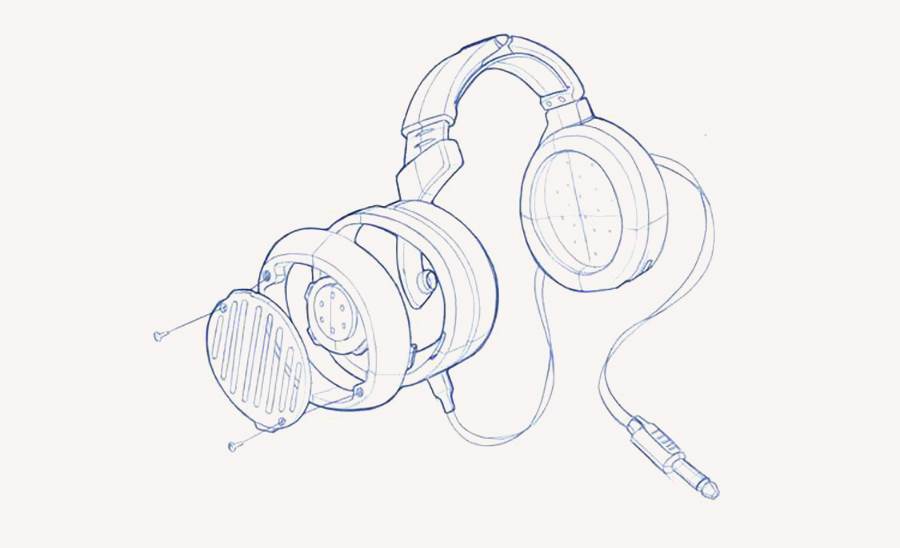 Audeze took a new, cutting-edge approach to their planar magnetic drivers, developing stronger magnets and thinner diaphragms for lighter, more efficient headphones.
So he called Mark at Audeze and said, "Man, this is honestly the best headphone I've ever heard in my life. If you ever want to do something for creators, I want to help."
Mark quickly got him in touch with Sankar, who not only wanted Manny's help, but put him in charge of Audeze's fledgling pro audio division. And asked for his unfiltered input on the headphone design. "I have to give them credit for giving someone as crazy as me an opportunity to like mess with their babies," chuckled Manny, "But they believed in me and my vision."
Audeze got to work on meeting Manny's specifications. They gave the MM-500s a similar tuning to the LCD-X — but made them 20% lighter. (Their latest flagship, the LCD-5 headphones, were built in concert with the MM-500s and weigh even less.)
A flexible steel headband binds the extra-large earcups together, and a new suspension system helps better distribute the weight. The leather lining hugs the crown of your head, while the strong frame holds the headphones firmly in place. And plush, sculpted leather ear pads conform to your head and properly position the drivers in relation to your ears.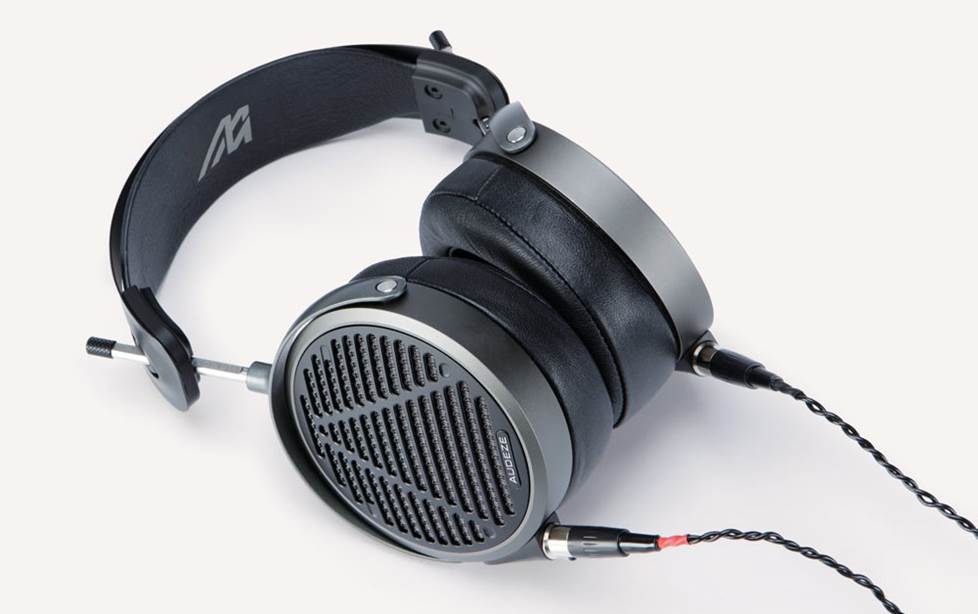 The MM-500s are plush and form-fitting. A sturdy frame evenly distributes the weight and keeps them secured into place.
"Now I have a studio on wheels, a real legit studio," said Manny. The MM-500s' streamlined diaphragms and voice coils make them efficient enough to with a pro audio interface. And on the go, you can drive them easily with a smaller headphone amp.
Fast forward to the day in the Bahamas, Manny at his hotel desk, mixing the Nipsey Hussle vocals with the MM-500s prototype. He finishes the mix and sends it on. Later that year, the song would win Manny another Grammy.
But more importantly, when he got back to Larrabee, he listened to through his main monitor speakers there. "It sounded exactly like what I would have done to it there in the studio, he said. "So I immediately called Sankar and said, 'man, it's done. We don't have to [mess] with it.'"
The past informs the present
From the beginning of his career, Manny has vowed to keep an open mind. And to never allow himself to get pigeon-holed. That's why major labels and artists tap him for projects spanning all genres.
He's seen peers drop off over the years, unable to adapt to music trends or new technologies. "I came from that era of knowing how to align a tape machine, hitting tape a certain way and console analog transistors, resistors, and all that," he said. "But going from that to digital — there were a lot of casualties."
Manny got his first taste of this in the early '90s at Enterprise studios, when the hair band scene died "almost overnight." Rock music's center of gravity moved Northwest and Seattle Grunge took off. In LA, studio demand for hair bands gave way to hip-hop and R&B acts. Some engineers were simply unable to evolve.
Manny on the other hand, thrived. A few "right place at the right time" breaks (I'll add: with the right preparation) later and Manny was hopping around, working at iconic labels of that era like Bad Boy Records, LaFace, Arista, and others.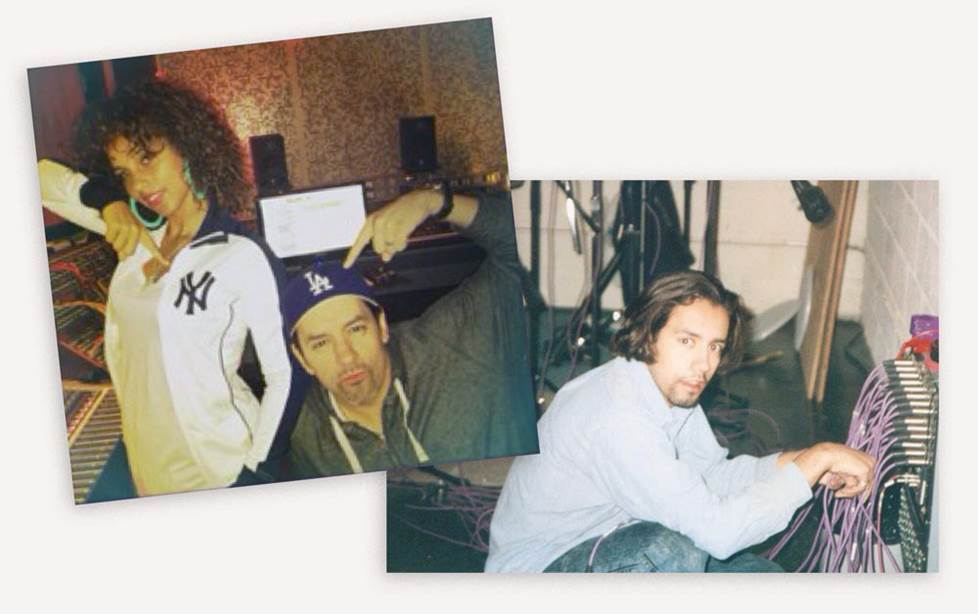 Left: In the studio with frequent-collaborator Alicia Keys, circa early 2010s. Right: Manny spent the early 90s as an engineer assistant for producer Jimbo Barton helping record hair metal bands.
His work ethic caught super-producer Babyface's eye after he stayed late on a holiday vacation to finish a mix. He gave him more and more opportunities to show his talent and helped build his credentials.
But some self-reflection helped him realize he wasn't above slipping into habit or complacency. It was something Alicia Keys taught him on her now-iconic debut album, Songs in A Minor. Back then, she was a young artist who was sure and confident enough about her own music to question one of Manny's decisions.
Manny was already a seasoned mixer at the time and used auto-tune to clean up some pitchiness in her vocals. A routine action to cover up a rare imperfection. But when she listened back, Keys latched on to that moment, said something was off…it wasn't her.
On Andrew Schep's podcast, Manny recalled her saying, "I want my fans to connect with who I am."
It made Manny completely rethink his role as a mixer. Is he there to make the "perfect" mix or one that's authentic to the artist? It also reminded him to always remain open to new ideas. "The moment that you're closed-minded in this business," he said, "that's when you stop learning and that's where you become a dinosaur."
Entering new frontiers with spatial audio, Verse restaurant and the Audeze "MM" line
Manny's embrace of new ideas and different perspectives should keep him relevant and in-demand for many years to come. As always, he has a long roster of major artists lined up to work with him. But he's also taken well to mixing for Apple Music's spatial audio, an entire new way of creating and listening to music that's built on the immersive Dolby Atmos format.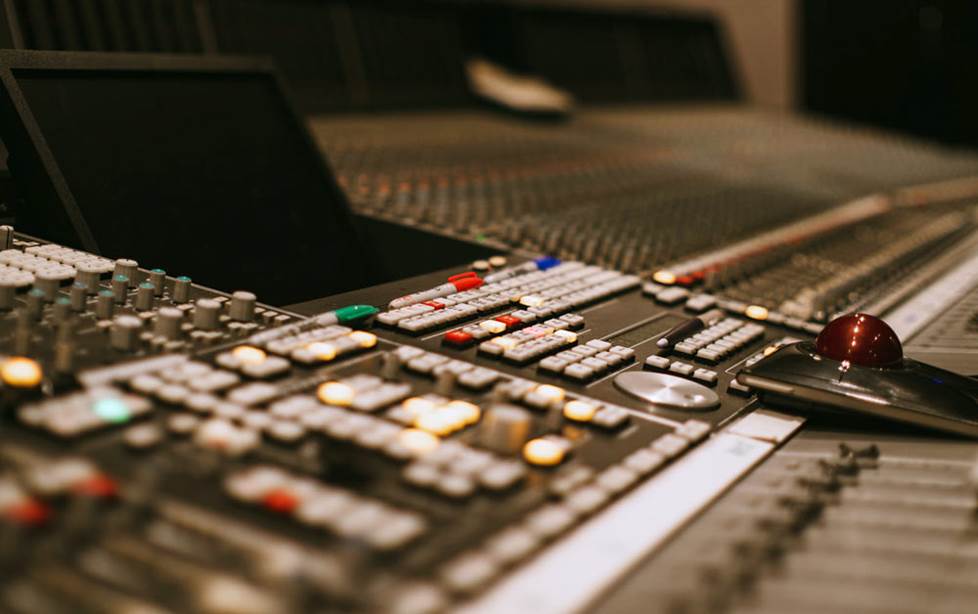 Larrabee's new Atmos Studio 3 features monitors calibrated by Dolby and a trackball control that allows Manny to precisely place sound "objects" in your listening space.
Unlike two-channel stereo, this object-based sound format completely surrounds the listener. It wraps all around you and even above. Manny and his peers have been experimenting and learning on the fly, often to thrilling results. But the approaches can be different.
"For stereo mixes, it's always been an evolution of how we 'glue' [sounds together] to make emotion," he said. "Now we're trying to make emotion with space."
His ability to think beyond conventional wisdom also turned Verse LA — the new restaurant next to Larrabee that he owns and operates — into a bona fide Los Angeles hot spot. "My gut was just like, go with the open floor plan so that you feel like you're in a living room," said Manny. "A big living room where the best musicians can just drop in and start playing."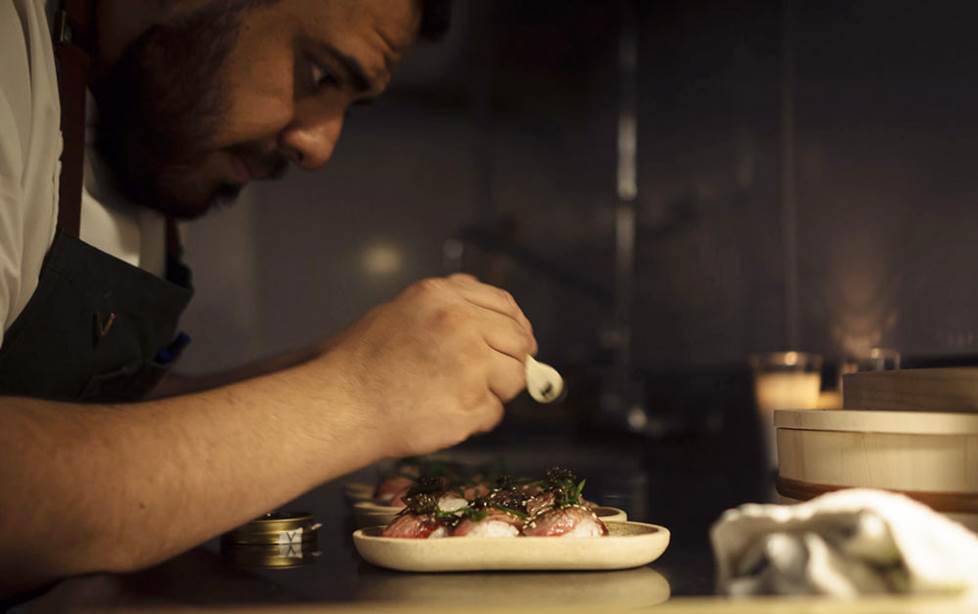 Robb Report recently called Verse "the hottest ticket in Los Angeles." It's popular for chef Oscar Torres' Mesoamerican menu, top-shelf live music acts, and studio-quality sound.
Many consultants and friends in the restaurant business told him that an open floor plan wouldn't work, couldn't work. People want to be clustered off in their private space while they dine. But he stayed true to his vision — a communal spot, part old-school LA supper club, part modern dinner party.
It's also a family affair. Manny's son manages the dining room and finalizes the wine lists. (Manny told me he selects each night's eclectic playlist himself — a task he couldn't bring himself to delegate.) Meanwhile, chef Oscar Torres' take on Mesoamerican cuisine shares top-billing with residencies and drop-ins from the likes of Kamasi Washington, Terrace Martin, Ozomatli, and Lil Wayne.
Oh yeah, and all with studio-quality acoustics. "It's the cleanest recordings, it just blows my mind," said Manny, "I mean, we had 130 people in there to record a jazz album and [the recordings are] as clean as anything we've done at Larrabee."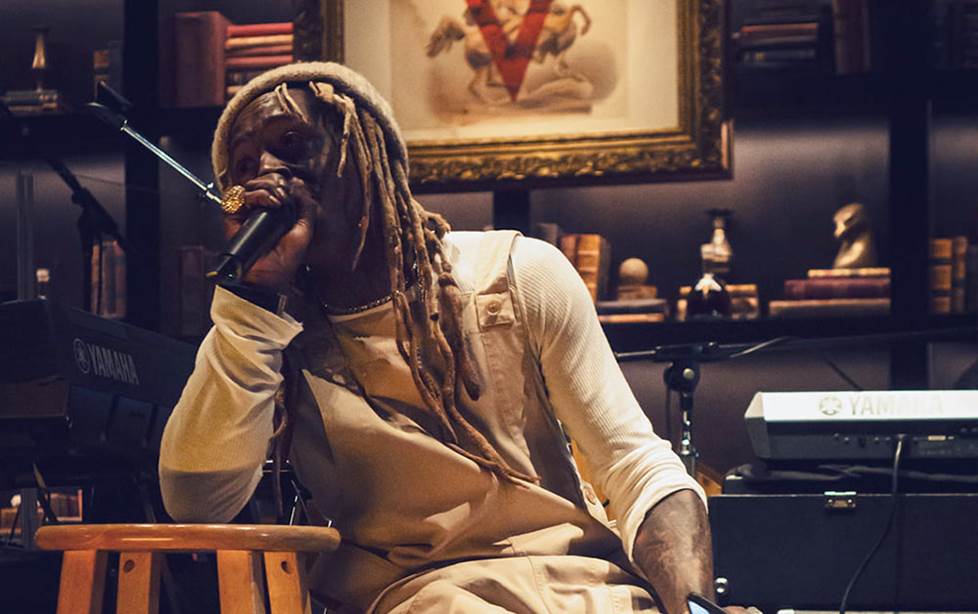 Manny went for an open, yet intimate setting — "Like you're in a living room," — where the world's greatest artists can just drop in and start playing music.
And finally, the future of the "MM" line of pro audio gear looks especially promising. Manny found the right dance partner in Audeze. When I asked Sankar and Manny about their plans, both kept their ideas close to the vest. But seeing how Audeze has managed to shrink their drivers to fit into smaller gaming headsets and even earbuds, one could read the tea leaves.
"As other ideas come up, we may find other gaps where we can help the industry," said Manny. "Sankar and Audeze have been great supporters…I'm doing this to hopefully help other creators become more efficient, without sacrificing any quality. So we'll see what happens."
Finding the perfect mix
Manny laughed when he said that he and his sister never made it to Disneyland as kids. But there's no way he could hold that against his mother. After all, she gave him that "vacation" mentality and modeled a patient temperament in stressful times. His mother and sister also tolerated and encouraged his drumming, even as he learned and practiced with the three of them in a one-bedroom Central LA apartment.
He grew skilled enough to earn a spot at the heralded, prestigious music program at Hamilton High School. There, Manny watched his teacher move faders on an old-school Panasonic Ramsa mixing console — Manny's introduction to the mixing process.
"And I'll never forget how he completely altered the emotion of the track," Manny said. "I was 15 years old, and it still blows my mind today. Somehow, I can change your emotional state just by manipulating sound frequencies."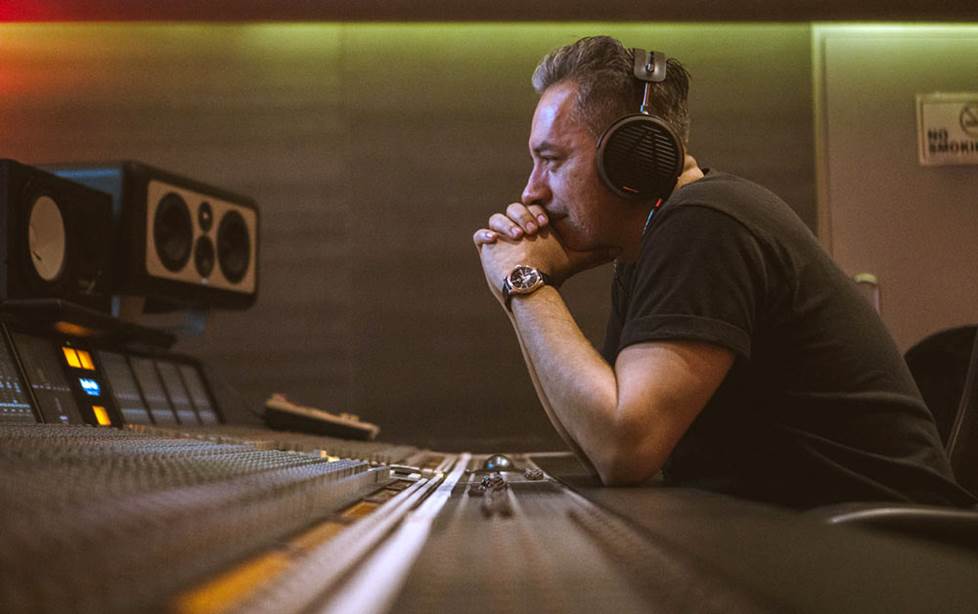 "My manager often says that good songwriting is when you can say 'I love you' in a way that hasn't been done before," said Manny.
When Manny mixes a track, he's aware there are several stakeholders. There are the business "clients" — the label, the producer, managers. He must hone in on the aspects of the music that people can relate to, respond to.
He's also there for the artist, helping them tap into things that can't always identify themselves. Highlighting certain emotions or ideas. But also protecting them against their own impulses and indulgences, balancing their authenticity with what's right for the mix.
And in some ways, he's the last advocate for us, the listeners. He knows what we need better than we do. He knows what sound pattern or progression our brains are craving next. And he knows when to comfort us and when to challenge us, when to give us sonic misdirection.
"I think art is supposed to be about making you uncomfortable and showing you things you haven't been shown before," he told me.
Ultimately, though, he's in service to the song. "[Manny] is analog, he's digital, he's grassroots, he's top-of-the-line...he's everything," said songwriter and frequent-collaborator Linda Perry on her show. "The gear is just the tool. But when Manny mixes, it's all about how it moves him. [He] goes with the song."
All the rest is pushed to the back of his mind as the energy seems to pulse to his fingertips, guiding the faders. It's the song itself — the rhythm, the cadence — that washes over him.
And it's hard to escape the pull of the song — even on vacation.
Need help? Contact us.
Have questions about the Audeze MM-500 headphones or any other gear for creating or enjoying music? Contact us today.
Our expert Advisors know our gear inside and out. And free lifetime tech support is included with your Crutchfield purchase.