PA amplifiers buying guide
How to choose a professional-grade power amplifier for your PA system
Professional-grade audio amplifiers are designed for use in PA (public address) systems. Their job is simple: Take the audio signal from a mixing board and magnify it. Then they send that amplified signal to a speaker or a set of speakers.
PA amplifiers can withstand harsh operating conditions and a certain degree of unintended abuse. Most models have robust protection circuits, trouble-sensing signal limiters, and other safeguards. When pushed too hard, they protect themselves, save your speakers, and prevent audible distortion.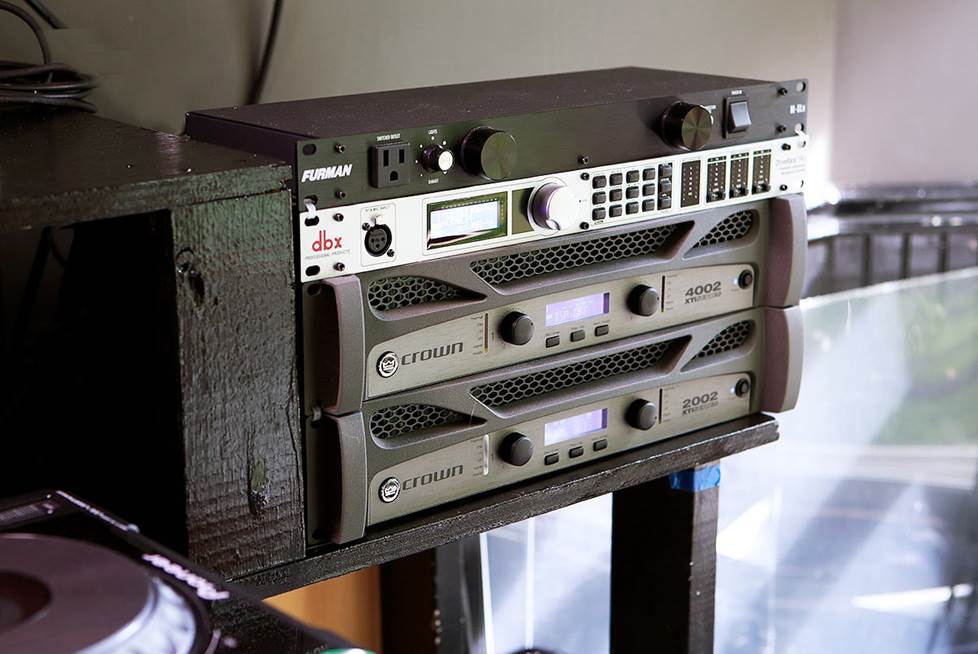 We recommended two Crown amps for a local nightclub's PA system.
Pro amps are versatile, too. That means they can safely adapt to a variety of speaker system configurations. Models with digital signal processing (DSP) let you tailor the amp's output to suit your speakers and the space they're in.
In this article, we'll discuss the things you need to know when choosing an amplifier for your PA system:
Where to start
Before you start shopping for amps, sketch out a system plan. The planning process starts with a few basic questions:
What's the size and nature of the space or spaces you need to cover with sound?
How many and what kinds of speakers will you need to meet your coverage needs?
How loud will your sound need to be?
Scratching your head already? Chat with one of Crutchfield's experts. Your advisor will help you come up with a solid system plan. But please finish reading this article first. You'll be better prepared for the conversation.
How many amps (or amp channels) do you need?
You may have noticed that power amplifiers have different numbers of channels. A channel corresponds to a single set of speaker connections – one positive connector and one negative connector.
Use a 2-channel amp for a simple, two-speaker system.
Here's a more complex system that uses four amps — a 2-channel amp for the main speakers, another 2-channel amp for the stage monitors, and a 2-channel amp in bridged mode for each of the two subwoofers.
Say you want to power two "main" speakers, one on each side of a stage. The obvious choice is a 2-channel amp.
You might want a second 2-channel amp to power two "monitor" speakers. The monitors are the wedge-shaped speakers that sit on the stage floor and fire sound up toward the performers.
If your audience likes a lot of bass, your system should include or more subwoofers. You can use a 2-channel amp in "bridged" (1-channel) mode to power a subwoofer. Bridged mode combines the power of both channels, sending more power to a single output.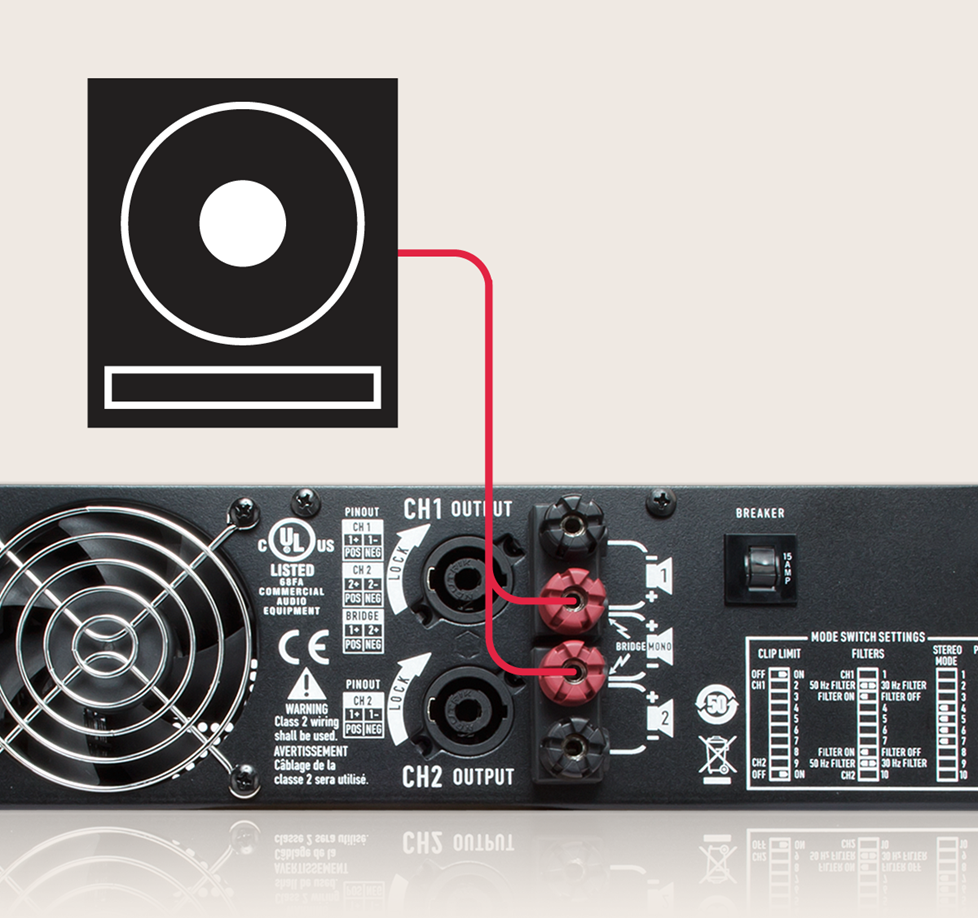 Bridged mono mode wiring for a subwoofer.
We also offer a few 4-channel amps, which are good for a variety of system configurations. They can also help you save space.
For more information about system configurations, read our intro to live sound equipment.
How much power do you need?
PA speakers have a program power rating and a continuous power rating.
The continuous power rating is typically half of the program power rating. Think of it as the minimum amount of power a speaker needs in real-world situations. You want an amp that provides at least that much power. But you can safely use an amp with up to twice as much power.
For example, for a speaker with a continuous power rating of 200 watts, you want an amplifier that delivers between 200 and 400 watts RMS. The closer you get to the higher number, the better the speaker will sound.
A peak power rating gives you an idea of the maximum, instantaneous short-term power a PA amplifier can deliver or that a speaker can handle. It's good to know, but not very helpful when planning a system.
Amplifier power and resistance
The amount of power an amplifier generates depends on the impedance (or resistance) of the speakers it's driving. It'll put out different amounts of power to different impedance loads. So you might see an amp that puts out 1,000 watts at 8 ohms and 1,500 watts at 4 ohms.
Keep this in mind when you're shopping for speakers. Most PA speakers are 8 ohms. Choose 4-ohm speakers like the JBL PRX425, and you'll get more power out of your amp.
But there's another way to maximize the amp's potential. Just add more speakers!
Two main speakers facing your crowd is a good place to start. But four speakers will spread the sound around your space more evenly.
Do you have to buy another amp for the second pair of speakers?
Not necessarily. You can connect two speakers to the amp's left channel and two to the right channel.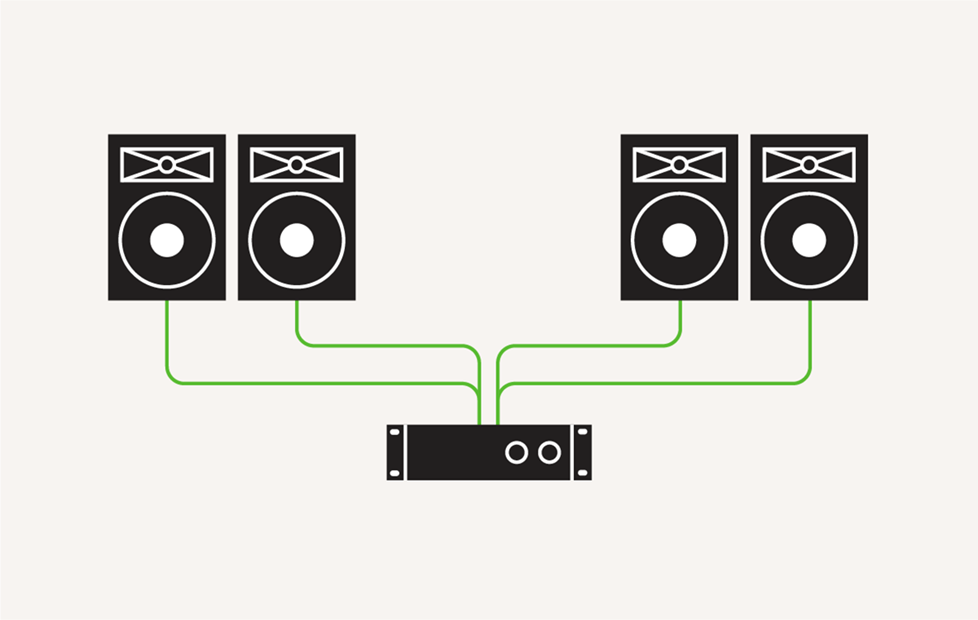 Connecting two 8-ohm speakers in parallel presents the amp channel with a 4-ohm load.
When two speakers are connected (in parallel) to one channel, the channel's power is split between the two speakers. Say your amp puts out 1,500 watts at 4 ohms. Connect two 8-ohm speakers in parallel, and each one gets 750 watts. Make sure you choose speakers that can handle 750 watts.
Amp classes
When shopping for PA amps, you may notice that they come in different classes. The class designations tell you something about the design of their output stages, but you probably don't need know all the details. What do you need to know?
Most of the amps we offer are Class D. This is the most efficient class of amplifier. Class D amps are much lighter and run cooler than other types.
We offer a few Class AB amps, and – at least in theory – they deliver better sound. In most live sound situations, however, you are unlikely to hear the difference.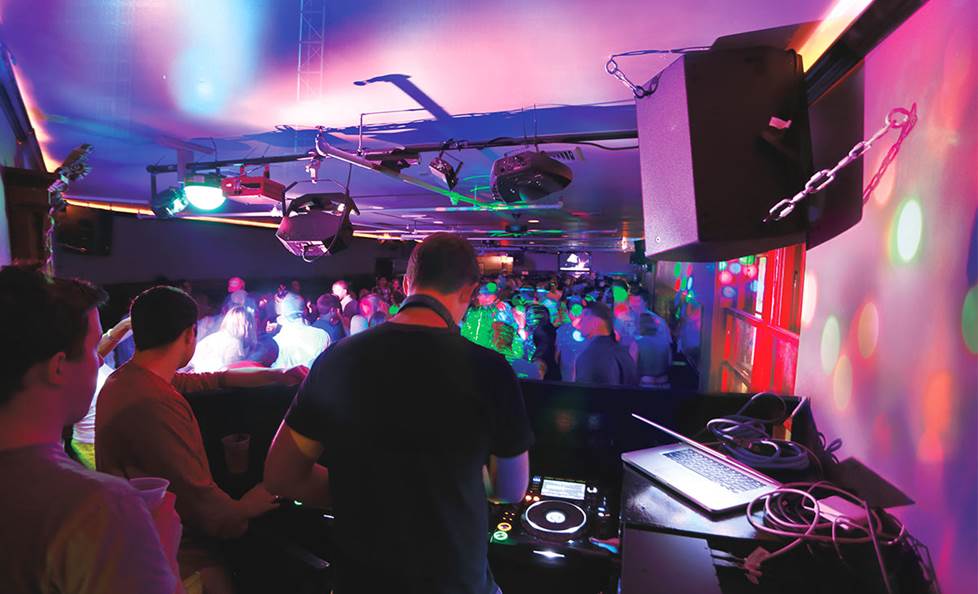 You'll need a system with lots of headroom for a crowded dance club.
Headroom
"Headroom" is a term that sound pros use a lot. A system with good headroom has all the power the speakers can handle, not just the bare minimum they need to get by. Headroom gives you several benefits:
You'll have power in reserve, which will come in handy when your band hits it big. You won't have to buy new gear to play in larger venues.
Your system will have better dynamic range. The loud parts will sound just as good as the quiet parts.
The bass parts will hit a lot harder without distorting.
"Clipping" distortion occurs when you push the limits of an amp that doesn't have enough headroom. The tops and bottoms of the signal waveforms are cut off (or "clipped").
Clipping can damage your speakers. Some PA amplifiers have indicator lights to warn you when the signal is approaching the clipping point. These tiny lights have saved many a speaker.
What you need to know about the connections
Power amplifiers typically offer XLR and 1/4" inputs for connection to a mixing board or other audio source component.
Most amplifier manufacturers recommend using balanced XLR connections throughout the signal path. Balanced connections reject noise. They're especially helpful where long cable runs are necessary.
You may also find RCA connections, which are more common on home audio components. That begs the question: Can you use a pro amp in a home audio or home theater system?
You'll typically get more watts per dollar with a pro amp than you will with an amp designed for home use. That's why we sell a lot of Crown amps for home theater systems. There are few things you need to know before you go down this path.
This might go without saying, but your home theater receiver must have multi-channel preamp outputs. (Or you could use a preamp/processor instead of a receiver.)
The pro amps you have your eye on may not have the right kind of input jacks. (Yes, you can get adapters to solve this problem.)
Pro amps have cooling fans that are noisy enough to be heard during quiet scenes in a movie. So you may want to locate the amps out of earshot. Or isolate them in a cabinet. Just make sure the cabinet is well ventilated.
Pro amps have input gain settings (and some other adjustments) that may bewilder a home user.
You have to be careful where you place the amp. Some pro amps have a strong magnetic field that can induce hum into other nearby components.
Finally, most pro amplifiers do not have 12-volt triggers, or input-sensing auto turn-on circuits. This means they won't power up when you turn on your receiver or preamp/processor. You either leave your pro amps on all the time or manually turn them all on each time you want to watch a movie.
Speaker connections
There a three different kinds of amp output jacks.
Neutrik SpeakON
Banana/binding posts
1/4" TS (Tip/Shield)
Speaker connection options — A) SpeakON, B) Banana/binding posts, C) 1/4"
SpeakON plugs offer the added security of a twist-and-lock connection.
Banana/binding plugs are more versatile. They accept bare wires, if the need arises.
When using 1/4" connections, make sure you use pro speaker cables with 1/4" plugs. Don't use instrument cables, which have the same kind of plug, but aren't designed to carry amplified audio signals.
Preamp outputs
Planning to use multiple amps in the same system? You'll need amps that have preamp-level "link" outputs. They sends the mixing board's signal on to the next amp in the chain.
All about the knobs, buttons, lights, and display screens
Some PA amps are pretty brainy. You may find knobs, buttons, and indicators for the following:
Gain settings
Typically, the front of the amplifier will have a gain/level knob and signal level indicator for each channel. Colored lights indicate when the amp is clipping. Proper "gain staging" starts with the settings on your mixer. To learn more about the process of setting levels at each link in your audio chain, read this article.
Frequency filters
Frequency filters let you tailor the output of an amp to suit the type of speakers it's driving.
A high-pass filter (also known as a low-cut filter) lets you reduce the output of a speaker below a certain frequency. It lets the amp focus its power on the higher frequencies and not waste energy on the power-hungry bass frequencies.
This kind of filter helps to eliminate audio distractions such as bass rumble, wind noise, and microphone thumps. When you have a separate subwoofer handling the bass in your PA system, you'll want to remove the deep bass from your main speakers. They'll play louder without distortion.
A low-pass filter removes the high-frequencies from the amp's output. Use the low-pass filter when the amp is driving a subwoofer.
A band-pass filter removes both lows and highs. Band-pass filters are good for fine-tuning the performance of your subwoofers.
Limiters
Limiters are protection circuits that can help keep your amplifier from clipping and to prevent distortion in the sound. They help prevent distortion caused by an overdriven signal, a dropped microphone, or a short in an input jack.
Time alignment
Churches and theaters often have speakers along the side walls. These allow people in the middle and the back of the room to hear things just as well as the people up front. And you don't have to turn the front speakers up too loud.
For your side speakers, you'll need an amp with the ability to delay the output signal. A little delay will "time-align" the side speakers with the front speakers. The sound remains crisp and highly intelligible throughout the room.
Parametric EQ
Some amps have very sophisticated equalization capabilities to help you fine-tune your sound. These adjustments can be made via the front-panel buttons or (in some cases) with a connected computer. Features like this eliminate the need for racks full of outboard signal processors.
Hands-on demos of amp settings
Here are a couple of videos that walk you through amp settings. In the first one, our expert Rob looks at the settings on a Crown amp
In the next one, Rob shows you what you can do with the settings on a Yamaha amp.
Questions?
Experts like Rob are here to help you design your PA system and choose the right amps. Call 800-555-9369.