In this article, we'll check out vehicle-specific solutions for late-model trucks and Jeeps that can help improve visibility and eliminate blind spots around vehicles — even when towing trailers. The solutions include replacement rear-view mirrors, front- and rear-view cameras, and wireless cameras.
Trucks are great for lots of things: hauling and towing chief among them. But these activities can often impede your view of the road or other vehicles around you. Here we look at some truck-specific camera systems for aiding drivers dealing with hard-to-see spots or other factors like trailers. There's no substitute for mindful driving, but these solutions can help improve visibility from the driver's seat.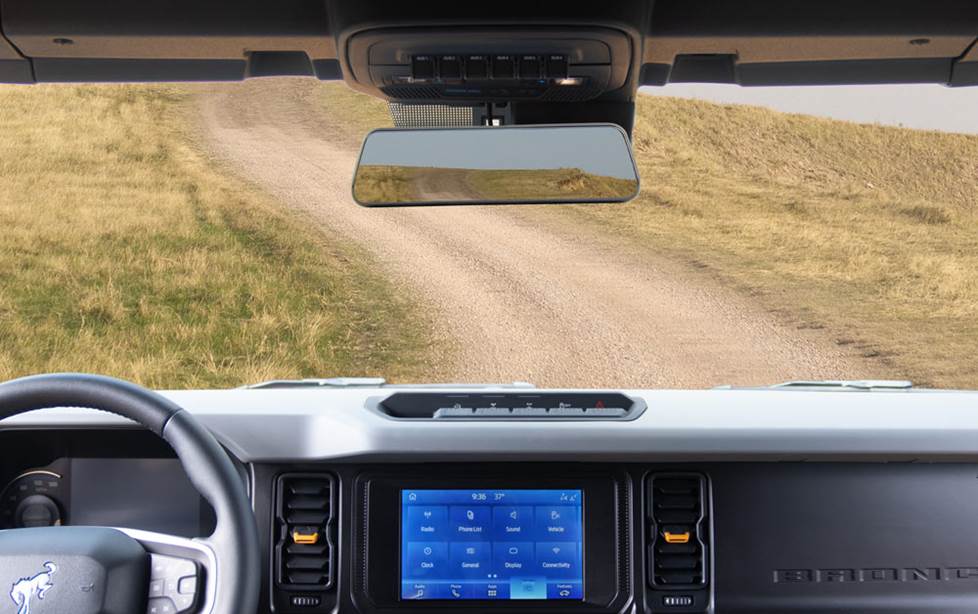 2021-up Ford Bronco owners will appreciate the new perspectives the Brandmotion FVMR-1120 FullVUE system can deliver.
Update your truck's camera with something truly useful
New trucks come with backup cameras, but not all cameras are created equal. Some lack sufficient lighting, offer poor resolution, or don't provide enough coverage. And they might be especially useless if you're towing a trailer.
We offer systems that can integrate seamlessly with your truck, either by replacing the factory mirror or working with your factory touchscreen radio. With a new camera system in place, you can get better views for many different areas around your vehicle, including the front, the cargo area, and behind a trailer.
To find a vehicle-specific camera system for your truck or Jeep, simply enter your vehicle info — our fit guide will let you know what's available, either under "Vehicle-specific Driver Assistance" or "Vehicle-specific Backup Cameras".
Brandmotion camera solutions
The folks at Brandmotion understand what life with pickup is all about. The camera systems below make hauling and towing much easier and safer.
Brandmotion's FullVUE® system for exceptional front and rear coverage
When you have precious cargo in the bed of your truck, it's important to keep it safe. Brandmotion's FullVUE system incorporates a replacement rear-view mirror with a front-facing dash camera and a rear-view camera that fits in your vehicle's third brake-light location. Working together, these video components give you a better picture all around your truck.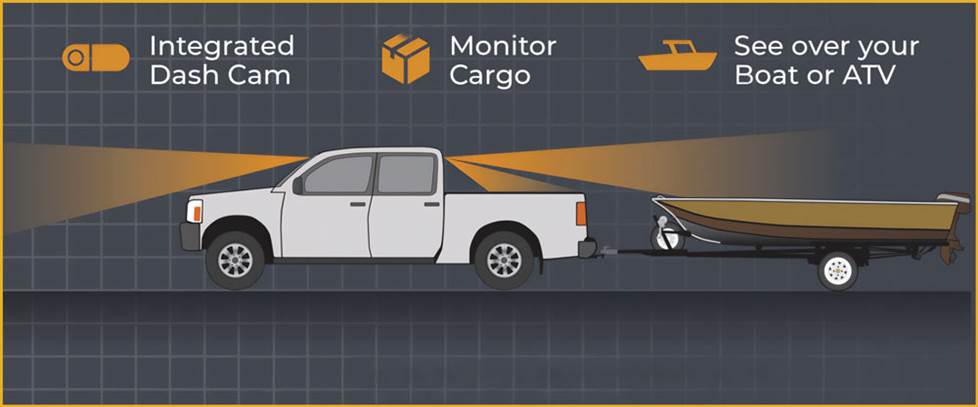 FullVUE sends three camera views to an HD digital mirror, which integrates seamlessly and has a factory look. We offer FullVUE systems with mirrors and cameras for Jeep, Ram, Ford, and GMC/Chevy models, plus commercial trucks.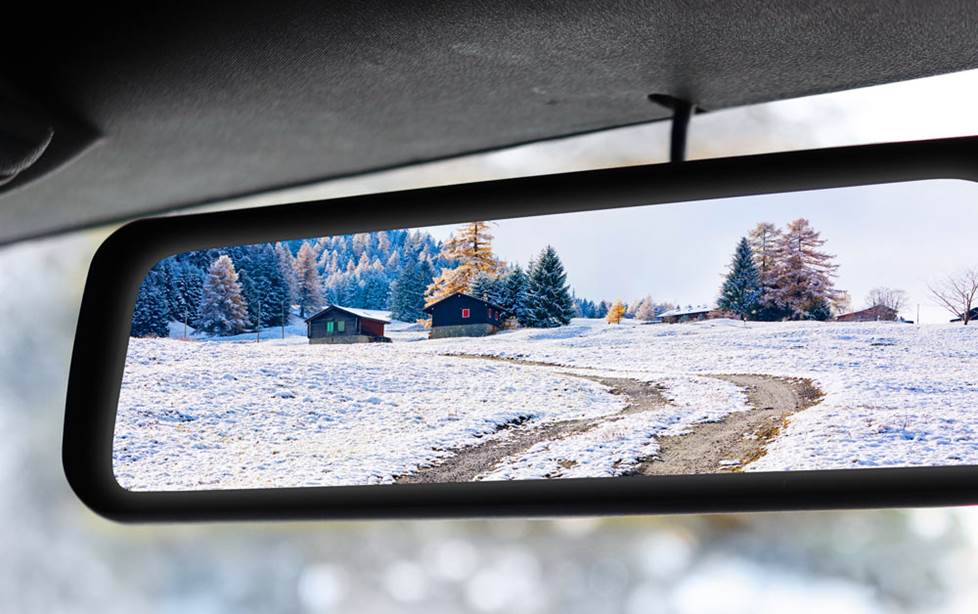 The replacement mirror in the Brandmotion FVMR-8886 FullVUE system looks factory in 2018-up Jeep Wrangler JL models.

The replacement rear-view mirror features a full-screen, high-definition 9.66" video display, built-in G-sensor, and DVR capability. Its built-in dash cam offers 1080p resolution.
The waterproof rear-view camera offers 170º horizontal coverage and highly sensitive night vision down to 1 lux (the light of one candle at one meter). It can record in 1080p resolution. You can have the camera look down to view the bed, or select a higher view so you can see over a cargo load, towed boat, or small trailer. Changing the view only takes a swipe of your finger on the mirror's screen.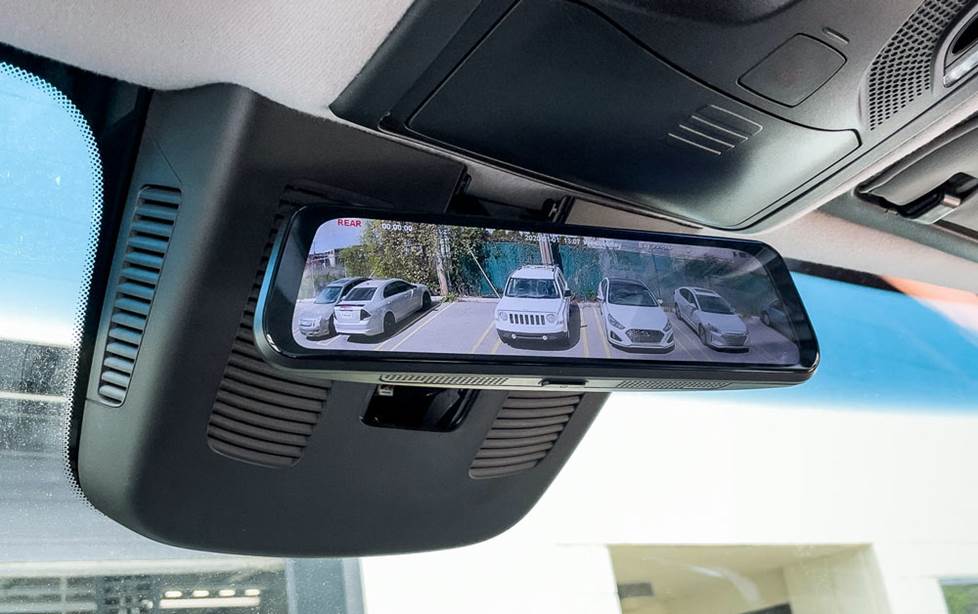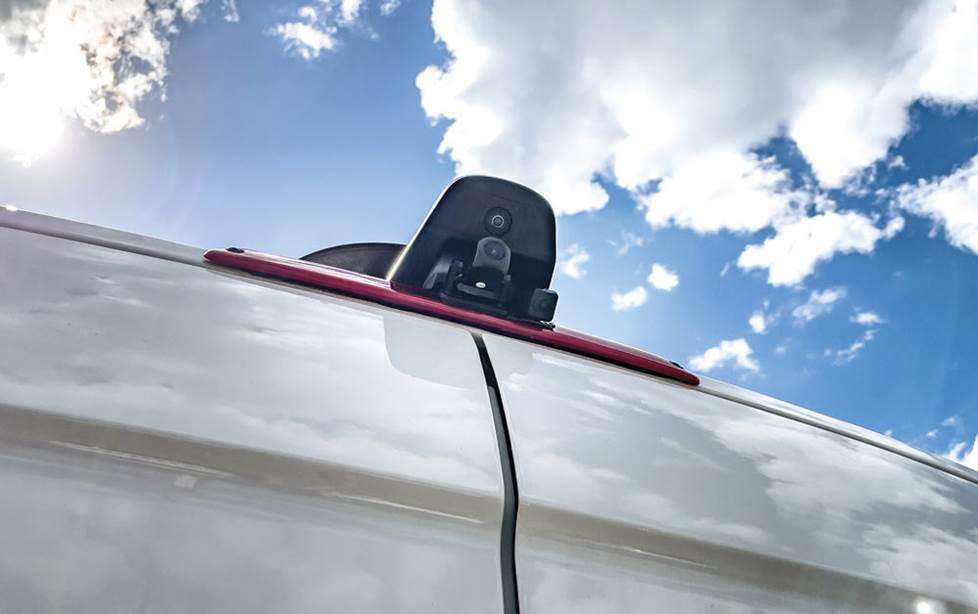 The FullVUE system's rear-view camera installs in your truck's third brake-light location so you can have a choice of viewing options: down into the bed or further back. Shown above are the mirror and installed brakelight camera for the FVMR-1170 system, which fits select Ram vehicles.
The FullVUE's DVR includes a memory card and can record both camera views for future viewing. Ease your worries about break-ins or theft by adding an optional hardwire kit for recording while your truck is parked.
The Transparent Trailer® system eliminates blind spots
No matter what's in your full-size trailer, blind spots can increase the stress of your haul. Brandmotion's Transparent Trailer wireless camera system pairs a replacement mirror with two cameras — one on your truck and one on your trailer — to give you the fullest possible picture.
Similar to the FullVUE system, the mirror boasts a huge high-definition display with touchscreen control. You can switch the view between the cameras with a finger tap.
The waterproof rear-view camera mounts on your truck's third brake-light location and provides 155º horizontal coverage. It gives you a great view of your cargo bed and around your truck anytime, day or night.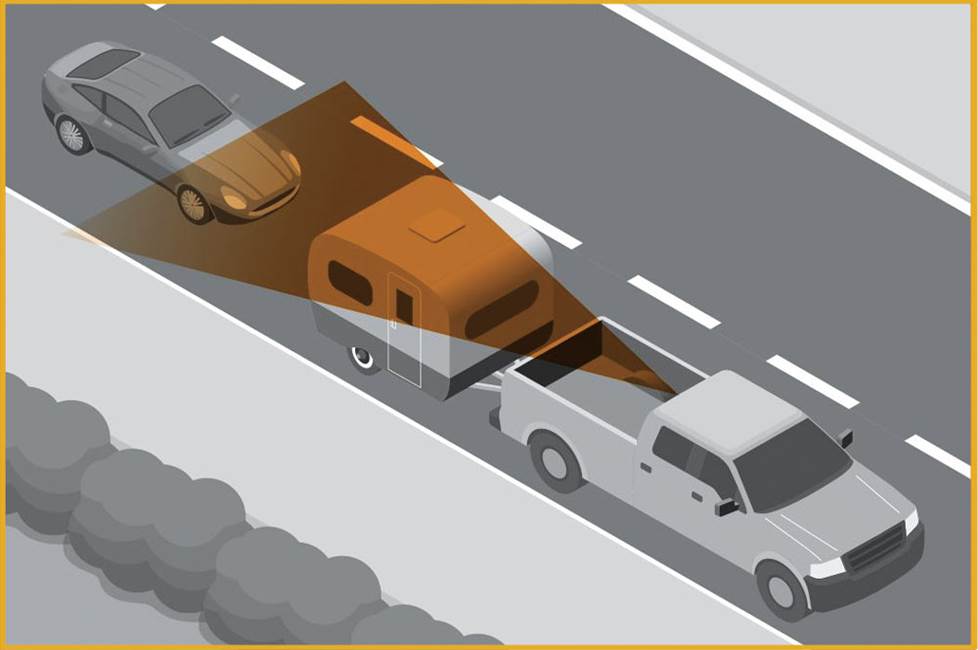 The wireless trailer cam mounts on the rear of your trailer and boasts 120º horizontal coverage. When you switch to the trailer view, you'll get the full picture on the mirror. You can easily see if someone's tailgating you or about to pass, as shown in the image above.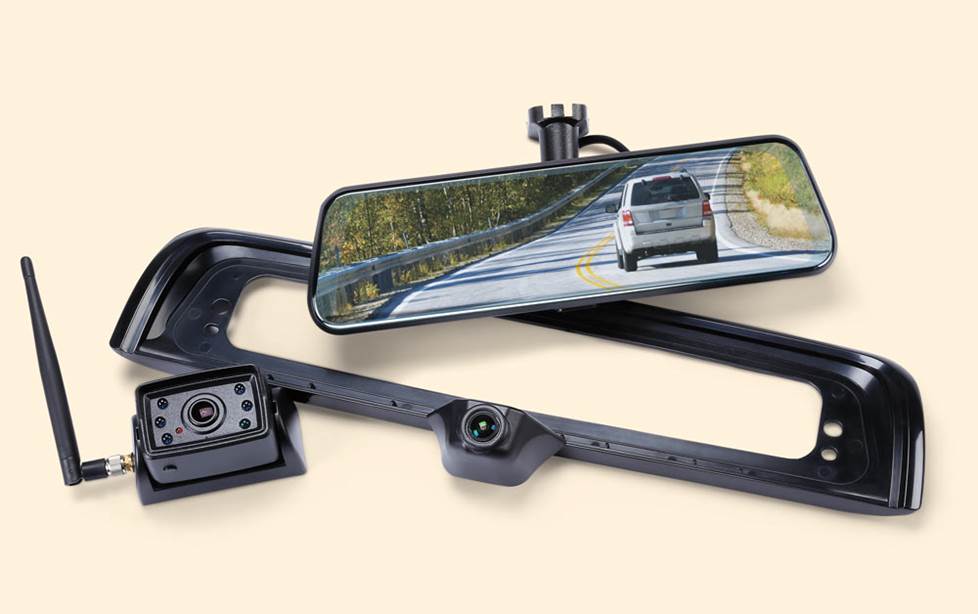 We offer Transparent Trailer systems for select Ram (like the TRNS-2170 for 2009-2018 Ram 1500 and 2010-up Ram Heavy Duty), Ford, and GMC/Chevy models.
Crux camera solutions
Avoiding major modifications is often a goal of many truck owners. While they may not help when you're towing a big trailer, cameras like these from Crux can plug right into factory locations.
Factory all the way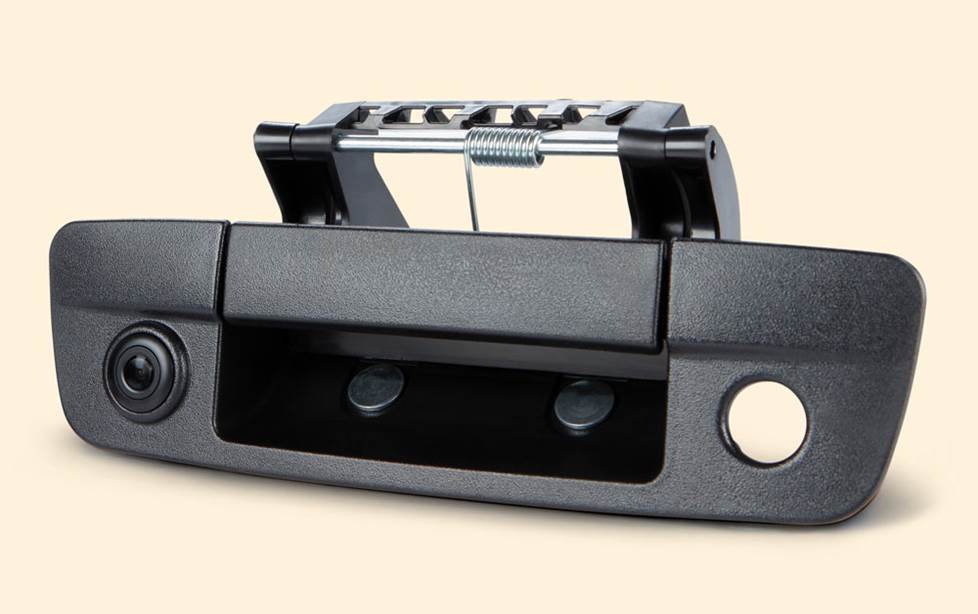 The Crux RVCCH-75DC backup camera system for 2013-up Ram trucks features a wide-angle camera that replaces the tailgate handle, plus wiring to work with most Ram factory Uconnect screens. You get impressive low-light images and parking lines.
Keep an eye on the bed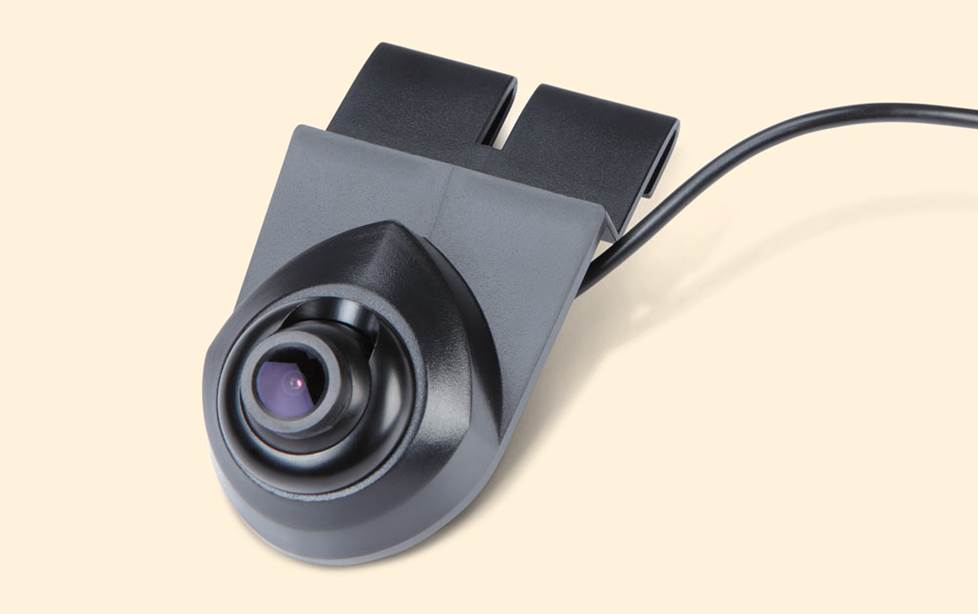 Crux's CDR-03C cargo camera installs under the third brake light of your 2014-17 Ram truck for a wide-angle view. It'll work with nearly any aftermarket radio with a com­posite video input.
Alpine camera solutions for Jeeps
Jeep owners love to modify their rides, but there are some instances when keeping a factory look is preferred. These cameras won't necessarily help with a large trailer, but they will assist in covering what's behind your Jeep while maintaining a low profile.
All-around Wrangler backup cam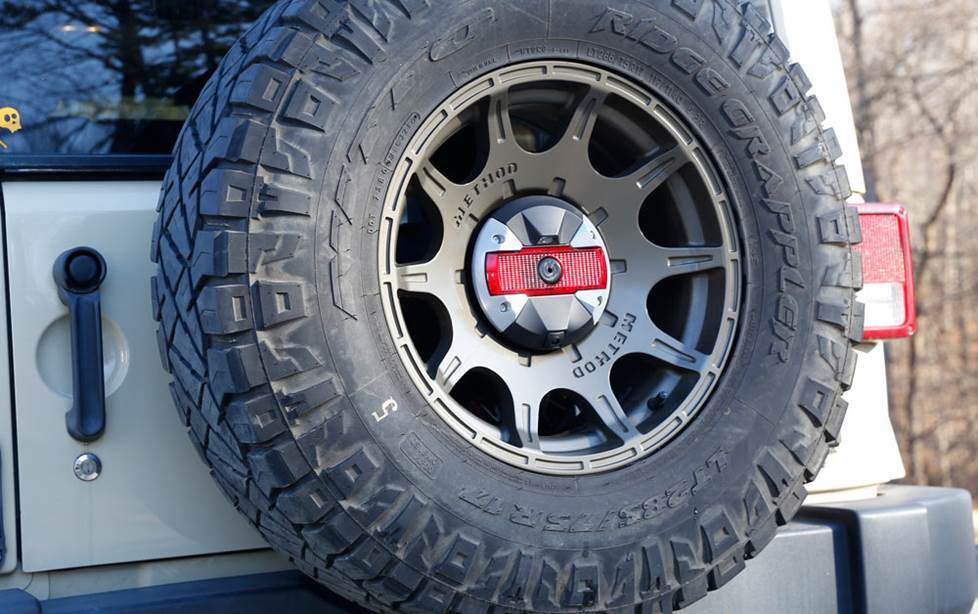 The handsome Alpine HCE-TCAM1-WRA camera system gives your 2007-up JK a seamless factory look while adding a rear-view camera, reverse LED lamp, and brakelight to your vehicle. Cool thing is the camera displays everything it sees on any aftermarket touchscreen car stereo with a composite video input.
If you're looking for something a little less involved, Alpine's HCE-RCAM-WRA spare tire backup cam offers similar performance, without adding a third brakelight.
Get the vehicle-specific camera setup that's right for you
Safer driving starts with you, but the right gear helps a lot. Tell us about your truck or Jeep, and we'll show you the backup camera options available for your vehicle. And Crutchfield's expert advisors can assist you in finding the proper camera system for your vehicle. Contact us to get personalized recommendations based on your needs.