In this article... We'll discuss what to consider when planning a backup camera system. A lot depends on what's already in your dash or what you'd like to add, so check out the basics below to get a solid understanding of what goes into installing a backup or rear-view camera. And don't forget, our Advisors can always help you find the best cameras for your vehicle.
ith a backup camera system in your car, you'll enjoy a well-lit, wide-angle view of what's behind you – a view that a regular old rear-view mirror just can't deliver. Whether you're safety-conscious, want to keep an eye on something you're towing, or just have a bad habit of crunching bumpers, installing an aftermarket backup camera or rear-view video system in your car, truck, or RV is a no-brainer. The big question becomes: what's the best system for you?
Rear-view cam vs backup cam — what's the difference?
Before we get into the details, we need to discuss these terms. Most people use "rear-view camera" and "backup camera" interchangeably, but they aren't the same. When you're shopping, pay attention because you don't want to buy the wrong camera. Here's the thing to keep in mind:
Backup camera – a camera that turns on when you put your vehicle in reverse
Rear-view camera – a camera that you can turn on at any time to see what's behind your vehicle
Choosing and installing your camera system isn't as hard as you think it is, but it's important to understand the basics before you get started. We'll discuss the process in three steps:
Step 1: Assess your dash — how will you view your backup camera?
An aftermarket backup camera won't do you much good without a screen to plug it into, so what you'll need in a backup camera system will depend on what's already in your dash. If you have an aftermarket touchscreen receiver with a backup cam video input, you're in great shape to shop for backup cameras. If not, you'll need to figure out which of the following three categories you fall into.
1) Happy with your factory touchscreen receiver? Find a vehicle-specific solution.
Toyota! Jeep! Dodge! Volkswagen, and more! Enter your vehicle information and explore these vehicle-specific backup cameras with harnesses that match select factory-installed entertainment systems. These backup cameras are often specifically designed to blend in with the exterior of your vehicle.

This backup camera system, for instance, is compatible with the factory radios in select Dodge and Ram pickup trucks.
2) In the market for a new touchscreen receiver? Add a backup cam.
There's no better time to install a backup camera than when you're already installing a new stereo in your dash. We carry a wide variety of receivers that are equipped with touchscreen monitors and backup cam video inputs. When you shift your vehicle into reverse, you'll see a helpful view on your new stereo's display.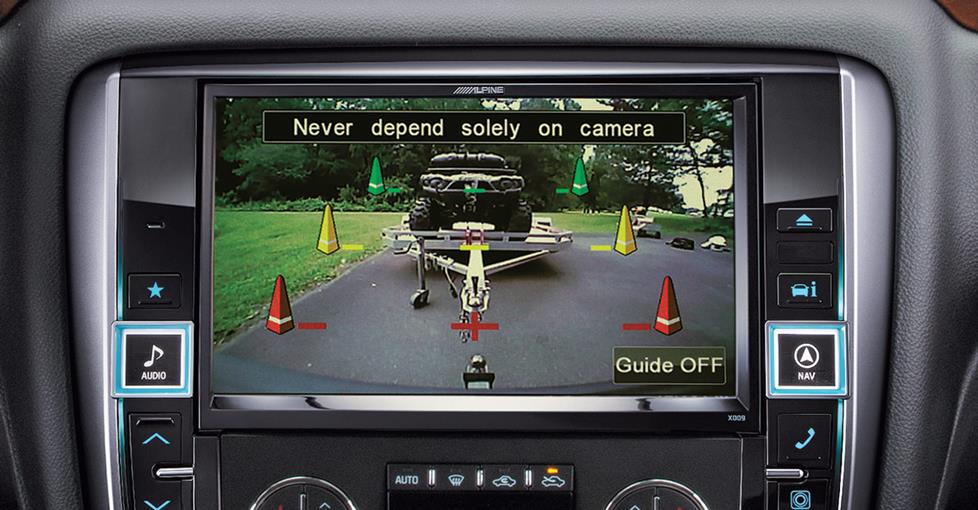 3) No room in your dash for a touchscreen? You still have options.
If your dash doesn't accommodate a radio with a video screen or if you don't like the idea of altering your factory dash, you still have options: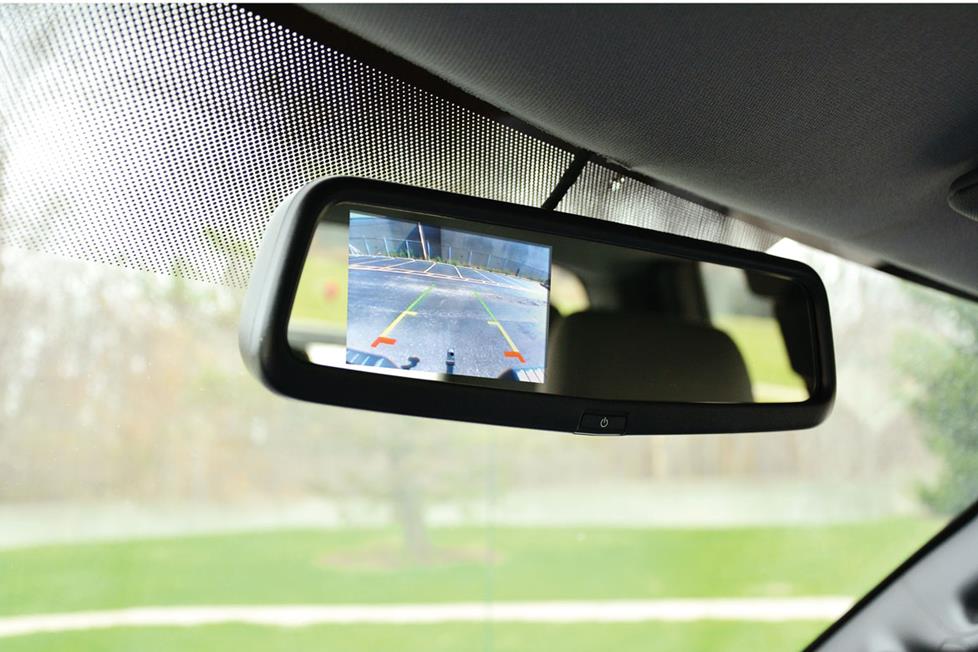 Replacement rear-view mirrors seamlessly integrate with your car's interior while giving you a monitor where you're already accustomed to looking. They're a little more challenging to install, but they create a seamless and frankly, pretty cool rear-view video system.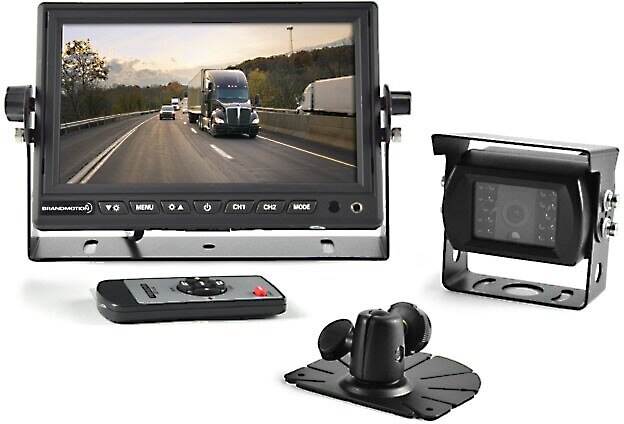 Wired dash-mounted monitors are solid universal options if radio replacement or mirror replacement aren't possible. They're especially useful for maneuvering commercial vehicles through tight alleys and up to loading docks.

Wireless backup cameras spare you the hassle of running a wired connection between the rear of your vehicle and the front (which can be a relief if you're dealing with a big truck or RV). If you own a compatible Garmin portable navigation device, you can accessorize with a Garmin wireless backup cam. When you choose a wireless backup camera system, you'll save on installation time, but you'll still have to wire the camera and monitor for power.
Step 2: Choose the best backup camera for you
Backup cameras are designed to be tiny and weatherproof, so those things are pretty much guaranteed. There are some other variables to consider, though:
Image sensor — CCD vs CMOS
Most backup cameras use either CCD or CMOS sensors. The sensors convert light to signal in two different ways: CCD is essentially analog, and CMOS is digital. Generally speaking, a CMOS sensor draws less power and is more sensitive to image noise than a CCD sensor, but a CCD sensor is slightly better adapted to handle fluctuating lighting scenarios than a CMOS sensor. Depending on the types of environments where you typically drive, the difference may be incidental. In the good ol' tradition of iPhone® vs. Android™, the argument as to which sensor is "better" is ongoing and you'll find fans on both sides. In most cases, it won't likely be a deciding factor in which camera you choose.
Parking guide lines
Many backup cameras provide onscreen guide lines to help when you're backing out of a precarious position or squeezing into a tight spot. They help you gauge the distance between your car and the things around it, which can be a huge stress-reliever. If you want the flexibility of opting in or out of parking lines, look for "selectable parking lines" as a feature. Some give you the opportunity to remove them during installation, which will allow you to use the selectable parking lines feature that can be found in certain touchscreen receivers. If you like the idea of parking lines that bend as you turn your steering wheel and predict your trajectory in reverse (which is very cool by the way), look for "active parking lines" as a feature.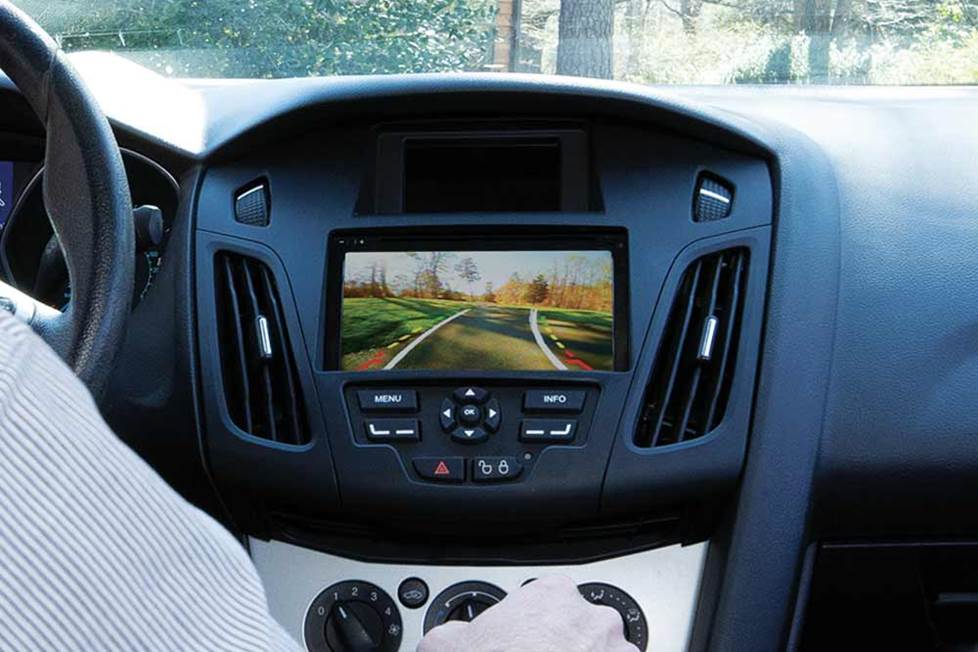 Mirror image
This is exactly what you think it is. The view in your monitor is reversed to mimic that of a rear-view mirror. With some cameras, this is a selectable feature, which is handy if you plan to use the camera as a front-view camera.
Viewing angle
Generally, backup cameras provide a healthy horizontal viewing angle. Naturally, the wider you go, the more you'll see behind you at a glance.
Low light
On some cameras, you may see a minimum Lux rating. This tells you the least amount of light required for an acceptable picture. For your reference, a night with a full moon is rated at around 0.1 Lux while a sunny day rates at around 10,000 Lux. Many cameras enhance their low-light capability with an additional LED or infrared light that powers on when the vehicle is in reverse.
Other features like high-dynamic range (HDR) and wide dynamic range (WDR) improve visibility, especially when transitioning between dark and bright environments.
Mounting options for your backup camera
This is the defining feature for most backup cameras. Mounting can be done in several ways, so take a look at the rear of your vehicle before you select a camera. Here are the mounting styles to consider: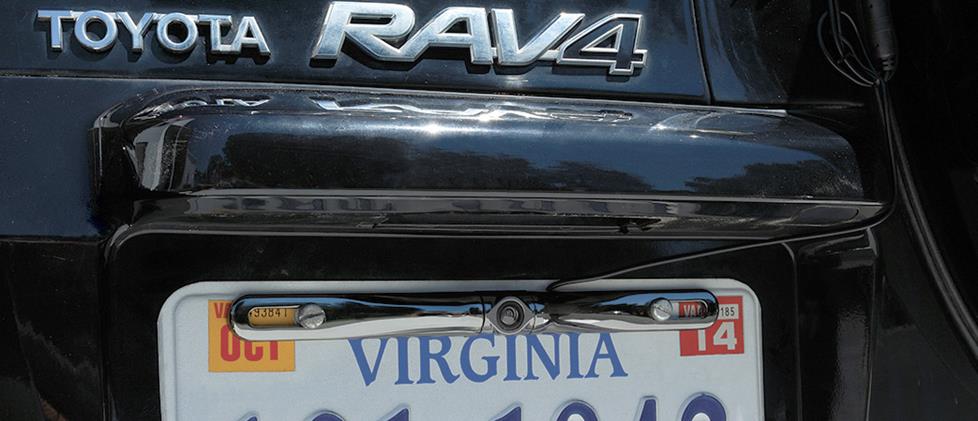 License plate mounting
Some cameras fit into a matching license plate frame, while others just use a strap mount. This strap-mounted backup cam fastens over your license plate using the existing screws.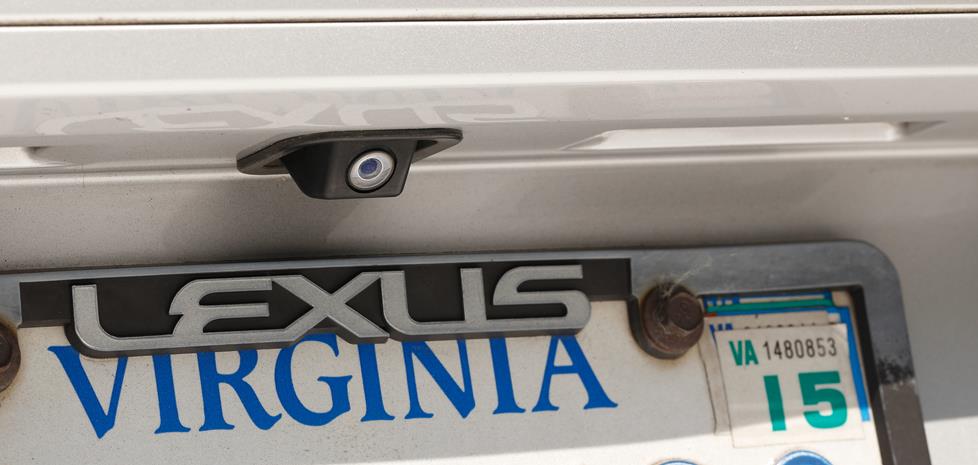 Lip mounting
If you have an inset area on the rear of your car, chances are you can use an angled lip-mount camera. These cameras are a little more subtle than their license plate-mounted cousins.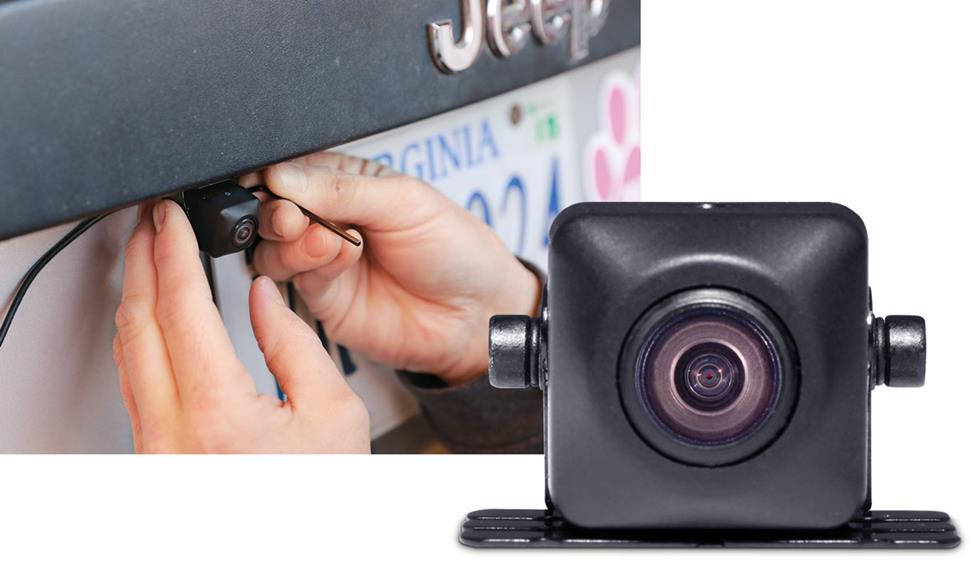 Bracket mounting
This style takes the most universal approach, providing an adjustable bracket that lets you mount your camera wherever you see fit.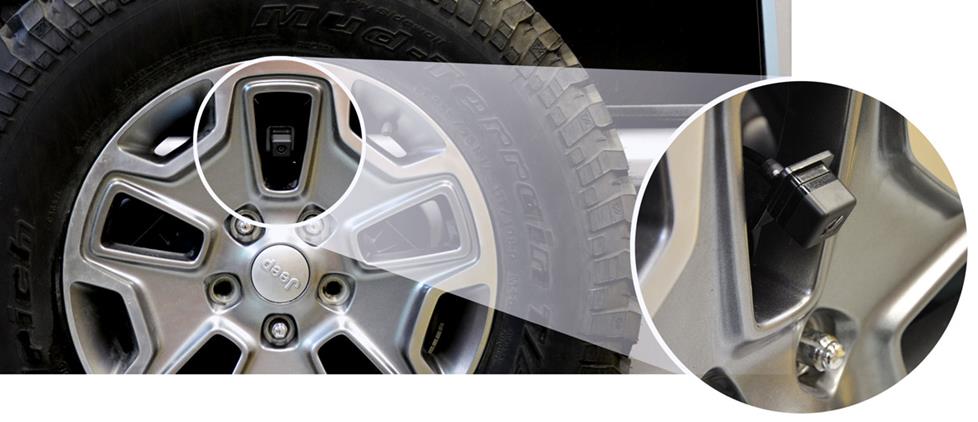 Vehicle-specific mounting
Some brands offer brackets that replace or fit into factory parts for a near-perfect match to your vehicle. Be sure to enter your vehicle information to see if there's an option for your ride.
We also carry specialized backup cam video systems designed for trailers, boats, ATVs, and more.
Step 3: How to install the backup camera
DIYers should anticipate a 3-part installation:
Installing the camera in the rear of the car and wiring it for power. Some cameras have power wiring that can only be connected near the radio. Others let you power the camera at compatible reverse lights. In all cases, the camera must be wired for power and ground.
Running a video connection from the camera to your dash. You'll need to route the camera's video cable from its mounting location outside your vehicle into your vehicle's cabin. This can require drilling a small hole in your vehicle or filing some metal and or plastic. You'll want to plan your route through the vehicle in advance to ensure that you have enough cable. We list camera's cable length under Details.
Connecting that video cable to a compatible monitor (which will also require installation) or your stereo (which involves removing the stereo from your dash and then reinstalling it). In order for you to see video of what's behind you when you shift your vehicle into reverse, the radio/monitor must be connected to a reverse trigger in your vehicle.
You'll need a few basic hand tools. A panel tool, a wire cutter/stripper, a soldering iron, and a rosin-core solder with heat shrink tubing are recommended, along with whatever tools are needed to remove your radio from the dash.
Want to see an installation in action? Watch our Backup Camera Installation Video.
---
Life in reverse
Like an air bag to a seat belt, a backup camera system isn't a replacement for your vehicle's mirrors, it's a complement — a powerful tool for driving safely and parallel parking like a pro. And even if you consider yourself a pro, everybody has their bad days, and a backup cam system cuts down on the risk of a fender-bender (or worse). If you have any questions about picking the right system, just contact our advisors.