Thomas Y. from Mount Airy, NC, tells us "I've always had a system in my vehicles," and looking at the work he did with his tricked-out 2007 Chevrolet Blazer, we believe he's been an enthusiast for quite some time. His ride looks like it owns the streets, and we're sure after he outfitted it with his latest round of gear from Crutchfield, it sounds like it's in charge, as well.
Items installed:
Battery and alternator combo for pristine power
A winning sound system needs a lot of factors to succeed, but power lies at the heart of it. You've got to have energy flowing through your system reliably in order for its components to handle your music and sound great at any volume. Thomas tells us he started with his Sony head unit and worked his way back through the Blazer, but really he started in the engine block, with this combination of the XS Power deep-cycle battery and his alternator.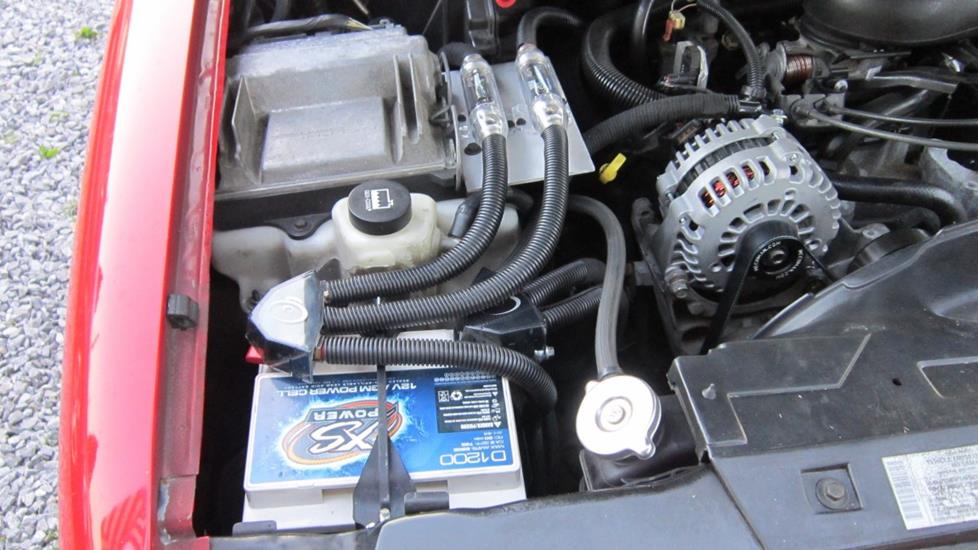 Wired for sound
If you look closely at the image above, you'll notice some pretty thick wires coming off the battery. Thomas tells us that running the 1/0 gauge wiring through his Blazer was a difficult enterprise, but one that pays off dividends when he's out sounding like a million bucks and not worrying about his speakers being underpowered.
Not every car audio system needs this kind of electrical overhaul, but Thomas knew what he wanted his system to do, so he made sure it has the power it needs. Check out our article about upgrading your car's electrical system to learn more.
Ready-to-go receiver
Now that Thomas had his energy needs taken care of, he was able to incorporate the Sony receiver, which sports both Bluetooth® connectivity and an HD Radio™ tuner. It has two USB inputs, so he can hook up multiple sound sources when he's not playing discs. The Alpine KTP-445U Power Pack amp helped move the Sony's power output from 17 watts per channel to a burly 45 watts RMS, allowing it to keep up with his subwoofer amp.
Bass restoration via The Epicenter
Thomas added The Epicenter by AudioControl bass restoration processor to his system to ensure his subwoofers wouldn't be getting cheated out of any of his music's hard-hitting low notes. He installed it between the Sony receiver and his amplifiers, and it increased his system's bass response without adding noise from the Blazer's electrical system or overtaxing his speakers. Here it sits next to the Alpine Power Pack mentioned in the previous paragraph: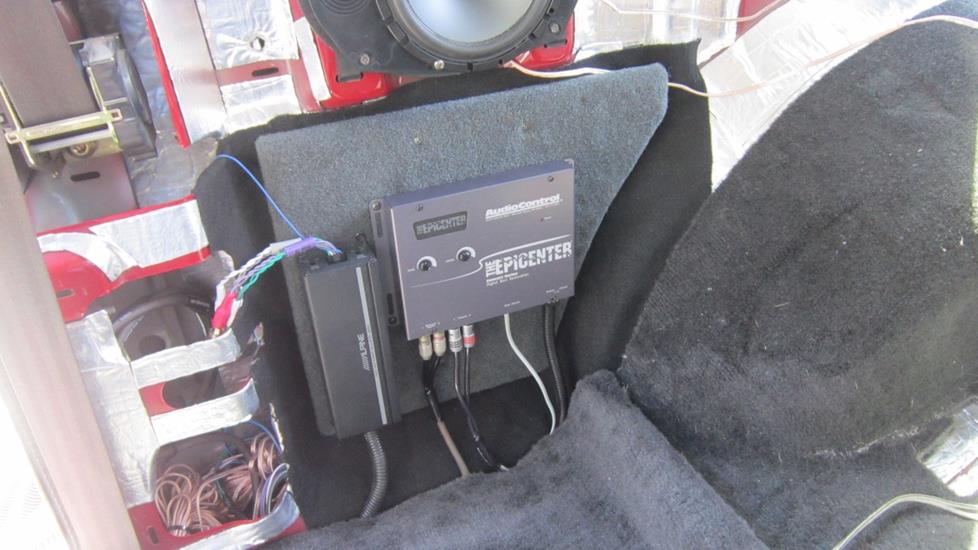 Powerful speaker amplifier
From there, Thomas placed the Alpine speakers in the dash and doors of his Blazer. Here's where the Alpine PDX-F6 amplifier comes in, allowing him to get the most out of his rear speakers without taking up too much space. It's a compact way to deliver clean power.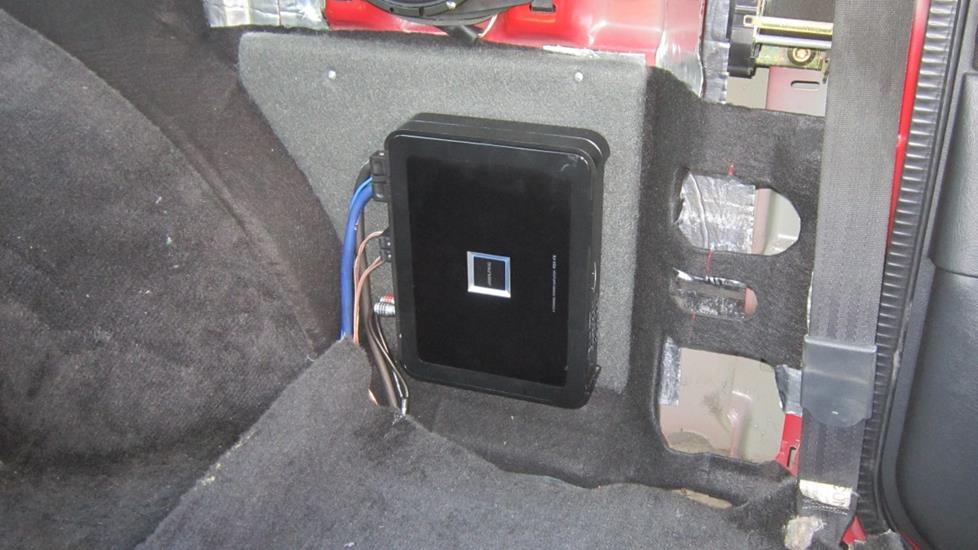 Custom subwoofer enclosure
After all that work, Thomas came to the rear of the Blazer, where the action's really at. He put two custom ported sub boxes together to hold his 12" Sundown Audio woofers. Yeah, it didn't leave him a lot of room, but that's a lot of sonic firepower to contend with. These are obviously the first thing Thomas shows off when he's trying to impress his passengers.
Mono subwoofer amplifier
The subs get their juice from the Sundown Audio mono amplifier, which delivers up to 3,000 watts RMS at 1 ohm. It's a beast, for sure, and Thomas made sure to mount it securely to the sub enclosure.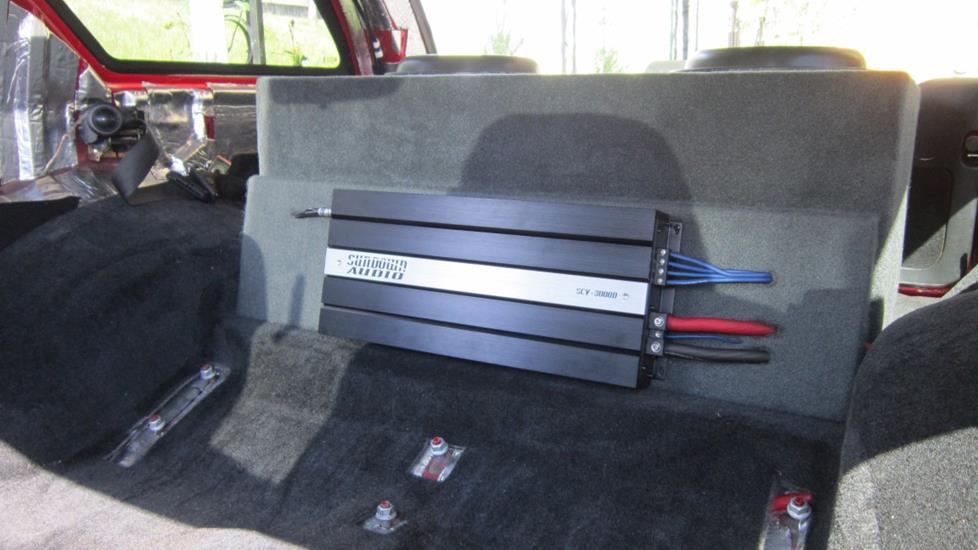 We're glad to have enthusiasts like Thomas showing us how their systems have evolved over time. If you're ever down North Carolina way and hear a booming system nearby, check to see if Thomas' bright-red Blazer is the source, because it's likely to be.
---
Vehicles in the Custom Car Showroom are submitted by customers and fans, and edited by Crutchfield writing staff. You can find more of these articles on the Showroom main page.