Computers are amazing machines, but they aren't optimized for audiophile sound quality. Compensating for their shortcomings means adding an external digital-to-analog converter, quality cables, and playback software capable of getting most from your music.
But there's another option – the Sony HAP-Z1ES. It removes the computer from the playback chain while offering stunning sound and lots of storage in a single, high-performance component. It's also compatible with high-resolution music files, for sound quality that eclipses CDs. Enticed by the prospect of amazing sound and freeing my computer up for other tasks, I excitedly took it home to check it out.

The HAP-Z1ES hi-res digital music server.
Store your entire music library
With a built-in 1 TB hard disk drive under the hood, the HAP-1ES offers plenty of on-board storage – enough to hold around 23,000 CD-quality songs or more than 7,000 high-res recordings. Not enough? You can expand by adding an external hard drive connected via the rear-panel USB input. This drive must be formatted by the HAP-Z1ES – there's no plug-and-play capability for using it with a computer.

A full-color display, large jog dial and selection buttons make navigating your music library easy and intuitive. There's also a free remote app for smartphones and tablets.
File transfer between your computer and the HAP-Z1ES (and a connected external hard drive) is done over your home network – either using the player's built-in Wi-Fi or the Ethernet connection. You can use the free HAP Music Transfer software to automatically copy files to the player's hard drive – it can even automatically scan for new music in a particular folder on a networked computer. Or, you can simply drag and drop files into the player's memory with your computer.
File transfer is very slow. A wired connection speeds it up a bit. Once you've transferred your entire library, you won't need to do it again except when you want to add new songs or albums.
Studio-quality sound with high-res playback
If you're after top-performance sound from a digital (or any) source, you need to check out high-resolution music. Sites like HDtracks offer a huge selection of better-than-CD downloads. The HAP-Z1ES is compatible with high-res files up to 24-bit/192kHz. It also handles DSD files up to 5.6Mhz, so it's good with just about any digital file you can throw at it.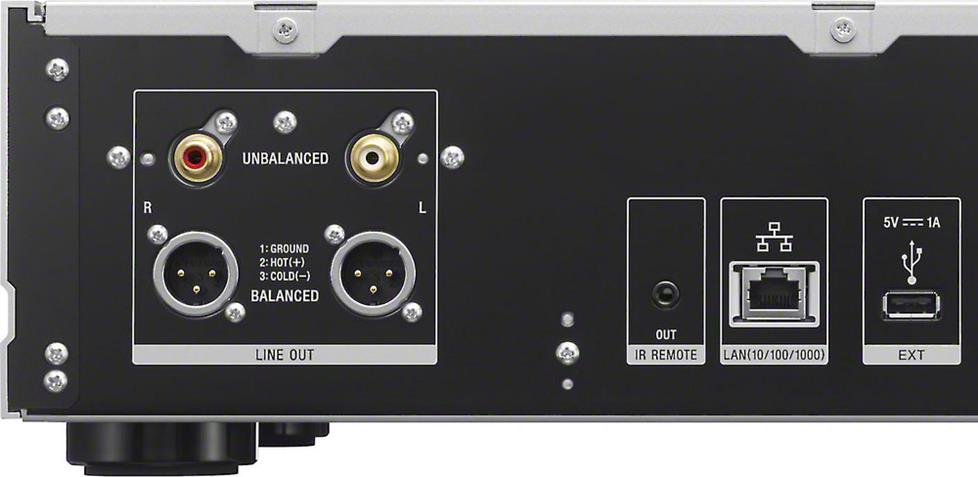 The HAP-Z1ES offers balanced and unbalanced analog outputs – the RCA outs will work with any amp or receiver, while the XLR outputs allow a low-noise balanced connection to high-end amps like Sony's companion integrated amplifier, the TA-A1ES.
Built for serious sound quality
The first thing I noticed when I went to pick up the HAP-Z1ES in the Crutchfield Labs was how heavy it is. This thing is built like a tank and has the fit and finish you'd expect from audiophile-grade equipment. The gleaming silver finish of the streamlined chassis conceals the heavy-duty construction. Every component is designed and placed with an eye on minimizing distortion, from the separate large-capacity power transformers for digital and analog circuits to the dual-plated base and the rigid internal framing.
Test drive
With so much attention to detail in the design of this machine, my expectations were pretty high. Once I got it up and running, the HAP-Z1ES consistently surpassed them.
I compared it to my MacBook® which I paired with the Sony PHA-2 DAC – an excellent device in its own right. I sampled high-res and CD-quality tracks to see how much of an upgrade the HAP-Z1ES represents over a more than respectable digital front-end. Both sources were connected to my Onkyo stereo receiver via AudioQuest RCA cables.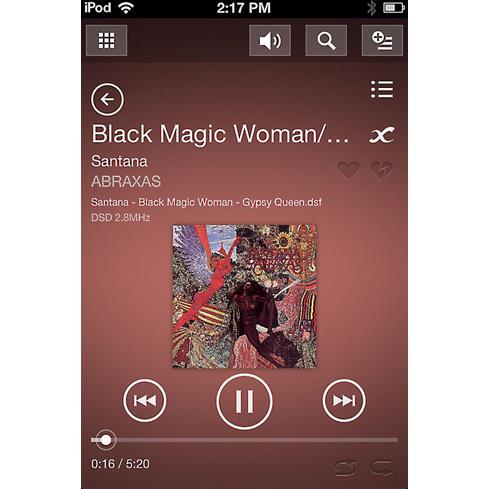 The free Sony HDD Audio app lets you control the player and view album art and file type and resolution on your smartphone or tablet.
I started out with the title cut from Paul Simon's Graceland, a song I've often used as a reference track. I cued the song up on both the HAP-Z1ES and my MacBook with the PHA-2 DAC, so I could jump between each source for comparison. Before I even got a chance to compare, I knew the HAP-Z1ES was the clear winner. Immediately, my PSB Image T5 tower speakers sounded better than they ever have.
As good as the MacBook/PHA-2 combination is, every part of the performance was sharper with the HAP-Z1ES – vocals were clearer, the overall sound was cleaner, instrument separation was better, the soundstage was larger, and the background was dead quiet. More listening yielded the same results – the HAP-Z1ES is completely awesome. The PHA-2 is a very good DAC, but the HAP-Z1ES resoundingly trumped it by offering up more smoothness, deeper bass, and better overall clarity.
Excited by what I was hearing, I convinced my wife to humor me and listen to this fabulous machine. She's not into all this audio business, but she could pinpoint the Z1ES's ability to deliver exquisite vocal clarity. It wasn't long before she wrested control of the player from me and was picking out music, getting caught up in this player's outstanding sound.
DSD files offer up smooth sound
DSD is a format Sony originally developed for Super Audio CDs. It's enjoyed a comeback lately thanks to the availability of DSD downloads and compatible equipment from Sony and other manufacturers. I had never listened to DSD files before, so I was excited to hear what all the fuss was about.
I played a DSD file of Eric Clapton's "Wonderful Tonight," a song I'm neither enamored with nor excited about after being bludgeoned by it continuously for years by classic rock radio stations. But listening to it in DSD with the HAP-Z1ES made me love that song like I never could before. Clapton's classic guitar melody spread out across the width of the massive soundstage with lots of natural reverb ringing out. Every instrument was breathtakingly clear and meticulously placed in the massive soundstage. The lead vocal image was positively huge. When the backing vocals come in, the voices blended together beautifully while each remained clearly distinguishable. I felt like a producer in the studio listening to the master tapes.
The DAC inside the HAP-Z1ES can upsample all signals to DSD. I decided to see how much of a difference, if any, this upsampling would make. I cued up Wilco's "Forget the Flowers," a country-style acoustic tune. With the DSD remastering engine engaged, the bass sounded fuller, the vocal image got larger, and the soundstage had more depth. You may be well served to leave this setting on all the time.
App control with your smartphone or tablet
This player's network connectivity lets you control the player with your smartphone or tablet using Sony's free HDD Audio remote app. It makes it easy to search through a large music library stored on the player's internal hard drive. The app is great, but I also loved using the front-panel jog dial and color display to scroll through music. I never had a reason to take the included remote out of the box.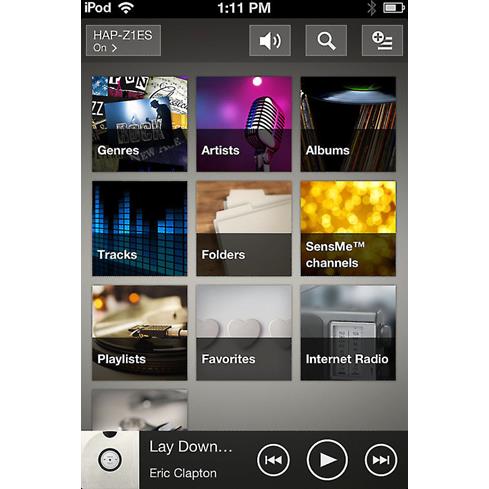 The remote app lets you browse your entire music library, choose from hundreds of Internet radio stations, and select a player-generated playlist based on your mood (SenseMe channels).
A network connection also lets you listen to free Internet radio stations. Honestly, I was so busy flying through music stored on the player's hard drive, I didn't even sample any online radio streams. But it's a great feature to have if you just want to discover new music or simply let someone else play DJ for a while.
Free your stereo from your computer
Having ripped my entire CD collection to an external hard drive, my computer is my main source for music playback at home. While I love having my entire library at my fingertips, the HAP-Z1ES makes it even more convenient. It takes just a few seconds to boot up – my computer is slow to boot, and I have to open software to start playback. Plus, the computer's fan can disrupt quiet musical passages with its noisy whirring. It's also nice to have all your files backed up on the 'Z1ES's internal server, just in case your other storage device fails.
Most people (like me) use their computer for much more than just music. The HAP-Z1ES frees it up for homework, bill-paying, video-watching, and web surfing.
The bottom line
The best audio gear makes you want to run through your entire music collection to hear it be reborn. That's exactly what I did with the Sony HAP-Z1ES – I couldn't get enough of it. Every track I sampled brought a new thrill. And it took my high-resolution music to soaring new heights. Plus, I loved how it freed up my computer for other uses besides music listening. This superb all-in-one digital server/player has shot right to the top of my wish list.