'm a big fan of listening to vinyl. I like the old-school sound, look, and feel of records. That said, I also enjoy the convenience and versatility of Sonos. In the past, the only way to get both was to make a wired connection from the back of your 'table to a separate Sonos-enabled component. The Victrola Stream Carbon takes out the middleman: Sonos streaming capability is built in, so you can skip the RCAs and speaker wire entirely, and get straight to enjoying your treasured LPs in an expandable, multi-room network.
Pros
Sonos streaming capability built-in
Semi-automatic operation (starts and stops automatically)
Ortofon 2M Red moving magnet cartridge on removable headshell included
Built-in phono preamp with line-level output
Sleek, modern design
Cons
preamp is not defeatable for use with external phono stage
integrated plinth design does not optimize vibration damping
The Stream carbon is a good-looking 'table, with a solid black and silver plinth with rounded edges. The versatile dial on the front lets you control volume directly from the 'table, and you can always use the intuitive Sonos app for added convenience.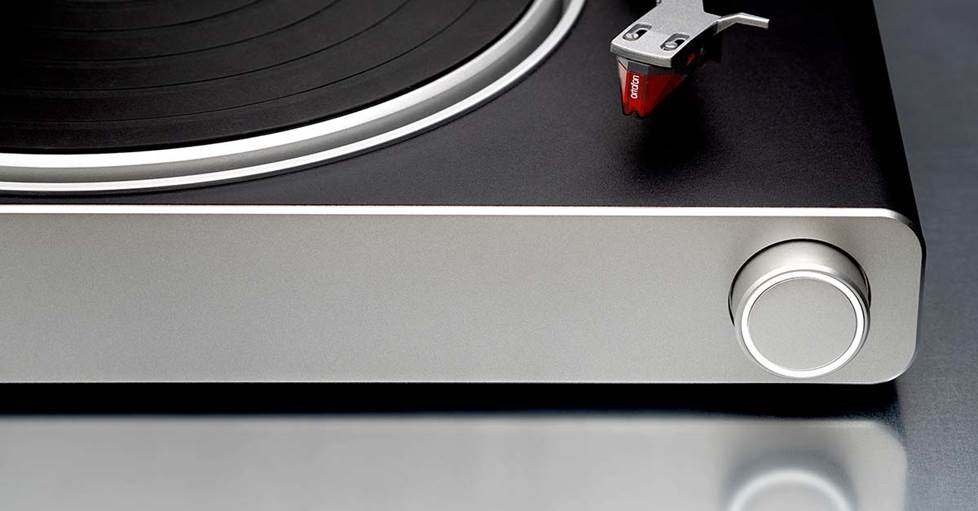 The Stream Carbon offers a sleek look, with a large illuminated volume dial on the front panel.
The lightweight, rigid carbon fiber tonearm and vibration-resistant die-cast aluminum platter are marks of quality design. And the included Ortofon 2M Red cartridge reads record grooves with impressive accuracy.
There's an Ethernet port on the back, so you can connect to your existing network, or use the turntable's built-in Wi-Fi. And there are gold-plated RCA outputs for making a wired connection to an existing hi-fi system.
My hands-on experience with the Victrola Stream Carbon
Two things jumped right out at me when I set up and used the Victrola Stream Carbon: it's very sleek and modern looking, and it's incredibly convenient. I added this turntable to an existing Sonos system that included several speakers:
A Sonos Arc in my living room, with a pair of Sonos One SLs configured as rear surround speakers
A Sonos One in my kitchen
A Sonos Beam in my bedroom
There is a built-in phono preamp that issues line-level output via stereo RCA jacks, if you have a two-channel system you'd like to make a wired connection to. But I chose to use the 'table's wireless Sonos connectivity for my demo.
Note: the turntable is a Sonos source only; it does not appear in the app as an assignable Sonos zone.
Easy setup, guided by an app
When I opened the box for the turntable, the first thing I saw was a QR code that led me to download the Victrola app. The app helped me set up the 'table and connect it into my existing network and Sonos speakers quickly.
I liked that I was able to assign a primary playback zone — the turntable automatically played through my living room setup (Arc and One SL surrounds) as soon as I lifted the tonearm and set the stylus on a track. Then I could use the Sonos app to add speakers until it was playing throughout the entire house, or isolate the turntable output so it was playing in just the kitchen when someone else was using the TV.
Semi-automatic operation for convenient multi-room playback
When you lift the Stream Carbon's tonearm, the platter starts spinning automatically. When a side has played, and the needle hits the run-out groove, the platter stops spinning on its own. This functionality pairs perfectly with the multi-room expandability of a Sonos system.
For example, I tend to make messes when I cook, so my hands are not always clean and dry enough to handle vinyl in those moments when a side ends. I appreciated that the semi-automatic function spared the 'table and the record from unnecessary wear and saved me the frantic routine of hand-washing/drying and running into the next room.
Design touches for vinyl lovers
I'd be remiss if I didn't mention some of the Stream Carbon's finer points. The eponymous carbon fiber tonearm with custom aluminum pivot is a nice touch, and I appreciate the included Ortofon 2M Red moving magnet cartridge on removable headshell.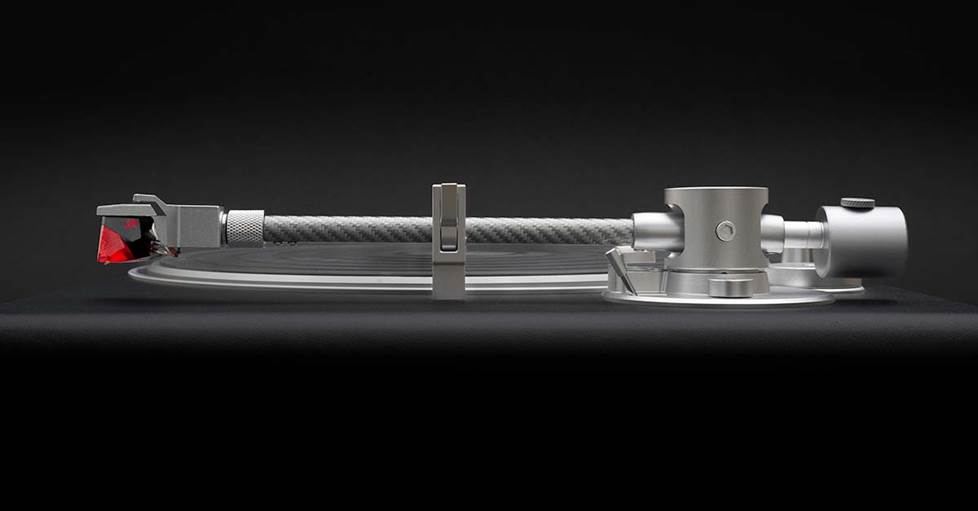 The Stream Carbon features a rigid yet lightweight carbon fiber tonearm, with a great-sounding Ortofon 2M Red cartridge on a removable headshell.
As it just so happened, I had purchased a vintage Weather Report album the same day I set up the 'table, so that disc served as my inaugural spin. It was so delightful to hear the interplay of master musicians at the height of their craft, and to fill the entire house with their music, playing through all my Sonos speakers at once. I proceeded to spend hours exploring other favorites — Prince, Jason Isbell, Fugazi, and more — without losing fidelity as I moved from room to room.
Long story short, this turntable will look gorgeous in your primary listening room. And if you're a Sonos lover, it will sound good in every room with a compatible speaker or player.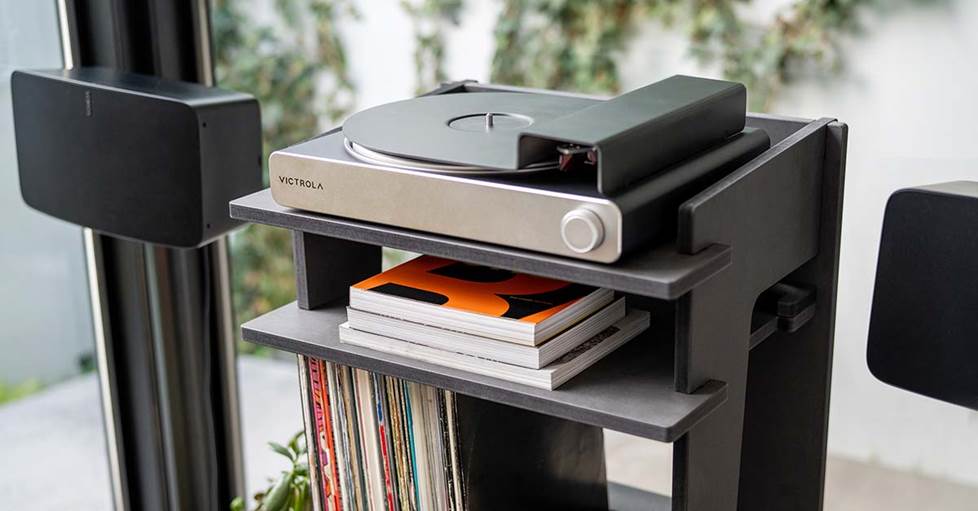 The Stream Carbon has Sonos built in, so you can play music through a pair of Sonos Fives (or any other compatible Sonos product) without any connecting wires.
Product highlights:
semi-automatic belt-driven turntable with Sonos streaming technology built-in
integrates with Sonos via free Victrola app
anti-resonant die-cast aluminum platter
straight carbon fiber tonearm on custom-engineered aluminum pivot
Ortofon 2M Red moving magnet cartridge on removable headshell included
frequency response (with included cartridge): 20-20,000 Hz
built-in phono preamp with line-level output via stereo RCA jack
adjustable anti-skating and counterweight
speeds: 33-1/3 and 45 rpm
illuminated volume knob
built-in Wi-Fi 5 (802.11ac) for connection to your home network
Ethernet port provides a hardwired network connection
wow and flutter: less than 0.175%
warranty: 1 year
Need more help? Contact us!
Have questions about how the Victrola Stream Carbon turntable compares to others? Contact us today.
Our expert Advisors know turntables inside and out. Your Advisor can send specific Crutchfield pages to your screen, saving you a lot of browsing time. You'll get a shopping cart loaded up with everything you need.
Free lifetime tech support is included with your Crutchfield purchase.